Innate Behavior: A groom with a view
Mapping mouse grooming episodes to neural activity shows that striatal cells deep in the brain collectively represent key aspects of self-grooming.
Are you sitting still right now, or are you moving? Occasionally, our brains compel us to scratch an itch, comb our fingers through our hair, or stroke our chin without even thinking about it. These actions may seem inconsequential to us, but they are examples of a unique type of behavior called self-grooming. Found in species spanning most of the animal kingdom – from monkeys to prairie voles and even fruit flies – self-grooming can serve as a powerful lens for revealing what the brains of monkeys and fruit flies might have in common.
Self-grooming is commonly defined as a behavior used to care for the outside of the body (Spruijt et al., 1992). While the particulars of a mouse groom may look dramatically different to those of a fruit fly, they both involve a highly stereotyped sequence of behaviors, such as rubbing the digits together followed by touching the face in elliptical strokes (Fentress and Stilwell, 1973; Szebenyi, 1969). This suggests that the brains of multiple species may share a common neural mechanism that controls how behaviors are organized in time, or 'sequenced'. A single brain circuit – the basal ganglia, a conserved set of neurons deep within the brain – appears to sequence these actions. Pioneering work showed that introducing lesions or other perturbations to the striatum – which is part of the basal ganglia – disrupts the stereotypical sequence in which self-grooming behaviors occur, confirming that the striatum has a key role in the process (Berridge and Whishaw, 1992; Cromwell and Berridge, 1996; Van den Bercken and Cools, 1982). Recordings from striatal neurons showed that they responded during different phases of grooming episodes (Aldridge and Berridge, 1998). However, it remained unclear how the neurons within the striatum work together to produce the sequence of self-grooming.
Now, in eLife, Ann Kennedy and Yevgenia Kozorovitskiy of Northwestern University and colleagues – including Samuel Minkowicz as first author – report a new method for identifying grooming episodes in video footage, and then show that discrete groups of striatal neurons show activity at the beginning and end of such episodes in mice, as well as throughout episodes (Minkowicz et al., 2023).
Historically, grooming episodes were identified by hand-labeling high-speed videos (Fentress and Stilwell, 1973), which was time-consuming and also limited the scale of studies. Complementing recent developments in automated identification of grooming episodes from raw video footage (Geuther et al., 2021), Minkowicz et al. developed a semi-automated technique to algorithmically identify mouse grooming episodes based on the movement of key body parts in 3D. Detecting certain movements – such as a mouse moving its paws close to its nose – helped to isolate grooming episodes from over 100 hours of video footage. Furthermore, the code used by Minkowicz et al. is open-source, which will allow the scientific community to benefit from this new method.
In addition to capturing video footage, Minkowicz et al. used probes embedded in the striatum of mice to record neuronal activity and investigate how neurons in the striatum collectively represent grooming. The recordings showed that when a mouse is relatively still, striatal cells fire sparsely and randomly. However, during a grooming episode, the cells appear to coalesce into clusters of neurons that fire simultaneously, in line with recent recordings of striatal neurons during other types of movement (Klaus et al., 2017; Barbera et al., 2016). These 'ensembles' do not represent grooms with perfect fidelity – if a cell fires during one bout of grooming, it is not guaranteed to fire during the next. However, through studying a large number of grooms, it was clear that ensembles of striatal neurons become active at key stages of grooming episodes such as the beginning and the end, or for the duration of the episode (Figure 1).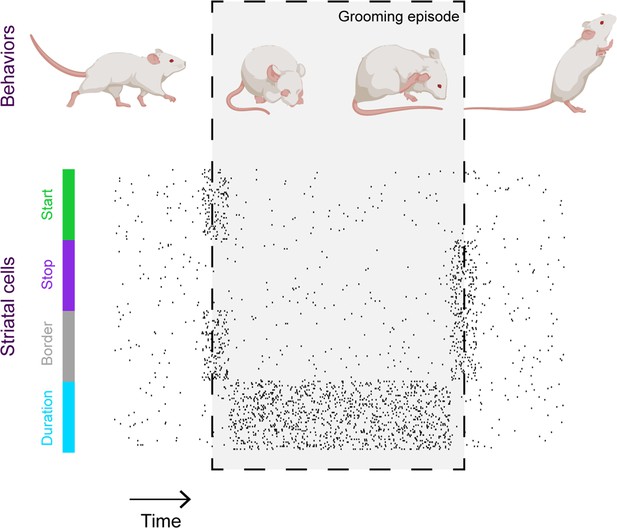 The findings suggest that grooming, and perhaps other spontaneous behaviors, are represented by small ensembles of striatal neurons as discrete, unitary objects that are strung together to form sequences. This is potentially at odds with other work that has found that the striatum represents continuous aspects of movement like velocity and vigor (Panigrahi et al., 2015; Dhawale et al., 2021), although these possibilities are not mutually exclusive. Moving forward, new experimental and computational approaches will be required to resolve the question at the heart of basal ganglia function: does it assemble behavioral sequences from a set of discrete puzzle pieces, or do sequences emerge through the direct control of continuous aspects of motor control?
Article and author information
Author details
© 2023, Markowitz
This article is distributed under the terms of the Creative Commons Attribution License, which permits unrestricted use and redistribution provided that the original author and source are credited.
319

Page views

19

Downloads

0

Citations
Article citation count generated by polling the highest count across the following sources: Crossref, PubMed Central, Scopus.
A two-part list of links to download the article, or parts of the article, in various formats.
Downloads
(link to download the article as PDF)
Open citations
(links to open the citations from this article in various online reference manager services)
Cite this article
(links to download the citations from this article in formats compatible with various reference manager tools)
Jeffrey E Markowitz
Innate Behavior: A groom with a view
eLife 12:e88595.
https://doi.org/10.7554/eLife.88595
Further reading
Disentangling human brain connectivity requires an accurate description of nerve fiber trajectories, unveiled via detailed mapping of axonal orientations. However, this is challenging because axons can cross one another on a micrometer scale. Diffusion magnetic resonance imaging (dMRI) can be used to infer axonal connectivity because it is sensitive to axonal alignment, but it has limited spatial resolution and specificity. Scattered light imaging (SLI) and small-angle X-ray scattering (SAXS) reveal axonal orientations with microscopic resolution and high specificity, respectively. Here, we apply both scattering techniques on the same samples and cross-validate them, laying the groundwork for ground-truth axonal orientation imaging and validating dMRI. We evaluate brain regions that include unidirectional and crossing fibers in human and vervet monkey brain sections. SLI and SAXS quantitatively agree regarding in-plane fiber orientations including crossings, while dMRI agrees in the majority of voxels with small discrepancies. We further use SAXS and dMRI to confirm theoretical predictions regarding SLI determination of through-plane fiber orientations. Scattered light and X-ray imaging can provide quantitative micrometer 3D fiber orientations with high resolution and specificity, facilitating detailed investigations of complex fiber architecture in the animal and human brain.

The powerful allure of social media platforms has been attributed to the human need for social rewards. Here, we demonstrate that the spread of misinformation on such platforms is facilitated by existing social 'carrots' (e.g., 'likes') and 'sticks' (e.g., 'dislikes') that are dissociated from the veracity of the information shared. Testing 951 participants over six experiments, we show that a slight change to the incentive structure of social media platforms, such that social rewards and punishments are contingent on information veracity, produces a considerable increase in the discernment of shared information. Namely, an increase in the proportion of true information shared relative to the proportion of false information shared. Computational modeling (i.e., drift-diffusion models) revealed the underlying mechanism of this effect is associated with an increase in the weight participants assign to evidence consistent with discerning behavior. The results offer evidence for an intervention that could be adopted to reduce misinformation spread, which in turn could reduce violence, vaccine hesitancy and political polarization, without reducing engagement.

Developmental Biology
Neuroscience

Neuronal information conductance often involves the transmission of action potentials. The spreading of action potentials along the axonal process of a neuron is based on three physical parameters: The axial resistance of the axon, the axonal insulation by glial membranes, and the positioning of voltage-gated ion channels. In vertebrates, myelin and channel clustering allow fast saltatory conductance. Here we show that in Drosophila melanogaster voltage-gated sodium and potassium channels, Para and Shal, co-localize and cluster in an area resembling the axon initial segment. The local enrichment of Para but not of Shal localization depends on the presence of peripheral wrapping glial cells. In larvae, relatively low levels of Para channels are needed to allow proper signal transduction and nerves are simply wrapped by glial cells. In adults, the concentration of Para increases and is prominently found at the axon initial segment of motor neurons. Concomitantly, these axon domains are covered by a mesh of glial processes forming a lacunar structure that possibly serves as an ion reservoir. Directly flanking this domain glial processes forming the lacunar area appear to collapse and closely apposed stacks of glial cell processes can be detected, resembling a myelin-like insulation. Thus, Drosophila development may reflect the evolution of myelin which forms in response to increased levels of clustered voltage-gated ion channels.