Neural Circuits: Comparing mouse and human brains
Inhibitory circuit motifs in the mouse brain and the human brain are strikingly similar.
The mouse is used as a model organism in many areas of research, including neuroscience. The human brain is clearly larger than the mouse brain, and it is also more complex, but how similar are they at the level of individual neuron types and their connections (Figure 1A)?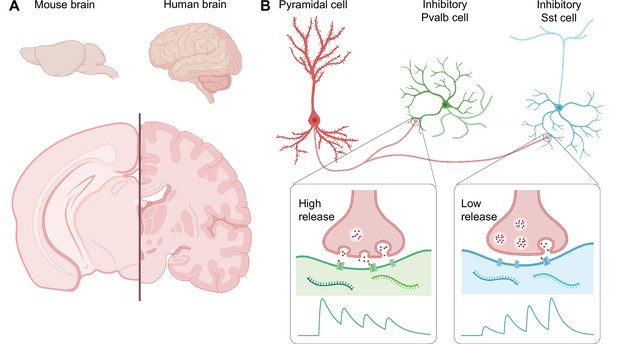 Some argue that we make too much of findings in mice. For instance, the twitter account @justsaysinmice retweets eye-catching scientific claims with the comment "IN MICE" (Piper, 2019). Indeed, a number of electrophysiology studies have compared mouse and human brain circuits, and many of these studies have revealed key differences (Mansvelder et al., 2019). However, it could be argued that looking for differences guarantees that they will eventually be found, even though their significance might not be clear. An alternative tactic is to explore similarities between the mouse brain and the human brain (Szegedi et al., 2020).
At the level of individual neuron types and their connections, the brain is made up of repeated building blocks known as circuit motifs that contain combinations of interconnected excitatory and inhibitory neurons. A number of studies in mouse models of autism and epilepsy have found that these conditions are associated with a lack of balance between excitation and inhibition in the brain (Nelson and Valakh, 2015). Two key types of inhibitory interneurons have been well studied in mice: the parvalbumin (Pvalb) cells, which silence target neurons relatively quickly, and the somatostatin (Sst) cells, which take longer to act (Figure 1B; Blackman et al., 2013). Then again, is this just in mice, or are motifs with Pvalb or Sst cells also found in humans?
Now, in eLife, Mean-Hwan Kim and colleagues – who are based at the Allen Institute for Brain Science, the University of Washington, and the Swedish Neuroscience Institute – report that inhibitory circuit motifs in humans and mice are strikingly similar (Kim et al., 2023). Building on recent work in which they used high-throughput transcriptomic profiling (Bakken et al., 2021), the researchers compared the transcriptomes of cells from the mouse and human cortex. This revealed over 70 genes that were differentially enriched in Pvalb and Sst cells. Many of these genes were related to the connections between neurons, suggesting that they determine the properties of the synapses of these two cell types. The similar cell-type-specific genetics seen in mice and humans suggest that these interneuron subclasses are evolutionarily conserved.
To explore this idea, Kim et al. obtained human cortical tissue samples from neurosurgical resections. To make the most of these precious samples, some brain slices were used acutely, meaning right away, whereas others were kept for days as a cultured preparation. The acute slices may represent the intact brain better, but the cultured slices can be studied with a wider range of techniques. For instance, the interneurons in the cultured samples can be genetically labelled for easy identification. When the results from the acute and cultured slices were compared, there were no appreciable differences, thus validating the use of cultured slices.
Kim et al. used a combination of different techniques – multiple patch-clamp recording, cell morphology reconstruction, and multiplexed fluorescent in-situ hybridization (mFISH) – to study the slices. They found two types of inhibitory circuit motif that worked in the same way in both mice and humans. The synaptic dynamics of the motif formed by an excitatory neuron called a pyramidal cell and a Pvalb cell promoted early early-onset inhibition, whereas that formed with a Sst cell favored late-onset inhibition (Figure 1B; Blackman et al., 2013). These findings argue that human and mouse brains are comprised of similar inhibitory circuit motifs.
Two factors make it challenging to study the human brain – it is difficult to obtain human brain tissue, and most experimental techniques have low throughput. For example, the mFISH procedure used for identifying patched cells was both slow and prone to failure. Kim et al. overcame this problem by using machine learning to rapidly classify cell types using only electrophysiology data, and they were able to identify Pvalb cells with ~76% accuracy. In the future, it should be possible to increase throughput even more by also using recently developed optogenetic approaches to circuit mapping (Hage et al., 2022).
It should also be noted that the human tissue samples used by Kim et al. might be pathological because they came from patients with epilepsy or brain tumors. However, their similarity to healthy rodent tissue suggests that these human samples were not aberrant but representative.
In summary, Kim et al. provide compelling evidence that inhibitory circuit motifs are conserved across mice and humans. This has far-reaching implications, as it argues that the knowledge generated from decades of rodent research is relevant to human neurophysiology. In addition, the methods they developed to increase experimental throughput in this study will help researchers to learn more from precious samples of human brain tissue in the future.
There are many other types of inhibitory interneurons beyond the Pvalb and Sst cells discussed here (Gouwens et al., 2020). Moreover, our understanding of these interneurons and the circuit motifs they form is limited, as is our knowledge of their role in disease (McFarlan et al., 2023). It is therefore reassuring to know that future neuroscience research in mice will continue to reveal secrets pertinent to the human brain.
Article and author information
Author details
© 2023, Wong et al.
This article is distributed under the terms of the Creative Commons Attribution License, which permits unrestricted use and redistribution provided that the original author and source are credited.
1,624

Page views

144

Downloads

0

Citations
Article citation count generated by polling the highest count across the following sources: Crossref, PubMed Central, Scopus.
A two-part list of links to download the article, or parts of the article, in various formats.
Downloads
(link to download the article as PDF)
Open citations
(links to open the citations from this article in various online reference manager services)
Cite this article
(links to download the citations from this article in formats compatible with various reference manager tools)
Hovy Ho-Wai Wong
Christina You Chien Chou
Alanna Jean Watt
Per Jesper Sjöström
Neural Circuits: Comparing mouse and human brains
eLife 12:e90017.
https://doi.org/10.7554/eLife.90017
Further reading
Rodent studies have demonstrated that synaptic dynamics from excitatory to inhibitory neuron types are often dependent on the target cell type. However, these target cell-specific properties have not been well investigated in human cortex, where there are major technical challenges in reliably obtaining healthy tissue, conducting multiple patch-clamp recordings on inhibitory cell types, and identifying those cell types. Here, we take advantage of newly developed methods for human neurosurgical tissue analysis with multiple patch-clamp recordings, post-hoc fluorescent in situ hybridization (FISH), machine learning-based cell type classification and prospective GABAergic AAV-based labeling to investigate synaptic properties between pyramidal neurons and PVALB- vs. SST-positive interneurons. We find that there are robust molecular differences in synapse-associated genes between these neuron types, and that individual presynaptic pyramidal neurons evoke postsynaptic responses with heterogeneous synaptic dynamics in different postsynaptic cell types. Using molecular identification with FISH and classifiers based on transcriptomically identified PVALB neurons analyzed by Patch-seq, we find that PVALB neurons typically show depressing synaptic characteristics, whereas other interneuron types including SST-positive neurons show facilitating characteristics. Together, these data support the existence of target cell-specific synaptic properties in human cortex that are similar to rodent, thereby indicating evolutionary conservation of local circuit connectivity motifs from excitatory to inhibitory neurons and their synaptic dynamics.

Evolutionary Biology
Neuroscience

The process of brain folding is thought to play an important role in the development and organisation of the cerebrum and the cerebellum. The study of cerebellar folding is challenging due to the small size and abundance of its folia. In consequence, little is known about its anatomical diversity and evolution. We constituted an open collection of histological data from 56 mammalian species and manually segmented the cerebrum and the cerebellum. We developed methods to measure the geometry of cerebellar folia and to estimate the thickness of the molecular layer. We used phylogenetic comparative methods to study the diversity and evolution of cerebellar folding and its relationship with the anatomy of the cerebrum. Our results show that the evolution of cerebellar and cerebral anatomy follows a stabilising selection process. We observed 2 groups of phenotypes changing concertedly through evolution: a group of 'diverse' phenotypes - varying over several orders of magnitude together with body size, and a group of 'stable' phenotypes varying over less than 1 order of magnitude across species. Our analyses confirmed the strong correlation between cerebral and cerebellar volumes across species, and showed in addition that large cerebella are disproportionately more folded than smaller ones. Compared with the extreme variations in cerebellar surface area, folial anatomy and molecular layer thickness varied only slightly, showing a much smaller increase in the larger cerebella. We discuss how these findings could provide new insights into the diversity and evolution of cerebellar folding, the mechanisms of cerebellar and cerebral folding, and their potential influence on the organisation of the brain across species.

Consumption of food and water is tightly regulated by the nervous system to maintain internal nutrient homeostasis. Although generally considered independently, interactions between hunger and thirst drives are important to coordinate competing needs. In Drosophila, four neurons called the interoceptive subesophageal zone neurons (ISNs) respond to intrinsic hunger and thirst signals to oppositely regulate sucrose and water ingestion. Here, we investigate the neural circuit downstream of the ISNs to examine how ingestion is regulated based on internal needs. Utilizing the recently available fly brain connectome, we find that the ISNs synapse with a novel cell-type bilateral T-shaped neuron (BiT) that projects to neuroendocrine centers. In vivo neural manipulations revealed that BiT oppositely regulates sugar and water ingestion. Neuroendocrine cells downstream of ISNs include several peptide-releasing and peptide-sensing neurons, including insulin producing cells (IPCs), crustacean cardioactive peptide (CCAP) neurons, and CCHamide-2 receptor isoform RA (CCHa2R-RA) neurons. These neurons contribute differentially to ingestion of sugar and water, with IPCs and CCAP neurons oppositely regulating sugar and water ingestion, and CCHa2R-RA neurons modulating only water ingestion. Thus, the decision to consume sugar or water occurs via regulation of a broad peptidergic network that integrates internal signals of nutritional state to generate nutrient-specific ingestion.