The general transcription factor TFIID comprises the TATA-box-binding protein (TBP) and approximately 14 TBP-associated factors (TAFs). Here we find, unexpectedly, that undifferentiated human embryonic stem cells (hESCs) contain only six TAFs (TAFs 2, 3, 5, 6, 7 and 11), whereas following differentiation all TAFs are expressed. Directed and global chromatin immunoprecipitation analyses reveal an unprecedented promoter occupancy pattern: most active genes are bound by only TAFs 3 and 5 along with TBP, whereas the remaining active genes are bound by TBP and all six hESC TAFs. Consistent with these results, hESCs contain a previously undescribed complex comprising TAFs 2, 6, 7, 11 and TBP. Altering the composition of hESC TAFs, either by depleting TAFs that are present or ectopically expressing TAFs that are absent, results in misregulated expression of pluripotency genes and induction of differentiation. Thus, the selective expression and use of TAFs underlies the ability of hESCs to self-renew.
https://doi.org/10.7554/eLife.00068.001
Embryonic stem cells have two characteristic properties: they are able to differentiate into any type of cell, a property known as pluripotency, and they are able to replicate themselves indefinitely to produce an endless supply of new stem cells. Different genes code for the various proteins associated with these two properties, and understanding the behaviour and properties of stem cells in detail is a major challenge in developmental biology. In human embryonic stem cells that have not yet differentiated, the genes that code for the transcription factors involved in the self-renewal process are expressed, whereas the genes associated with differentiation are not active. However, if the expression of the genes for self-renewal is reduced, the process of differentiation will begin, and the embryonic stem cells will be able to produce any one of the 200 or so different types of cell found in the human body.
All of this activity is orchestrated by proteins that oversee the transcription of specific regions of DNA into messenger RNA. Transcription is the first step in the process by which genes are expressed as proteins, and it cannot start until the relevant transcription factor binds to a stretch of DNA near the gene called the promoter. These transcription factors are complex structures that contain a central protein called TBP, which binds to the promoter, and 14 or so other proteins called TAFs.
Maston et al. now report that the transcription machinery that regulates gene expression and self-renewal in human embryonic stem cells is different from that found in other types of cells, including embryonic stem cells taken from mice. In particular, they found that undifferentiated human embryonic stem cells contain only 6 of the 14 TAFs observed in other cells, although all 14 are present after differentiation. Moreover, for many active genes the transcription factors contained only two of these TAFs. There was also evidence for a new complex that contained the other four TAFs plus TBP.
Maston et al. also demonstrated that the removal of just one of the six TAFs, or the addition of just one extra TAF, caused the process of differentiation to begin. This shows, they argue, that the unusual transcription machinery they have discovered is essential for the proper workings of human embryonic stem cells.
https://doi.org/10.7554/eLife.00068.002
The specification of tissues and organs in development depends upon the spatially and temporally accurate execution of gene expression programs, much of which is regulated at the level of transcription. The factors involved in the accurate transcription of eukaryotic structural genes by RNA polymerase II can be classified into two groups. First, general (or basic) transcription factors (GTFs) are necessary and can be sufficient for accurate transcription initiation in vitro (for review, see Thomas and Chiang, 2006). These basic factors include RNA polymerase II itself and at least six GTFs: TFIID, TFIIA, TFIIB, TFIIE, TFIIF and TFIIH. The GTFs assemble on the core promoter in an ordered fashion to form a pre-initiation complex (PIC).
Transcriptional activity is greatly stimulated by the second class of factors, promoter-specific activator proteins (activators). In general, activators are sequence-specific DNA-binding proteins whose recognition sites are typically present upstream of the core promoter. Activators work in large part by increasing PIC formation but can also act through other mechanisms, such as accelerating the rate of transcriptional elongation, promoting multiple rounds of transcription and directing chromatin modifications (reviewed in Green, 2005; Fuda et al., 2009; Weake and Workman, 2010).
A long-held view of transcription activation is that specificity arises from the differential expression and activity of activators, which function through the common basic transcription machinery. However, it is now clear that the differential expression and use of basic transcription factors can also contribute to eukaryotic gene regulation (reviewed in Davidson, 2003; Hochheimer and Tjian, 2003). This notion is most dramatically illustrated by a variety of studies focused on the GTF TFIID, a multi-subunit complex composed of the TATA-box-binding protein (TBP) and a set of ∼14 TBP-associated factors (TAFs).
One of the earliest clues about the differential function of TFIID came from studies in yeast demonstrating distinct classes of protein-coding genes that differ by their dependence on and recruitment of TAFs (Kuras et al., 2000; Li et al., 2000). Subsequently, similar classes of TAF-dependent and -independent genes were identified in mammalian cells (Raha et al., 2005; Tokusumi et al., 2007). Consistent with the existence of TAF-independent promoters, more recent studies have found that TAFs are depleted upon terminal differentiation of muscle (Deato and Tjian, 2007; Deato et al., 2008) and liver (D'Alessio et al., 2011). TFIID diversity is also promoted by tissue-specific variants of TAFs as well as TBP derivatives referred to as TBP-related factors (reviewed in D'Alessio et al., 2009; Müller et al., 2010).
Human embryonic stem cells (hESCs) are a good example of a specialized cell type that is regulated by a unique transcriptional network. Two characteristic properties of hESCs, pluripotency, a capacity to differentiate into all fetal and adult cell lineages, and the ability to undergo symmetrical self-renewing divisions, are largely controlled at the transcriptional level (reviewed in Chen and Daley, 2008). In undifferentiated hESCs, pluripotency genes such as OCT4 (also called POU5F1), NANOG and SOX2 are expressed, whereas genes involved in differentiation are transcriptionally inactive (reviewed in Sun et al., 2006; Pan and Thomson, 2007). Decreased expression of pluripotency genes induces differentiation (Niwa et al., 2000), and thus proper transcriptional regulation is essential for self-renewal of undifferentiated hESCs.
Despite intense efforts to identify hESC-specific activators involved in the transcriptional regulatory network of pluripotency, there has been relatively little analysis of GTFs in general and TFIID in particular. Here we find that both the composition and promoter occupancy patterns of hESC TAFs are highly unusual. We go on to show that this selective expression and use of TAFs establishes a transcriptional program required for hESC self-renewal.
In this report we have shown that the general transcription machinery of hESCs is highly unusual in that approximately half of the canonical TFIID TAFs are not detectably expressed. The absence of TAFs was confirmed by multiple, independent experimental approaches including immunoblotting (Figure 1A and Figure 1—figure supplement 3), qRT-PCR (Figure 1B) and ChIP (Figure 4B). Previous studies have reported tissue-specific TAF variants and alterations in TAF expression (reviewed in D'Alessio et al., 2009; Müller et al., 2010), but the composition of hESC TAFs is unprecedented and is likely highly specific, if not unique, to hESCs. For example, we find that mouse ESCs, which bear both similarities and differences to hESCs (Ginis et al., 2004; Wei et al., 2005; Schnerch et al., 2010), express all TFIID TAFs analyzed (Figure 9), consistent with the results of a recent study that focused on the role of TAF3 in mouse ESCs (Liu et al., 2011).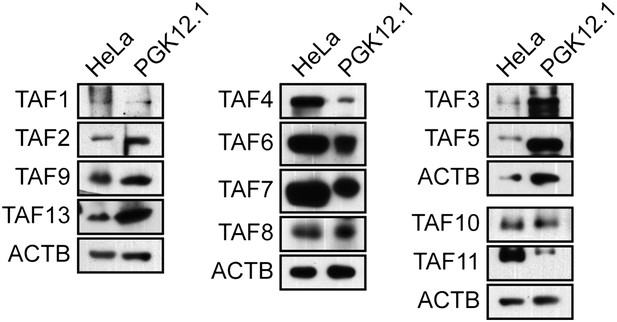 Following submission of our manuscript, the Encyclopedia of DNA Elements (ENCODE) consortium released an extensive set of genome-wide analyses including ChIP-Sequencing (ChIP-Seq) results for TAF1 in H1 hESCs (http://encodeproject.org/ENCODE/), implying that TAF1 is present in H1 cells. Notably, all but one of our experiments were performed in another hESC line, H9 cells. In the one experiment performed in H1 cells, we compared TAF levels in H1 and H9 cells by immunoblotting (Figure 1—figure supplement 3). The pattern of TAF expression in H1 and H9 cells was qualitatively similar but the experiment could not rule out the possibility that TAF1 was present at low levels in H1 cells, which could explain the ENCODE ChIP-Seq results.
It is also possible that in the H9 cells used in our studies TAF1, as well as TAFs 4, 8, 9, 10, 12 and 13, are not entirely absent but rather present at low levels, which are below that we can detect in an immunoblotting assay. However, if H9 cells do contain low levels of TAFs 1, 4, 8, 9, 10, 12 and 13 our biochemical experiments indicate that they are below that required to stably associate with TBP and the TAFs that are detectably present in H9 cells to form the much larger TFIID complex (Figure 2A). In addition, we could not detect significant binding of TAFs 1, 8 and 9 on the promoters of seven transcriptionally active genes in H9 cells in a ChIP assay, although binding was readily detected on the same promoters in HeLa cells (Figure 4B). Thus, our conclusion that H9 cells contain no (or very low levels of) TAFs 1, 4, 8, 9, 10, 12 and 13 is based not only on expression data but also on biochemical results and promoter binding experiments.
A novel TBP-containing TAF complex in undifferentiated hESCs
The absence of seven of the conventional TFIID TAFs suggested that hESCs contain an alternative TBP-containing complex. Our ChIP and biochemical experiments confirmed this possibility and revealed a model in which a stable complex containing TBP and TAFs 2, 6, 7 and 11 is recruited to active class II genes, and TAFs 3 and 5 are recruited independently to all active genes (Figure 8J). Notably, this novel TBP-containing complex lacks TAF1, which in the canonical TFIID complex interacts directly with TBP (Chen et al., 1994), and TAF4, which is essential for assembly of Drosophila TFIID (Wright et al., 2006). However, consistent with the existence of a TBP/TAF 2,6,7,11 complex, previous studies have described interactions between TBP and TAF2 (Verrijzer et al., 1994), TAF6 (Weinzierl et al., 1993) and TAF11 (Lavigne et al., 1996), and between TAF7 and TAF11 (Lavigne et al., 1996).
Previous studies have shown that nine of the 14 TFIID TAFs contain a sequence motif homologous to histones, called the histone fold domain (HFD), which mediates protein–protein interactions (reviewed in Cler et al., 2009; Papai et al., 2011). These nine TAFs can form five specific heterodimers: TAF3–10, TAF6–9, TAF4–12, TAF8–10 and TAF11–13. Several of these heterodimers are thought to be important for the assembly and structure of TFIID. hESCs contain only three HFD-containing TAFs (3, 6 and 11), which cannot form any of the five known heterodimers. This observation strongly suggests there are major differences in assembly and structure of TFIID and the TBP/TAF 2,6,7,11 complex.
An important question raised by our results is the basis by which TAFs are differentially recruited to class I or class II promoters. Studies in yeast have shown that differential recruitment of TAFs can be due to promoter-bound activators, core promoter elements, or both (Shen and Green, 1997; Li et al., 2002). In this regard, TAF2 and TAF6 have been shown to interact with promoter sequence elements (reviewed in Maston et al., 2006), which may contribute to differential promoter recognition by the TBP/TAF 2,6,7,11 complex. In addition, TAF3 contains a PHD finger domain that can bind to the H3K4me3 chromatin mark (Vermeulen et al., 2007), which is enriched at class I promoters (Figure 6E).
Understanding the basis by which basic transcription factors are differentially recruited to promoters on a genome-wide scale appears to be a particularly challenging problem. For example, it is still not understood what distinguishes TAF-dependent and TAF-independent promoters in yeast (Kuras et al., 2000; Li et al., 2000), why some basic transcription factors, such as mediator, are bound at only some promoters (Fan et al., 2006), or the basis by which chromatin-modifying complexes are selectively recruited to promoters (Ng et al., 2002).
Another question arising from our findings is whether there are functional differences that distinguish class I and class II genes. Gene ontology analysis did not reveal any functional category that was differentially enriched in either class I or class II genes (data not shown). For example, although several pluripotency factors including OCT4 (Figure 3B) and NANOG (Figure 10) are encoded by class II genes, we found other pluripotency factors, such as SOX2, DPPA4 and KLF4, that are encoded by class I genes (Figure 10). There was, however, a statistically significant increase in alternative promoters at class II genes (Figure 6F). Notably, alternative promoter use has been suggested to play a role in generating tissue-specific transcripts (Kimura et al., 2006; Kolle et al., 2011; Pal et al., 2011).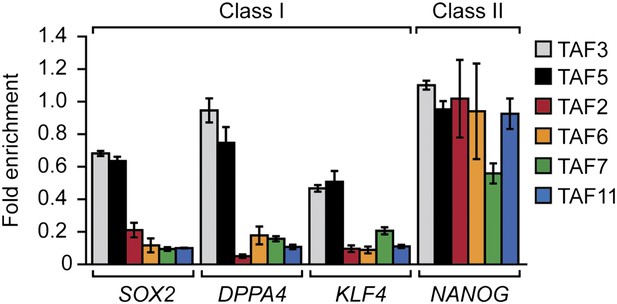 Our ChIP experiments show that genes that are broadly expressed, such as housekeeping genes, can be activated by diverse core promoter recognition complexes in different cell types (Figure 4C), revealing a remarkable plasticity of the transcription machinery. The core promoter sequence is identical in every cell, raising the possibility that in hESCs differences in activators or epigenetic signatures may be coordinated with the alterations in core promoter complexes. For example, in the myogenic program, core promoter recognition complex changes correlates with the presence of developmentally regulated activators (Deato et al., 2008).
The selective expression and use of TAFs is required for hESC self-renewal
We have found that altering the composition of hESC TAFs, either by RNAi-mediated knockdown of TAFs that are present or ectopic expression of TAFs that are absent, results in loss of pluripotency gene expression and induction of differentiation. Thus, the unusual composition of TAFs described here is required for the ability of hESCs to properly regulate gene expression, maintain an undifferentiated state, and self-renew. This conclusion is reinforced by the finding that the TAFs that are absent from undifferentiated hESCs are expressed following differentiation (Figure 1D). The transcriptional induction of several differentiation markers, which are not normally expressed in hESCs, following knockdown of an hESC TAF can be explained either by the dispensability of the TAF for transcription of the marker, or incomplete knockdown enabling transcription to occur at reduced TAF levels.
A characteristic feature of the switch of undifferentiated hESCs to the differentiated state is the loss of pluripotency gene expression. We have shown that ectopic expression of TAFs that are not present in undifferentiated hESCs results in transcriptional inactivation of pluripotency genes. Thus, the transcriptional induction of TFIID TAFs that are absent from undifferentiated hESCs may be at least part of the mechanism by which pluripotency genes are silenced following differentiation.
As discussed above, previous studies have shown that terminal differentiation of muscle (Deato and Tjian, 2007) and liver (D'Alessio et al., 2011) is accompanied by loss of TFIID TAFs. These and other findings have prompted speculation that during differentiation the canonical TFIID complex becomes progressively specialized (reviewed in D'Alessio et al., 2009). However our results reveal a more complex model. Rather than starting from a complete, canonical TFIID and progressing to more restricted forms, undifferentiated hESCs start with a specialized, highly unique general transcription machinery, then switch to a period of complete TFIID before specialization of the transcription machinery again in some terminal differentiation programs. Collectively, these findings suggest that altering the composition of the basic transcription machinery in general and TAFs specifically may be a particularly powerful mechanism for developmental reprogramming.
Unique gene expression signatures of independently-derived human embryonic stem cell lines

Hum Mol Genet 13:601–608.

Core transcriptional regulatory circuitry in human embryonic stem cells

Cell 122:947–956.

Assembly of recombinant TFIID reveals differential coactivator requirements for distinct transcriptional activators

Cell 79:93–105.

Recent advances in understanding the structure and function of general transcription factor TFIID

Cell Mol Life Sci 66:2123–2134.

Core promoter recognition complex changes accompany liver development

Proc Natl Acad Sci USA 108:3906–3911.

Shifting players and paradigms in cell-specific transcription

Mol Cell 36:924–931.

The genetics of TBP and TBP-related factors

Trends Biochem Sci 28:391–398.

Switching of the core transcription machinery during myogenesis

Genes Dev 21:2137–2149.

Gene Expression Omnibus: NCBI gene expression and hybridization array data repository

Nucleic Acids Res 30:207–210.

Duplexes of 21-nucleotide RNAs mediate RNA interference in cultured mammalian cells

Nature 411:494–498.

Activator-specific recruitment of Mediator in vivo

Nat Struct Mol Biol 13:117–120.

Defining mechanisms that regulate RNA polymerase II transcription in vivo

Nature 461:186–192.

Differences between human and mouse embryonic stem cells

Dev Biol 269:360–380.

Galaxy: a comprehensive approach for supporting accessible, reproducible, and transparent computational research in the life sciences

Genome Biol 11:R86.

Eukaryotic transcription activation: right on target

Mol Cell 18:399–402.

A chromatin landmark and transcription initiation at most promoters in human cells

Cell 130:77–88.

Initiation of zebrafish haematopoiesis by the TATA-box-binding protein-related factor Trf3

Nature 450:1082–1085.

Diversified transcription initiation complexes expand promoter selectivity and tissue-specific gene expression

Genes Dev 17:1309–1320.

Diversification of transcriptional modulation: large-scale identification and characterization of putative alternative promoters of human genes

Genome Res 16:55–65.

Deep-transcriptome and ribonome sequencing redefines the molecular networks of pluripotency and the extracellular space in human embryonic stem cells

Genome Res 21:2014–2025.

TAF-Containing and TAF-independent forms of transcriptionally active TBP in vivo

Science 288:1244–1248.

Multiple interactions between hTAFII55 and other TFIID subunits. Requirements for the formation of stable ternary complexes between hTAFII55 and the TATA-binding protein

J Biol Chem 271:19774–19780.

Distinct classes of yeast promoters revealed by differential TAF recruitment

Science 288:1242–1244.

Selective recruitment of TAFs by yeast upstream activating sequences. Implications for eukaryotic promoter structure

Curr Biol 12:1240–1244.

Control of embryonic stem cell lineage commitment by core promoter factor, TAF3

Cell 146:720–731.

Transcriptional regulatory elements in the human genome

Annu Rev Genomics Hum Genet 7:29–59.

Developmental regulation of transcription initiation: more than just changing the actors

Curr Opin Genet Dev 20:533–540.

Genome-wide location and regulated recruitment of the RSC nucleosome-remodeling complex

Genes Dev 16:806–819.

Quantitative expression of Oct-3/4 defines differentiation, dedifferentiation or self-renewal of ES cells

Nat Genet 24:372–376.

Alternative transcription exceeds alternative splicing in generating the transcriptome diversity of cerebellar development

Genome Res 21:1260–1272.

Nanog and transcriptional networks in embryonic stem cell pluripotency

Cell Res 17:42–49.

New insights into the function of transcription factor TFIID from recent structural studies

Curr Opin Genet Dev 21:219–224.

Requirement for Xist in X chromosome inactivation

Nature 379:131–137.

HIV-1 Tat stimulates transcription complex assembly through recruitment of TBP in the absence of TAFs

PLoS Biol 3:e44.

Distinguishing between mouse and human pluripotent stem cell regulation: the best laid plans of mice and men

Stem Cells 28:419–430.

Yeast TAF(II)145 functions as a core promoter selectivity factor, not a general coactivator

Cell 90:615–624.

Small-scale density gradient sedimentation to separate and analyze multiprotein complexes

Methods 12:224–234.

The general transcription machinery and general cofactors

Crit Rev Biochem Mol Biol 41:105–178.

The new core promoter element XCPE1 (X Core Promoter Element 1) directs activator-, mediator-, and TATA-binding protein-dependent but TFIID-independent RNA polymerase II transcription from TATA-less promoters

Mol Cell Biol 27:1844–1858.

Selective anchoring of TFIID to nucleosomes by trimethylation of histone H3 lysine 4

Cell 131:58–69.

Drosophila TAFII150: similarity to yeast gene TSM-1 and specific binding to core promoter DNA

Science 264:933–941.

Inducible gene expression: diverse regulatory mechanisms

Nat Rev Genet 11:426–437.

Cloning and expression of Drosophila TAFII60 and human TAFII70 reveal conserved interactions with other subunits of TFIID

EMBO J 12:5303–5309.

TAF4 nucleates a core subcomplex of TFIID and mediates activated transcription from a TATA-less promoter

Proc Natl Acad Sci USA 103:12347–12352.

ChIPpeakAnno: a Bioconductor package to annotate ChIP-seq and ChIP-chip data

BMC Bioinformatics 11:237.
Jim Kadonaga

Reviewing Editor; University of California, San Diego, United States
eLife posts the editorial decision letter and author response on a selection of the published articles (subject to the approval of the authors). An edited version of the letter sent to the authors after peer review is shown, indicating the substantive concerns or comments; minor concerns are not usually shown. Reviewers have the opportunity to discuss the decision before the letter is sent (see review process). Similarly, the author response typically shows only responses to the major concerns raised by the reviewers.
Thank you for choosing to send your work entitled "Non-canonical TAF Complexes Regulate Active Promoters in Human Embryonic Stem Cells" for consideration at eLife. Your article has been evaluated by a Senior Editor and 3 reviewers, two of whom are members of eLife's Board of Reviewing Editors. The following individuals responsible for the peer review of your submission want to reveal their identity: Jim Kadonaga; Danny Reinberg.
The Reviewing Editor and two other reviewers discussed their comments before we reached this decision, and the Reviewing Editor has assembled the following comments based on the reviewers' reports. Our goal is to provide the essential revision requirements as a single set of instructions, so that you have a clear view of the revisions that are necessary for us to publish your work.
In this study, the authors investigated the function of the TAFs (TBP-associated factors) in human embryonic stem cells (hESCs). The conventional/canonical TFIID complex comprises TBP and about 14 TAF subunits. In this work, it was found that TAFs 2, 3, 5, 6, 7, and 11 - but not TAFs 1, 4, 8, 9, 10, 12, and 13 - are expressed in hESCs, and that TAFs 2, 6, 7, and 11 appear to form a novel complex with TBP. By ChIP analysis, two classes of transcriptionally active genes were identified in hESCs. Class I genes are regulated by TAFs 3 and 5, whereas Class II genes are regulated by all six TAFs in hESCs. RNAi depletion of TAF 2, 3, 5, 6, 7, or 11 as well as overexpression of TAF1 caused a decrease in pluripotency. These findings suggest that the proper regulation of TAFs is important for the maintenance of hESCs.
These results reveal that a subset of the pol II TAFs are expressed in hESCs, and that the specific expression of these TAFs is important for the maintenance of pluripotency. The analysis was rigorous, comprehensive, and convincing. The findings are novel, and of high impact and general interest. This work will be appropriate for publication in eLife if the following points are suitably addressed.
1. Fig. 5. Does the knockdown of one TAF affect the occupancy of other TAFs and RNA pol II at the genes analyzed? If such information is available, it would be a useful addition to the paper.
2. Fig. 6E. The range of the Y axis should be from 0 to 100 percent. This would give a better perspective on the data.
3. Fig. 6F. The range of the Y axis should be from 0.0 to 1.0. The authors should also explain what criteria were used to determine whether or not a gene has alternate promoters.
https://doi.org/10.7554/eLife.00068.027
1. The reviewer commented that, if the information were available, the results of RNA polymerase II and TAF recruitment would be a useful addition to the shRNA-mediated knockdown experiments of Figure 5.
For different reasons, as explained below, neither of the two datasets mentioned by the reviewer is available.
With regard to RNA polymerase II recruitment, a number of previous studies by our laboratory and others have analyzed the relationship between TAF dependence and RNA polymerase II occupancy in vivo. Notably, these studies have been carried out in a wide range of eukaryotes including yeast, Drosophila S2 cells and mammalian cells. The results of these studies have clearly demonstrated that when a TAF is required for transcription of a gene, loss-of-function of that TAF (resulting from mutational inactivation, RNA interference-mediated depletion or decreased expression) results in diminished transcription that is accompanied by decreased RNA polymerase II occupancy in a chromatin-immunoprecipitation (ChIP) assay. Representative examples of such studies include those performed in yeast (Shen et al. 2003, EMBO J. 22:3395; Sharma et al. 2003, Genes Dev. 17:502), Drosophila S2 cells (Vorobyeva et al. 2009, PNAS 106:11049) and mammalian cells (Deato and Tjian 2007, Genes Dev. 21:2137; Zaborowska et al. 2012, Transcription 3:92). In addition to these in vivo examples, several in vitro studies have also demonstrated a role for TAFs in RNA polymerase II recruitment (see, for examples, Wu and Chiang 2001, J. Biol. Chem. 276:34235; Felinski and Quinn 2001, PNAS 98:13078).
Therefore, because the relationship between TAF dependence and RNA polymerase II occupancy had been well established, this issue was not investigated in our current study.
With regard to TAF recruitment, we are in fact actively studying the requirement of specific TAFs for recruitment of other TAFs and TBP at class I and class II promoters. We believe that when these results are completed they may provide insights into the roles of specific TAFs in transcription of class I and class II genes and shed light on the differences between class I and class II promoters. However, our preliminary results indicate that the requirement of specific TAFs for recruitment of other TAFs and TBP is complex, differs among the TAFs, and may also differ between promoters of the same class. Therefore, until we have performed a comprehensive analysis, which will require considerably more experimentation and time and may necessitate genome-wide studies, we think it would premature to publish a limited set of results, which could be potentially non-representative and misleading.
2. The reviewer requested that we revise Figure 6E so that the Y-axis ranges from 0 to 100 percent to provide a better perspective on the data.
We have revised the figure as requested by the reviewer.
3. The reviewer requested that we revise Figure 6F so that the Y-axis ranges from 0.0 to 1.0. He/she also asked that we explain the criteria used to determine whether or not a gene has an alternative promoter.
We have revised the figure as requested by the reviewer. The criteria we used to determine whether a gene has an alternative promoter is described in detail in the Materials and Methods section. Prompted by the reviewer's comment, we have revised the main text describing Figure 6F to briefly state that alternative promoters were identified based on UCSC Genome browser annotations, and refer the reader to the Materials and Methods section for additional details.
https://doi.org/10.7554/eLife.00068.028
Article and author information
Author details
National Institutes of Health (R01GM033977)
Howard Hughes Medical Institute (068101)
The funders had no role in study design, data collection and interpretation, or the decision to submit the work for publication.
We thank R. Roeder and I. Davidson for providing TAF antibodies, J. Conaway for the MED18 antibody, and V. Ramesh for the MED28 antibody; M. Mandeville and the UMMS Human Embryonic Stem Cell Core Facility for supplying hESCs; P. Spatrick in the UMass Genomics Core Facility for assistance with the ChIP-chip array hybridizations and scanning; A. Virbasius for constructing TAF expression plasmids; M. Salani for designing and providing gene desert primers; and S. Deibler and D. Conte for editorial assistance. M.R.G. is an investigator of the Howard Hughes Medical Institute.
Jim Kadonaga, University of California, San Diego, United States
© 2012, Maston et al.
This article is distributed under the terms of the Creative Commons Attribution License, which permits unrestricted use and redistribution provided that the original author and source are credited.
791

Page views

116

Downloads

25

Citations
Article citation count generated by polling the highest count across the following sources: Crossref, Scopus, PubMed Central.
A two-part list of links to download the article, or parts of the article, in various formats.
Downloads
(link to download the article as PDF)
Download citations
(links to download the citations from this article in formats compatible with various reference manager tools)
Open citations
(links to open the citations from this article in various online reference manager services)