Recognition of familiar food activates feeding via an endocrine serotonin signal in Caenorhabditis elegans
Cited

18

Views

1,072

Comments

0
Familiarity discrimination has a significant impact on the pattern of food intake across species. However, the mechanism by which the recognition memory controls feeding is unclear. Here, we show that the nematode Caenorhabditis elegans forms a memory of particular foods after experience and displays behavioral plasticity, increasing the feeding response when they subsequently recognize the familiar food. We found that recognition of familiar food activates the pair of ADF chemosensory neurons, which subsequently increase serotonin release. The released serotonin activates the feeding response mainly by acting humorally and directly activates SER-7, a type 7 serotonin receptor, in MC motor neurons in the feeding organ. Our data suggest that worms sense the taste and/or smell of novel bacteria, which overrides the stimulatory effect of familiar bacteria on feeding by suppressing the activity of ADF or its upstream neurons. Our study provides insight into the mechanism by which familiarity discrimination alters behavior.
https://doi.org/10.7554/eLife.00329.001
Many species, including our own, show a preference for familiar foods over novel ones. This behavior probably evolved to reduce the risk of consuming items that turn out to be poisonous, but the mechanisms that underlie a preference for familiar foods are largely unknown.
The nematode worm, C. elegans, is a useful organism in which to study such processes. Having only around 1000 cells and a simple anatomy, C. elegans is an attractive model system for studying molecular biology, and was the first multicellular organism to have its genome fully sequenced.
C. elegans feeds on bacteria, which it detects using a pair of sensory cells called ADF neurons, which sense extrinsic cues. When the ADF neurons detect bacteria, they release the transmitter serotonin. Serotonin stimulates the worm to consume the bacteria by pumping them into the pharynx, its feeding organ, and then transporting them to its intestine after crushing them.
Now, Song et al. have demonstrated that C. elegans consumes familiar bacteria more rapidly than it does novel ones, and have identified the molecular mechanism behind this behavior. They found that familiar bacteria stimulated the release of serotonin from the ADF cells: this activated SER-7 receptors on a specific type of motor neuron in the pharynx and this, in turn, triggered the worms' feeding response. Novel bacteria, on the other hand, failed to either activate ADF or to trigger feeding. Moreover, when Song et al. offered the worms familiar bacteria in medium that had previously contained novel bacteria, the residual traces of the novel bacteria stopped the worms from responding to familiar food.
Further research is needed to determine whether the mechanisms that underpin the more active consumption of familiar food by C. elegans can also explain the preference for familiar foods shown by other species. A better understanding of the mechanisms by which different foods elicit feeding could also offer important insights into factors that contribute to obesity.
https://doi.org/10.7554/eLife.00329.002
Wholesome food is essential for survival and animals have developed nervous systems that guide food intake. The nervous system senses diverse extrinsic and intrinsic cues, integrates the information and activates muscle movements that are required for food intake. The nervous system also stores past food experiences, which change the pattern of food intake. Dissection of the neural pathways that control food intake is not only a key to stop the epidemic of obesity and eating disorders, but may also provide insight into fundamental problems in neuroscience such as sensory perception and learning and memory.
Recognition is the ability to identify and to judge a recently encountered item as having been presented previously (Brown and Aggleton, 2001). In response to previously encountered stimuli, this ability allows knowledge gained from prior experience to guide animals to respond with an altered output that is beneficial for their survival. Recognition is classified into two types: recollection and familiarity discrimination. Recollection is knowledge of prior occurrence with vivid contextual details. In contrast, familiarity discrimination is mere sensation of prior occurrence and thus does not accompany episodic memory (Brown and Aggleton, 2001). Accumulated studies show that mere exposure to particular food alters subsequent consumption of the food in many different species (Pliner et al., 1993; Wang and Provenza, 1996; Diaz-Cenzano and Chotro, 2010; Morin-Audebrand et al., 2012), suggesting that feeding regulation by familiarity discrimination is conserved across species. Some species including humans consume familiar food more actively than novel food (Diaz-Cenzano and Chotro, 2010), probably to avoid possible pathogens. In contrast, other species consume familiar food less actively than novel food (Wang and Provenza, 1996), probably to assure balanced nutrition intake. Despite extensive studies of recognition (Brown and Aggleton, 2001; Barker et al., 2006; Seoane et al., 2009; Uslaner et al., in press) and subsequent behavioral plasticity (Kandel and Schwartz, 1982; Kravitz, 1988), the mechanisms by which familiarity discrimination alters food intake are still poorly understood.
Its genetic tractability and simple anatomy make the bacteria-eating roundworm C. elegans (Schafer, 2005) an attractive model system for study of the process. Although it is unknown if familiarity discrimination alters food intake in C. elegans, the following observations support the possibility: The nervous system in C. elegans senses various aspects of food, such as the efficiency with which it supports growth (Shtonda and Avery, 2006) and its pathogenicity (Zhang et al., 2005), and triggers behavioral plasticity. The nervous system can also form memories of various olfactory or gustatory cues (Bargmann, 2006), which is likely to be crucial for the recognition of familiar food. Here, we show that C. elegans discriminates familiar food from novel food and selectively increases feeding in response to familiar food. Using the behavioral pattern that we identified, we uncover the mechanism by which familiarity discrimination increases the feeding response.
Exposure to a particular food plays a significant role in shaping the pattern of food intake by altering subsequent consumption of the food. Here, using the simple animal model C. elegans, we delineate a neural pathway by which food exposure alters later consumption of the food. We first showed that regulation of feeding by familiarity discrimination is conserved in C. elegans by showing that (1) Prior exposure to particular bacteria selectively increases feeding in response to those bacteria; (2) The behavior depends on the duration of exposure, but not on the timing of exposure (Figure 3) or nutritional status (Figure 1B–E); (3) C. elegans retains the memory of familiar bacteria for at least 7 hr (Figure 1D,E and 2B–E). We speculate that the C. elegans nervous system may have evolved this way to increase the probability of consuming wholesome food by using past food experiences as in higher vertebrates and humans. It was previously shown that naïve worms are attracted to the smell of pathogenic bacteria but develop aversion to it after experience (Zhang et al., 2005; Ha et al., 2010). The pathogenic bacteria kill worms in 4 hr (Zhang et al., 2005) and thus, it would be detrimental for worms to increase consumption of the bacteria. Our hypothesis can be tested by testing whether worms increase the feeding response to the pathogenic bacteria after experience.
By combining genetic analysis with imaging and immunohistochemistry, we found that recognition of familiar bacteria activates a pair of chemosensory neurons ADF, which transmits an endocrine serotonin signal that activates SER-7 in MC pharyngeal motor neurons, whose activation increases the feeding rate via cholinergic transmission from MC to the pharyngeal muscles (Figure 15).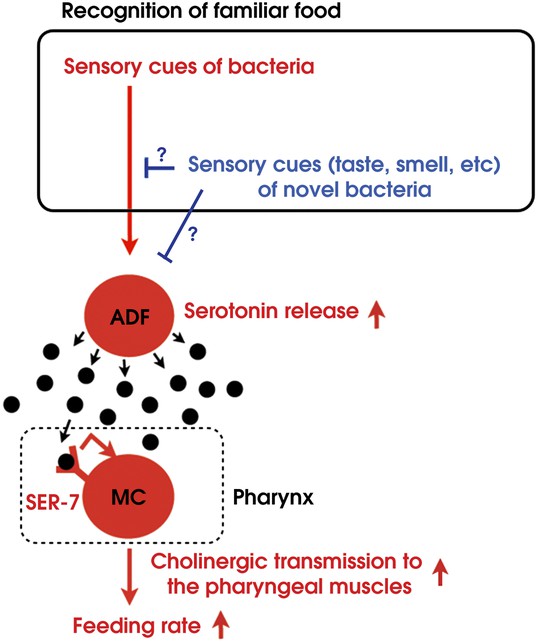 Recognition of familiar food activates feeding via an endocrine serotonin signal
Given that NSM is a prominent reservoir of serotonin in the pharynx, and that NSM is implicated in regulating the enhanced slowing response on food (Sawin et al., 2000), it is surprising that serotonin in NSM does not affect feeding in presence of familiar food. One plausible explanation is that NSM releases little or no serotonin, which is insufficient to activate MC neurons in the pharynx in response to familiar food. This explanation does not contradict previously reported NSM function in the enhanced slowing response (Sawin et al., 2000) because serotonin from NSM has only a small effect on the behavior (Sawin et al., 2000; Zhang et al., 2005). An endocrine serotonin signal from ADF, not a local serotonin signal from NSM, may have been employed for the feeding activation on familiar food to systemically control multiple behaviors and physiological adaptations. To test this possibility, it would be informative to study whether familiarity of food affects behaviors (Horvitz et al., 1982; Avery and Horvitz, 1990; Sawin et al., 2000; Sze et al., 2000) and various aspects of physiology (Liang et al., 2006; Petrascheck et al., 2007; Srinivasan et al., 2008) that are controlled by serotonin in presence of food (e.g., the systemic suppression of stress response that requires serotonin from ADF; Ranganathan et al., 2001). Further studies will be helpful to understand how recognition of familiar food contributes to survival in C. elegans.
Suppressing activity of ADF or its upstream neurons by taste and smell of novel food results in selective activation of the feeding response on familiar food
How then are ADF and the downstream serotonin feeding signal controlled to increase feeding on particular bacteria after experience? Our results that conditioned media from novel bacteria override the stimulatory effect of familiar bacteria and suppress the feeding response (Figure 14) and that ADF is active only on familiar bacteria (Figure 12) indicate that perception of the smell and/or the taste of novel bacteria suppresses feeding activation on novel food by inhibiting the activity of ADF or its upstream neurons (Figure 15). Given that familiar food substantially increased ADF activity compared to the baseline (Figure 12A,B), at least two neural pathways should act antagonistically in controlling the activity of ADF or its upstream neurons. The simplest model would be that ADF or its upstream neurons are positively regulated by perception of food and negatively regulated by perception of olfactory and gustatory cues of novel bacteria (Figure 15).
Our study predicts that novel bacteria dictate activation of ADF and the subsequent serotonin-dependent feeding response in the natural habitat where more than one bacterial type are likely to grow mixed together. Preliminary data show that C. elegans remembers two bacterial types at least for 24 hr (data not shown), supporting the possibility that C. elegans accumulates past food experience and uses them for feeding regulation in its natural habitat.
Serotonin transmission from ADF modulates seemingly opposite experience-dependent behaviors
The following observations suggest that ADF releases serotonin and increases the feeding response when worms encounter familiar bacteria: (1) Serotonin from ADF increases the feeding response (Figure 8A); (2) ADF is activated selectively by familiar bacteria within 1 min (Figure 12A,B); (3) ADF releases more serotonin in response to familiar bacteria than novel bacteria (Figure 11D). Interestingly, serotonin transmission from ADF was also shown to be critical for the learned aversion to pathogenic bacteria (Zhang et al., 2005; Ha et al., 2010), which is opposite in direction to the appetitive change in feeding behavior that we describe here. For the aversive learning, it is not yet clear when the serotonin signal from ADF acts. It will be interesting to understand how serotonin signaling from ADF and the physiological context are integrated to produce seemingly opposite experience-dependent behaviors. Further studies to understand regulation of the two seemingly opposite behaviors at the neural circuit level will also help us understand how the C. elegans nervous system differentially encodes, maintains and retrieves the appetitive and aversive memories of bacteria.
Many questions remain to be answered to fully understand the mechanism underlying recognition of familiar bacteria in C. elegans. How do worms sense different bacteria? What changes in the nervous system underlie the process of becoming familiar to particular bacteria during experience? Further quests to explore these unanswered questions may deepen our understanding of sensory information processing and familiarity discrimination.
1

2

3

4

Food transport in the C. elegans pharynx

J Exp Biol 206:2441–2457.

5

WormBook

WormBook, 10.1895/wormbook.1.123.1.

6

Control of larval development by chemosensory neurons in Caenorhabditis elegans

Science 251:1243–1246.

7

8

The genetics of Caenorhabditis elegans

Genetics 77:71–94.

9

Recognition memory: what are the roles of the perirhinal cortex and hippocampus?

Nat Rev Neurosci 2:51–61.

10

Indolealkylamines in the coordination of nematode behavioral activities

Can J Zool 53:894–903.

11

12

Computer control of microscopes using μManager

Curr Protoc Mol Biol, Chapter 14, Unit14.20, 10.1002/0471142727.mb1420s92.

13

Statistical Methods for Research Workers

Edinburgh: Oliver and Boyd.

14

15

PCR fusion-based approach to create reporter gene constructs for expression analysis in transgenic C. elegans

Biotechniques 32:728–730.

16

17

18

19

20

Molecular biology of learning: modulation of transmitter release

Science 218:433–443.

21

22

Hormonal control of behavior: amines and the biasing of behavioral output in Lobsters

Science 241:1775–1781.

23

Serotonin targets the DAF-16/FOXO signaling pathway to modulate stress responses

Cell Metab 4:429–440.

24

25

26

27

28

29

Mutations in the Caenorhabditis elegans serotonin reuptake transporter MOD-5 reveal serotonin-dependent and -independent activities of fluoxetine

J Neurosci 21:5871–5884.

30

C. elegans locomotory rate is modulated by the environment through a dopaminergic pathway and by experience through a serotonergic pathway

Neuron 26:619–631.

31

Deciphering the neural and molecular mechanisms of C. elegans behavior

Curr Biol 15:R723–R729.

32

33

34

Serotonin activates overall feeding by activating two separate neural pathways in C. elegans

J Neurosci 32:1920–1931.

35

36

37

Killing of Caenorhabditis elegans by Pseudomonas aeruginosa used to model mammalian bacterial pathogenesis

Proc Natl Acad Sci USA 96:715–720.

38

39

Food preference and acceptance of novel foods by lambs depend on the composition of the basal diet

J Anim Sci 74:2349–2354.

40

Pathogenic bacteria induce aversive olfactory learning in Caenorhabditis elegans

Nature 438:179–184.
Peggy Mason

Reviewing Editor; University of Chicago, United States
eLife posts the editorial decision letter and author response on a selection of the published articles (subject to the approval of the authors). An edited version of the letter sent to the authors after peer review is shown, indicating the substantive concerns or comments; minor concerns are not usually shown. Reviewers have the opportunity to discuss the decision before the letter is sent (see review process). Similarly, the author response typically shows only responses to the major concerns raised by the reviewers.
Thank you for choosing to send your work entitled "Recognition of familiar food activates feeding via an endocrine serotonin signal in C. elegans" for consideration at eLife. Your article has been evaluated by a Senior editor and 3 reviewers, one of whom is a member of our Board of Reviewing Editors. Peggy Mason served as the Reviewing editor.
The Reviewing editor and two reviewers discussed their comments before we reached this decision, and the Reviewing editor has assembled the following comments based on the reviewers' reports.
Your work is thorough, interesting, and novel. Attention to the following points would further strengthen the manuscript:
* Not all pairwise combinations are tested in behavioral assays with HB101 always being tested against one of the others. The consistency of the behavioral results mitigates this concern but the lack of a second comparison is more problematic in the Ca++ imaging study.
* Is it possible to elicit pharyngeal pumping by ADF activation?
* Day-to-day variations in feeding rates are as large or larger than the familiarity effect. Depending on how the experiments were done, this could be of serious concern or simply puzzling. It should be stated explicitly whether experiments and controls for every comparison were done on the same day, using the same reagents. The variability in baseline pumping rate appears as an issue in much of the data and is of particular concern with regard to drawing negative conclusions (e.g., Figure 5a, Figure 8c–d).
* What were the actual values of R, i.e., of the exponential fit of the baseline I535/I480 ratio and their variations? Do ADF::gfp animals display similar rates of bleaching? The average values of the individual yellow and cyan channels should also be presented. A description of the design of the microfluidic chip (or a reference) should be given. How much time passed from picking to imaging?
[Editors' note: the following comments were sent to the authors upon evaluating the revised manuscript.]
One issue that still concerns us is the day-to-day variation issue. Of course we understand that variation happens. At the same time, the range of the day-to-day variation (about 100 pumps/min) is larger than the size of the effect (about 20). Your response mentions that you always tested worms in two conditions at the same time, and on the same day with the same reagents. Then you state that you combined data from 3–5 experiments (meaning 3–5 days presumably) together. This latter methodology makes the variability more difficult to understand. Why wouldn't the day-to-day variation average out similarly across groups? Moreover, if similar numbers of experiment- and control-animals were not assayed in each experiment, then how can data from the different days be grouped together (unless there was no day-by-day variation)? It is therefore necessary to provide more methodological details. Finally, related to this issue are negative conclusions from experiments that have control pumping rates on the very low side (e.g., Figures 4b, 5a). As it is not clear that the pumping rate could be lower than such low control values, it is not clear that the conclusions stated are warranted.
https://doi.org/10.7554/eLife.00329.019
Article and author information
Author details
US Public Health Service (HL46154)
The funders had no role in study design, data collection and interpretation, or the decision to submit the work for publication.
We thank F Ausubel, C Bargmann, A Fire, R Horvitz, R Komuniecki, C Li and G Ruvkun for kindly providing us with strains and reagents. We thank the Caenorhabditis Genetic Center for strains. We thank D Raizen, C Kang, R Lin, S Robertson for their discussion and comments. Some mutations were generated by the International C. elegans Gene Knockout Consortium (http://www.celeganskoconsortium.omrf.org). Some mutations were generated by the National Bioresource Project for the Experimental Animal 'Nematode C. elegans' (http://www.shigen.nig.ac.jp/c.elegans/index.jsp).
Peggy Mason, Reviewing Editor, University of Chicago, United States
© 2013, Song et al.
This article is distributed under the terms of the Creative Commons Attribution License, which permits unrestricted use and redistribution provided that the original author and source are credited.
1,072

Page views

137

Downloads

18

Citations
Article citation count generated by polling the highest count across the following sources: Crossref, Scopus, PubMed Central.
A two-part list of links to download the article, or parts of the article, in various formats.
Downloads
(link to download the article as PDF)
Download citations
(links to download the citations from this article in formats compatible with various reference manager tools)
Open citations
(links to open the citations from this article in various online reference manager services)