Retinoblastoma Protein: Disruptive influence
With more than 11,000 papers published on it, one would assume that we know all there is to know about retinoblastoma protein (Rb). This protein has been the subject of intense study ever since it was realized that the inactivation of Rb is a fundamental event in the development of cancer. However, it has been difficult to determine what Rb does in normal cells because it appears to be involved in a wide range of processes, including transcriptional regulation, chromatin remodelling, the cell cycle and apoptosis. Now, in eLife, Keigo Araki, Yoichi Taya and colleagues at the National University of Singapore report an intriguing new aspect of Rb. They show that, under certain conditions, Rb can move from the cell nucleus—where it is usually found—to the cytoplasm, where it disrupts the basic units of muscle (Araki et al., 2013).
This finding is important because it could help explain why late-stage cancer patients often encounter progressive muscle weakness and atrophy that cannot be reversed by increased calorie intake (reviewed in Fearon et al., 2012). It has been estimated that this condition—which is called cachexia, and which also involves changes to the neuroendocrine system, the immune system and adipose tissue–is the direct cause of death for approximately 20% cancer patients, so obtaining a better understanding of the molecular mechanisms responsible for it is of paramount importance. According to the current understanding of cachexia, various inflammatory cytokines lead to the up-regulation of enzymes called E3 ubiquitin ligases, which then mediate the breakdown of the proteins that make up sarcomeres, which are the basic building blocks of muscle. At the same time, the expression of the genes that code for skeletal muscle are down-regulated.
The new results demonstrate that Rb can destabilize the sarcomeric proteins in the muscle cells of cancer patients: by interacting with mDia1 (a protein that nucleates the formation of actin filaments in the cytoplasm), Rb may influence both the assembly of actin filaments and the generation of force by these filaments (Figure 1). It remains to be seen whether the interaction between mDia1 and Rb is the consequence of the activity of E3 ligases or of altered cellular energy balance, or if it precedes these stages in the weakening of skeletal muscle. Indeed, it has been suggested that the filaments are more susceptible to degradation after they have been dislodged from the sarcomere (Solomon and Goldberg, 1996). The equivalent of mDia1 in C. elegans is known to be important in the attachment of actin filaments to a structure called the Z-line, which marks the edge of the sarcomere (Figure 1; Mi-Mi et al., 2012). It is conceivable, therefore, that the co-localization of mDia1 and Rb near the Z-line in human cells may lead to the degradation of actin filaments and enhance the breakdown of proteins within the cells.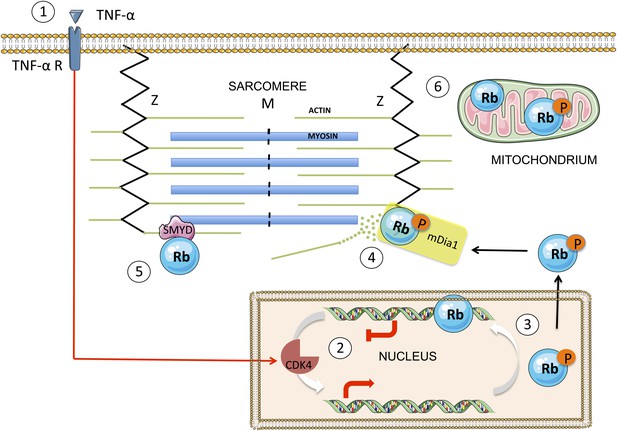 A considerable amount of evidence about the diverse range of roles performed by Rb in the cytoplasm has emerged in recent years. For example, it has been demonstrated that Rb can be localized in mitochondria and also shown that it is involved in inducing apoptosis (Hilgendorf et al., 2013). Moreover, in various cells Rb is methylated by an enzyme called SMYD2, which enhances the phosphorylation of Rb and the recruitment of additional co-factors (Saddic et al., 2010; Cho et al., 2012). And in separate studies of skeletal muscle cells, SMYD1 and SMYD2 have been found to be vital for forming complexes with myosin, myosin chaperones and titin. Loss of SMYD function is also known to lead to the disruption of sarcomere (Just et al., 2011; Donlin et al., 2012; Li et al., 2013).
These data place Rb in a protein interaction network, which now includes both myosin and actin filaments of skeletal muscle, along with their regulatory factors. We can expect exciting times in unravelling how this stress responsive pathway is fine-tuned to sense the balance between healthy cells, sarcomere breakdown and apoptosis. It will be intriguing to study how these cytoplasmic functions of Rb relate to its role as a transcriptional regulator in the nucleus and how Rb is distributed between different cellular compartments.
With these newly identified functions, Rb has managed to surprise us once again. The loss of Rb has long been associated with cancer. Now it appears that native Rb can also have detrimental effects for patients away from cancer tissue. And while the presence of Rb in the cytoplasm of cells in skeletal muscles can have damaging consequences, we still do not know if there is an underlying physiological role for Rb in the healthy turnover sarcomeres. Ultimately, of course, we hope it will be possible to minimize cancer-related muscle wasting by modifying the behaviour of Rb in skeletal muscle cells.
Article and author information
Author details
© 2013, Cossu et al.
This article is distributed under the terms of the Creative Commons Attribution License, which permits unrestricted use and redistribution provided that the original author and source are credited.
290

Page views

18

Downloads

1

Citations
Article citation count generated by polling the highest count across the following sources: Crossref, Scopus, PubMed Central.
A two-part list of links to download the article, or parts of the article, in various formats.
Downloads
(link to download the article as PDF)
Open citations
(links to open the citations from this article in various online reference manager services)
Cite this article
(links to download the citations from this article in formats compatible with various reference manager tools)
Giulio Cossu
Artal Moreno-Fortuny
Urmas Roostalu
Retinoblastoma Protein: Disruptive influence
eLife 2:e01779.
https://doi.org/10.7554/eLife.01779
Further reading
Skeletal muscle degeneration is a complication arising from a variety of chronic diseases including advanced cancer. Pro-inflammatory cytokine TNF-α plays a pivotal role in mediating cancer-related skeletal muscle degeneration. Here, we show a novel function for retinoblastoma protein (Rb), where Rb causes sarcomeric disorganization. In human skeletal muscle myotubes (HSMMs), up-regulation of cyclin-dependent kinase 4 (CDK4) and concomitant phosphorylation of Rb was induced by TNF-α treatment, resulting in the translocation of phosphorylated Rb to the cytoplasm. Moreover, induced expression of the nuclear exporting signal (NES)-fused form of Rb caused disruption of sarcomeric organization. We identified mammalian diaphanous-related formin 1 (mDia1), a potent actin nucleation factor, as a binding partner of cytoplasmic Rb and found that mDia1 helps maintain the structural integrity of the sarcomere. These results reveal a novel non-nuclear function for Rb and suggest a potential mechanism of TNF-α-induced disruption of sarcomeric organization.

Cell Biology
Chromosomes and Gene Expression

Most studies of cohesin function consider the Stromalin Antigen (STAG/SA) proteins as core complex members given their ubiquitous interaction with the cohesin ring. Here, we provide functional data to support the notion that the SA subunit is not a mere passenger in this structure, but instead plays a key role in the localization of cohesin to diverse biological processes and promotes loading of the complex at these sites. We show that in cells acutely depleted for RAD21, SA proteins remain bound to chromatin, cluster in 3D and interact with CTCF, as well as with a wide range of RNA binding proteins involved in multiple RNA processing mechanisms. Accordingly, SA proteins interact with RNA, and R-loops, even in the absence of cohesin. Our results place SA1 on chromatin upstream of the cohesin ring and reveal a role for SA1 in cohesin loading which is independent of NIPBL, the canonical cohesin loader. We propose that SA1 takes advantage of structural R-loop platforms to link cohesin loading and chromatin structure with diverse functions. Since SA proteins are pan-cancer targets, and R-loops play an increasingly prevalent role in cancer biology, our results have important implications for the mechanistic understanding of SA proteins in cancer and disease.

Matrix remodeling is a salient feature of idiopathic pulmonary fibrosis (IPF). Targeting cells driving matrix remodeling could be a promising avenue for IPF treatment. Analysis of transcriptomic database identified the mesenchymal transcription factor PRRX1 as upregulated in IPF. PRRX1, strongly expressed by lung fibroblasts, was regulated by a TGF-b/PGE2 balance in vitro in control and IPF human lung fibroblasts, while IPF fibroblast-derived matrix increased PRRX1 expression in a PDGFR dependent manner in control ones. PRRX1 inhibition decreased human lung fibroblast proliferation by downregulating the expression of S phase cyclins. PRRX1 inhibition also impacted TGF-β driven myofibroblastic differentiation by inhibiting SMAD2/3 phosphorylation through phosphatase PPM1A upregulation and TGFBR2 downregulation, leading to TGF-β response global decrease. Finally, targeted inhibition of Prrx1 attenuated fibrotic remodeling in vivo with intra-tracheal antisense oligonucleotides in bleomycin mouse model of lung fibrosis and ex vivo using human and mouse precision-cut lung slices. Our results identified PRRX1 as a key mesenchymal transcription factor during lung fibrogenesis.