Breathing: CO2 in the spotlight
We breathe to get oxygen and to get rid of carbon dioxide (CO2). The precise monitoring of CO2 levels in the body is crucial because too much of it makes our blood acidic, which can have toxic effects. Under normal resting conditions, the concentration of CO2 controls our respiratory rate. For example, in most animals, including humans, high levels of CO2 lead to faster breathing. Moreover, having a weakened response to CO2 can be a life-threatening condition (Guyenet et al., 2010).
In spite of many years of research, the identity of the neurons involved in sensing CO2, and thus in controlling breathing, has been controversial (Guyenet et al., 2013). Now, in eLife, Jean-Francois Brunet of the Ecole Normale Supérieure and colleagues from France, Japan and Sweden report that neurons in the retrotrapezoid nucleus in the brainstem make up the CO2 sensor.
The retrotrapezoid nucleus is a tiny structure located in the ventral side of the brainstem—that is, it is towards the front of the brainstem in humans, but on the underside in mice and most other animals (Figure 1). These neurons rhythmically send signals to other neurons at normal body pH, and increase the rate at which they fire when the pH of the blood becomes acidic (Goridis and Brunet, 2010). The neurons in the retrotrapezoid nucleus are also directly connected to the preBötzinger complex (the structure in the brainstem that generates the breathing rhythm) and can adjust its activity. Mouse models in which the development of retrotrapezoid neurons is disrupted display slow breathing and have weakened, or blunted, responses to acidification (Sieber et al., 2007; Dubreuil et al., 2008, 2009; Goridis et al., 2010; Ramanantsoa et al., 2011). However, a recent study reported that retrotrapezoid neurons, particularly in newborn mice, might not be required for CO2 sensitivity (Huang et al., 2012). This cast doubts on the precise role of the retrotrapezoid nucleus.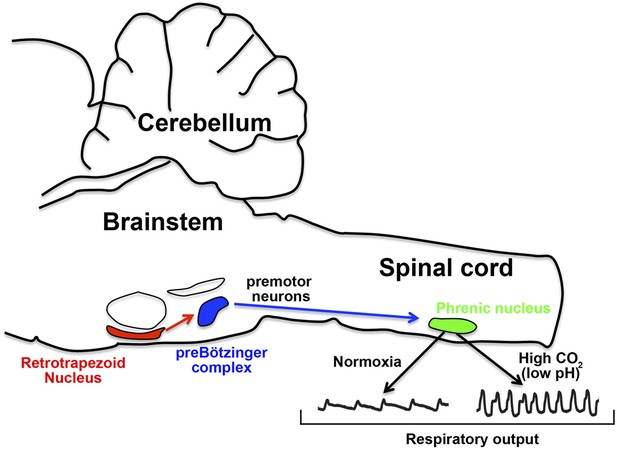 Retrotrapezoid neurons send signals that activate, or excite, other neurons. Brunet and colleagues—who include Pierre-Louis Ruffault as first author—combined mouse genetics and optogenetic techniques to selectively stimulate specific retrotrapezoid neurons with light (Ruffault et al., 2015). This revealed that retrotrapezoid neurons adjust the activity of the phrenic nerve—the motor nerve that controls the muscles involved in breathing—by activating phrenic motor neurons via the preBötzinger complex (Figure 1). These results provide conclusive evidence of a direct association between the activity of retrotrapezoid neurons and respiratory motor neurons.
Retrotrapezoid neurons develop from progenitor cells located in the dorsal side of the brainstem (that is, towards the back of the brainstem in humans, but on the topside in mice). At first, these progenitor cells express a transcription factor called Phox2b. Later in their development, they start to co-express a transcription factor called Lbx1 and migrate towards the ventral brainstem (Sieber et al., 2007), where they switch on the expression of a third transcription factor called Atoh1. This means that these neurons are defined by the co-expression of these three transcription factors, and mutant mice that lack any of these three fail to develop a retrotrapezoid nucleus.
Ruffault et al. observed a blunted response to CO2 at birth in mutant mice that lack Atoh1, which is similar to the weakened response seen in Phox2b mutants (Dubreuil et al., 2008, 2009; Goridis et al., 2010; Ramanantsoa et al., 2011). In Atoh1 mutants, the neurons that are intended for the retrotrapezoid nucleus are born, but they fail to migrate to the ventral brainstem. And while these incorrectly positioned 'retrotrapezoid' neurons remain sensitive to pH, they cannot adjust the activity of the preBötzinger complex.
There are many thousand types of neurons in the brainstem, but only two populations of neurons are known to co-express Phox2b and Atoh1 (which Ruffault et al. call 'Phox2bon/Atoh1on neurons'). Only one of these populations is found in the retrotrapezoid nucleus, and the other population could be removed without any effect on CO2 sensitivity. Ruffault et al. then explored what happened when they silenced or activated the Phox2bon/Atoh1on neurons within the retrotrapezoid nucleus. In newborn mice, this interfered with normal breathing and the response to pH, which illustrates that these neurons are indeed necessary to sense CO2 and adjust breathing accordingly at birth.
But, this is not the full story. Ruffault et al. found that the response to CO2 partially recovers in maturing animals that lack the retrotrapezoid neurons. This suggests that, later on in life, other regions of the brain are also involved in sensing CO2. However, when CO2 levels increase, animals that lack retrotrapezoid neurons respond by only mildly increasing their breathing rate, and the full response to CO2 is largely impaired (Ruffault et al., 2015).
Congenital breathing disorders in humans are rare but represent an immense burden to the affected individuals and their families (Ramanantsoa and Gallego, 2013). These diseases are life threatening because the afflicted patients breathe slowly, especially during sleep. In spite of their relevance and impact on public health, our current knowledge about these diseases is fragmented, and the only treatment for these conditions is mechanical ventilation of the patients. Mouse genetics allows us to explore the breathing centres in greater detail, and opens avenues to test new drug treatments that are designed to improve breathing. The work of Ruffault et al. represents a stringent study on the function of the retrotrapezoid nucleus, a breathing centre that is associated with congenital respiratory disease, and provides an animal model for future therapeutic research.
Article and author information
Author details
© 2015, Hernandez-Miranda and Birchmeier
This article is distributed under the terms of the Creative Commons Attribution License, which permits unrestricted use and redistribution provided that the original author and source are credited.
2,399

Page views

155

Downloads

4

Citations
Article citation count generated by polling the highest count across the following sources: Crossref, PubMed Central, Scopus.
A two-part list of links to download the article, or parts of the article, in various formats.
Downloads
(link to download the article as PDF)
Open citations
(links to open the citations from this article in various online reference manager services)
Cite this article
(links to download the citations from this article in formats compatible with various reference manager tools)
Luis R Hernandez-Miranda
Carmen Birchmeier
Breathing: CO2 in the spotlight
eLife 4:e08086.
https://doi.org/10.7554/eLife.08086
Further reading
Maintaining constant CO2 and H+ concentrations in the arterial blood is critical for life. The principal mechanism through which this is achieved in mammals is the respiratory chemoreflex whose circuitry is still elusive. A candidate element of this circuitry is the retrotrapezoid nucleus (RTN), a collection of neurons at the ventral medullary surface that are activated by increased CO2 or low pH and project to the respiratory rhythm generator. Here, we use intersectional genetic strategies to lesion the RTN neurons defined by Atoh1 and Phox2b expression and to block or activate their synaptic output. Photostimulation of these neurons entrains the respiratory rhythm. Conversely, abrogating expression of Atoh1 or Phox2b or glutamatergic transmission in these cells curtails the phrenic nerve response to low pH in embryonic preparations and abolishes the respiratory chemoreflex in behaving animals. Thus, the RTN neurons expressing Atoh1 and Phox2b are a necessary component of the chemoreflex circuitry.

Evoked responses and oscillations represent two major electrophysiological phenomena in the human brain yet the link between them remains rather obscure. Here we show how most frequently studied EEG signals: the P300-evoked response and alpha oscillations (8–12 Hz) can be linked with the baseline-shift mechanism. This mechanism states that oscillations generate evoked responses if oscillations have a non-zero mean and their amplitude is modulated by the stimulus. Therefore, the following predictions should hold: (1) the temporal evolution of P300 and alpha amplitude is similar, (2) spatial localisations of the P300 and alpha amplitude modulation overlap, (3) oscillations are non-zero mean, (4) P300 and alpha amplitude correlate with cognitive scores in a similar fashion. To validate these predictions, we analysed the data set of elderly participants (N=2230, 60–82 years old), using (a) resting-state EEG recordings to quantify the mean of oscillations, (b) the event-related data, to extract parameters of P300 and alpha rhythm amplitude envelope. We showed that P300 is indeed linked to alpha rhythm, according to all four predictions. Our results provide an unifying view on the interdependency of evoked responses and neuronal oscillations and suggest that P300, at least partly, is generated by the modulation of alpha oscillations.

Perceptual decisions about sensory input are influenced by fluctuations in ongoing neural activity, most prominently driven by attention and neuromodulator systems. It is currently unknown if neuromodulator activity and attention differentially modulate perceptual decision-making and/or whether neuromodulatory systems in fact control attentional processes. To investigate the effects of two distinct neuromodulatory systems and spatial attention on perceptual decisions, we pharmacologically elevated cholinergic (through donepezil) and catecholaminergic (through atomoxetine) levels in humans performing a visuo-spatial attention task, while we measured electroencephalography (EEG). Both attention and catecholaminergic enhancement improved decision-making at the behavioral and algorithmic level, as reflected in increased perceptual sensitivity and the modulation of the drift rate parameter derived from drift diffusion modeling. Univariate analyses of EEG data time-locked to the attentional cue, the target stimulus, and the motor response further revealed that attention and catecholaminergic enhancement both modulated pre-stimulus cortical excitability, cue- and stimulus-evoked sensory activity, as well as parietal evidence accumulation signals. Interestingly, we observed both similar, unique, and interactive effects of attention and catecholaminergic neuromodulation on these behavioral, algorithmic, and neural markers of the decision-making process. Thereby, this study reveals an intricate relationship between attentional and catecholaminergic systems and advances our understanding about how these systems jointly shape various stages of perceptual decision-making.