Endocytosis: Recycling at synapses
Neurons use small molecules called neurotransmitters to communicate with each other at junctions known as chemical synapses. Neurotransmitter is stored inside small sacs called synaptic vesicles, and is released into the synaptic cleft of the synapse when a vesicle fuses with the cell membrane. This process, which is known as exocytosis, can release neurotransmitter in less than a millisecond. However, it takes much longer to retrieve fused vesicle membrane to make a new vesicle (Figure 1): the fast version of this endocytosis process typically takes seconds, whereas a slow mode of endocytosis takes tens of seconds. This means that if a neuron is continuously active for a long period of time, its pool of vesicles can be depleted. Studies of vesicle recycling are complicated because the various processes involved, including membrane retrival, vesicle refilling, and transport of vesicles to the sites of exocytosis (active zones), are interdependent (Figure 1; Hosoi et al., 2009; Hua et al., 2013).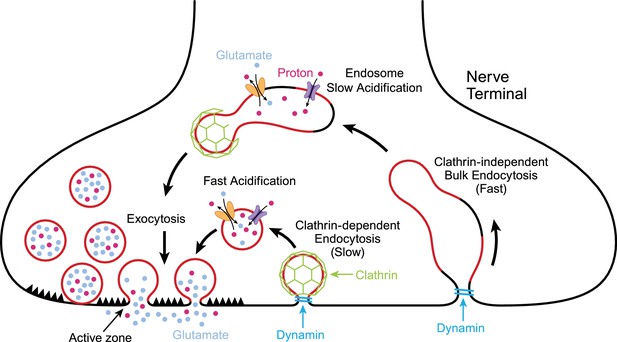 Two techniques have been widely used to study vesicle recycling at synapses: patch clamping and fluorescent imaging. The patch clamp technique can be used to measure changes in the capacitance of the cell membrane and is a direct way to track membrane endocytosis (von Gersdorff and Matthews, 1994). Fluorescent imaging involves attaching pH-sensitive dyes to proteins in the vesicle membrane and recording how the fluorescence signal from the dye changes in response to fluctuations in pH (the inside of a vesicle is much more acidic than the cytoplasm and the environment outside the cell; Fernández-Alfonso and Ryan, 2004). When neurons are moderately stimulated, these two techniques report approximately the same time course, corresponding to the slow mode of endocytosis. However, stronger stimulation leads to conflicting results: patch clamp studies suggest that a fast mode of endocytosis becomes dominant, whereas fluorescent imaging reports a slowed time course for vesicle recycling.
Now, in eLife, Mitsuhara Midorikawa at Doshisha University and co-workers – including Yuji Okamoto as first author – report an elegant series of experiments where they used both patch clamping and fluorescent imaging at the same time to investigate vesicle recycling at a nerve terminal called the calyx of Held in rodents (Okamoto et al., 2016). Following moderate stimulation of the nerve terminal, patch-clamp experiments revealed the presence of both fast and slow modes of membrane endocytosis. However, fluorescent imaging revealed a delayed and slow time course for the pH change corresponding to the slower mode of endocytosis only. Nevertheless, both techniques reveal a significant block of endocytosis when small molecules that target the function of a critical protein called dynamin are introduced into the nerve terminal (Yamashita et al., 2005; Delvendahl et al., 2016).
When a stronger and prolonged stimulus was used, the fast form of endocytosis dominated according to membrane capacitance measurements, while the fluorescent signal reported almost no recovery of the acidic pH in vesicles for about 30 seconds after exocytosis. This crucial experiment reminds us that fluorescent imaging merely reflects the process by which the new vesicles are filled with protons (or re-acidification; see Figure 1), not the retrieval of membrane itself. Re-acidification might be much slower than membrane retrieval, particularly during fast endocytosis, which may be mediated by bulk endocytosis and the formation of transient endosomes that then bud off synaptic vesicles (Figure 1; de Lange et al., 2003; Watanabe et al., 2014). Ultimately, measuring membrane capacitance appears to be more reliable than fluorescent imaging as a tool for reporting synaptic vesicle membrane retrieval. Okamoto et al. also provide evidence that inhibiting a specific calcium-sensitive signaling pathway at active zones can prevent vesicle proteins from being taken up without affecting the retrieval of membrane. However, it is not clear whether this "decoupling" plays a biological role under physiological stimulation conditions.
Previous studies have shown that calcium ions both inhibit and promote endocytosis under various conditions (Hosoi et al., 2009; Leitz and Kavalali, 2011). The results of Okamoto et al. will be useful for designing experiments to clarify the distinct roles of calcium ions in regulating the different modes of endocytosis. Their approach could also be extended to use conditions that more closely match the normal activation patterns of neurons in the brain, where vesicle recycling happens very quickly at physiological temperatures (Delvendahl et al., 2016).
The slow mode of endocytosis depends on a protein called clathrin to make vesicles from the cell membrane or from endosomes (López-Murcia et al., 2014). Recently researchers in the UK observed a new role for clathrin in coordinating vesicle recycling in a ribbon-type chemical synapse on a faster time scale than seen previously (Pelassa et al., 2014). Further investigation is required to determine if this role for clathrin is specific to ribbon-type synapses, or whether it also applies to other types of synapses. Moreover, Pelassa et al. also found that the timing of the changes in the fluorescent signal and the membrane capacitance corresponded well with each other for a single brief stimulus condition. However, Okamoto et al. have demonstrated that there is much insight to be gained from studying strongly stimulated neurons where this correspondence breaks down.
Two modes of vesicle recycling in the rat calyx of Held

Journal of Neuroscience 23:10164–10173.
Article and author information
Author details
© 2016, Gross et al.
This article is distributed under the terms of the Creative Commons Attribution License, which permits unrestricted use and redistribution provided that the original author and source are credited.
9,553

Page views

507

Downloads

7

Citations
Article citation count generated by polling the highest count across the following sources: Crossref, PubMed Central, Scopus.
A two-part list of links to download the article, or parts of the article, in various formats.
Downloads
(link to download the article as PDF)
Open citations
(links to open the citations from this article in various online reference manager services)
Cite this article
(links to download the citations from this article in formats compatible with various reference manager tools)
Owen P Gross
Henrique von Gersdorff
Endocytosis: Recycling at synapses
eLife 5:e17692.
https://doi.org/10.7554/eLife.17692
Further reading
Neurotransmitter is released at synapses by fusion of synaptic vesicles with the plasma membrane. To sustain synaptic transmission, compensatory retrieval of membranes and vesicular proteins is essential. We combined capacitance measurements and pH-imaging via pH-sensitive vesicular protein marker (anti-synaptotagmin2-cypHer5E), and compared the retrieval kinetics of membranes and vesicular proteins at the calyx of Held synapse. Membrane and Syt2 were retrieved with a similar time course when slow endocytosis was elicited. When fast endocytosis was elicited, Syt2 was still retrieved together with the membrane, but endocytosed organelle re-acidification was slowed down, which provides strong evidence for two distinct endocytotic pathways. Strikingly, CaM inhibitors or the inhibition of the Ca2+-calmodulin-Munc13-1 signaling pathway only impaired the uptake of Syt2 while leaving membrane retrieval intact, indicating different recycling mechanisms for membranes and vesicle proteins. Our data identify a novel mechanism of stimulus- and Ca2+-dependent regulation of coordinated endocytosis of synaptic membranes and vesicle proteins.

Early electrophysiological brain oscillations recorded in preterm babies and newborn rodents are initially mostly driven by bottom-up sensorimotor activity and only later can detach from external inputs. This is a hallmark of most developing brain areas, including the hippocampus, which, in the adult brain, functions in integrating external inputs onto internal dynamics. Such developmental disengagement from external inputs is likely a fundamental step for the proper development of cognitive internal models. Despite its importance, the developmental timeline and circuit basis for this disengagement remain unknown. To address this issue, we have investigated the daily evolution of CA1 dynamics and underlying circuits during the first two postnatal weeks of mouse development using two-photon calcium imaging in non-anesthetized pups. We show that the first postnatal week ends with an abrupt shift in the representation of self-motion in CA1. Indeed, most CA1 pyramidal cells switch from activated to inhibited by self-generated movements at the end of the first postnatal week, whereas the majority of GABAergic neurons remain positively modulated throughout this period. This rapid switch occurs within 2 days and follows the rapid anatomical and functional surge of local somatic GABAergic innervation. The observed change in dynamics is consistent with a two-population model undergoing a strengthening of inhibition. We propose that this abrupt developmental transition inaugurates the emergence of internal hippocampal dynamics.

Chemical neurotransmission constitutes one of the fundamental modalities of communication between neurons. Monitoring release of these chemicals has traditionally been difficult to carry out at spatial and temporal scales relevant to neuron function. To understand chemical neurotransmission more fully, we need to improve the spatial and temporal resolutions of measurements for neurotransmitter release. To address this, we engineered a chemi-sensitive, two-dimensional composite nanofilm that facilitates visualization of the release and diffusion of the neurochemical dopamine with synaptic resolution, quantal sensitivity, and simultaneously from hundreds of release sites. Using this technology, we were able to monitor the spatiotemporal dynamics of dopamine release in dendritic processes, a poorly understood phenomenon. We found that dopamine release is broadcast from a subset of dendritic processes as hotspots that have a mean spatial spread of ≈ 3.2 µm (full width at half maximum [FWHM]) and are observed with a mean spatial frequency of one hotspot per ≈ 7.5 µm of dendritic length. Major dendrites of dopamine neurons and fine dendritic processes, as well as dendritic arbors and dendrites with no apparent varicose morphology participated in dopamine release. Remarkably, these release hotspots co-localized with Bassoon, suggesting that Bassoon may contribute to organizing active zones in dendrites, similar to its role in axon terminals.