Phylogenomics: Leaving negative ancestors behind
For more than a century bacteriologists have used the Gram stain reaction to classify bacteria. The Gram stain is a violet-colored dye that is retained by Gram-positive bacteria but not by Gram-negative bacteria. These different reactions to the stain reflect fundamental differences in the cell envelopes of these bacteria: Gram-positive bacteria usually have a single cell membrane that is encased by a thick wall made of a polymer called peptidoglycan, whereas Gram-negative bacteria tend to have two membranes with a thin wall of peptidoglycan sandwiched between them.
The tree of life contains about 30 bacterial phyla, but only three of them contain bacteria that are surrounded by a single cell membrane, which are also known as "monoderms". The remaining phyla contain bacteria with two cell membranes, and most of these "diderms" have large molecules called lipopolysaccharides (LPS) in their outer membranes. However, at least two phyla comprise diderms that do not have LPS.
The evolutionary relationships between monoderms and diderms have remained uncertain for many years. It is generally thought that the monodermic cell plan evolved from the more complex didermic cell plan in a single simplification event (see, for example, Cavalier-Smith, 2006). However, it is possible that diderms could have evolved from monoderms (Dawes, 1981; Tocheva, 2011). Now, in eLife, Simonetta Gribaldo of the Institut Pasteur and co-workers – including Luísa Antunes and Daniel Poppleton as joint first authors – report that monodermic bacteria evolved from ancestral didermic bacteria not once but multiple times by losing the outer membrane from their cell envelopes (Antunes et al., 2016).
Antunes et al. focused on the Firmicutes, a phylum that contains a mixture of monoderms and diderms. By analyzing the genomes of more than 200 members of the phylum, they showed that the two didermic groups – the Negativicutes and the Halanaerobiales – are not each other's closest relatives and are, instead, more closely related to one or more of the monodermic groups. Furthermore, they demonstrate that the biosynthetic machinery for synthesizing their LPS has not been transferred between them nor acquired from elsewhere. Instead, the outer membrane of the didermic firmicutes appears to have been inherited vertically from a distant ancestor. These results suggest that the monodermic firmicutes evolved at least five times from an ancestral and more complex didermic cell plan (Figure 1).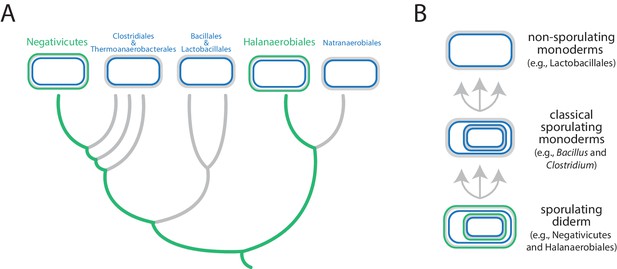 Comparative analyses of the genomes of Negativicutes and Halanaerobiales also allowed Antunes et al. to make inferences about the nature and evolution of their didermic envelopes. Notably, and unusually, most of the genes required for the biogenesis of the outer membrane clustered in a large genomic region in both groups. Moreover, these two groups have envelope appendages (such as flagella and pili) that resemble the envelope appendages of other diderms (in other phyla) more than they resemble those of their close monodermic relatives. Finally, didermic firmicutes appear to retain ancestral systems for the biogenesis of their outer membranes.
The root of the bacterial tree of life remains a mystery and we do not know whether the last common ancestor of all bacteria was a monoderm or a diderm, and whether it produced endospores or not. It is reasonable to assume that the classical diderms that contain LPS have a single origin (Sutcliffe, 2010; Tocheva et al., 2016; Sutcliffe and Dover, 2016), and that they plausibly evolved via an endospore released by an ancestral monoderm (Dawes, 1981; Vollmer, 2012; Tocheva et al., 2011). And now the work of Antunes et al. suggests that most Firmicutes lineages became secondarily monodermic on multiple occasions. Is the same true for the Actinobacteria and the Chloroflexi, the other two phyla that contain monoderms? It is also noteworthy that the three monodermic phyla tend to cluster in many analyses, and are relatively close to the presumed root of the bacterial tree of life (Raymann et al., 2015; Hug et al., 2016), although resolution remains poor at the deepest phylogenetic levels. A more robust phylogenetic framework for bacteria is needed to make sense of these observations.
To better understand the large-scale evolutionary history of bacteria, we need to answer why, how and when the major structural differences among the prokaryotes (bacteria and archaea) came to be. Antunes et al. have provided some answers to the last question (and also shown that a given major structural change can happen more than once), and planted the seeds to answer the first two questions with regard to the evolution of monodermic bacteria. Future biochemical, ultrastructural and genomic characterization of novel prokaryotic lineages, such as the CPR taxa (short for candidate phyla radiation taxa; Hug et al., 2016), will provide more raw material to reconstruct the phenotypic evolution of prokaryotes. The syntheses of these data, together with a robust phylogenetic tree of the prokaryotes, will no doubt provide new insights into the major changes in cell evolution and help to clarify the nature of the last common ancestor of bacteria.
Book

Sporulation in evolution

In: Carlile MJ, Collins JF, Moseley BEB, editors. Cellular and Molecular Aspects of Microbial Evolution. Cambridge: Cambridge University Press. pp. 85–130.
Article and author information
Author details
© 2016, Muñoz-Gómez et al.
This article is distributed under the terms of the Creative Commons Attribution License, which permits unrestricted use and redistribution provided that the original author and source are credited.
3,361

Page views

266

Downloads

2

Citations
Article citation count generated by polling the highest count across the following sources: Scopus, Crossref, PubMed Central.
A two-part list of links to download the article, or parts of the article, in various formats.
Downloads
(link to download the article as PDF)
Open citations
(links to open the citations from this article in various online reference manager services)
Cite this article
(links to download the citations from this article in formats compatible with various reference manager tools)
Sergio A Muñoz-Gómez
Andrew J Roger
Phylogenomics: Leaving negative ancestors behind
eLife 5:e20061.
https://doi.org/10.7554/eLife.20061
Further reading
Cell Biology

Evolutionary Biology

One of the major unanswered questions in evolutionary biology is when and how the transition between diderm (two membranes) and monoderm (one membrane) cell envelopes occurred in Bacteria. The Negativicutes and the Halanaerobiales belong to the classically monoderm Firmicutes, but possess outer membranes with lipopolysaccharide (LPS-OM). Here, we show that they form two phylogenetically distinct lineages, each close to different monoderm relatives. In contrast, their core LPS biosynthesis enzymes were inherited vertically, as in the majority of bacterial phyla. Finally, annotation of key OM systems in the Halanaerobiales and the Negativicutes shows a puzzling combination of monoderm and diderm features. Together, these results support the hypothesis that the LPS-OMs of Negativicutes and Halanaerobiales are remnants of an ancient diderm cell envelope that was present in the ancestor of the Firmicutes, and that the monoderm phenotype in this phylum is a derived character that arose multiple times independently through OM loss.

Patients with cardiomyopathy of Duchenne Muscular Dystrophy (DMD) are at risk of developing life-threatening arrhythmias, but the mechanisms are unknown. We aimed to determine the role of ion channels controlling cardiac excitability in the mechanisms of arrhythmias in DMD patients.

To test whether dystrophin mutations lead to defective cardiac NaV1.5–Kir2.1 channelosomes and arrhythmias, we generated iPSC-CMs from two hemizygous DMD males, a heterozygous female, and two unrelated control males. We conducted studies including confocal microscopy, protein expression analysis, patch-clamping, non-viral piggy-bac gene expression, optical mapping and contractility assays.

Two patients had abnormal ECGs with frequent runs of ventricular tachycardia. iPSC-CMs from all DMD patients showed abnormal action potential profiles, slowed conduction velocities, and reduced sodium (INa) and inward rectifier potassium (IK1) currents. Membrane NaV1.5 and Kir2.1 protein levels were reduced in hemizygous DMD iPSC-CMs but not in heterozygous iPSC-CMs. Remarkably, transfecting just one component of the dystrophin protein complex (α1-syntrophin) in hemizygous iPSC-CMs from one patient restored channelosome function, INa and IK1 densities, and action potential profile in single cells. In addition, α1-syntrophin expression restored impulse conduction and contractility and prevented reentrant arrhythmias in hiPSC-CM monolayers.

We provide the first demonstration that iPSC-CMs reprogrammed from skin fibroblasts of DMD patients with cardiomyopathy have a dysfunction of the NaV1.5–Kir2.1 channelosome, with consequent reduction of cardiac excitability and conduction. Altogether, iPSC-CMs from patients with DMD cardiomyopathy have a NaV1.5–Kir2.1 channelosome dysfunction, which can be rescued by the scaffolding protein α1-syntrophin to restore excitability and prevent arrhythmias.

Supported by National Institutes of Health R01 HL122352 grant; 'la Caixa' Banking Foundation (HR18-00304); Fundación La Marató TV3: Ayudas a la investigación en enfermedades raras 2020 (LA MARATO-2020); Instituto de Salud Carlos III/FEDER/FSE; Horizon 2020 - Research and Innovation Framework Programme GA-965286 to JJ; the CNIC is supported by the Instituto de Salud Carlos III (ISCIII), the Ministerio de Ciencia e Innovación (MCIN) and the Pro CNIC Foundation), and is a Severo Ochoa Center of Excellence (grant CEX2020-001041-S funded by MICIN/AEI/10.13039/501100011033). American Heart Association postdoctoral fellowship 19POST34380706s to JVEN. Israel Science Foundation to OB and MA [824/19]. Rappaport grant [01012020RI]; and Niedersachsen Foundation [ZN3452] to OB; US-Israel Binational Science Foundation (BSF) to OB and TH [2019039]; Dr. Bernard Lublin Donation to OB; and The Duchenne Parent Project Netherlands (DPPNL 2029771) to OB. National Institutes of Health R01 AR068428 to DM and US-Israel Binational Science Foundation Grant [2013032] to DM and OB.

Cell Biology

Structural Biology and Molecular Biophysics

Microtubules are dynamic polymers consisting of αβ-tubulin heterodimers. The initial polymerization process, called microtubule nucleation, occurs spontaneously via αβ-tubulin. Since a large energy barrier prevents microtubule nucleation in cells, the γ-tubulin ring complex is recruited to the centrosome to overcome the nucleation barrier. However, a considerable number of microtubules can polymerize independently of the centrosome in various cell types. Here, we present evidence that the minus-end-binding calmodulin-regulated spectrin-associated protein 2 (CAMSAP2) serves as a strong nucleator for microtubule formation by significantly reducing the nucleation barrier. CAMSAP2 co-condensates with αβ-tubulin via a phase separation process, producing plenty of nucleation intermediates. Microtubules then radiate from the co-condensates, resulting in aster-like structure formation. CAMSAP2 localizes at the co-condensates and decorates the radiating microtubule lattices to some extent. Taken together, these in vitro findings suggest that CAMSAP2 supports microtubule nucleation and growth by organizing a nucleation centre as well as by stabilizing microtubule intermediates and growing microtubules.