Neural Wiring: The circuitry of sex
Reproduction is widely considered to be the raison d'etre of life on Earth, and sex in the animal kingdom can take many forms. Some organisms – including worms and snails – are hermaphroditic and can self-fertilise to produce offspring (Leonard, 2006; Thomas et al., 2012). In other, perhaps more familiar, species, males and females mate to produce the next generation.
Given the importance of reproduction, it is not surprising that animals can devote much of their adult lives to, and employ all of their senses in, reproductive behaviours – whether that is seeking out mates and courting, or assessing the environment to see if it is a good time to reproduce. Moreover, cognitive processes such as memory, learning and decision-making are also harnessed to optimize reproductive success (Reif et al., 2002).
The vinegar fly Drosophila melanogaster is a model organism that shares its history and habitat with people (Keller, 2007). The mating habits of the fly have been closely observed in both the wild and the laboratory (Markow, 2015; Villella and Hall, 2008). What we know is: a male vinegar fly will court a female and, if she so chooses, they will mate. The male first uses his genital claspers to couple his genitals to those of the female. Next, the penis and associated branches emerge from his genital region and are inserted into her vaginal area as they copulate (Kamimura, 2010). Sex between vinegar flies typically lasts about 20 minutes, with the transfer of sperm and ejaculate being completed after about 9 minutes (Gilchrist and Partridge, 2000). When mating is finished, the male withdraws, and the claspers release.
The male's penis is controlled by the coordinated interaction of about ten muscles in his genital region (Kamimura, 2010). However, until recently, relatively little was known about the way these muscles were controlled by the nervous system. Now, in eLife, Stephen Goodwin, Hania Pavlou and co-workers, at the University of Oxford, the National Institute of Mental Health and McGill University, report that they have identified the neural circuits that coordinate copulation in male vinegar flies (Pavlou et al., 2016).
Based on previous findings, Pavlou et al. knew that the neurons controlling copulation in male flies would be located in the fly's nerve cord, which is equivalent to the spinal cord in humans (Hall, 1979; Ferveur and Greenspan, 1998). They looked for a population of neurons that expressed both a gene called doublesex and a neurotransmitter called glutamate. They did this because doublesex is an important gene that generates differences in the anatomy and behaviour of males and females, and because glutamate is associated with the motor neurons that instruct muscles to move (Rideout et al., 2010; Daniels et al., 2008). Also, doublesex-positive neurons were already known to control, amongst other things, the courtship songs of male vinegar flies (Rideout et al., 2007; Rideout et al., 2010; Shirangi et al., 2016).
About 80 such neurons were found in the male flies. Further experiments showed that when these neurons were triggered prior to copulation, the males would court but not copulate. On the other hand, when these neurons were triggered during copulation, the males would not terminate the act and separate. Based on these findings, Pavlou et al. suggested that these neurons control the muscles that contract or relax to move the penis during copulation. They also identified a set of interneurons that suppress these 80 or so motor neurons. These interneurons expressed both doublesex and the neurotransmitter called GABA.
The motor neurons and interneurons form the wires of a simple circuit that regulates the muscles (Figure 1). But one more type of neuron was required to complete the circuit: an input. Pavlou et al. found these missing connections in the form of sensory neurons linked to hair-like bristles positioned near the penis. These neurons express doublesex and the neurotransmitter called acetylcholine, and they project to the interneurons, motor neurons and brain.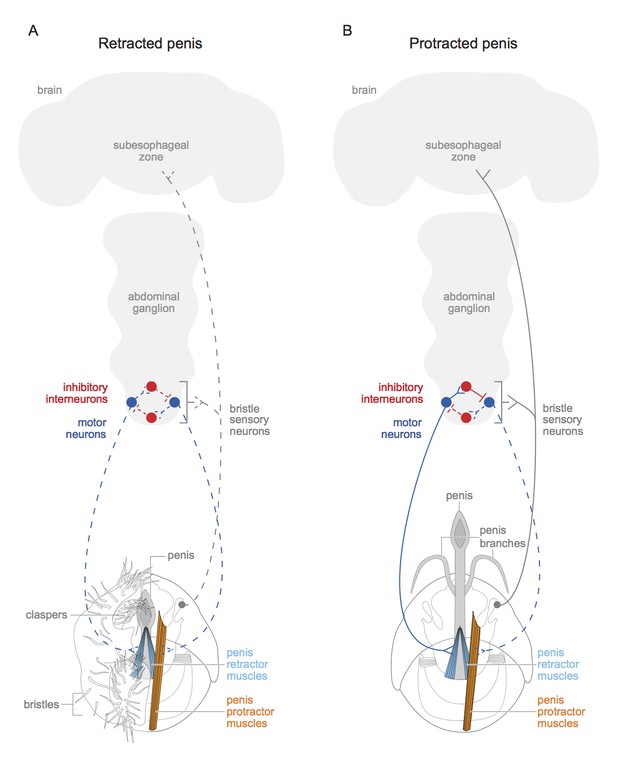 Finally, Pavlou et al. also report that the circuit that controls the muscles that move the penis is independent of the one that controls ejaculation. This indicates that the control of copulation is separate from that of reproduction in male vinegar flies. It also hints that copulation should be considered behaviour in its own right, and possibly one with hedonic value (in other words, one that male vinegar flies might 'enjoy').
A number of outstanding questions remain. For example, does an equivalent circuit control the genitalia of female flies during copulation? Moreover, how do the results of Pavlou et al. link to recent studies that explored the neural circuitry controlling the persistence and motivation of male flies during copulation (Crickmore and Vosshall, 2013; Zhang et al., 2016)? And how do male and female flies coordinate their behaviour to increase the chances of successful reproduction?
Control of male reproductive behavior by the central nervous system of Drosophila: dissection of a courtship pathway by genetic mosaics

Genetics 92:437–457.
Article and author information
Author details
© 2016, Levine
This article is distributed under the terms of the Creative Commons Attribution License, which permits unrestricted use and redistribution provided that the original author and source are credited.
2,136

Page views

175

Downloads

1

Citations
Article citation count generated by polling the highest count across the following sources: Crossref, PubMed Central, Scopus.
A two-part list of links to download the article, or parts of the article, in various formats.
Downloads
(link to download the article as PDF)
Open citations
(links to open the citations from this article in various online reference manager services)
Cite this article
(links to download the citations from this article in formats compatible with various reference manager tools)
Joel Levine
Neural Wiring: The circuitry of sex
eLife 5:e22215.
https://doi.org/10.7554/eLife.22215
Further reading
Copulation is the goal of the courtship process, crucial to reproductive success and evolutionary fitness. Identifying the circuitry underlying copulation is a necessary step towards understanding universal principles of circuit operation, and how circuit elements are recruited into the production of ordered action sequences. Here, we identify key sex-specific neurons that mediate copulation in Drosophila, and define a sexually dimorphic motor circuit in the male abdominal ganglion that mediates the action sequence of initiating and terminating copulation. This sexually dimorphic circuit composed of three neuronal classes – motor neurons, interneurons and mechanosensory neurons – controls the mechanics of copulation. By correlating the connectivity, function and activity of these neurons we have determined the logic for how this circuitry is coordinated to generate this male-specific behavior, and sets the stage for a circuit-level dissection of active sensing and modulation of copulatory behavior.

Inferring parameters of computational models that capture experimental data are a central task in cognitive neuroscience. Bayesian statistical inference methods usually require the ability to evaluate the likelihood of the model—however, for many models of interest in cognitive neuroscience, the associated likelihoods cannot be computed efficiently. Simulation-based inference (SBI) offers a solution to this problem by only requiring access to simulations produced by the model. Previously, Fengler et al. introduced likelihood approximation networks (LANs, Fengler et al., 2021) which make it possible to apply SBI to models of decision-making, but require billions of simulations for training. Here, we provide a new SBI method that is substantially more simulation efficient. Our approach, mixed neural likelihood estimation (MNLE), trains neural density estimators on model simulations to emulate the simulator, and is designed to capture both the continuous (e.g., reaction times) and discrete (choices) data of decision-making models. The likelihoods of the emulator can then be used to perform Bayesian parameter inference on experimental data using standard approximate inference methods like Markov Chain Monte Carlo sampling. We demonstrate MNLE on two variants of the drift-diffusion model and show that it is substantially more efficient than LANs: MNLE achieves similar likelihood accuracy with six orders of magnitude fewer training simulations, and is significantly more accurate than LANs when both are trained with the same budget. Our approach enables researchers to perform SBI on custom-tailored models of decision-making, leading to fast iteration of model design for scientific discovery.

Computational and Systems Biology

Neuroscience

The maintenance of items in working memory (WM) relies on a widespread network of cortical areas and hippocampus where synchronization between electrophysiological recordings reflects functional coupling. We investigated the direction of information flow between auditory cortex and hippocampus while participants heard and then mentally replayed strings of letters in WM by activating their phonological loop. We recorded local field potentials from the hippocampus, reconstructed beamforming sources of scalp EEG, and – additionally in four participants – recorded from subdural cortical electrodes. When analyzing Granger causality, the information flow was from auditory cortex to hippocampus with a peak in the [4 8] Hz range while participants heard the letters. This flow was subsequently reversed during maintenance while participants maintained the letters in memory. The functional interaction between hippocampus and the cortex and the reversal of information flow provide a physiological basis for the encoding of memory items and their active replay during maintenance.