Social Evolution: How ants send signals in saliva
Ant colonies are complex systems in which each ant fulfills a specific role to help the whole colony survive. The ants in a colony develop into distinct types known as castes to perform these roles. In colonies of leaf cutter ants, for example, small "worker" ants usually care for the larvae and the fungus the colony feeds on, while larger worker ants leave the nest to forage for new leaves to grow the fungus on. Other species, such as the silver ant, possess a soldier caste that has huge mouthparts dedicated to fighting. Finally, most colonies have one or several "queen" ants that focus on reproduction. It is important that the colony has the right numbers of each caste: if too many ants develop into soldiers, for example, the colony will starve, while a colony with too many foragers cannot take care of its larvae.
Genetic cues, environmental cues like food or the size of the colony, or a combination of both, can determine the caste that an individual will become (for a review see Schwander et al., 2010). Adult ants are able to influence the caste fate of larvae by changing the types of food they provide, by producing chemicals known as pheromones, and by regulating the temperature of the chamber the larvae live in (Wheeler, 1991). Now, in eLife, Laurent Keller and Richard Benton of the University of Lausanne and colleagues – including Adria LeBoeuf as first author – report on a new way in which adult ants can alter how larvae develop (LeBoeuf et al., 2016).
Juvenile hormone regulates development and reproduction in insects and also appears to affect caste fate in ants (Wheeler, 1986; Wheeler and Nijhout, 1981; Rajakumar et al., 2012; Nijhout, 1994). When the larvae of an ant called Pheidole bicarinata were exposed to increased amounts of a molecule that is very similar to juvenile hormone, most of them became soldiers instead of workers (Wheeler and Nijhout, 1981). However, it was not clear how the levels of this hormone were regulated in larvae.
Like most other social insects, adult ants feed their larvae by transferring fluid (saliva) mouth-to-mouth in a process called trophallaxis. LeBoeuf et al. – who are based at institutes in Switzerland, the US, Brazil, Japan and the UK – used mass spectroscopy and RNA sequencing to identify the molecules present in the saliva of the Florida carpenter ant (Camponotus floridanus). They found that, in addition to nutrients, ant saliva also contains juvenile hormone and other molecules including proteins, microRNAs and cuticular hydrocarbons (Figure 1). Furthermore, the amount of juvenile hormone transferred by trophallaxis is high enough to affect how the larvae develop.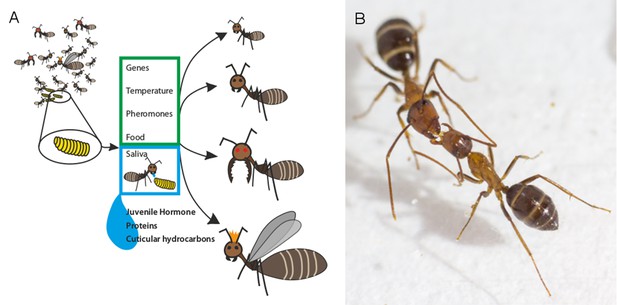 Alongside juvenile hormone, some other molecules in the saliva may also be acting as chemical signals: for example, it is known that cuticular hydrocarbons help ants to discriminate nestmates from non-nestmates (Hefetz, 2007). Furthermore, many of the proteins LeBeouf et al. identified in carpenter ants are involved in regulating the growth, development and behavior of other social insects.
This study is the first to show that trophallaxis can circulate juvenile hormone and other proteins that might be involved in larval development and caste fate around the colony. It also suggests that the ants exchange other hormones that we did not previously know were involved in communication between individuals: these hormones include hexamerin, which is known to be involved in caste fate in social insects (Zhou et al., 2007). The next challenge will be to find out whether trophallaxis really plays an active role in regulating caste fate. One way to test this idea would be to remove all the soldiers from the colony and observe whether this changes the amount of different hormones present in ant saliva as the colony attempts to replace the soldiers. Adult ants are best placed to know the needs of the colony, so it makes sense that they use several strategies to guarantee that the colony produces the right mix of castes.
The evolution of hydrocarbon pheromone parsimony in ants (Hymenoptera: Formicidae) - interplay of colony odor uniformity and odor idiosyncrasy

Myrmecological News 10:59–68.

Book

Insect Hormones

Princeton University Press: Princeton.
Article and author information
Author details
© 2016, Knaden
This article is distributed under the terms of the Creative Commons Attribution License, which permits unrestricted use and redistribution provided that the original author and source are credited.
1,691

Page views

207

Downloads

0

Citations
Article citation count generated by polling the highest count across the following sources: Crossref, PubMed Central, Scopus.
A two-part list of links to download the article, or parts of the article, in various formats.
Downloads
(link to download the article as PDF)
Open citations
(links to open the citations from this article in various online reference manager services)
Cite this article
(links to download the citations from this article in formats compatible with various reference manager tools)
Markus Knaden
Social Evolution: How ants send signals in saliva
eLife 5:e23375.
https://doi.org/10.7554/eLife.23375
Further reading
Genetics and Genomics

Evolutionary Biology

Social insects frequently engage in oral fluid exchange – trophallaxis – between adults, and between adults and larvae. Although trophallaxis is widely considered a food-sharing mechanism, we hypothesized that endogenous components of this fluid might underlie a novel means of chemical communication between colony members. Through protein and small-molecule mass spectrometry and RNA sequencing, we found that trophallactic fluid in the ant Camponotus floridanus contains a set of specific digestion- and non-digestion related proteins, as well as hydrocarbons, microRNAs, and a key developmental regulator, juvenile hormone. When C. floridanus workers' food was supplemented with this hormone, the larvae they reared via trophallaxis were twice as likely to complete metamorphosis and became larger workers. Comparison of trophallactic fluid proteins across social insect species revealed that many are regulators of growth, development and behavioral maturation. These results suggest that trophallaxis plays previously unsuspected roles in communication and enables communal control of colony phenotypes.

Computational and Systems Biology

Evolutionary Biology

Assembly pathways of protein complexes should be precise and efficient to minimise misfolding and unwanted interactions with other proteins in the cell. One way to achieve this efficiency is by seeding assembly pathways during translation via the cotranslational assembly of subunits. While recent evidence suggests that such cotranslational assembly is widespread, little is known about the properties of protein complexes associated with the phenomenon. Here, using a combination of proteome-specific protein complex structures and publicly available ribosome profiling data, we show that cotranslational assembly is particularly common between subunits that form large intermolecular interfaces. To test whether large interfaces have evolved to promote cotranslational assembly, as opposed to cotranslational assembly being a non-adaptive consequence of large interfaces, we compared the sizes of first and last translated interfaces of heteromeric subunits in bacterial, yeast, and human complexes. When considering all together, we observe the N-terminal interface to be larger than the C-terminal interface 54% of the time, increasing to 64% when we exclude subunits with only small interfaces, which are unlikely to cotranslationally assemble. This strongly suggests that large interfaces have evolved as a means to maximise the chance of successful cotranslational subunit binding.

Evolutionary Biology

Microbiology and Infectious Disease

Bacterial pathogens show high levels of chromosomal genetic diversity, but the influence of this diversity on the evolution of antibiotic resistance by plasmid acquisition remains unclear. Here, we address this problem in the context of colistin, a 'last line of defence' antibiotic. Using experimental evolution, we show that a plasmid carrying the MCR-1 colistin resistance gene dramatically increases the ability of Escherichia coli to evolve high-level colistin resistance by acquiring mutations in lpxC, an essential chromosomal gene involved in lipopolysaccharide biosynthesis. Crucially, lpxC mutations increase colistin resistance in the presence of the MCR-1 gene, but decrease the resistance of wild-type cells, revealing positive sign epistasis for antibiotic resistance between the chromosomal mutations and a mobile resistance gene. Analysis of public genomic datasets shows that lpxC polymorphisms are common in pathogenic E. coli, including those carrying MCR-1, highlighting the clinical relevance of this interaction. Importantly, lpxC diversity is high in pathogenic E. coli from regions with no history of MCR-1 acquisition, suggesting that pre-existing lpxC polymorphisms potentiated the evolution of high-level colistin resistance by MCR-1 acquisition. More broadly, these findings highlight the importance of standing genetic variation and plasmid/chromosomal interactions in the evolutionary dynamics of antibiotic resistance.