Maternal Behavior: Why mother rats protect their children
The presence of the hormone oxytocin in the central amygdala makes a mother rat willing to put her life in danger in order to protect her offspring.
When an animal encounters a threat it has to analyze both the threat (what type of threat is it? how close is it?) and also the local environment (can I escape? is there anywhere to hide?). The animal must then choose from a range of possible responses: it can, for example, try to fight the threat or to escape (Blanchard et al., 2011). Another possibility, when there is no safe escape route, is to 'freeze' and hope that a predator will not notice you (Blanchard and Blanchard, 1969). Freezing can be a viable strategy when an animal is on its own, but it is not an option for a mother looking after young offspring (Figure 1). With very young progeny that cannot run, the only choice is to confront the threat. When the offspring are a bit older, it might be possible to usher them to safety.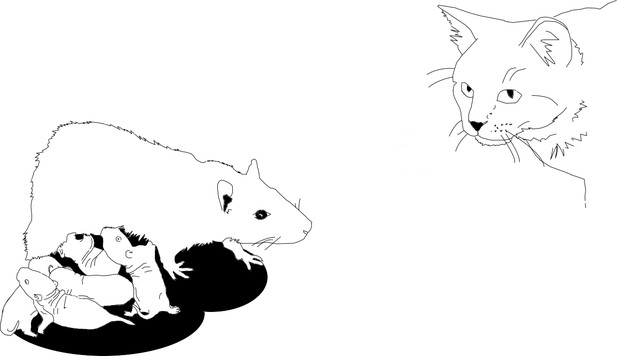 While the neural mechanisms that give rise to different defensive responses are relatively well understood, the vast majority of studies reported to date have been based solely on experiments on male subjects. Moreover, the parental status of the animals was often neglected. Female rats are generally considered less territorial than males, but their behavior changes once they become mothers (also known as 'dams') and they can become aggressive towards potentially dangerous intruders, even if this will also place the dam in danger (Bosch, 2013). How does the brain switch between self-defense and offspring-defense modes? Is the defensive repertoire affected by the age of the pups? Now, in eLife, Marta Moita and colleagues – including Elizabeth Rickenbacher as first author, Rosemarie Perry and Regina Sullivan – report that, in the presence of pups, self-defense responses are suppressed by the presence of a hormone called oxytocin in a region of the brain called the central amygdala (Rickenbacher et al., 2017).
Oxytocin is a well known hormone that promotes social bonding and causes contractions of the uterus and cervix during sexual intercourse and childbirth, as well as milk ejection during breastfeeding. More recently it was discovered that oxytocin can also control freezing behavior (Knobloch et al., 2012). In general oxytocin is released into the blood. However, in the case of the fear response, oxytocin is secreted directly into the central amygdala, which is one of the structures in the brain that controls freezing behavior (Wilensky et al., 2006).
In a series of elegant experiments Rickenbacher et al. show that, in the presence of pups, dams do not freeze when confronted with a threat (here, a noxious stimulus delivered along with an odor). Moreover, their response depends on the age of the pups. With very young pups (between four and six days old), the dams approach the threat. However, if the pups are older (between 19 and 21 days old), the dams turn towards the pups and huddle with them (probably because older pups are capable of running away if necessary).
This pattern of behavior changes dramatically if an oxytocin antagonist is very precisely injected into the central amygdala. When the oxytocin is blocked by the antagonist, the dams start behaving as if the pups were not present and they often freeze when exposed to threatening situations.
This change in the behavior of the dams has important implications for the pups. In a normal situation, a dam does not freeze in the presence of her pups and instead displays an array of active defensive behaviors. During this process, the pups learn to associate the noxious stimulus and odor, which are intended for the mother, with something unpleasant. If the mothers freeze, this emotional information is not transferred from the dam to the pups.
The work of Rickenbacher et al. – who are based at the Champalimaud Neuroscience Programme in Portugal and New York University School of Medicine – addresses some important questions, and also raises new ones. Is it just the oxytocin in the central amygdala that suppresses freezing of the dams? How do the pups learn about the danger? Answering these questions will keep neuroscientists (and rats) busy for years to come.
Article and author information
Author details
© 2017, Meyza et al.
This article is distributed under the terms of the Creative Commons Attribution License, which permits unrestricted use and redistribution provided that the original author and source are credited.
4,413

Page views

198

Downloads

1

Citations
Article citation count generated by polling the highest count across the following sources: Crossref, PubMed Central, Scopus.
A two-part list of links to download the article, or parts of the article, in various formats.
Downloads
(link to download the article as PDF)
Open citations
(links to open the citations from this article in various online reference manager services)
Cite this article
(links to download the citations from this article in formats compatible with various reference manager tools)
Ksenia Z Meyza
Ewelina Knapska
Maternal Behavior: Why mother rats protect their children
eLife 6:e28514.
https://doi.org/10.7554/eLife.28514
Further reading
When animals and their offspring are threatened, parents switch from self-defense to offspring protection. How self-defense is suppressed remains elusive. We postulated that suppression of the self-defense response, freezing, is gated via oxytocin acting in the centro-lateral amygdala (CeL). We found that rat dams conditioned to fear an odor, froze when tested alone, whereas if pups were present, they remained in close contact with them or targeted the threat. Furthermore, blocking oxytocin signaling in the CeL prevented the suppression of maternal freezing. Finally, pups exposed to the odor in the presence of the conditioned dam later froze when re-exposed alone. However, if oxytocin signaling in the dam had been blocked, pups failed to learn. This study provides a functional role for the well-described action of oxytocin in the central amygdala, and demonstrates that self-defense suppression allows for active pup protection and mother-pup interactions crucial for pup threat learning.

During fear learning, defensive behaviors like freezing need to be finely balanced in the presence or absence of threat-predicting cues (conditioned stimulus, CS). Nevertheless, the circuits underlying such balancing are largely unknown. Here, we investigate the role of the ventral tail striatum (vTS) in auditory-cued fear learning of male mice. In vivo Ca2+ imaging showed that sizable sub-populations of direct (D1R+) and indirect pathway neurons (Adora+) in the vTS responded to footshocks, and to the initiation of movements after freezing; moreover, a sub-population of D1R+ neurons increased its responsiveness to an auditory CS during fear learning. In-vivo optogenetic silencing shows that footshock-driven activity of D1R+ neurons contributes to fear memory formation, whereas Adora+ neurons modulate freezing in the absence of a learned CS. Circuit tracing identified the posterior insular cortex (pInsCx) as an important cortical input to the vTS, and recording of optogenetically evoked EPSCs revealed long-term plasticity with opposite outcomes at the pInsCx synapses onto D1R+ - and Adora+ neurons. Thus, direct- and indirect pathways neurons of the vTS show differential signs of plasticity after fear learning, and balance defensive behaviors in the presence and absence of learned sensory cues.

Computational and Systems Biology
Neuroscience

The locus coeruleus (LC) houses the vast majority of noradrenergic neurons in the brain and regulates many fundamental functions including fight and flight response, attention control, and sleep/wake cycles. While efferent projections of the LC have been extensively investigated, little is known about its local circuit organization. Here, we performed large-scale multi-patch recordings of noradrenergic neurons in adult mouse LC to profile their morpho-electric properties while simultaneously examining their interactions. LC noradrenergic neurons are diverse and could be classified into two major morpho-electric types. While fast excitatory synaptic transmission among LC noradrenergic neurons was not observed in our preparation, these mature LC neurons connected via gap junction at a rate similar to their early developmental stage and comparable to other brain regions. Most electrical connections form between dendrites and are restricted to narrowly spaced pairs or small clusters of neurons of the same type. In addition, more than two electrically coupled cell pairs were often identified across a cohort of neurons from individual multi-cell recording sets that followed a chain-like organizational pattern. The assembly of LC noradrenergic neurons thus follows a spatial and cell type-specific wiring principle that may be imposed by a unique chain-like rule.