Essential metabolism for a minimal cell
JCVI-syn3A, a robust minimal cell with a 543 kbp genome and 493 genes, provides a versatile platform to study the basics of life. Using the vast amount of experimental information available on its precursor, Mycoplasma mycoides capri, we assembled a near-complete metabolic network with 98% of enzymatic reactions supported by annotation or experiment. The model agrees well with genome-scale in vivo transposon mutagenesis experiments, showing a Matthews correlation coefficient of 0.59. The genes in the reconstruction have a high in vivo essentiality or quasi-essentiality of 92% (68% essential), compared to 79% in silico essentiality. This coherent model of the minimal metabolism in JCVI-syn3A at the same time also points toward specific open questions regarding the minimal genome of JCVI-syn3A, which still contains many genes of generic or completely unclear function. In particular, the model, its comparison to in vivo essentiality and proteomics data yield specific hypotheses on gene functions and metabolic capabilities; and provide suggestions for several further gene removals. In this way, the model and its accompanying data guide future investigations of the minimal cell. Finally, the identification of 30 essential genes with unclear function will motivate the search for new biological mechanisms beyond metabolism.
One way that researchers can test whether they understand a biological system is to see if they can accurately recreate it as a computer model. The more they learn about living things, the more the researchers can improve their models and the closer the models become to simulating the original. In this approach, it is best to start by trying to model a simple system.
Biologists have previously succeeded in creating 'minimal bacterial cells'. These synthetic cells contain fewer genes than almost all other living things and they are believed to be among the simplest possible forms of life that can grow on their own. The minimal cells can produce all the chemicals that they need to survive – in other words, they have a metabolism. Accurately recreating one of these cells in a computer is a key first step towards simulating a complete living system.
Breuer et al. have developed a computer model to simulate the network of the biochemical reactions going on inside a minimal cell with just 493 genes. By altering the parameters of their model and comparing the results to experimental data, Breuer et al. explored the accuracy of their model. Overall, the model reproduces experimental results, but it is not yet perfect. The differences between the model and the experiments suggest new questions and tests that could advance our understanding of biology. In particular, Breuer et al. identified 30 genes that are essential for life in these cells but that currently have no known purpose.
Continuing to develop and expand models like these to reproduce more complex living systems provides a tool to test current knowledge of biology. These models may become so advanced that they could predict how living things will respond to changing situations. This would allow scientists to test ideas sooner and make much faster progress in understanding life on Earth. Ultimately, these models could one day help to accelerate medical and industrial processes to save lives and enhance productivity.
Establishing the core requirements of cellular life is a fundamental challenge of biology. The question of the minimal set of biochemical functions necessary for a cell to grow and replicate has been studied from a number of angles for more than 20 years. It has long been suggested (Morowitz, 1984) that a model to study the basics of cellular life would be the mycoplasmas—a group of bacteria with small genomes (580–1350 kbp (Herrmann, 1992; Fraser et al., 1995)) lacking a cell wall, which evolved via extreme genome reduction from low GC content Gram-positive ancestors (Pollack et al., 1997). Mycoplasmas exist as parasites or saprotrophs and are adapted to scavenging nutrients and cellular building blocks from their niche environments, which enabled them to lose many metabolic capabilities.
The genome of the human urogenital pathogen Mycoplasma genitalium (580 kbp, 525 genes overall, 482 for proteins, 43 for RNAs), sequenced in 1995 (Fraser et al., 1995), is the smallest genome of any autonomously replicating cell found in nature and has thus been deemed a close approximation to a minimal genome (Glass et al., 2006). In particular, different efforts have been undertaken to establish a minimal set of genes based on the near-minimal M. genitalium genome. A comparison of the first two sequenced bacterial genomes (the Gram-positive M. genitalium (Fraser et al., 1995) and the Gram-negative Haemophilus influenzae (Fleischmann et al., 1995)) yielded 256 orthologous genes that were suggested to approximate a minimal set of bacterial genes (Mushegian and Koonin, 1996); a subsequent comparative study, including genomes from several free-living and endosymbiotic bacteria, proposed a minimal set of 206 genes (Gil et al., 2004). A limitation of this approach lies in the possibility of the same function being fulfilled by non-orthologous proteins in different organisms, in which case it would not be captured by searching for orthologous genes. Transposon mutagenesis studies (Hutchison et al., 1999) avoid this drawback by directly probing the dispensability of individual genes in a single organism via random gene disruption, and testing for viability. In M. genitalium, such studies have suggested 382 out of the 482 protein-coding genes to be essential (Glass et al., 2006).
An important limitation of deriving a minimal gene set from essentiality information on individual genes lies in the fact that more than one gene can fulfill the same function, and while neither gene is essential individually, at least one of them has to be present in a functional minimal genome. Thus, while removal of either gene would be nonlethal, removing both would create a synthetic lethality. This problem can, in principle, be circumvented by sequential gene deletion starting from a given wild-type organism (as partially done for Escherichia coli and Bacillus subtilis (Juhas et al., 2014; Pósfai et al., 2006)), with testing for viability and growth rate after each deletion. In principle, this would not only yield the information on a minimal genome, but also would produce a living organism controlled by such a genome. However, the time and resource costs of minimizing a genome by serial deletion of dispensable genes are prohibitive.
In 2016, we developed a successful bottom-up approach to design a minimal genome and create a living cell controlled by it (Hutchison et al., 2016a). Starting with the gene sequence from the 1079 kbp genome of the ruminant pathogen Mycoplasma mycoides capri serovar LC GM12, a minimal genome of 531 kbp was designed and constructed containing 473 genes (438 protein-coding genes and 35 genes for RNAs) (Hutchison et al., 2016a). The resulting strain, JCVI-syn3.0 (NCBI GenBank: https://www.ncbi.nlm.nih.gov/nuccore/CP014940.1 (Hutchison et al., 2016b)), has a genome smaller than that of any independently-replicating cell found in nature and is considered to be our 'working approximation to a minimal cell'. This achievement was the culmination of a series of breakthroughs in synthetic biology. In 2007, the successful transplantation of an M. mycoides capri LC GM12 genome into a Mycoplasma capricolum recipient cell was reported (Lartigue et al., 2007), transforming the recipient cell to the species of the implanted DNA. In 2008, the complete genome of M. genitalium was synthesized from scratch, starting with chemically synthesized oligonucleotides and stepwise recombination in vitro and subsequently in Saccharomyces cerevisiae (yeast), using the available genetic manipulation tools to assemble the genome as a plasmid inside the yeast cell (Gibson et al., 2008). These methods enabled the construction of JCVI-syn1.0, the first cell controlled by a synthetic genome (NCBI GenBank: https://www.ncbi.nlm.nih.gov/nuccore/CP002027.1) (Gibson et al., 2010a; Gibson et al., 2010b). This was accomplished by synthesizing of a copy of the M. mycoides capri LC GM12 genome along with vector sequences that allowed cloning in E. coli and yeast, and its subsequent transplantation into M. capricolum recipient cells to yield JCVI-syn1.0. These milestones enabled the synthesis of reduced versions of the JCVI-syn1.0 genome with subsequent transplantation into M. capricolum to test for viability. The genome reduction process was guided by transposon mutagenesis studies on the original JCVI-syn1.0 genome, as well as on intermediate reduced genome versions. Successful genome minimization depended on identifying both essential genes, whose disruption is immediately lethal, and quasi-essential genes, whose disruption causes an observable growth disadvantage. Quasi-essential genes were identified by observing if cells with potentially growth-reducing gene disruptions were outgrown during sufficiently long competition experiments, so that cells sampled from much later generations no longer contained the disrupted gene. Three cycles of genome design, assembly and growth testing yielded JCVI-syn3.0 (Hutchison et al., 2016a).
JCVI-syn3.0 contains all the genes of JCVI-syn1.0 that are required for growth. This includes both essential and quasi-essential genes. Individually non-essential genes were removed in the design for JCVI-syn3.0 to the greatest extent possible without causing synthetic lethality or a major growth disadvantage from simultaneous knockouts. However, in a few cases, genes that appear to be non-essential were retained for ease of genome design and construction. Intriguingly, the role of a considerable fraction of the minimal genome of JCVI-syn3.0 could not be elucidated in spite of extensive bioinformatic analyses. At the time of publication of the minimal cell, 149 of the genes (∼31% of the genome) could not be assigned a completely specific biological function. Assignment to a broad functional category could not even be made for a subset of 79 genes. These genes of unknown or poorly defined function potentially point toward required features of cellular life yet to be discovered.
The original minimal cell JCVI-syn3.0 genome was assembled by combining individually minimized 1/8 chromosome segments (Hutchison et al., 2016a). Phenotypic traits of JCVI-syn3.0 included extensive filamentation and vesicle formation during growth, and a doubling time of 2–3 hr (compared to the spheroidal morphology and 1 hr doubling time conferred by the JCVI-syn1.0 genome). To address these phenotypic disadvantages, an alternative design of segment six was found to restore consistent morphologic features and increase the growth rate, while retaining a near-minimal genome. This new design incorporated 19 additional genes from JCVI-syn1.0 segment six that were not present in JCVI-syn3.0, including those encoding the cell partitioning proteins FtsZ and SepF along with others of unknown function; in addition, two other genes retained in JCVI-syn3.0 segment six were removed. The complete genome sequence of this strain, termed JCVI-syn3A, is available through NCBI under the accession number https://www.ncbi.nlm.nih.gov/nuccore/CP016816.2. (Glass, 2017) This entry contains 498 genomic features, however three of those are pseudo-genes and two are genes required for cloning in yeast.
JCVI-syn3A has a doubling time of ∼2 hr and consistently forms spherical cells of approximately 400 nm in diameter. With a 543 kbp genome containing 493 genes of which 452 code for proteins and 38 for RNAs, JCVI-syn3A still has a smaller genome than any natural autonomously replicating cell while providing a robust and versatile platform to study the basics of life. In particular, this minimal cell opens up the possibility to pursue the construction of a complete in silico model including the function of all genes. The map of protein coding genes (Figure 1) clearly shows the fundamental importance of Syn3A as a platform to study the principles of life. Among the model bacteria E. coli and the related and well-studied (Güell et al., 2009; Kühner et al., 2009; Yus et al., 2009; Maier et al., 2011; Wodke et al., 2013) Mycoplasma pneumoniae, JCVI-syn3A has the smallest ratio of genes involved in metabolism to those in genetic information processing. With 91 it also has the smallest number of genes that are considered to have no known (unclear) function compared to 311 and 1780 for M. pneumoniae and E. coli, respectively (see Table 1 and Supplementary file 1C–1D for an itemized account of the functional categories for the three genomes).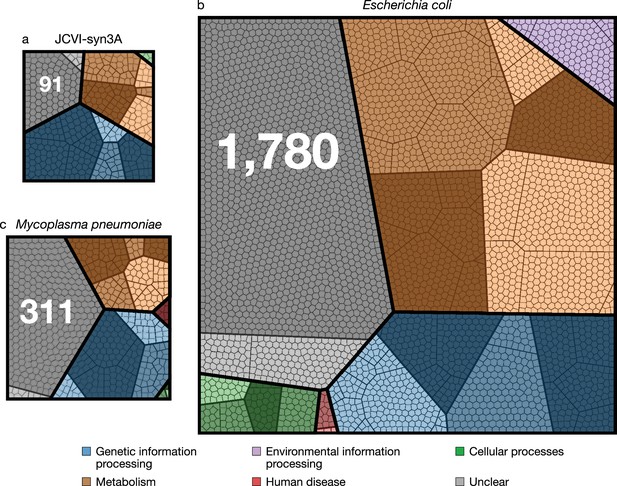 A model for ribosome biogenesis that includes DNA replication, transcription, translation, and ribosome assembly in slow growing E. coli has already been developed (Earnest et al., 2015; Earnest et al., 2016). As its components have on average 50% sequence identity to those genetic information processing genes in JCVI-syn3A, this model is assumed to be applicable to JCVI-syn3A as well. Hence, the next important step in modeling JCVI-syn3A is the reconstruction of its metabolic network.
The metabolic reconstruction presented here is based on the curated genome annotation, extensive experimental information from the literature on M. mycoides capri and other mycoplasma species, and accompanying transposon insertion and proteomics data. Our model features 338 reactions organized in nine subsystems (see Supplementary file 1B), involving 304 metabolites, catalyzed by gene products of 155 genes, thus covering a third of the genes of JCVI-syn3A. The reconstruction process enabled us to suggest several annotation refinements and updates, and yielded a metabolic network that is fairly complete.
Together with the reconstructed biomass composition of JCVI-syn3A and estimates of its reaction flux constraints and energy expenses, the reconstructed metabolic network was cast into a flux-balance analysis (FBA) model (Orth et al., 2010). FBA yields the set of steady-state reaction fluxes through a metabolic network that maximize a pre-defined objective function, for example production of cellular biomass. The solution space of possible fluxes is constrained not only by the steady-state assumption, but also by specific flux limits accounting for maximal uptake/secretion rates or cellular energy expenses. If these flux limits are not known, the network stochiometry predicts the biomass yield achieved by the cell, that is gram biomass produced/gram carbon source taken up (or equivalently biomass production rate/carbon substrate uptake rate). If flux constraints, in particular substrate uptake rates are known or can be assumed, the yield as growth rate per uptake rate can be converted to an absolute growth rate. While measurements to derive such flux constraints are not available yet for JCVI-syn3A, some measurements are available from other mycoplasmas and bacteria that have the same high-affinity glucose transporter (PtsG) found in JCVI-syn3A. Using the glucose uptake rate measured in M. pneumoniae (Wodke et al., 2013) (which is similar to the one measured in slow-growing E. coli (Fuhrer et al., 2005)) and other constraint estimates allows us to provisionally predict a growth rate for JCVI-syn3A; this model growth rate is however sensitive to the assumed uptake rate (see Section 'Sensitivity analysis' in Appendix 1). In this article, the growth rate predicted by the model is presented with the understanding that for the aforementioned reasons, the prediction is provisional and comes with a degree of uncertainty. This uncertainty has no bearing on the prediction of in silico gene essentialities (see below), which can be obtained by removing certain genes in the model and their associated reactions, and testing whether FBA still predicts a nonzero growth rate for the resulting in silico knockout.
This FBA model for JCVI-syn3A allows for the analysis of the properties of minimized metabolism in JCVI-syn3A. In particular, gene essentiality can be compared between the model and experimental transposon mutagenesis data. Random gene disruption by bombardment with transposon insertions (Hutchison et al., 1999; Glass et al., 2006) was used to identify non-essential genes in JCVI-syn1.0 that to the most part were removed during the construction of JCVI-syn3.0 (Hutchison et al., 2016a); here, genome-scale transposon mutagenesis studies were carried out on JCVI-syn3A to survey the individual essentiality of all its remaining genes. We find that transposon- and model-derived gene essentiality agree well, with every in silico essential gene being at least quasi-essential in vivo (i.e. removal might not be immediately detrimental, but give a growth disadvantage). The metabolic reconstruction allows us to rationalize the non-essentiality of some genes, and to propose possible further gene removals in JCVI-syn3A. These suggestions from the model are of particular interest as transposon mutagenesis experiments only probe the individual essentiality of genes and do not yield information on which genes could be removed simultaneously. The metabolic construction, on the other hand, allows us to suggest which genes might be simultaneously removed. At the same time, in silico and in vivo essentiality also show some discrepancies, which lead us to postulate new hypotheses about specific gene functions or metabolic capabilities. Protein expression profiles of essential and non-essential genes, classified by either transposon mutagenesis studies or FBA in silico gene knockouts, were not found to differ significantly–possibly indicating by and large the absence of expression regulation that would discriminate gene products based on their essentiality. Finally, the reconstruction process as well as the gene essentiality comparison have yielded a number of informed hypotheses and suggestions for specific experiments that will guide the ongoing experimental investigation of gene functions in the minimal cell.
While the minimal cell JCVI-syn3A is a new organism with little experimental data yet available, its natural precursor M. mycoides capri has been studied in depth, which informed all aspects of the metabolic model. To refer to genes in the JCVI-syn3A genome, we use the locus names of the form MMSYN1_xxxx as used in the annotation of JCVI-syn1.0 (Hutchison et al., 2016a) to allow us to discuss genes deleted in JCVI-syn3A more clearly. The MMSYN1_ prefix is omitted for brevity. Understanding the in vivo essentiality of genes in JCVI-syn3A is an important first step to the development of the metabolic reconstruction: this is presented first in Section 'Transposon mutagenesis experiments probe in vivo gene essentiality'. Using the protein expression profiles measured for JCVI-syn3A, the biomass composition of JCVI-syn3A is then derived in Section 'Biomass composition and reaction', as well as the biomass reaction used in the model. The construction and justification of the metabolic model is presented in Section 'Metabolic reconstruction'. The steady-state fluxes obtained from the model are then compared in Section 'Steady state fluxes' to experimental fluxes, as well as to protein abundance-based flux limits. The metabolic energy usage of JCVI-syn3A is analyzed in Section 'Energy usage'. Gene essentiality obtained from in silico gene knockouts is presented in Section 'In silico gene knockouts and mapping to in vivo essentiality'. Finally, we compare protein expression profiles between essential and non-essential proteins as identified in the model or in vivo in Section 'Abundances of essential and non-essential proteins'.
Completeness of the model
The creation of the first minimal bacterial cell JCVI-syn3.0 in 2016 provided a powerful platform for understanding the basics of life. As a first step along this road, we have combined the genetic information of JCVI-syn3A with the extensive amount of experimental information available for the natural M. mycoides capri and assembled a metabolic reconstruction and FBA model for the minimal cell. The majority of reactions in this model are supported by experimental evidence on the parent organism and related mycoplasmas. The model is near-complete with regard to accounting for the biomass components, describes cellular energy expenses well, shows good agreement with experimental transposon insertion data, and importantly has relatively few non-essential metabolic genes. It thus provides a foundation to study the features of the minimal metabolic network.
The metabolic networks of lipids and cofactors are both functionally nearly minimal and in their reconstruction nearly complete. The reconstructed lipid network is consistent with all membrane components known from the biomass composition (save for the small fraction of triacylglycerol, which might or might not still be produced in JCVI-syn3A) and contains no redundant features (except for one more glycosyltransferase than required by the current reconstruction). The only remaining gap in lipid metabolism is the missing gene for phosphatidate phosphatase. In cofactor metabolism, the remaining questions are the substrate specificities of the EcfS transporter subunits, and the proposed lipoate uptake mechanism. Amongst the ion transport reactions, a gene for the Na+/H+ antiporter remains to be identified. Central and nucleotide metabolism display a number of potential redundancies (see Table 2), and several important reactions not accounted for by a gene yet. In central metabolism, these include the in silico essential transaldolase (TALA) reaction; and the reactions PDH_E1, NOX and export of lactate and acetate, all of which (except for lactate export) are required in the model to maintain the experimental doubling time of ∼2 hr. In nucleotide metabolism, nucleobase uptake is an essential function still unaccounted for.
Even so, we obtain a number of gap-filled reactions of only 21—a fraction of 6% of all model reactions, or 9% of the 244 'non-pseudo' reactions. (Non-pseudo reactions are the subset of individual chemical or transport reactions in the model. This includes all model subsystems except for the artificial exchange and biomass reactions; and the macromolecule reactions, which describe non-metabolic processes taking place in all cells that are therefore not relevant for the number of gap fills). These 21 gap fills are obtained from the total number of 35 non-pseudo reactions without assigned gene after subtraction of 14 passive transport reactions assumed to take place without protein mediation (see e.g. discussion on passive permeative glycerol uptake in Appendix 1). This number of gap fills is considerably lower than in comparable models (see Section 'Comparison to M. pneumoniae'). Furthermore, from these 21 gap fills, only four are not supported by experimental evidence. Hence, 98% of all non-pseudo reactions are justified through gene assignments and/or experimental evidence, or are assumed to be passive. Table 6 summarizes the overall features of the model.
We also note that there are good candidates for many of the missing functions: The NOX reaction could conceivably be carried out by an oxidoreductase of unspecified function. Both 0029 and fre/0302 code for putative oxidoreductases. The gene fre/0302 in particular has been suggested to be the missing NADH oxidase (Danchin and Fang, 2016) and might be a candidate for investigation. While no gene for transaldolase has thus far been identified in any mycoplasma, the alternative route proposed in Vanyushkina et al. (2014) would just require a phosphatase reaction, which could plausibly be carried out by one of a number of hydrolases in JCVI-syn3A of thus far unknown function. The same holds for further phosphatase reactions, including the phosphatidate phosphatase (PAPA) reaction in lipid metabolism and a number of hydrolase reactions in nucleotide metabolism. Substrate screening, informed by the metabolic reconstruction, might therefore be of interest for the hydrolases of unknown function. Finally, some of the reactions without assigned gene are transport processes (e.g. lactate/acetate export, nucleobase uptake). It stands to reason that these processes might be carried out by some of the many membrane proteins in JCVI-syn3A whose function could not be identified yet.
Our metabolic model of JCVI-syn3A thus features an overall quite complete metabolic network, and even though a small percentage of reactions could currently not yet be assigned to a gene, the presence of genes catalyzing these reactions is plausible and the majority of these reactions are supported by experimental evidence. We therefore believe that comparing our model to the experimental transposon mutagenesis data is informative. In the following we discuss the comparison of in silico and in vivo (transposon mutagenesis-based) essentiality. While a number of genes can be discussed individually (see Section 'Interpretation of individual gene essentialities'), two pathways need to be discussed as a whole: the folate cycle (see Section 'The role of folate metabolism') and the pentose phosphate pathway (see Section 'A partial bypass to the pentose phosphate pathway'). Overall, the analysis suggests a few new hypotheses and even yields suggestions for some genes or groups of genes that could still be removed from the genome of JCVI-syn3A to minimize the genome even further. In this way, it complements the transposon mutagenesis data that can only probe individual essentialities—and simultaneous knockouts prove challenging in experiment (see Section 'Transposon mutagenesis experiments probe in vivo gene essentiality').
Suggestions for further experimental study
As presented in the preceding sections, the comparison between in silico and in vivo essentiality yielded a number of hypotheses and suggested several possible gene removal experiments (Table 7). Similarly, the metabolic reconstruction itself yielded a number of informed hypotheses, as well as raised specific questions. While the minimal genome has been experimentally obtained, understanding all genetic functions both individually and as a system remains an ongoing challenge. Thus, the hypotheses and questions raised in this work provide invaluable help in the ongoing effort to completely understand the minimal genome. In Table 8, we provide a list of suggested experiments other than gene removal/knockout studies, sorted by category and providing a rationale for each experiment.
Comparison to M. pneumoniae
M. pneumoniae is an important systems biology model organism that has been extensively studied (Güell et al., 2009; Kühner et al., 2009; Yus et al., 2009; Maier et al., 2011; Wodke et al., 2013) so a comparison to its metabolic map should be of interest. With a published metabolic reconstruction (iJW145 (Wodke et al., 2013)) that includes 304 reactions involving the products of 145 genes it is similar in size to the metabolic reconstruction of the minimal cell JCVI-syn3A with its 338 reactions and 155 genes. Utilizing the vast experimental information on M. mycoides capri, the natural precursor of JCVI-syn3A, as well as information on JCVI-syn3A homologs in other organisms, enabled us to obtain a smaller percentage of gap fills (i.e. model reactions assumed to be enzymatic yet having no gene assigned) of 6% out of all model reactions, compared to 25% in the M. pneumoniae model iJW145; or 9% for JCVI-syn3A vs. 32%, if exchange, macromolecular and biomass reactions are excluded from the total number of reactions in each model. The JCVI-syn3A model yields a higher degree of in silico essentiality (79% vs. 56% for the 131 'metabolic proteins' in the M. pneumoniae model (Wodke et al., 2013))—reflecting the minimization of the JCVI-syn3A genome. This higher degree of essentiality is also reflected in the differences in individual reactions presented in Supplementary file 6 (see also Section 'Materials and methods' for details on the model comparison).
Excluding exchange, macromolecular and biomass reactions, a core of 126 reactions is shared between the models, including glycolysis, the pentose phosphate pathway, reactions from nucleotide, cofactor and lipid salvage pathways, and tRNA charging. However, M. pneumoniae has 116 reactions not present in JCVI-syn3A, which mainly includes uptake and utilization of additional sugar sources, further nucleotide conversions, more extensive cofactor salvage reactions, and additional lipid-related reactions. Some of these reactions were present in JCVI-syn1.0 but were removed during minimization of the genome to JCVI-syn3A. Furthermore, some of the differences are technical in nature, for example the choice to model amino acid uptake as ABC import reactions in M. pneumoniae, or the decision to include amino acid secretion reactions there. Interestingly, in spite of the much smaller genome of JCVI-syn3A, its reconstruction still contains 120 reactions not present in the M. pneumoniae model. While a number of these arise from a more detailed description of various transport processes (nucleosides, peptides and ions), we note the presence of some functionalities not present or known in M. pneumoniae. These include the production of a polysaccharide capsule (in addition to the monogalactosyl-lipid), some alternative sugar sources specific to JCVI-syn3A and also specific nucleotide conversion and breakdown reactions, perhaps most notably the presence of the essential damage preemption enzyme dUTPase (dut/0447, see Figure 8).
We have presented a comprehensive metabolic reconstruction and FBA model of the minimal cell JCVI-syn3A, informed by the extensive experimental information available for the natural precursor, M. mycoides capri, in vivo transposon mutagenesis and proteomics data. The metabolic model is near complete with regard to accounting for all biomass components, with known metabolic functions not included mainly pertaining to damage repair/pre-emption and RNA modification. The high quality of the model is exemplified by the strong support for the network, with 98% of enzymatic reactions in the model justified through gene assignments and/or experimental evidence; and by its good agreement with experimental transposon mutagenesis data showing 92% of the genes included in the model to be essential or quasi-essential. The essential metabolism of this minimal cell consists of only a few subsystems that are only minimally connected with each other. The subsystems for lipids, amino acids, nucleotides and cofactors contain only salvage pathways. An energy analysis shows how this reliance on salvage pathways enables the cell to only spend 9% of its produced ATP on precursor transport and processing while maintaining a doubling time of 2 hr. The experimental transposon mutagenesis data probe individual gene essentialities, which together with the metabolic model point to a few possible remaining redundancies. Comparison with M. mycoides capri further suggests that folate metabolism only became quasi-essential by removal of other genes, underlining how different routes of genome minimization could yield different minimal genomes. Model and accompanying experimental data thus not only reveal properties of the minimal metabolic network, but also yield an extensive list of suggested experiments to test the resulting hypotheses. The model, together with the accompanying transposon mutagenesis and proteomics data, provides an excellent foundation for further studies of the minimal cell.
Proteomics: data were uploaded to MassIVE (massive.ucsd.edu) with dataset identifier MSV000081687 and ProteomeXchange with dataset identifier PXD008159. All other new data are included in the manuscript and supporting files.
Modification of the membrane composition of Mycoplasma mycoides subsp. capri by the growth medium

Microbiology 88:329–338.

Cation transport mechanisms in Mycoplasma mycoides var. capri cells

Na+-Dependent K+ Accumulation. Biochemical Journal 208:529–538.

Cation transport mechanisms in Mycoplasma mycoides var. capri cells. The nature of the link between K+ and Na+ transport

The Biochemical Journal 208:539–547.

Increased rates of lipid exchange between Mycoplasma capricolum membranes and vesicles in relation to the propensity of forming nonbilayer lipid structures

The Journal of Biological Chemistry 265:15110–15117.

Bacterial dry matter content and biomass estimations

Applied and Environmental Microbiology 48:755–757.

A specific polysaccharide from Mycoplasma mycoides

Microbiology 23:357–368.

An approach to correlate tandem mass spectral data of peptides with amino acid sequences in a protein database

Journal of the American Society for Mass Spectrometry 5:976–989.

H+-ATPase activity of Escherichia coli F1F0 is blocked after reaction of dicyclohexylcarbodiimide with a single proteolipid (subunit c) of the F0 complex

The Journal of Biological Chemistry 264:3896–3903.

Book

Genome Structure and Organization

Washington, USA: American Society for Microbiology.

Ribonucleic acids of Mycoplasma gallisepticum strain a5969

American Journal of Veterinary Research 30:287–293.

Enzymatic amination of uridine triphosphate to cytidine triphosphate

The Journal of Biological Chemistry 222:765–775.

Sodium and proton transport in Mycoplasma gallisepticum

Journal of Bacteriology 163:1250–1257.

Cytidine triphosphate synthetase of Escherichia coli B I. Purification and kinetics

The Journal of Biological Chemistry 242:4715–4721.

Book

Mycoplasmas: Molecular Biology and Pathogenesis

Zondervan.

The energy utilized in protein breakdown by the ATP-dependent protease (La) from Escherichia coli

The Journal of Biological Chemistry 262:722–726.

Book

The Ribonucleotides of Mycoplasma Mycoides

University of Melbourne: School of Biochemistry.

Enzymes of purine metabolism in Mycoplasma mycoides subsp. mycoides

Journal of Bacteriology 134:706–712.

Pathways of nucleotide biosynthesis in Mycoplasma mycoides subsp. mycoides

Journal of Bacteriology 130:1047–1054.

Enzymes of pyrimidine metabolism in Mycoplasma mycoides subsp. mycoides

Journal of Bacteriology 137:1073–1080.

The completeness of molecular biology

Israel Journal of Medical Sciences 20:750–753.

Formylation of methionyl-transfer ribonucleic acid in Mycoplasma mycoides subsp. mycoides

Journal of Bacteriology 146:816–818.

Pathways of pyrimidine deoxyribonucleotide biosynthesis in Mycoplasma mycoides subsp. mycoides

Journal of Bacteriology 154:17–22.

Enzymes of pyrimidine deoxyribonucleotide metabolism in Mycoplasma mycoides subsp. mycoides

Journal of Bacteriology 156:1001–1005.

Uptake and utilization of deoxynucleoside -monophosphates by Mycoplasma mycoides subsp. mycoides

Journal of Bacteriology 158:943–947.

Book

Physiology of the Bacterial Cell: A Molecular Approach, 20

Sinauer Sunderland.

Characterization of a novel dUTP-dependent activity of CTP synthetase from Saccharomyces cerevisiae

Biochemistry 38:16671–16677.

The glycerolipids of Mycoplasma mycoides

Biochemistry 6:2746–2754.

Phosphoenolpyruvate: carbohydrate phosphotransferase systems of bacteria

Microbiological Reviews 57:543–594.

Book

Energetics and Transport in Aquatic Plants

AR Liss.

Chemical composition of mycoplasma cells and membranes

Microbiology 33:477–487.

Molecular biology and pathogenicity of mycoplasmas

Microbiology and Molecular Biology Reviews : MMBR 62:1094–1156.

Effect of membrane cholesterol on action of phospholipase A2 in Mycoplasma mycoides var. capri

European Journal of Biochemistry 110:77–84.

A defined medium for Mycoplasma strain Y

Microbiology 58:39–47.

Electrophysiology of mycoplasma membranes

The Yale Journal of Biology and Medicine 56:413.

Serine hydroxymethyltransferase catalyzes the hydrolysis of 5,10-methenyltetrahydrofolate to 5-formyltetrahydrofolate

The Journal of Biological Chemistry 265:14227–14233.

Book

The EM algorithm, variational approximations and expectation propagation for mixtures

In: Mengersen K. L, Robert C. P, Titterington D. M, editors. Mixtures: Estimation and Applications, Chap. John Wiley & Sons, Ltd. pp. 1–29.
Zoran Nikoloski

Reviewing Editor; Max Planck Institute of Molecular Plant Physiology, Germany

Naama Barkai

Senior Editor; Weizmann Institute of Science, Israel
In the interests of transparency, eLife publishes the most substantive revision requests and the accompanying author responses.
Thank you for submitting your article "Essential Metabolism for a Minimal Cell" for consideration by eLife. Your article has been reviewed by Naama Barkai as the Senior Editor, a Reviewing Editor, and two reviewers. The following individual involved in review of your submission has agreed to reveal his identity: Ron Milo (Reviewer #1).
The reviewers have discussed the reviews with one another and the Reviewing Editor has drafted this decision to help you prepare a revised submission.
Summary:
The manuscript by Breuer et al., addresses the important question of a minimal cell and provides a valuable resource in the field of synthetic biology. The extensive manual curation, the reconstruction of the metabolic network, and its characterization in silico and with usage of proteomics data provide a valuable foundation for studying the features of a minimal cell. The experiments and hypotheses suggested in the discussion are particularly appreciated. While the presented work provides a knowledge base resource to the community, the predictions formulated by the metabolic model should be described in a more nuanced way.
Essential revisions:
One of the main concerns deals with the lack of organism-specific incidental to the model predictions, namely: biomass composition, substrate uptake rates and secretion rates. While it is challenging to obtain such level of detail for a minimal organism, and the employed data pertain to the parental strain, it is important to explain how the model represents Syn3.0A and not Syn1.0. Although a comparison of the proposed and existing models has been attempted, the authors should provide a direct comparison of the metabolic capabilities between the original Syn1.0 strain and the reduced Syn3.0A to better delineate the latter from the former. The authors should clearly describe the approach (automated (how) or manual) used in comparing JCVI-syn3.0A model and iJW145.
A related concern is the approach used to infer internal composition from the growth media, since the media composition is not representative of the cytosol concentration. The authors should clarify the logic and approach used; if already published, the followed procedure should be appropriately referenced.
A third concern is the support of the claim that the model correctly predicts gene essentiality and could help further reduce the model namely through double knock-out simulations. Since Table S6 describes model accuracy, it should be moved to the main text. Given the availability of the data on categorization of the genes in 3 categories (essential, non-essential and quasi-essential), the authors should calculate the Matthews Correlation Coefficient: (1) assuming the quasi-essential genes to be essential and (2) assuming quasi-essential genes to be non-essential. The obtained metric should be compared to other Mollicute metabolic models.
The authors should verify the way in which the sensitivity analysis is conducted. A reasonable way to do the sensitivity analysis is to investigate what percentage of growth rate change is found for a given percentage of change in a parameter. Such an analysis may imply very strong variation in contrast to what is stated by the authors. In particular, the effect of the non-growth associated maintenance (NGAM) should be particularly re-investigated since the assumption that the NGAM would be strictly limited to the ATP efflux seems likely to be an under-estimation as many cellular pr