Cell Division: Shining light on spindle positioning
Optogenetic approaches are leading to a better understanding of the forces that determine the plane of cell division.
Cell division is essential to grow, maintain and repair an organism. To evenly distribute a copy of its genetic material between the new cells, the cell uses a machine called the spindle. This machine is made up of protein filaments known as microtubules: some of them attach to the chromosomes, while others known as astral microtubules anchor the spindle to the cell periphery at the cell cortex. The position of the spindle within the cell directs where the cell divides and, therefore, determines the size – and in polarized cells the fate – of the two new cells (Lu and Johnston, 2013).
To position the spindle within the cell, molecular motors at the cell cortex pull on the astral microtubules (Grill and Hyman, 2005). In human cells undergoing symmetric cell division, signals travel from the chromosomes and the spindle to the cell cortex in order to dynamically adjust the force being generated according to the position of the spindle (Kiyomitsu, 2015).
The force-generating machinery at the cortex consists of an evolutionary conserved set of proteins, including a long protein called NuMA, a motor protein called dynein, and a multiprotein complex called dynactin that is needed to activate dynein (Galli and van den Heuvel, 2008; Kotak et al., 2012; Gönczy, 2008). NuMA recruits dynein and dynactin to the cell cortex, and dynein generates the force that is needed to pull the spindle towards the cortex. However, there is much that we do not understand about spindle positioning. For example, is dynein alone sufficient for force generation? And how is it possible to produce persistent forces when the machinery responsible is mobile and the astral microtubules are dynamic? Now, in eLife, Tomomi Kiyomitsu from Nagoya University and colleagues – including Masako Okumura as the first author – report new insights into how the force-generating machinery is regulated and organized to pull on the spindle (Okumura et al., 2018).
Okumura et al. used a light-controllable system (Guntas et al., 2015) to manipulate where and when the various proteins in the machinery were recruited to the cell cortex. This enabled them to establish a direct cause-and-effect relationship between the location of proteins at a specific time and a subsequent spindle movement in that direction. The researchers recruited NuMA directly to the cell membrane, bypassing the canonical recruitment pathway (which involves proteins called Gαi and LGN; Figure 1A, top). This revealed that the complex formed by NuMA, dynein and dynactin is sufficient to initiate the pulling force from the cortex, independent of the proteins that normally recruit them to the cortex. They also showed that dynein cannot generate enough force to pull the spindle on its own – NuMA must also be recruited (Figure 1A, bottom). This synergizes with findings from a recent study using worm embryos (Fielmich et al., 2018): targeting the worm equivalent of NuMA with light suffices to move the spindle, while targeting dynein alone does not. This indicates that NuMA may have other roles beyond simply recruiting dynein to the cortex. What, then, does it do?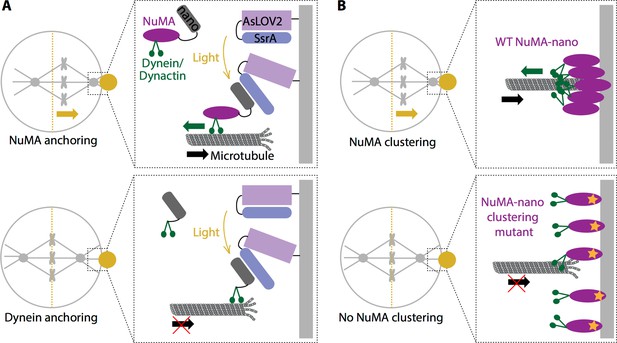 The experiments revealed that a specific region on NuMA, similar to a motif found in proteins that activate dynein, is required in order to recruit dynein. Together with NuMA being necessary for force generation, this finding suggests that NuMA could activate dynein, as if it turned the key in dynein's engine to make it persistently 'walk'. However, further work is needed to confirm this. The results also showed that both the long coiled-coil structure of NuMA and the region, or domain, that binds to the microtubules are essential for the cortex to pull on the spindle. NuMA's ability to bind microtubules could help dynein hold onto the microtubules, while its long structure may help the cortical machinery to capture the microtubules and grasp on to them in this dynamic environment.
Finally, Okumura et al. identified a region on NuMA that promotes the assembly of clusters with dynein and dynactin at the cell cortex, which in turn is necessary to promote the pulling forces on the spindle (Figure 1B). Clustering many dynein motors could help them to capture microtubules and to tug on them more efficiently. Okumura et al. offer a provocative model in which NuMA could assemble a ring-like structure at the cortex, creating a platform similar to the microtubule-binding machine located at the chromosomes. Going forward, the precise architecture and function of these force-generating clusters at the cell cortex will be important questions to address.
In summary, NuMA appears to be multi-talented, using its different domains and functions to promote robust force generation and spindle positioning. It has long 'fingers', generates passive force by binding microtubules, and recruits, clusters, and may even turn on motor proteins, generating active force. These may be generalizable principles for how cells build dynamic interfaces that must robustly generate force.
Article and author information
Author details
© 2018, Serra-Marques et al.
This article is distributed under the terms of the Creative Commons Attribution License, which permits unrestricted use and redistribution provided that the original author and source are credited.
1,237

Page views

181

Downloads

1

Citations
Article citation count generated by polling the highest count across the following sources: Crossref, PubMed Central, Scopus.
A two-part list of links to download the article, or parts of the article, in various formats.
Downloads
(link to download the article as PDF)
Open citations
(links to open the citations from this article in various online reference manager services)
Cite this article
(links to download the citations from this article in formats compatible with various reference manager tools)
Andrea Serra-Marques
Sophie Dumont
Cell Division: Shining light on spindle positioning
eLife 7:e38748.
https://doi.org/10.7554/eLife.38748
Further reading
To position the mitotic spindle within the cell, dynamic plus ends of astral microtubules are pulled by membrane-associated cortical force-generating machinery. However, in contrast to the chromosome-bound kinetochore structure, how the diffusion-prone cortical machinery is organized to generate large spindle-pulling forces remains poorly understood. Here, we develop a light-induced reconstitution system in human cells. We find that induced cortical targeting of NuMA, but not dynein, is sufficient for spindle pulling. This spindle-pulling activity requires dynein-dynactin recruitment by NuMA's N-terminal long arm, dynein-based astral microtubule gliding, and NuMA's direct microtubule-binding activities. Importantly, we demonstrate that cortical NuMA assembles specialized focal structures that cluster multiple force-generating modules to generate cooperative spindle-pulling forces. This clustering activity of NuMA is required for spindle positioning, but not for spindle-pole focusing. We propose that cortical Dynein-Dynactin-NuMA (DDN) clusters act as the core force-generating machinery that organizes a multi-arm ensemble reminiscent of the kinetochore.

Cell Biology

Developmental Biology

Spermatogenesis is a highly specialized differentiation process driven by a dynamic gene expression program and ending with the production of mature spermatozoa. Whereas hundreds of genes are known to be essential for male germline proliferation and differentiation, the contribution of several genes remains uncharacterized. The predominant expression of the latest globin family member, androglobin (Adgb), in mammalian testis tissue prompted us to assess its physiological function in spermatogenesis. Adgb knockout mice display male infertility, reduced testis weight, impaired maturation of elongating spermatids, abnormal sperm shape, and ultrastructural defects in microtubule and mitochondrial organization. Epididymal sperm from Adgb knockout animals display multiple flagellar malformations including coiled, bifid or shortened flagella, and erratic acrosomal development. Following immunoprecipitation and mass spectrometry, we could identify septin 10 (Sept10) as interactor of Adgb. The Sept10-Adgb interaction was confirmed both in vivo using testis lysates and in vitro by reciprocal co-immunoprecipitation experiments. Furthermore, the absence of Adgb leads to mislocalization of Sept10 in sperm, indicating defective manchette and sperm annulus formation. Finally, in vitro data suggest that Adgb contributes to Sept10 proteolysis in a calmodulin-dependent manner. Collectively, our results provide evidence that Adgb is essential for murine spermatogenesis and further suggest that Adgb is required for sperm head shaping via the manchette and proper flagellum formation.

Biochemistry and Chemical Biology

Cell Biology

Profilin-1 (PFN1) is a cytoskeletal protein that regulates the dynamics of actin and microtubule assembly. Thus, PFN1 is essential for the normal division, motility, and morphology of cells. Unfortunately, conventional fusion and direct labeling strategies compromise different facets of PFN1 function. As a consequence, the only methods used to determine known PFN1 functions have been indirect and often deduced in cell-free biochemical assays. We engineered and characterized two genetically encoded versions of tagged PFN1 that behave identical to each other and the tag-free protein. In biochemical assays purified proteins bind to phosphoinositide lipids, catalyze nucleotide exchange on actin monomers, stimulate formin-mediated actin filament assembly, and bound tubulin dimers (kD = 1.89 µM) to impact microtubule dynamics. In PFN1-deficient mammalian cells, Halo-PFN1 or mApple-PFN1 (mAp-PEN1) restored morphological and cytoskeletal functions. Titrations of self-labeling Halo-ligands were used to visualize molecules of PFN1. This approach combined with specific function-disrupting point-mutants (Y6D and R88E) revealed PFN1 bound to microtubules in live cells. Cells expressing the ALS-associated G118V disease variant did not associate with actin filaments or microtubules. Thus, these tagged PFN1s are reliable tools for studying the dynamic interactions of PFN1 with actin or microtubules in vitro as well as in important cell processes or disease-states.