T Cell Activation: The importance of methionine metabolism
T helper cells import methionine to synthesize new proteins and to provide the methyl groups needed for the methylation of RNA and DNA that drives T cell proliferation and differentiation.
The immune system relies on a number of different cells types that work together to detect and clear unwanted infections from the body. T helper cells (also known as CD4+ T cells, and hereafter referred to as T cells) play an important role in this process as they modulate the activity of the immune cells that rid the body of infections. Antigens on the surface of infected cells can activate different subpopulations of T cells by binding to antigen-specific receptors on the surface of the T cells (Figure 1). Once activated, the T cells proliferate rapidly and work together to mediate the immune response against the antigen.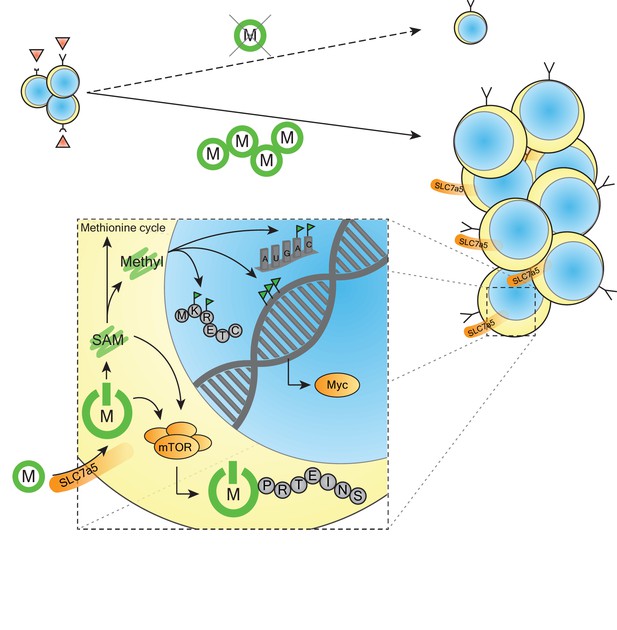 This rapid expansion of T cells is, however, metabolically taxing because DNA, proteins and other biomolecules have to be produced prior to every division of the cells. The synthesis of new proteins during this period relies on the T cells importing the essential amino acid methionine. In addition to its role in protein synthesis, methionine can also enter the 'methionine cycle' and be converted into s-adenosylmethionine (SAM), which provides methyl groups for numerous biochemical reactions.
SAM is a substrate for methyltransferase enzymes that are involved in the methylation of many different molecules (see Figure 1). The addition of a methyl group to a histone protein, for example, can alter gene transcription (Allis and Jenuwein, 2016); the methylation of other proteins influences processes such as signal transduction and metabolism (Murn and Shi, 2017); and the methylation of RNA can have a significant influence on gene expression (Zhao et al., 2017). Now, in eLife, Linda Sinclair and Doreen Cantrell, both at the University of Dundee, and co-workers at Dundee, Vanderbilt University and Duke University report that in addition to importing methionine for protein synthesis, activated T cells use it to generate the methyl groups needed for the methylation of DNA and RNA – processes that drive the differentiation and proliferation of T cells (Sinclair et al., 2019).
Using high-resolution mass spectrometry and metabolic labeling, Sinclair et al. showed that the activation of T cells by antigens led to a rapid upregulation of a methionine transporter called Slc7a5. The antigen activation of T cells also led to a marked increase in methyltransferases: however, the ability of these enzymes to methylate DNA, RNA or a protein depends on the availability of SAM. Since the expression of the enzymes that control the level of SAM do not change as a result of T cell activation, Sinclair et al. conclude that the import of methionine through Slc7a5 is the rate-limiting factor for the generation of methyl groups during T cell activation.
The expression of receptors for IL2 – a growth factor that drives proliferation of T cells – is also increased in response to antigen engagement with T cell receptors. Sinclair et al. observed that IL2 receptors were still upregulated even in the absence of methionine or the methionine transporter. This suggests that activation signals prepare cells to utilize extracellular methionine, but that the rapid upregulation of Slc7a5 and import of methionine is needed for the full activation of T cells.
Previous studies have shown that two other proteins – the protein kinase mTOR, which is involved ribosome biogenesis, protein translation and a number of other processes (Sabatini, 2017); and the transcription factor Myc – have important roles in regulating metabolism in T cells (Powell et al., 2012; MacIver et al., 2013), as does the upregulation of the nutrient transporters that import key metabolic building blocks such as glutamine and leucine. The fact that the activation of mTOR also enhances the expression of Myc and an amino acid transporter called CD98 illustrates the close connections between metabolic reprogramming and amino acid availability in immune cells (Wang et al., 2011; Sinclair et al., 2013). Sinclair et al. also showed that mTOR is partially dependent on the import of methionine to drive protein synthesis and fully activate the T cells.
It was also know that Slc7a5 imports leucine (in addition to importing methionine), and that the absence of either of these amino acids in the T cell leads to suboptimal activation of mTOR. It is possible that the need for multiple metabolites to support differentiation and proliferation may be a way of preventing T cells being activated when they should not be. Given recent advances in single-cell analysis it is conceivable that researchers might one day be able to measure changes in the epigenome (and also the transcriptome, proteome, acetylome and methylome) of T cells and combine these results with measurements of the flux through metabolic pathways to better understand the dynamic changes in T cells that underlie immune function. While aspects of the study by Sinclair et al. highlight the complexity of the metabolic reprogramming that T cells undergo during activation and differentiation, it also moves the field forward by establishing how the essential amino acid methionine supports T cell function. Precisely how levels of dietary methionine will contribute to methionine uptake by T cells – and whether those levels are modulated during infection, cancer or autoimmunity to influence T cell responses – is not yet known and will require further study.
Article and author information
Author details
© 2019, Klein Geltink and Pearce
This article is distributed under the terms of the Creative Commons Attribution License, which permits unrestricted use and redistribution provided that the original author and source are credited.
4,699

Page views

549

Downloads

24

Citations
Article citation count generated by polling the highest count across the following sources: Crossref, PubMed Central, Scopus.
A two-part list of links to download the article, or parts of the article, in various formats.
Downloads
(link to download the article as PDF)
Open citations
(links to open the citations from this article in various online reference manager services)
Cite this article
(links to download the citations from this article in formats compatible with various reference manager tools)
Ramon I Klein Geltink
Erika L Pearce
T Cell Activation: The importance of methionine metabolism
eLife 8:e47221.
https://doi.org/10.7554/eLife.47221
Further reading
Immunology and Inflammation

Immune activated T lymphocytes modulate the activity of key metabolic pathways to support the transcriptional reprograming and reshaping of cell proteomes that permits effector T cell differentiation. The present study uses high resolution mass spectrometry and metabolic labelling to explore how murine T cells control the methionine cycle to produce methyl donors for protein and nucleotide methylations. We show that antigen receptor engagement controls flux through the methionine cycle and RNA and histone methylations. We establish that the main rate limiting step for protein synthesis and the methionine cycle is control of methionine transporter expression. Only T cells that respond to antigen to upregulate and sustain methionine transport are supplied with methyl donors that permit the dynamic nucleotide methylations and epigenetic reprogramming that drives T cell differentiation. These data highlight how the regulation of methionine transport licenses use of methionine for multiple fundamental processes that drive T lymphocyte proliferation and differentiation.

Immunology and Inflammation

Periodontitis, one of the most common non-communicable diseases, is characterized by chronic oral inflammation and uncontrolled tooth supporting alveolar bone resorption. Its underlying mechanism to initiate aberrant oral barrier immunity has yet to be delineated. Here, we report a unique fibroblast subpopulation activated to guide oral inflammation (AG fibroblasts) identified in a single-cell RNA sequencing gingival cell atlas constructed from the mouse periodontitis models. AG fibroblasts localized beneath the gingival epithelium and in the cervical periodontal ligament responded to the ligature placement and to the discrete topical application of Toll-like receptor stimulants to mouse maxillary tissue. The upregulated chemokines and ligands of AG fibroblasts linked to the putative receptors of neutrophils in the early stages of periodontitis. In the established chronic inflammation, neutrophils, together with AG fibroblasts, appeared to induce type 3 innate lymphoid cells (ILC3s) that were the primary source of interleukin-17 cytokines. The comparative analysis of Rag2-/- and Rag2-/-Il2rg-/- mice suggested that ILC3 contributed to the cervical alveolar bone resorption interfacing the gingival inflammation. We propose the AG fibroblast–neutrophil–ILC3 axis as a previously unrecognized mechanism which could be involved in the complex interplay between oral barrier immune cells contributing to pathological inflammation in periodontitis.

Cell Biology
Immunology and Inflammation

Dendritic cells (DCs), the key antigen-presenting cells, are primary regulators of immune responses. Transcriptional regulation of DC development had been one of the major research interests in DC biology, however, the epigenetic regulatory mechanisms during DC development remains unclear. Here, we report that Histone deacetylase 3 (Hdac3), an important epigenetic regulator, is highly expressed in pDCs, and its deficiency profoundly impaired the development of pDCs. Significant disturbance of homeostasis of hematopoietic progenitors was also observed in HDAC3-deficient mice, manifested by altered cell numbers of these progenitors and defective differentiation potentials for pDCs. Using the in vitro Flt3L supplemented DC culture system, we further demonstrated that HDAC3 was required for the differentiation of pDCs from progenitors at all developmental stages. Mechanistically, HDAC3 deficiency resulted in enhanced expression of cDC1-associated genes, owing to markedly elevated H3K27 acetylation (H3K27ac) at these gene sites in BM pDCs. In contrast, the expression of pDC-associated genes was significantly downregulated, leading to defective pDC differentiation.