Bacterial Evolution: The road to resistance
The way that bacteria grow—either floating in liquid or attached to a surface—affects their ability to evolve antimicrobial resistance and our ability to treat infections.
Think about the last time you or a loved one had a bacterial infection and needed antibiotics. What if the antibiotics hadn't worked? Unfortunately, this is becoming increasingly common around the world, causing at least 700,000 deaths per year (O'Neill, 2016). Resistance to antimicrobial treatments, also known as AMR, evolves rapidly, often over the course of a single infection. It occurs either by bacteria exchanging with one another the genes that confer resistance, or by an individual bacterium becoming resistant through mutations in its own genes. Resistant bacteria are more likely to survive antimicrobial treatments and go on to spread the infection to other people.
During infections, bacteria tend to grow on surfaces in communities called biofilms (Koo et al., 2017). Biofilms promote communication and cooperation, and physically shield bacteria from antimicrobials and the host immune system. These properties make biofilm infections hard to treat, even in the absence of AMR. It has been suggested that bacteria growing in biofilms may evolve AMR more rapidly, making treatment outcomes harder to predict. However, few studies have explored how different modes of growth influence the ability of bacteria to evolve (Steenackers et al., 2016).
Now, in eLife, Vaughn Cooper and colleagues at the University of Pittsburg — including Alfonso Santos-Lopez and Christopher Marshall as joint first authors — report how 'bacterial lifestyle' affects the evolution of resistance to an antibiotic called ciprofloxacin (CIP) in the pathogen Acinetobacter baumannii (Santos-Lopez et al., 2019). To do this, they compared bacteria that had been floating in liquid culture as they grew to bacteria that had been growing as biofilms. The bacteria growing in liquid culture were experimentally evolved by transferring small amounts of culture to a new container with fresh growth medium every day (Figure 1A). Biofilms were evolved by growing A. baumannii on plastic beads submerged in liquid culture, and transferring these biofilm-coated beads to a new container with fresh medium and a clean bead each day (Figure 1B). At the start of the experiment, cells were exposed to a very low dose of CIP, and the CIP dose was then doubled every 72 hours as resistance evolved over a 12 day period.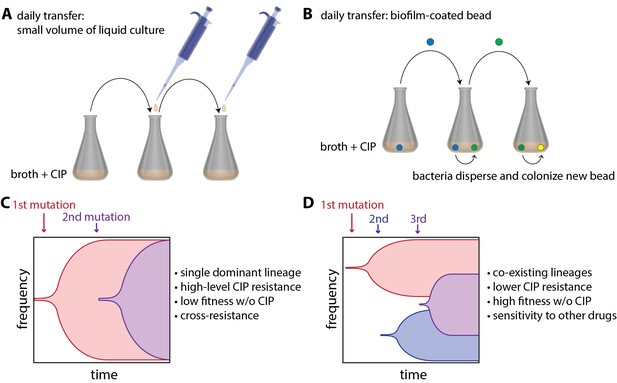 Samples of bacteria were collected from each culture at various times during the experiment and also at the end of the experiment. Whole genome sequencing of these samples revealed that liquid-grown and biofilm-grown A. baumannii take different, but repeatable, paths during experimental evolution. For the bacteria grown in liquid culture, Santos-Lopez et al. found that the most resistant CIP lineage outcompetes the other bacterial lineages, allowing its offspring to rapidly take over the population (Figure 1C). However, for the bacteria grown in biofilms, the researchers found that there was less competition between lineages – presumably because they are not as free to move as the liquid-grown bacteria – and that multiple co-existing lineages were able to emerge (Figure 1D).
Further experiments showed that liquid-grown and biofilm-grown bacteria had evolved unique strategies to resist CIP, resulting in different degrees of CIP resistance. Liquid-grown bacteria evolved low-level CIP resistance via mutations that increased the number of pump proteins that transport CIP out of cells. These resistant cells took over rapidly and then gained additional mutations that prevented CIP from binding to its target proteins. Bacteria with both types of mutations could resist doses of CIP that were far higher than those used during the evolution experiment. Biofilm-grown bacteria also evolved low-level CIP resistance through increased pump protein production but used different pumps than their liquid-evolved counterparts. However, biofilm-grown bacteria failed to evolve high-level resistance through additional mutations. The selective pressures imposed by the different lifestyles seem to interact with the pressure of CIP exposure and limit the evolutionary pathways, and thus outcomes, available to each lifestyle.
Santos-Lopez et al. found that in the absence of CIP, liquid-evolved CIP resistant bacteria were less fit than the ancestor strain and could be easily outcompeted. Notably, similar fitness trade-offs have been reported before and reduced fitness is thought to slow the spread of AMR bacteria. Disturbingly, biofilm-evolved CIP-resistant strains were at least as fit as their ancestor when grown without CIP. Whilst the liquid-evolved strain frequently became resistant to additional antimicrobials, biofilm-grown bacteria usually evolved increased sensitivity to at least one other antimicrobial treatment. This means that although biofilm-evolved strains may be fitter and more likely to spread to new patients, they also may be easier to kill with other antimicrobials.
In this work, Santos-Lopez et al. have focused on how biofilms affect competition and selection pressures during evolution. However, biofilms may alter evolution in other ways and bacterial lifestyle is only one of many factors that shape the evolution of AMR 'in the wild.' For example, many species of bacteria experience increased gene sharing and mutation rates when forming a biofilm, both of which could also drive the evolution of AMR (Steenackers et al., 2016). Additionally, AMR evolution may be driven by increases in mutation rate caused by antimicrobials (Cirz et al., 2005; Kohanski et al., 2010; Gutierrez et al., 2013; Pribis et al., 2019) and other stressors, such as starvation, encountered by bacteria during infection (Fitzgerald and Rosenberg, 2019).
These findings have important implications for treatment of A. baumannii, which is already resistant to multiple drugs and has been deemed a critical threat by both the World Health Organization and the Centers for Disease Control and Prevention in the United States. A better understanding of the variables shaping AMR evolution will improve predictions of evolutionary outcomes, antimicrobial stewardship efforts, and clinical outcomes for individual patients.
Book

Tackling Drug-Resitant Infections Globally: Final Report and Recommendations

The Review on Antimicrobial Resistance, U.K. Department of Health and the Wellcome Trust.
Article and author information
Author details
© 2019, Fitzgerald
This article is distributed under the terms of the Creative Commons Attribution License, which permits unrestricted use and redistribution provided that the original author and source are credited.
9,954

Page views

388

Downloads

5

Citations
Article citation count generated by polling the highest count across the following sources: Crossref, PubMed Central, Scopus.
A two-part list of links to download the article, or parts of the article, in various formats.
Downloads
(link to download the article as PDF)
Open citations
(links to open the citations from this article in various online reference manager services)
Cite this article
(links to download the citations from this article in formats compatible with various reference manager tools)
Devon M Fitzgerald
Bacterial Evolution: The road to resistance
eLife 8:e52092.
https://doi.org/10.7554/eLife.52092
Further reading
Evolutionary Biology
Microbiology and Infectious Disease

Bacterial populations vary in their stress tolerance and population structure depending upon whether growth occurs in well-mixed or structured environments. We hypothesized that evolution in biofilms would generate greater genetic diversity than well-mixed environments and lead to different pathways of antibiotic resistance. We used experimental evolution and whole genome sequencing to test how the biofilm lifestyle influenced the rate, genetic mechanisms, and pleiotropic effects of resistance to ciprofloxacin in Acinetobacter baumannii populations. Both evolutionary dynamics and the identities of mutations differed between lifestyle. Planktonic populations experienced selective sweeps of mutations including the primary topoisomerase drug targets, whereas biofilm-adapted populations acquired mutations in regulators of efflux pumps. An overall trade-off between fitness and resistance level emerged, wherein biofilm-adapted clones were less resistant than planktonic but more fit in the absence of drug. However, biofilm populations developed collateral sensitivity to cephalosporins, demonstrating the clinical relevance of lifestyle on the evolution of resistance.

Developmental Biology
Evolutionary Biology

The study of color patterns in the animal integument is a fundamental question in biology, with many lepidopteran species being exemplary models in this endeavor due to their relative simplicity and elegance. While significant advances have been made in unraveling the cellular and molecular basis of lepidopteran pigmentary coloration, the morphogenesis of wing scale nanostructures involved in structural color production is not well understood. Contemporary research on this topic largely focuses on a few nymphalid model taxa (e.g., Bicyclus, Heliconius), despite an overwhelming diversity in the hierarchical nanostructural organization of lepidopteran wing scales. Here, we present a time-resolved, comparative developmental study of hierarchical scale nanostructures in Parides eurimedes and five other papilionid species. Our results uphold the putative conserved role of F-actin bundles in acting as spacers between developing ridges, as previously documented in several nymphalid species. Interestingly, while ridges are developing in P. eurimedes, plasma membrane manifests irregular mesh-like crossribs characteristic of Papilionidae, which delineate the accretion of cuticle into rows of planar disks in between ridges. Once the ridges have grown, disintegrating F-actin bundles appear to reorganize into a network that supports the invagination of plasma membrane underlying the disks, subsequently forming an extruded honeycomb lattice. Our results uncover a previously undocumented role for F-actin in the morphogenesis of complex wing scale nanostructures, likely specific to Papilionidae.

5-Methylcytosine (5mC) and DNA methyltransferases (DNMTs) are broadly conserved in eukaryotes but are also frequently lost during evolution. The mammalian SNF2 family ATPase HELLS and its plant ortholog DDM1 are critical for maintaining 5mC. Mutations in HELLS, its activator CDCA7, and the de novo DNA methyltransferase DNMT3B, cause immunodeficiency-centromeric instability-facial anomalies (ICF) syndrome, a genetic disorder associated with the loss of DNA methylation. We here examine the coevolution of CDCA7, HELLS and DNMTs. While DNMT3, the maintenance DNA methyltransferase DNMT1, HELLS, and CDCA7 are all highly conserved in vertebrates and green plants, they are frequently co-lost in other evolutionary clades. The presence-absence patterns of these genes are not random; almost all CDCA7 harboring eukaryote species also have HELLS and DNMT1 (or another maintenance methyltransferase, DNMT5). Coevolution of presence-absence patterns (CoPAP) analysis in Ecdysozoa further indicates coevolutionary linkages among CDCA7, HELLS, DNMT1 and its activator UHRF1. We hypothesize that CDCA7 becomes dispensable in species that lost HELLS or DNA methylation, and/or the loss of CDCA7 triggers the replacement of DNA methylation by other chromatin regulation mechanisms. Our study suggests that a unique specialized role of CDCA7 in HELLS-dependent DNA methylation maintenance is broadly inherited from the last eukaryotic common ancestor.