Physical Inference: How the brain represents mass
New fMRI experiments and machine learning are helping to identify how the mass of objects is processed in the brain.
Imagine that you are driving to work along an icy road when a deer suddenly jumps into your path. Depending on the distance, you may have time to apply the brakes, or you may consider swerving to avoid a collision. Your intuitive ability to reason about the physics of objects in your environment, for instance their mass, could mean the difference between a fatal crash and a safe arrival at your workplace. However, the way that the brain computes the mass of an object remains a matter of debate. Specifically, we do not know if object mass is primarily processed in dorsal fronto-parietal areas of the cortex (a region involved in action planning), or if this information is first represented in ventral areas of the cortex (which are engaged in object perception).
In 2014 it was reported that activation patterns in ventral visual areas predicted the weight of an object about to be lifted (Gallivan et al., 2014). Conversely, in 2018 one of the present authors (JCS) and co-workers found that a patient with bilateral brain lesions that included the ventral visual cortex was, nevertheless, sensitive to object weight (Buckingham et al., 2018). Now, in eLife, Sarah Schwettmann, Joshua Tenenbaum and Nancy Kanwisher from the Massachusetts Institute of Technology report having characterized the human brain regions and computations involved in intuitive physical reasoning about mass (Schwettmann et al., 2019).
Schwettmann et al. focused on the areas of the fronto-parietal cortex that were identified in a previous study (Fischer et al., 2016). They applied machine learning to fMRI data to characterize how the mass of objects is represented in these brain areas. If an algorithm can be trained to correctly predict whether someone is looking at a heavy or a light object simply based on the patterns of activation in a specific brain region, then it indicates that this brain area actively represents mass. Furthermore, if the algorithm can predict the weight of the object the observer is viewing even when other elements in the stimulus are changed, such as composition or speed, then the representation is said to remain 'invariant', or stable. And indeed, Schwettmann et al. show that such invariant representations of object mass exist in the dorsal fronto-parietal cortex across three experiments (Figure 1).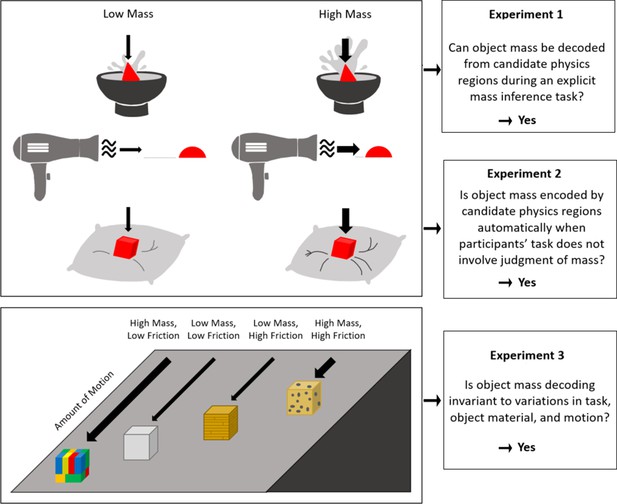 In the first experiment, the participants were asked to judge the weight of basic geometric solids presented in dynamic movie clips in which the objects splashed into water, fell onto a pillow, and were blown across a surface. The algorithm was 'trained' on the data obtained from two of these movies — that is, it received both the fMRI data and the information about whether the viewer was observing a heavy or light object. The team then found that the algorithm could predict the weight of the object the volunteer observed in the third movie based solely on the fMRI data from the dorsal brain areas. The second experiment showed that these brain regions also appeared to process mass when the observers were asked to pay attention to the color of the objects rather than their weight. In the last experiment, Schwettmann et al. demonstrated that representations of mass in the dorsal cortex remained invariant even as the surface materials and the amount of motion of the objects changed. Finally, follow-up analyses revealed that the algorithm could reliably use data from the dorsal cortex to predict object mass, but could not do so for data from areas along the ventral cortex.
Taken together, these results reveal that some areas in the fronto-parietal cortex compute physical variables and anticipate the dynamics of objects. The finding that during a perceptual task, object mass is represented in the dorsal cortex but not the ventral areas suggests that information about weight may be processed originally in the dorsal cortex, even though the ventral regions may then receive these signals during action planning.
The results also fit with a growing body of evidence that the dorsal cortex is involved in visual perception as well as space and action computations (Erlikhman et al., 2018; Freud et al., 2016). Exactly how invariant representations of physical parameters, such as object mass, are integrated with the computations required for goal-directed actions remains a tantalizing next step for future research.
Mass representations in the fronto-parietal cortex remain surprisingly invariant across changes in stimuli, environments and tasks. Such invariance is presumably advantageous because mass can be extracted from different visual cues and generalized to new scenarios. That the dorsal cortex computes mass automatically, whether or not it is the focus of someone's attention, suggests that information about the physical parameters of the environment is sufficiently important for the brain to keep track of it all the time. Future studies will be required to examine whether dorsal brain areas also represent other potentially important physical variables, such as force. It is likely that active, invariant representations of environmental physics can help to quickly guide action, and that they may therefore be a key adaptation for survival.
Article and author information
Author details
© 2020, Fairchild and Snow
This article is distributed under the terms of the Creative Commons Attribution License, which permits unrestricted use and redistribution provided that the original author and source are credited.
1,100

Page views

118

Downloads

2

Citations
Article citation count generated by polling the highest count across the following sources: Crossref, PubMed Central, Scopus.
A two-part list of links to download the article, or parts of the article, in various formats.
Downloads
(link to download the article as PDF)
Open citations
(links to open the citations from this article in various online reference manager services)
Cite this article
(links to download the citations from this article in formats compatible with various reference manager tools)
Grant Fairchild
Jacqueline C Snow
Physical Inference: How the brain represents mass
eLife 9:e54373.
https://doi.org/10.7554/eLife.54373
Further reading
An intuitive understanding of physical objects and events is critical for successfully interacting with the world. Does the brain achieve this understanding by running simulations in a mental physics engine, which represents variables such as force and mass, or by analyzing patterns of motion without encoding underlying physical quantities? To investigate, we scanned participants with fMRI while they viewed videos of objects interacting in scenarios indicating their mass. Decoding analyses in brain regions previously implicated in intuitive physical inference revealed mass representations that generalized across variations in scenario, material, friction, and motion energy. These invariant representations were found during tasks without action planning, and tasks focusing on an orthogonal dimension (object color). Our results support an account of physical reasoning where abstract physical variables serve as inputs to a forward model of dynamics, akin to a physics engine, in parietal and frontal cortex.

Midbrain and striatal dopamine signals have been extremely well characterized over the past several decades, yet novel dopamine signals and functions in reward learning and motivation continue to emerge. A similar characterization of real-time sub-second dopamine signals in areas outside of the striatum has been limited. Recent advances in fluorescent sensor technology and fiber photometry permit the measurement of dopamine binding correlates, which can divulge basic functions of dopamine signaling in non-striatal dopamine terminal regions, like the dorsal bed nucleus of the stria terminalis (dBNST). Here, we record GRABDA signals in the dBNST during a Pavlovian lever autoshaping task. We observe greater Pavlovian cue-evoked dBNST GRABDA signals in sign-tracking (ST) compared to goal-tracking/intermediate (GT/INT) rats and the magnitude of cue-evoked dBNST GRABDA signals decreases immediately following reinforcer-specific satiety. When we deliver unexpected rewards or omit expected rewards, we find that dBNST dopamine signals encode bidirectional reward prediction errors in GT/INT rats, but only positive prediction errors in ST rats. Since sign- and goal-tracking approach strategies are associated with distinct drug relapse vulnerabilities, we examined the effects of experimenter-administered fentanyl on dBNST dopamine associative encoding. Systemic fentanyl injections do not disrupt cue discrimination but generally potentiate dBNST dopamine signals. These results reveal multiple dBNST dopamine correlates of learning and motivation that depend on the Pavlovian approach strategy employed.

The cell bodies of postganglionic sympathetic neurons innervating the heart primarily reside in the stellate ganglion (SG), alongside neurons innervating other organs and tissues. Whether cardiac-innervating stellate ganglionic neurons (SGNs) exhibit diversity and distinction from those innervating other tissues is not known. To identify and resolve the transcriptomic profiles of SGNs innervating the heart, we leveraged retrograde tracing techniques using adeno-associated virus (AAV) expressing fluorescent proteins (GFP or Td-tomato) with single cell RNA sequencing. We investigated electrophysiologic, morphologic, and physiologic roles for subsets of cardiac-specific neurons and found that three of five adrenergic SGN subtypes innervate the heart. These three subtypes stratify into two subpopulations; high (NA1a) and low (NA1b and NA1c) neuropeptide-Y (NPY) -expressing cells, exhibit distinct morphological, neurochemical, and electrophysiologic characteristics. In physiologic studies in transgenic mouse models modulating NPY signaling, we identified differential control of cardiac responses by these two subpopulations to high and low stress states. These findings provide novel insights into the unique properties of neurons responsible for cardiac sympathetic regulation, with implications for novel strategies to target specific neuronal subtypes for sympathetic blockade in cardiac disease.