Physical Inference: How the brain represents mass
New fMRI experiments and machine learning are helping to identify how the mass of objects is processed in the brain.
Imagine that you are driving to work along an icy road when a deer suddenly jumps into your path. Depending on the distance, you may have time to apply the brakes, or you may consider swerving to avoid a collision. Your intuitive ability to reason about the physics of objects in your environment, for instance their mass, could mean the difference between a fatal crash and a safe arrival at your workplace. However, the way that the brain computes the mass of an object remains a matter of debate. Specifically, we do not know if object mass is primarily processed in dorsal fronto-parietal areas of the cortex (a region involved in action planning), or if this information is first represented in ventral areas of the cortex (which are engaged in object perception).
In 2014 it was reported that activation patterns in ventral visual areas predicted the weight of an object about to be lifted (Gallivan et al., 2014). Conversely, in 2018 one of the present authors (JCS) and co-workers found that a patient with bilateral brain lesions that included the ventral visual cortex was, nevertheless, sensitive to object weight (Buckingham et al., 2018). Now, in eLife, Sarah Schwettmann, Joshua Tenenbaum and Nancy Kanwisher from the Massachusetts Institute of Technology report having characterized the human brain regions and computations involved in intuitive physical reasoning about mass (Schwettmann et al., 2019).
Schwettmann et al. focused on the areas of the fronto-parietal cortex that were identified in a previous study (Fischer et al., 2016). They applied machine learning to fMRI data to characterize how the mass of objects is represented in these brain areas. If an algorithm can be trained to correctly predict whether someone is looking at a heavy or a light object simply based on the patterns of activation in a specific brain region, then it indicates that this brain area actively represents mass. Furthermore, if the algorithm can predict the weight of the object the observer is viewing even when other elements in the stimulus are changed, such as composition or speed, then the representation is said to remain 'invariant', or stable. And indeed, Schwettmann et al. show that such invariant representations of object mass exist in the dorsal fronto-parietal cortex across three experiments (Figure 1).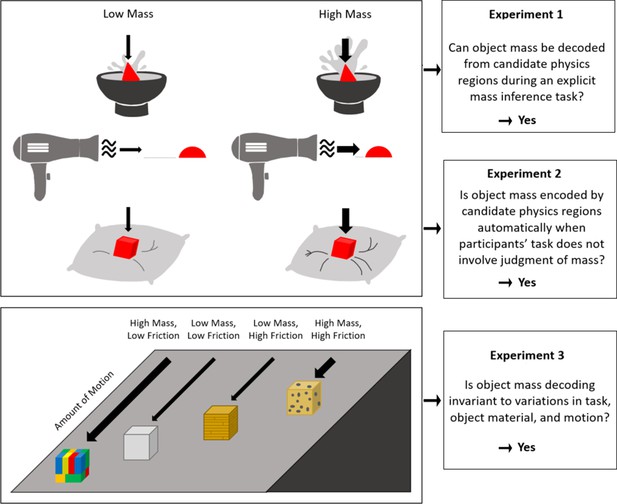 In the first experiment, the participants were asked to judge the weight of basic geometric solids presented in dynamic movie clips in which the objects splashed into water, fell onto a pillow, and were blown across a surface. The algorithm was 'trained' on the data obtained from two of these movies — that is, it received both the fMRI data and the information about whether the viewer was observing a heavy or light object. The team then found that the algorithm could predict the weight of the object the volunteer observed in the third movie based solely on the fMRI data from the dorsal brain areas. The second experiment showed that these brain regions also appeared to process mass when the observers were asked to pay attention to the color of the objects rather than their weight. In the last experiment, Schwettmann et al. demonstrated that representations of mass in the dorsal cortex remained invariant even as the surface materials and the amount of motion of the objects changed. Finally, follow-up analyses revealed that the algorithm could reliably use data from the dorsal cortex to predict object mass, but could not do so for data from areas along the ventral cortex.
Taken together, these results reveal that some areas in the fronto-parietal cortex compute physical variables and anticipate the dynamics of objects. The finding that during a perceptual task, object mass is represented in the dorsal cortex but not the ventral areas suggests that information about weight may be processed originally in the dorsal cortex, even though the ventral regions may then receive these signals during action planning.
The results also fit with a growing body of evidence that the dorsal cortex is involved in visual perception as well as space and action computations (Erlikhman et al., 2018; Freud et al., 2016). Exactly how invariant representations of physical parameters, such as object mass, are integrated with the computations required for goal-directed actions remains a tantalizing next step for future research.
Mass representations in the fronto-parietal cortex remain surprisingly invariant across changes in stimuli, environments and tasks. Such invariance is presumably advantageous because mass can be extracted from different visual cues and generalized to new scenarios. That the dorsal cortex computes mass automatically, whether or not it is the focus of someone's attention, suggests that information about the physical parameters of the environment is sufficiently important for the brain to keep track of it all the time. Future studies will be required to examine whether dorsal brain areas also represent other potentially important physical variables, such as force. It is likely that active, invariant representations of environmental physics can help to quickly guide action, and that they may therefore be a key adaptation for survival.
Article and author information
Author details
© 2020, Fairchild and Snow
This article is distributed under the terms of the Creative Commons Attribution License, which permits unrestricted use and redistribution provided that the original author and source are credited.
1,018

Page views

99

Downloads

1

Citations
Article citation count generated by polling the highest count across the following sources: Crossref, PubMed Central, Scopus.
A two-part list of links to download the article, or parts of the article, in various formats.
Downloads
(link to download the article as PDF)
Open citations
(links to open the citations from this article in various online reference manager services)
Cite this article
(links to download the citations from this article in formats compatible with various reference manager tools)
Grant Fairchild
Jacqueline C Snow
Physical Inference: How the brain represents mass
eLife 9:e54373.
https://doi.org/10.7554/eLife.54373
Further reading
An intuitive understanding of physical objects and events is critical for successfully interacting with the world. Does the brain achieve this understanding by running simulations in a mental physics engine, which represents variables such as force and mass, or by analyzing patterns of motion without encoding underlying physical quantities? To investigate, we scanned participants with fMRI while they viewed videos of objects interacting in scenarios indicating their mass. Decoding analyses in brain regions previously implicated in intuitive physical inference revealed mass representations that generalized across variations in scenario, material, friction, and motion energy. These invariant representations were found during tasks without action planning, and tasks focusing on an orthogonal dimension (object color). Our results support an account of physical reasoning where abstract physical variables serve as inputs to a forward model of dynamics, akin to a physics engine, in parietal and frontal cortex.

The heterogeneity of white matter damage and symptoms in concussion has been identified as a major obstacle to therapeutic innovation. In contrast, most diffusion MRI (dMRI) studies on concussion have traditionally relied on group-comparison approaches that average out heterogeneity. To leverage, rather than average out, concussion heterogeneity, we combined dMRI and multivariate statistics to characterize multi-tract multi-symptom relationships.

Using cross-sectional data from 306 previously concussed children aged 9–10 from the Adolescent Brain Cognitive Development Study, we built connectomes weighted by classical and emerging diffusion measures. These measures were combined into two informative indices, the first representing microstructural complexity, the second representing axonal density. We deployed pattern-learning algorithms to jointly decompose these connectivity features and 19 symptom measures.

Early multi-tract multi-symptom pairs explained the most covariance and represented broad symptom categories, such as a general problems pair, or a pair representing all cognitive symptoms, and implicated more distributed networks of white matter tracts. Further pairs represented more specific symptom combinations, such as a pair representing attention problems exclusively, and were associated with more localized white matter abnormalities. Symptom representation was not systematically related to tract representation across pairs. Sleep problems were implicated across most pairs, but were related to different connections across these pairs. Expression of multi-tract features was not driven by sociodemographic and injury-related variables, as well as by clinical subgroups defined by the presence of ADHD. Analyses performed on a replication dataset showed consistent results.

Using a double-multivariate approach, we identified clinically-informative, cross-demographic multi-tract multi-symptom relationships. These results suggest that rather than clear one-to-one symptom-connectivity disturbances, concussions may be characterized by subtypes of symptom/connectivity relationships. The symptom/connectivity relationships identified in multi-tract multi-symptom pairs were not apparent in single-tract/single-symptom analyses. Future studies aiming to better understand connectivity/symptom relationships should take into account multi-tract multi-symptom heterogeneity.

Financial support for this work came from a Vanier Canada Graduate Scholarship from the Canadian Institutes of Health Research (G.I.G.), an Ontario Graduate Scholarship (S.S.), a Restracomp Research Fellowship provided by the Hospital for Sick Children (S.S.), an Institutional Research Chair in Neuroinformatics (M.D.), as well as a Natural Sciences and Engineering Research Council CREATE grant (M.D.).

Gustatory sensory neurons detect caloric and harmful compounds in potential food and convey this information to the brain to inform feeding decisions. To examine the signals that gustatory neurons transmit and receive, we reconstructed gustatory axons and their synaptic sites in the adult Drosophila melanogaster brain, utilizing a whole-brain electron microscopy volume. We reconstructed 87 gustatory projections from the proboscis labellum in the right hemisphere and 57 from the left, representing the majority of labellar gustatory axons. Gustatory neurons contain a nearly equal number of interspersed pre-and post-synaptic sites, with extensive synaptic connectivity among gustatory axons. Morphology- and connectivity-based clustering revealed six distinct groups, likely representing neurons recognizing different taste modalities. The vast majority of synaptic connections are between neurons of the same group. This study resolves the anatomy of labellar gustatory projections, reveals that gustatory projections are segregated based on taste modality, and uncovers synaptic connections that may alter the transmission of gustatory signals.