Developing a theoretical evolutionary framework to solve the mystery of parturition initiation
Eutherian mammals have characteristic lengths of gestation that are key for reproductive success, but relatively little is known about the processes that determine the timing of parturition, the process of birth, and how they are coordinated with fetal developmental programs. This issue remains one of biology's great unsolved mysteries and has significant clinical relevance because preterm birth is the leading cause of infant and under 5 year old child mortality worldwide. Here, we consider the evolutionary influences and potential signaling mechanisms that maintain or end pregnancy in eutherian mammals and use this knowledge to formulate general theoretical evolutionary models. These models can be tested through evolutionary species comparisons, studies of experimental manipulation of gestation period and birth timing, and human clinical studies. Understanding how gestation time and parturition are determined will shed light on this fundamental biological process and improve human health through the development of therapies to prevent preterm birth.
The challenge: Optimizing parturition
The timing of parturition (the process of birth) is critical for survival of the neonate and the infant's future health trajectory (Goldenberg et al., 2008; Howson et al., 2009; Liu et al., 2015; Muglia and Katz, 2010). This time in normal healthy pregnancy is referred to as term and in humans occurs at 37–42 completed weeks of gestation; the majority of spontaneous births in singleton human pregnancies take place during this window. Furthermore, neonatal death (death in the first 28 days of life) is lowest, and thus survival and fitness are highest, for neonates born after 37 and before 42 completed weeks of gestation (Figure 1). Reflecting these survival relationships, the current definition of a 'full term' pregnancy is now 39–40 weeks of completed gestation (https://www.acog.org/clinical/clinical-guidance/committee-opinion/articles/2013/11/definition-of-term-pregnancy).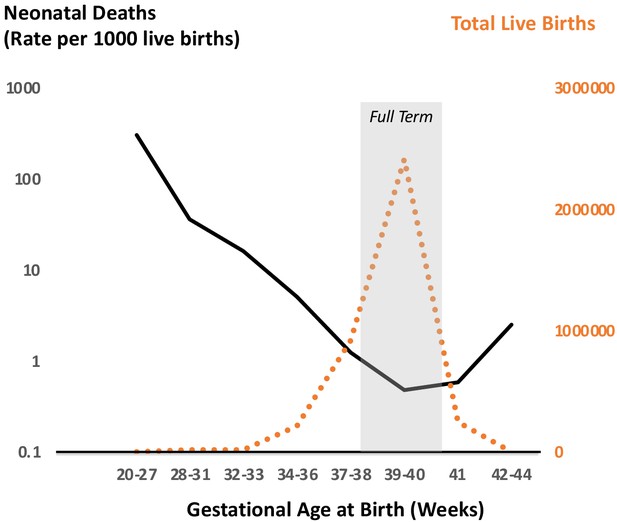 The observation that the peak of birth timing in women coincides with the trough of neonatal mortality suggests that developmental and physiological mechanisms that optimize the timing of parturition have likely been under strong selection through evolution. Similarly, genetic polymorphisms in mothers and newborns that contribute to optimization of parturition timing may too be under the influence of selection. Of course, the optimal time for birth is also influenced by an organism's life history and ecology, such as litter size, maternal habitus, circadian and seasonal activity patterns, and social and environmental exposures, all of which vary widely across mammals. Therefore, it is not surprising that much diversity exists in the physiology of pregnancy and birth timing among mammals. This is evidenced by the observation that genes associated with reproduction exhibit high levels of sequence divergence among eutherian mammals, similar to those associated with adaptive immune system development and function (Chimpanzee Sequencing and Analysis Consortium, 2005; Waterston et al., 2002).
It is plausible, therefore, that the biological processes that determine the timing of human parturition are specific for the Homo lineage. This lineage specificity would explain why cross-species observations, although revealing some principles of birth timing, have not significantly advanced understanding of human birth timing. One reason for this evolutionary divergence in strategies between humans and other species may be the unique increase in brain size in humans, even in comparison to other primates, over the last few million years and the physical or metabolic constraints encountered because of it (Pavličev et al., 2020). This dearth of knowledge has clinical and sociological implications because it has slowed advances in development of therapies to prevent preterm birth (i.e. birth before the 37th week of gestation), which is the leading cause of death for newborns (Howson et al., 2012) and children under 5 years of age (Liu et al., 2015). For infants that survive past 5 years, preterm birth leads to increased incidence of lifelong health impairments, such as growth, neurological, and sensory deficiencies (Committee on Understanding Premature Birth and Assuring Healthy Outcomes Board on Health Sciences Policy, 2007). Despite the recognized importance of term pregnancy for optimizing reproductive fitness and lifelong health, and the enormous cost of preterm birth, understanding of the molecular signals that control human birth timing remains scant (Committee on Understanding Premature Birth and Assuring Healthy Outcomes Board on Health Sciences Policy, 2007). Importantly, not all populations are equally impacted by preterm birth, with African American women experiencing an especially increased burden (Collins and David, 2009; Kistka et al., 2007a). Social determinants of health disparities, and the consequences of racism, (Slaughter-Acey et al., 2016; Murrell, 1996) must be incorporated into efforts to improve outcomes for all populations. In this review, we focus on the biology of birth timing determination, recognizing that this biology is strongly influenced by social and environmental parameters.
Six core principles governing the evolution of parturition
One approach to addressing our knowledge gap on mammalian parturition is to develop a conceptual evolutionary framework. Birth timing is a key event in the reproductive cycle of eutherian mammals and as such is likely subject to past and ongoing selective pressure to optimize reproductive efficiency with respect to organisms' life histories, ecologies, and social and environmental exposures. Although these selective pressures have given rise to the diversity in the physiology of pregnancy and birth timing that is observed among mammals, a conceptual framework to describe the processes common to all eutherian mammals can be developed based on six core principles: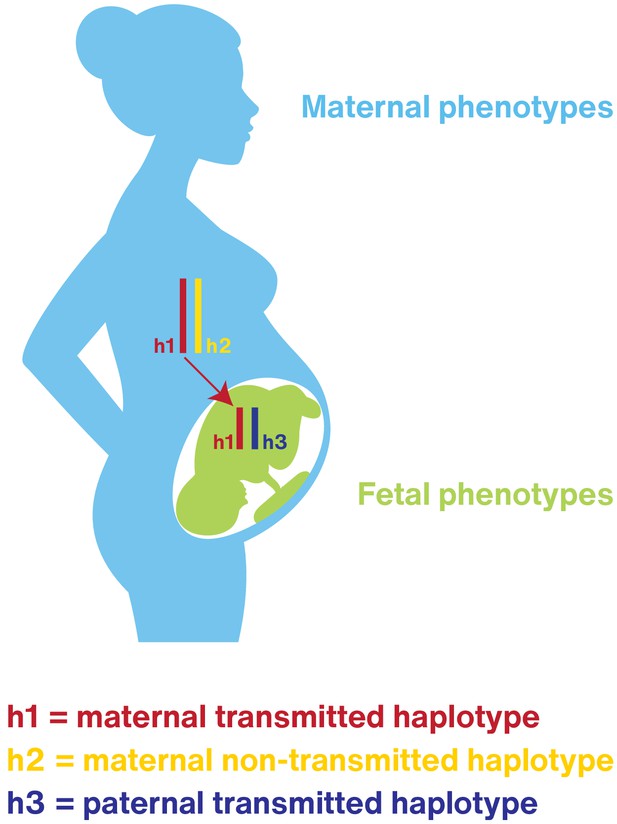 The core principles listed above are shared across eutherian mammals due, in part, to the ancestral evolution of viviparity—to understand the evolution and diversity of parturition we must uncover the evolutionary substrate upon which it was formed. The hallmark traits of eutherian viviparity are: (1) retention and gestation of the fertilized egg(s) in the female reproductive tract (uterus); (2) development of a placenta that facilitates the transfer of oxygen and nutrients from the maternal compartment to the conceptus, and (3) delivery of the fetus and its placenta via the process of parturition at a specific stage of gestation. Each trait is critical for the success of viviparity, and therefore has likely been under strong selective pressure to optimize reproductive fitness (Mitteroecker et al., 2017; Mitteroecker et al., 2016). The course of evolution among mammalian viviparous species, which has been influenced by both selective and neutral processes, has produced considerable variation in diverse reproductive traits, such as in the number of ovulated and retained eggs, the structure of the uterus, the anatomy of the maternal-placental interface, the structure and function of the placenta and its effect on maternal physiology, the rate of embryo/fetal development and functional maturity of the neonate, and the signals that lead to parturition (Rothchild, 2003; Swaggart et al., 2015; Plant and Zeleznk, 2015).
Phylogenetic analyses suggest that viviparity originated from oviparity (expulsion of the egg soon after fertilization and its independent development in the external environment) in at least 150 lineages, including in mammals, fish, and reptiles (Blackburn, 2015). The evolution of viviparity with the establishment and maintenance of prolonged gestation characteristic of eutherians may inform potential models of parturition initiation. The evolution of invasive placentation in eutherians that allowed for prolonged intrauterine gestation differentiates them from marsupials, which develop very transient placentas, and monotremes, which are oviparous (Wildman et al., 2006; Chavan et al., 2016). Elegant studies by Wagner and colleagues have shown that eutherian implantation evolved from the marsupial attachment reaction, with similar proinflammatory gene expression signatures (Griffith et al., 2017). An innovation in eutherians was the down-regulation of inflammation after embryo attachment to the maternal endometrium reflected in their endometrial stromal fibroblast transcriptomic profiles in comparison with marsupials (Kin et al., 2016). Additional anti-inflammatory mechanisms likely evolved in the fetus or placenta as suggested by the expansion of the tripartite-motif family of genes and their ability to finely tune inflammation during placentation (Zhang et al., 2020). Considering these evolutionary innovations that allowed for the establishment of eutherian gestational prolongation suggests two potential different strategies that natural selection could influence to determine birth timing. One strategy would be to suppress the specific anti-inflammatory signals that allowed sustained placentation to be established. The other strategy would be for selection to act on other molecular targets that would overcome the anti-inflammatory signals that down-regulated the proinflammatory signals requisite for the attachment reaction. The genes mediating these effects across species would themselves be subject to the diverse evolutionary pressures as suggested by recent genome wide association studies for human gestational duration (LaBella et al., 2020).
Parturition, and especially its timing, is a mission-critical event for the success of mammalian viviparity. Normal parturition occurs at a specific time referred to as term, when the fetus is sufficiently mature to survive as a neonate, and the mother is able to provide care for the neonate's nutrition, protection and physiologic stability, while preserving her own fitness. Timing mechanisms for parturition have likely been selected to optimize reproductive fitness based on benefits to the mother and fetus for the current pregnancy, and benefits to the mother's survival and future reproductive potential (note that these two are not always aligned). One important general association with birth timing is its correlation with body size at birth (Phillips et al., 2015). This association may reflect energy utilization particularly due to the developing fetal brain (Dunsworth et al., 2012) or physical constraints such as infant size related to the size of the birth canal (Rosenberg and Trevathan, 2002; Rosenberg and Trevathan, 2001).
Studies utilizing concordance in birth timing in offspring of twins, or family-based segregation or epidemiology, suggest that 30–40% of the variation in human birth timing is due to genetic factors, and these reside largely in the maternal genome (Kistka et al., 2008; Plunkett et al., 2009). The 'compound genome' of pregnancy is unique when considering the maternal-fetal unit during gestation, consisting of DNA composition of 3 distinct haplotypes. How these unique or shared haplotypes interact to produce the 30–40% variation in human gestation length is only beginning to be explored (Zhang et al., 2015; Zhang et al., 2018; Figure 2). The remaining 60–70% of the variation is thought to arise from environmental influences of uncertain origin. These may include nutrition, infectious disease, health behavior, and social circumstances/stress. Furthermore, recent genomic investigations have demonstrated a causal relationship between single nucleotide polymorphisms (SNPs) that associated with adult height and gestation length in humans such that taller maternal height and its genetic determinants leads to longer gestation (Zhang et al., 2015). Other maternal traits, such as fasting blood glucose and blood pressure, have also been shown to causally determine length of gestation or fetal size at birth in humans (Chen et al., 2020). Recent ability for GWAS comparison of those loci that uniquely determine gestational duration with those that have been associated with birth weight provide an interesting avenue moving forward to disentangle the underlying genetics responsible for the relationship of gestational duration and birth weight (Early Growth Genetics (EGG) Consortium et al., 2018; Zhang et al., 2017).
Do species other than humans exhibit a significant frequency of preterm birth? This question is difficult to answer since preterm birth in humans is an arbitrary definition. If we simply scale the assignment of preterm birth based upon duration of term gestation (37 out of 40 weeks, or 92.5% of gestation) then other eutherian mammals also experience preterm birth (Phillips et al., 2015). Frustratingly, the most commonly studied, genetically tractable animal model, the mouse, does not appear to exhibit spontaneous preterm birth (Phillips et al., 2015). Does this reflect laboratory selection in strains currently utilized or a fundamental trait of rodents? This question merits investigation. Other non-traditional animal models that demonstrate spontaneous preterm birth, such as mammals used in livestock (Nielsen et al., 2016; Fthenakis et al., 2012; Scott et al., 2008; Asher, 2007), could be utilized to investigate preterm birth and low birth weight pregnancies in the future.
Pregnancy is the physiologic state in eutherian mammals in which a fertilized egg is retained and gestated in the cavity of the uterus. For pregnancy to be maintained, the smooth muscle of the uterine wall (the myometrium) remains relaxed, quiescent, and grows and distends to accommodate growing conceptus, whereas the uterine cervix remains rigid and closed. In addition, maternal physiology adapts to provide nutrients and oxygen to the developing fetus. Remarkably, a conserved trait in all viviparous mammals examined so far is that the establishment and maintenance of pregnancy are dependent on the steroid hormone progesterone (P4) (Corner and Allen, 1929; Csapo, 1956). As its name implies, P4 is a pro-gestation hormone. It promotes myometrial quiescence, cervical closure, immunologic tolerance at the maternal-fetal interface and, importantly, blocks parturition. Remarkably, the embryo-retaining actions of P4 have been conserved through multiple viviparous lineages, including lizards (Jones, 2017).
P4 is synthesized by enzymatic modification of cholesterol. At the time pregnancy is established, P4 arises from the corpus luteum (CL) of the ovary. Some species, such as rodents, maintain ovarian P4 production as the sole source of P4 to maintain pregnancy, and parturition is initiated by loss of P4 due to CL regression (Ratajczak et al., 2010). In rodents, regression of the maternal CL is induced by prostaglandin F2α (PGF2α) produced by the uterine endometrium acting on its receptors on cells in the CL. Thus, term parturition in rodents is induced by PGF2α production in the endometrium. In other species, such as sheep and primates, the source of P4 for pregnancy maintenance shifts from the CL to the placenta (Mesiano et al., 2014; Tuckey, 2005). In humans, this occurs at approximately the 10th week of gestation. In pregnancies associated with fetal deficits, and inadequate function of fetal-placental-maternal signaling, miscarriage commonly occurs at this ovarian-placental progesterone transition point (Baird, 2009). In sheep, as in rodents, maternal circulating P4 declines acutely (due to decreased P4 production by the placenta), prepartum to promote parturition (Liggins et al., 1977). This, however, does not occur in primates. Although maternal blood P4 levels vary widely among anthropoid primates (New World monkeys, Old World monkeys, and apes), a conserved trait in this group is that parturition occurs without systemic P4 withdrawal (Ratajczak et al., 2010). Nonetheless, disruption of P4 signaling by treatment with the P4 receptor (PR) antagonist, RU486, induces parturition in all species examined so far, including humans (Garfield and Baulieu, 1987). One explanation for this inconsistency is that primate parturition involves a functional P4 withdrawal whereby target cells in the uterus become refractory to the P4 block to labor. Studies suggest that this occurs by multiple mechanisms including local metabolism of P4 to an inactive form (i.e. tissue or target cells P4 withdrawal) (Nadeem et al., 2016) and alteration in PR transcriptional activity in uterine target cells (Mesiano et al., 2014; Wu and DeMayo, 2017).
Initiating parturition and ending pregnancy
The control of human birth timing remains enigmatic, largely because of our limited ability to precisely predict its occurrence based upon absolute days of gestation. In contrast, the timing of birth in other species, exemplified by sheep and mice, is predictable and the underlying regulatory signals have been defined. For example, pioneering studies by Liggins, 1974 demonstrated that parturition in sheep is initiated by increased activity of the fetal hypothalamic-pituitary-adrenal axis to produce a surge of cortisol that decreases P4 production by the placenta leading to systemic P4 withdrawal that initiates parturition (Figure 3 and Table 1). Importantly, the cortisol surge also induces functional maturation of fetal organ systems, and especially surfactant production by the lungs, in preparation for life outside the uterus. Disruption of the fetal HPA inhibits ovine parturition and treatment with cortisol into the fetus initiates parturition. Thus, the ovine mechanism for birth timing is solely controlled by cortisol produced by the fetal HPA axis that coordinates the timing of birth with fetal maturation and readiness to exist as a neonate.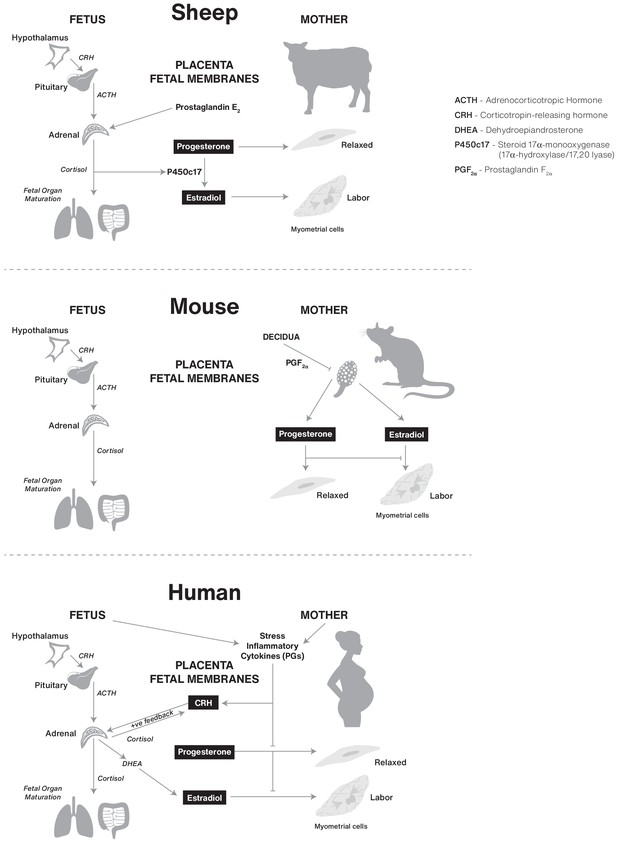 In contrast, glucocorticoids do not induce labor in mice or humans. In mice, parturition is initiated after upregulation of endometrial cyclooxygenase (COX)–one encoded by PTGS1, which subsequently generates prostaglandin F2α (Gross et al., 2000; Gross et al., 1998; Sugimoto et al., 1997). PGF2α from the endometrium then acts on the corpus luteum of the murine ovary to induce luteolysis, a fall in serum progesterone and the induction of contractile proteins in the uterine myometrium (Figure 3 and Table 1).
Cortisol plays a key role in promoting fetal organ maturation in humans, however, parturition in women is not initiated by fetal HPA activity. Although the work of Liggins and colleagues in sheep was groundbreaking for understanding hormonal pathways that may promote parturition, the specific pathways operating in the sheep do not appear to operate in the same way in women (Liggins et al., 1977). The ancestral initiating signal for determining the time for mammalian birth remains elusive and as a consequence of this knowledge gap, rational effective interventions to prevent preterm labor and preterm birth in humans have been limited. Nonetheless, the work of Liggins and colleagues in sheep led to the widespread clinical use of synthetic glucocorticoid therapy to promote fetal lung maturation in women that are either experiencing preterm labor and that are at risk for preterm birth, which significantly improved survival of preterm neonates.
Beyond the glucocorticoid signal, several labor-permissive or promoting signals have been identified across mammals. Foundational among these are estrogens (mainly estradiol) that are also steroid hormones derived from cholesterol, whose abundance increases at the end of gestation in most species and act to augment uterine contraction by inducing the expression of genes in uterine smooth muscle cells encoding factors that increase contractility and excitability. For example, in the rat and mouse estradiol induces the expression in myometrial cells of GJA1 that encodes connexin-43 a major subunit of intracellular tight gap junctions that facilitate contractile synchrony between myometrial cells, and OXTR that encodes the oxytocin receptor and increases myometrial sensitivity of the uterotonic actions of oxytocin., PTGFR encodes the prostaglandin FP receptor and PTGS2 that encodes cyclooxygenase-2 (COX-2) and generates critical parturition proinflammatory prostanoids, such as PGE2 and PGF2alpha, that induce cytokines such as interleukin-1 that are also pro-labor (Keelan et al., 2003; Ratajczak and Muglia, 2008; Smith, 2007).
Uterine tissue-level inflammation is associated with normal term parturition across mammals. However, less clear is whether proinflammatory signals are involved in the parturition initiation process from those species that do not undergo luteolysis and systemic progesterone withdrawal or act to facilitate or accelerate the process once initiated. In primates, the inflammatory cascade is apparent but may come after the proximal initiator of parturition (Liu et al., 2019). For example, recent genome-wide association findings in humans identify the fetal pro-inflammatory locus encompassing the IL-1 family on chromosome two as significantly associated with gestational duration. Interestingly, the association with prolonged gestation, not preterm birth, suggests that the locus contributes to promoting the birth process downstream of the initiating signals; thus, initiating and facilitating signals may be distinct (Liu et al., 2019).
While the leading cause of perinatal death is preterm birth, postterm birth (delivery at gestational age more than 294 days or 42 full weeks of completed gestation) also places the newborn at higher risk for perinatal mortality and neonatal acute and long-term adverse health effects (Kortekaas et al., 2015; Seikku et al., 2016; Linder et al., 2017; Figure 1). Viewing preterm and post-term birth as the two tails of the gestational age distribution, it is reasonable to hypothesize that they may reflect opposite regulatory directions of action of the same pathophysiological pathways in at least some circumstances. Therefore, understanding the mechanisms for postterm birth might potentially yield insights into underlying mechanisms of normal and preterm parturition as well.
As in preterm birth, recent studies have shown potential genetic contributions to postterm birth, such as maternal recurrence and familial risk, ethnicity and common variant associations (Morken et al., 2011; Kistka et al., 2007b; Schierding et al., 2018; Oliver et al., 2018) For example, a mother born postterm has a 49% higher relative risk to have a postterm pregnancy, whereas a father delivered postterm contributes 23% increased risk. The risk is even higher when both the mother and father were born postterm (Morken et al., 2011). In addition, women with postterm delivery in their first pregnancy have significantly higher risk of recurrence in subsequent pregnancies (Morken et al., 2011). A recent genome-wide association study of prolonged gestation in the Northern Finland found a significant association with postterm birth in an intronic region within the ADAMTS13 gene, also known as von Willebrand factor-cleaving protease, that is involved in blood clotting (Schierding et al., 2018). As in preterm birth, there is also evidence for prolonged gestation duration in humans associated with geographic/genetic ancestry. For example, women of Somali ancestry have a significantly increased risk for prolonged gestation even after adjustment for potential confounding factors (Oliver et al., 2018).
Developing a theoretical evolutionary framework to gain insights into the biology of parturition
The insights derived from recent evolutionary genomic analyses of mammalian pregnancy and genome-wide analyses of human populations and the identification of genes involved in gestation length described above showcase both the depth of knowledge on mammalian parturition as well as why its mechanisms largely remain mysterious. In particular, our knowledge of parturition mechanisms in humans is complicated by both the likelihood of lineage-specific mechanisms and our limited ability to experimentally interrogate human pregnancy due to ethical and technological considerations. While currently available data do not reveal a complete picture of the initiation of term and preterm parturition, they do allow us to develop a conceptual evolutionary framework upon which to test future hypotheses. As a first step toward establishing an evolutionary framework for the timing of mammalian parturition, we outline four theoretical models for how the onset of parturition is determined in a general way around core principles (Figure 4). These four models provide examples of testable hypotheses.

It is important to note that the four models aim to explain the maintenance of pregnancy and initiation of parturition, which should be distinguished from the contractile mechanism to expel the fetus. The contractile mechanism is downstream of the initiation signal, is likely to involve redundant uterotonic pathways, and is probably going to be much more challenging to target effectively for preterm birth prevention compared to initiator pathways (Goldenberg et al., 2008). We encourage researchers to test these models or other models with empirical data to determine detailed mechanisms, confirming, refining or refuting their predictions, including how social stress, racism, and health behaviors affect risk for preterm birth.
The determinant of birth timing is a critical and exciting big question that awaits elucidation. Situated at the intersection of biology, environment, and social context, including race and racism, preterm birth poses challenges that we must address. Are there other general models and frameworks for solving the enigma of birth timing? For example, an alternative framework and set of models would focus on the source of parturition initiation: maternal, fetal, interactive maternal-fetal, environmental, etc. The community of biomedical scientists interested in this area of investigation are encouraged to comment on this article with their ideas, constructively challenge one another, and us, and work to solve the problem. Further, one intent of this dialogue is to bring new voices and ideas into the discussion. We hope to stimulate the vision and curiosity of diverse investigators to gain new insights and answer this important question.
Hormonal control of preterm and term parturition

Seminars in Perinatology 5:192–202.

Book

Preterm Birth: Causes, Consequences, and Prevention

Washington, D.C:  The National Academies Press.

Book

The Hormones in Human Reproduction

London: Princton University Press.

Length of gestation of freiberger mares with mule and horse foals

Schweizer Archiv Fur Tierheilkunde 139:303–307.

The biology and husbandry of the african spiny mouse (Acomys cahirinus) and the research uses of a laboratory colony

Journal of the American Association for Laboratory Animal Science : JAALAS 55:9–17.

Book

March of Dimes White Paper on Preterm Birth: The Global and Regional Toll

White Plains, NY: March of Dimes Foundation.

Report

Born Too Soon: The Global Action Report on Preterm Birth

World health organization.

Stress, self-esteem, and racism: relationships with low birth weight andpreterm delivery in African American women

Journal of National Black Nurses' Association: JNBNA 8:45–53.

Book

Knobil and Neill's Physiology of Reproduction

Amsterdam: Academic Press.

The control of somitogenesis in mouse embryos

Journal of Embryology and Experimental Morphology 65 Suppl:103–128.
Article and author information
Author details
March of Dimes Prematurity Research Center Ohio Collaborative
Antonis Rokas
Sam Mesiano
Ge Zhang
Louis Muglia
Antonis Rokas
Sam Mesiano
Ge Zhang
Louis Muglia
National Institutes of Health
Antonis Rokas
Sam Mesiano
Ge Zhang
Louis Muglia
Bill and Melinda Gates Foundation
Antonis Rokas
Sam Mesiano
Ge Zhang
Louis Muglia
The funders had no role in study design, data collection and interpretation, or the decision to submit the work for publication.
Work on this topic in authors' laboratories has been funded through the March of Dimes Prematurity Research Center Ohio Collaborative, National Institutes of Health/NICHD, Bill and Melinda Gates Foundation, and the Burroughs Wellcome Fund Preterm Birth Initiative.
Senior and Reviewing Editor
Detlef Weigel, Max Planck Institute for Developmental Biology, Germany
© 2020, Rokas et al.
This article is distributed under the terms of the Creative Commons Attribution License, which permits unrestricted use and redistribution provided that the original author and source are credited.
1,590

Page views

181

Downloads

10

Citations
Article citation count generated by polling the highest count across the following sources: Crossref, PubMed Central, Scopus.
A two-part list of links to download the article, or parts of the article, in various formats.
Downloads
(link to download the article as PDF)
Open citations
(links to open the citations from this article in various online reference manager services)
Cite this article
(links to download the citations from this article in formats compatible with various reference manager tools)
Antonis Rokas
Sam Mesiano
Ortal Tamam
Abigail LaBella
Ge Zhang
Louis Muglia
Developing a theoretical evolutionary framework to solve the mystery of parturition initiation
eLife 9:e58343.
https://doi.org/10.7554/eLife.58343
Further reading
Developmental Biology
Evolutionary Biology

During development, the growing organism transits through a series of temporally regulated morphological stages to generate the adult form. In humans, for example, development progresses from childhood through to puberty and then to adulthood, when sexual maturity is attained. Similarly, in holometabolous insects, immature juveniles transit to the adult form through an intermediate pupal stage when larval tissues are eliminated and the imaginal progenitor cells form the adult structures. The identity of the larval, pupal, and adult stages depends on the sequential expression of the transcription factors chinmo, Br-C, and E93. However, how these transcription factors determine temporal identity in developing tissues is poorly understood. Here, we report on the role of the larval specifier chinmo in larval and adult progenitor cells during fly development. Interestingly, chinmo promotes growth in larval and imaginal tissues in a Br-C-independent and -dependent manner, respectively. In addition, we found that the absence of chinmo during metamorphosis is critical for proper adult differentiation. Importantly, we also provide evidence that, in contrast to the well-known role of chinmo as a pro-oncogene, Br-C and E93 act as tumour suppressors. Finally, we reveal that the function of chinmo as a juvenile specifier is conserved in hemimetabolous insects as its homolog has a similar role in Blatella germanica. Taken together, our results suggest that the sequential expression of the transcription factors Chinmo, Br-C and E93 during larva, pupa an adult respectively, coordinate the formation of the different organs that constitute the adult organism.

Ecology
Evolutionary Biology

Evolutionary theory suggests that individuals should express costly traits at a magnitude that optimizes the trait bearer's cost-benefit difference. Trait expression varies across a species because costs and benefits vary among individuals. For example, if large individuals pay lower costs than small individuals, then larger individuals should reach optimal cost-benefit differences at greater trait magnitudes. Using the cavitation-shooting weapons found in the big claws of male and female snapping shrimp, we test whether size- and sex-dependent expenditures explain scaling and sex differences in weapon size. We found that males and females from three snapping shrimp species (Alpheus heterochaelis, Alpheus angulosus, and Alpheus estuariensis) show patterns consistent with tradeoffs between weapon and abdomen size. For male A. heterochaelis, the species for which we had the greatest statistical power, smaller individuals showed steeper tradeoffs. Our extensive dataset in A. heterochaelis also included data about pairing, breeding season, and egg clutch size. Therefore, we could test for reproductive tradeoffs and benefits in this species. Female A. heterochaelis exhibited tradeoffs between weapon size and egg count, average egg volume, and total egg mass volume. For average egg volume, smaller females exhibited steeper tradeoffs. Furthermore, in males but not females, large weapons were positively correlated with the probability of being paired and the relative size of their pair mates. In conclusion, we identified size-dependent tradeoffs that could underlie reliable scaling of costly traits. Furthermore, weapons are especially beneficial to males and burdensome to females, which could explain why males have larger weapons than females.

The extinct Steller's sea cow (Hydrodamalis gigas; †1768) was a whale-sized marine mammal that manifested profound morphological specializations to exploit the harsh coastal climate of the North Pacific. Yet despite first-hand accounts of their biology, little is known regarding the physiological adjustments underlying their evolution to this environment. Here, the adult-expressed hemoglobin (Hb; a2β/δ2) of this sirenian is shown to harbor a fixed amino acid replacement at an otherwise invariant position (β/δ82Lys→Asn) that alters multiple aspects of Hb function. First, our functional characterization of recombinant sirenian Hb proteins demonstrate that the Hb-O2 affinity of this sub-Arctic species was less affected by temperature than those of living (sub)tropical sea cows. This phenotype presumably safeguarded O2 delivery to cool peripheral tissues and largely arises from a reduced intrinsic temperature sensitivity of the H. gigas protein. Additional experiments on H. gigas β/δ82Asn→Lys mutant Hb further reveal this exchange renders Steller's sea cow Hb unresponsive to the potent intraerythrocytic allosteric effector 2,3-diphosphoglycerate, a radical modification that is the first documented example of this phenotype among mammals. Notably, β/δ82Lys→Asn moreover underlies the secondary evolution of a reduced blood-O2 affinity phenotype that would have promoted heightened tissue and maternal/fetal O2 delivery. This conclusion is bolstered by analyses of two Steller's sea cow prenatal Hb proteins (Hb Gower I; z2e2 and HbF; a2g2) that suggest an exclusive embryonic stage expression pattern, and reveal uncommon replacements in H. gigas HbF (g38Thr→Ile and g101Glu→Asp) that increased Hb-O2 affinity relative to dugong HbF. Finally, the β/δ82Lys→Asn replacement of the adult/fetal protein is shown to increase protein solubility, which may have elevated red blood cell Hb content within both the adult and fetal circulations and contributed to meeting the elevated metabolic (thermoregulatory) requirements and fetal growth rates associated with this species cold adaptation.