Anti-Cancer Drugs: The mitochondrial paradox
A structural motif that is found in two cancer drugs may be responsible for their ability to tackle cancers and for the side-effects caused by the drugs.
Organelles called mitochondria are often referred to as the powerhouse of a cell because they make the molecules of ATP that the cell uses as a source of energy. The toxic side-effects of some medicines are caused by the drug inadvertently disrupting the workings of mitochondria (Nadanaciva and Will, 2011). The heart is particularly susceptible to such side-effects because cardiac cells contain large numbers of mitochondria to meet the energy demands of heart tissue (Park et al., 2014; Varga et al., 2015). Understanding how this toxicity arises is important so it can be avoided when designing and developing new treatments. However, it can be diffucult to determine which part of the drug causes these toxic side-effects.
Now, in eLife, Anne Willis (University of Cambridge) and colleagues – including Zoë Stephenson as first author – report details of a chemical structure in the anti-cancer drug mubritinib, which inhibits the mitochondria of cardiac cells and causes an unintended rise in toxicity (Stephenson et al., 2020). Previous work had shown that mubritinib disrupts the phosphorylation of a protein called HER2 that is known to promote the growth of cancer cells (Nagasawa et al., 2006). However, during tests, Stephenson et al. found that increasing the concentration of mubritinib did not hinder this protein to the same degree as a drug called lapatinib, which is known to work by inhibiting HER2. This suggested that mubritinib does not directly inhibit HER2 and that another mechanism is likely to be responsible for its anti-cancer effects.
As mubritinib is known to affect pathways that are linked to cellular energy, the researchers – who are based at University of Cambridge and the University of Nottingham – decided to investigate how this drug impacted the production of ATP in cardiac cells cultured in two media: glucose and galactose. Cells cultured in galactose rely more heavily on mitochondria for ATP production than cells cultured in glucose, so are more susceptible to compounds that target this organelle (Marroquin et al., 2007). Stephenson et al. found that, following drug treatment, the cells in galactose produced less ATP and had a lower frequency of beating than the cells in glucose. This suggests that mubritinib impairs the activity of the electron transport chain which drives the synthesis of ATP (Figure 1). Further analysis revealed that mubritinib inhibits a particular structure within this chain called 'complex I'.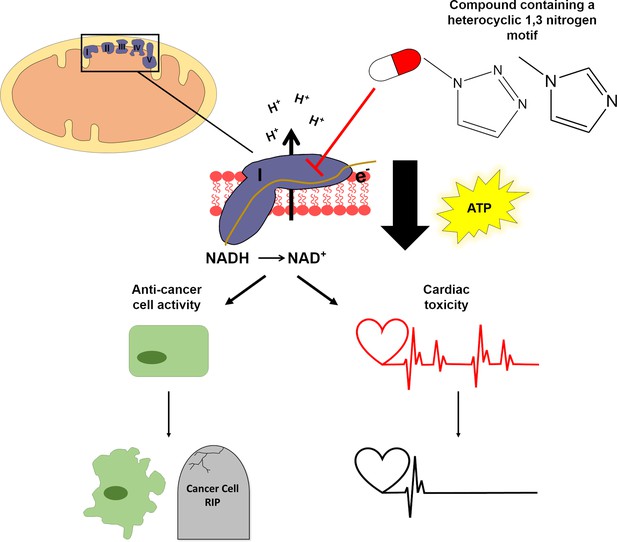 Next, Stephenson et al. investigated a library of compounds which have a similar structure to mubritinib to identify the 'toxicophore' – the region of the drug that is causing the side-effects. This revealed that a region called the heterocyclic 1,3 nitrogen motif was responsible for inhibiting complex I and reducing the production of ATP (Figure 1).
The researchers then investigated the effects of an anti-cancer drug called carboxyamidotriazole that contains the same toxicophore structure. This drug is thought to block the progress of cancer by inhibiting specific ion channels that transport calcium ions into the cell (Singh et al., 2017). However, Stephenson et al. found that carboxyamidotriazole did not significantly bind to calcium channels. Instead, they discovered that the drug reduced the production of ATP in galactose media and decreased the amount of oxygen taken up by cardiac cells.
Finally, to identify whether the heterocyclic 1,3 nitrogen motif was responsible for the anti-cancer effects of both drugs, Stephenson et al. measured the growth and death rate of cancer cells following treatment. Cell lines representing five different cancer types were treated with mubritinib, carboxyamidotriazole, or structurally similar compounds which lacked the toxicophore. In each cell line they tested, the presence of the toxicophore resulted in increased levels of cell death and reduced rates of cell growth (Figure 1). This suggests that the toxicophore in these two drugs is also partially responsible for their anti-cancer effects.
These findings provide evidence of a chemical motif which increases the toxicity of cardiac cells by inadvertently targeting mitochondria. The identification of this motif could help design safer and more effective anti-cancer treatments. Furthermore, the method used in this study could be used to identify other chemical motifs which specifically disrupt the activity of mitochondria. Future research should test a larger collection of compounds containing this toxicophore to confirm whether the loss in mitochondrial activity is linked to adverse side effects. Furthermore, it is important to assess whether these effects only cause toxicity in the heart or whether other organs, such as the liver and kidney, may also be susceptible.
Article and author information
Author details
© 2020, Penman et al.
This article is distributed under the terms of the Creative Commons Attribution License, which permits unrestricted use and redistribution provided that the original author and source are credited.
2,051

Page views

197

Downloads

0

Citations
Article citation count generated by polling the highest count across the following sources: Crossref, PubMed Central, Scopus.
A two-part list of links to download the article, or parts of the article, in various formats.
Downloads
(link to download the article as PDF)
Open citations
(links to open the citations from this article in various online reference manager services)
Cite this article
(links to download the citations from this article in formats compatible with various reference manager tools)
Sophie L Penman
Rebecca L Jensen
Robyn T Kiy
Amy E Chadwick
Anti-Cancer Drugs: The mitochondrial paradox
eLife 9:e59140.
https://doi.org/10.7554/eLife.59140
Further reading
Biochemistry and Chemical Biology
Cancer Biology

Disruption of mitochondrial function selectively targets tumour cells that are dependent on oxidative phosphorylation. However, due to their high energy demands, cardiac cells are disproportionately targeted by mitochondrial toxins resulting in a loss of cardiac function. An analysis of the effects of mubritinib on cardiac cells showed that this drug did not inhibit HER2 as reported, but directly inhibits mitochondrial respiratory complex I, reducing cardiac-cell beat rate, with prolonged exposure resulting in cell death. We used a library of chemical variants of mubritinib and showed that modifying the 1H-1,2,3-triazole altered complex I inhibition, identifying the heterocyclic 1,3-nitrogen motif as the toxicophore. The same toxicophore is present in a second anti-cancer therapeutic carboxyamidotriazole (CAI) and we demonstrate that CAI also functions through complex I inhibition, mediated by the toxicophore. Complex I inhibition is directly linked to anti-cancer cell activity, with toxicophore modification ablating the desired effects of these compounds on cancer cell proliferation and apoptosis.

Biochemistry and Chemical Biology
Structural Biology and Molecular Biophysics

Aurora B, together with IN-box, the C-terminal part of INCENP, forms an enzymatic complex that ensures faithful cell division. The [Aurora B/IN-box] complex is activated by autophosphorylation in the Aurora B activation loop and in IN-box, but it is not clear how these phosphorylations activate the enzyme. We used a combination of experimental and computational studies to investigate the effects of phosphorylation on the molecular dynamics and structure of [Aurora B/IN-box]. In addition, we generated partially phosphorylated intermediates to analyze the contribution of each phosphorylation independently. We found that the dynamics of Aurora and IN-box are interconnected, and IN-box plays both positive and negative regulatory roles depending on the phosphorylation status of the enzyme complex. Phosphorylation in the activation loop of Aurora B occurs intramolecularly and prepares the enzyme complex for activation, but two phosphorylated sites are synergistically responsible for full enzyme activity.

Biochemistry and Chemical Biology

Mitochondrial biogenesis requires the import of >1,000 mitochondrial preproteins from the cytosol. Most studies on mitochondrial protein import are focused on the core import machinery. Whether and how the biophysical properties of substrate preproteins affect overall import efficiency is underexplored. Here, we show that protein traffic into mitochondria can be disrupted by amino acid substitutions in a single substrate preprotein. Pathogenic missense mutations in ADP/ATP translocase 1 (ANT1), and its yeast homolog ADP/ATP carrier 2 (Aac2), cause the protein to accumulate along the protein import pathway, thereby obstructing general protein translocation into mitochondria. This impairs mitochondrial respiration, cytosolic proteostasis, and cell viability independent of ANT1's nucleotide transport activity. The mutations act synergistically, as double mutant Aac2/ANT1 causes severe clogging primarily at the translocase of the outer membrane (TOM) complex. This confers extreme toxicity in yeast. In mice, expression of a super-clogger ANT1 variant led to neurodegeneration and an age-dependent dominant myopathy that phenocopy ANT1-induced human disease, suggesting clogging as a mechanism of disease. More broadly, this work implies the existence of uncharacterized amino acid requirements for mitochondrial carrier proteins to avoid clogging and subsequent disease.