Phase Separation: Restricting the sizes of condensates
Computer simulations of model proteins with sticker-and-spacer architectures shed light on the formation of biomolecular condensates in cells.
Many of the organelles found inside cells, including the nucleus and mitochondria, are enclosed within a membrane and have been closely studied for decades. However, there is growing interest in organelles that can form and dissolve reversibly because they are not surrounded by a membrane. In particular, the physics and chemistry of membraneless organelles – also known as biomolecular condensates – is the focus of much research (Banani et al., 2017; Shin and Brangwynne, 2017; Choi et al., 2020).
Biomolecular condensates form when a mixture of proteins, nucleic acids and solvents separate into a phase that is rich in proteins and nucleic acids, and a dilute phase that contains relatively few of these macromolecules. Basic thermodynamics suggests that this process of 'phase separation' should result in a single large condensate that co-exists with a dilute phase because the energy needed to maintain the interface between a single large condensate and a dilute phase is lower than the interfacial energy for a system of smaller condensates. A process known as Ostwald ripening establishes this equilibrium by allowing a single large condensate to incorporate smaller ones (Lifshitz and Slyozov, 1961).
Systems containing a single large condensate, as predicted by basic thermodynamics, have been observed in in vitro studies (Elbaum-Garfinkle et al., 2015). However, there have also been reports of living cells that contain multiple condensates that do not grow beyond a certain size (Brangwynne et al., 2009; Berry et al., 2018). The form of phase separation that yields multiple droplets or condensates – a process known as emulsification – is thought to arise from the active production and degradation of macromolecules (Wurtz and Lee, 2018). However, there have also been reports of emulsification happening in the absence of these active mechanisms. How can one explain emulsification when such processes are not at work?
Now, in eLife, Srivastav Ranganathan and Eugene Shakhnovich from Harvard University report the results of simulations modelling the phase behavior of model polymers made up of multiple 'stickers' and 'spacers' that help to answer this question (Ranganathan and Shakhnovich, 2020; Figure 1A). These simulations show that the sizes of condensates are determined by two timescales: the time it takes for macromolecules to come into contact via diffusion; and the time it takes to form and break physical bonds between pairs of 'stickers' (Figure 1A,B).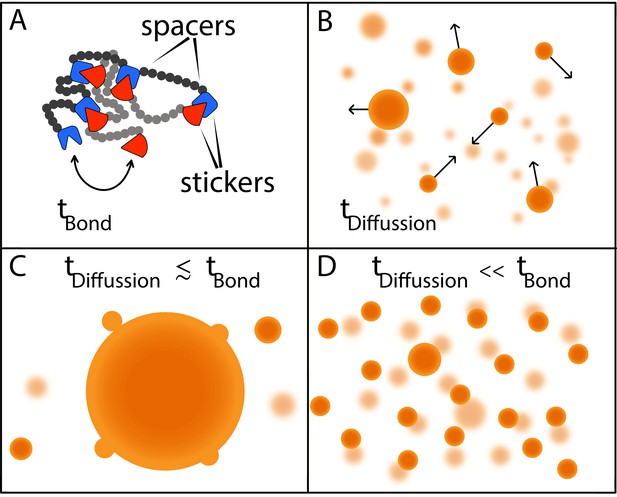 If these two timescales are similar to one another, larger condensates will consume smaller condensates until there is just one dominant condensate (Figure 1C). However, if the timescale for diffusion is orders of magnitude faster than the timescale for bond formation, as is more often the case, most of the inter-sticker bonds will form among molecules that are part of smaller condensates. Moreover, new molecules will not be able to join the condensate because most sticker regions will already be tied up in existing connections. In the absence of stickers to bind to, molecules that are not already in the condensate will diffuse away. As a result, while it is relatively easy to grow a condensate up to a certain size, the lack of available molecules to form bonds with limits further growth, resulting in a roughly homogeneous distribution of smaller condensates (Figure 1D).
There has been much debate over how emulsification arises in cells. In addition to active processes controlling the size of condensates, another possibility is that some cellular components act as surfactants to decrease the energy of the interface between condensates and the solvent (Cuylen et al., 2016). Ranganathan and Shakhnovich now offer a third possible explanation. A fourth possibility is that proteins with block copolymeric architectures (a chain with blocks of two or more distinct monomers) form condensates via micellization (Ruff et al., 2015).
Biology seems to find a way to leverage all aspects of physically feasible scenarios in order to achieve desired outcomes. This is clearly the case with regards to the size distribution and apparent emulsification of condensates. However, it remains unclear how these different modes of emulsification interact with one another and to what extent each of these modes is used by different cell types. Theory and computations have offered elegant, testable predictions that have paved the way for designing experiments that can answer these questions.
Article and author information
Author details
© 2020, Dar and Pappu
This article is distributed under the terms of the Creative Commons Attribution License, which permits unrestricted use and redistribution provided that the original author and source are credited.
3,319

Page views

438

Downloads

10

Citations
Article citation count generated by polling the highest count across the following sources: Crossref, PubMed Central, Scopus.
A two-part list of links to download the article, or parts of the article, in various formats.
Downloads
(link to download the article as PDF)
Open citations
(links to open the citations from this article in various online reference manager services)
Cite this article
(links to download the citations from this article in formats compatible with various reference manager tools)
Furqan Dar
Rohit Pappu
Phase Separation: Restricting the sizes of condensates
eLife 9:e59663.
https://doi.org/10.7554/eLife.59663
Further reading
Physics of Living Systems

Structural Biology and Molecular Biophysics

Multivalent biopolymers phase separate into membrane-less organelles (MLOs) which exhibit liquid-like behavior. Here, we explore formation of prototypical MOs from multivalent proteins on various time and length scales and show that the kinetically arrested metastable multi-droplet state is a dynamic outcome of the interplay between two competing processes: a diffusion-limited encounter between proteins, and the exhaustion of available valencies within smaller clusters. Clusters with satisfied valencies cannot coalesce readily, resulting in metastable, long-living droplets. In the regime of dense clusters akin to phase-separation, we observe co-existing assemblies, in contrast to the single, large equilibrium-like cluster. A system-spanning network encompassing all multivalent proteins was only observed at high concentrations and large interaction valencies. In the regime favoring large clusters, we observe a slow-down in the dynamics of the condensed phase, potentially resulting in loss of function. Therefore, metastability could be a hallmark of dynamic functional droplets formed by sticker-spacer proteins.

Physics of Living Systems

Long-range material transport is essential to maintain the physiological functions of multicellular organisms such as animals and plants. By contrast, material transport in bacteria is often short-ranged and limited by diffusion. Here we report a unique form of actively regulated long-range directed material transport in structured bacterial communities. Using Pseudomonas aeruginosa colonies as a model system, we discover that a large-scale and temporally evolving open channel system spontaneously develops in the colony via shear-induced banding. Fluid flows in the open channels support high-speed (up to 450 µm/s) transport of cells and outer membrane vesicles over centimeters, and help to eradicate colonies of a competing species Staphylococcus aureus. The open channels are reminiscent of human-made canals for cargo transport, and the channel flows are driven by interfacial tension mediated by cell-secreted biosurfactants. The spatial-temporal dynamics of fluid flows in the open channels are qualitatively described by flow profile measurement and mathematical modeling. Our findings demonstrate that mechanochemical coupling between interfacial force and biosurfactant kinetics can coordinate large-scale material transport in primitive life forms, suggesting a new principle to engineer self-organized microbial communities.

Physics of Living Systems

Foraging mammals exhibit a familiar yet poorly characterized phenomenon, 'alternation', a pause to sniff in the air preceded by the animal rearing on its hind legs or raising its head. Rodents spontaneously alternate in the presence of airflow, suggesting that alternation serves an important role during plume-tracking. To test this hypothesis, we combine fully resolved simulations of turbulent odor transport and Bellman optimization methods for decision-making under partial observability. We show that an agent trained to minimize search time in a realistic odor plume exhibits extensive alternation together with the characteristic cast-and-surge behavior observed in insects. Alternation is linked with casting and occurs more frequently far downwind of the source, where the likelihood of detecting airborne cues is higher relative to ground cues. Casting and alternation emerge as complementary tools for effective exploration with sparse cues. A model based on marginal value theory captures the interplay between casting, surging, and alternation.