Telomeres: Getting to grips with circular chromosomes
A strain of budding yeast that contains one large chromosome reveals how the telomere capping complex CST maintains linear but not circular chromosomes.
Genetic material is stored inside cells in structures called chromosomes, which have a repetitive sequence known as a telomere at each end. Specialized proteins bind to these sequences to form a protective 'cap' that protects the chromosome and prevents it from fusing with other chromosomes. The enzyme telomerase also helps maintain chromosomes by adding repetitive sequences of DNA to the ends of telomeres.
One of the most widely studied capping molecules is a protein called Cdc13 that binds to certain types of single-stranded DNA in budding yeast, and forms a complex with two other proteins (Stn1 and Ten1) that recruits telomerase (Wellinger and Zakian, 2012). Several lines of evidence suggest that this CST complex also recruits a DNA replication enzyme called primase-Polα, and can regulate the activity of this enzyme at the ends of chromosomes as well as other locations in the genome (Giraud-Panis et al., 2010; Price et al., 2010; Barbero Barcenilla and Shippen, 2019).
Similar complexes have also been identified in other eukaryotes, including mammals, which contain Stn1, Ten1, and another protein called CTC1 within their CST complex (Giraud-Panis et al., 2010; Price et al., 2010). However, it has proved challenging to work out the roles performed by the different proteins in the CST complex because cells that lack just one of these proteins struggle to survive (Figure 1A). Now, in eLife, Jin-Qiu Zhou and co-workers at the Chinese Academy of Sciences and ShanghaiTech University – including Zhi-Jing Wu as first author – report the results of experiments that help improve our understanding of the CST complex (Wu et al., 2020).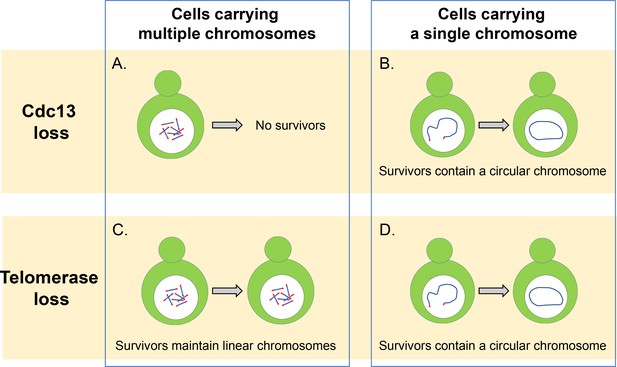 First, Wu et al. investigated how deleting the CST complex affected the viability of a strain of budding yeast in which all of its 16 chromosomes were fused together to form a single circular chromosome (Shao et al., 2019). They found that removing CST did not stop the cells from proliferating or lead to more cell deaths, even when the circular chromosome contained the repetitive telomere sequences. It appears, therefore, that the main role of the CST complex is to maintain linear chromosomes and to prevent chromosomes from fusing with other chromosomes, and that it is not essential for the replication of internal telomere sequences.
In addition to forming a circular ring, the 16 chromosomes of budding yeast can also be fused together to form a single linear chromosome (Shao et al., 2018). Wu et al. found that removing the CST complex greatly reduced the viability of these cells, but some of these cells were able to survive by fusing the ends of their linear chromosome to form a circular ring (Figure 1B). Individually deleting the genes that code for the different proteins of the CST complex revealed that cells lacking Cdc13 displayed a higher rate of fusion than cells missing the genes for Stn1 and Ten1. This suggests that Cdc13 plays a dominant role in inhibiting the fusion of chromosomes, and that Stn1 and Ten1 contribute to the protection of telomeres independently of Cdc13. However, the details of this mechanism still remain unclear and require further investigation.
In wild-type cells that contain multiple chromosomes, it is rare to find fused or circular chromosomes, even when the activity of telomerase has been compromised: this is because cells can extend and maintain telomeres by using a mechanism called homology-directed recombination that repairs double stranded breaks in DNA (Figure 1C). However, Wu et al. found that reducing the number of chromosomes led to more fusions being detected in cells lacking the enzyme telomerase. This suggests that reducing the number of chromosomes increases the likelihood that cells will be able to produce circularized chromosomes and survive the loss of telomerase.
It was thought that fusing the two ends of the singular linear chromosome would rely on a DNA repair pathway called the nonhomologous end-joining (NHEJ) pathway (Haber, 2016). However, Wu et al. demonstrated that in the absence of telomerase, chromosome fusion depended on Rad52, which plays a critical role in the homologous recombination of DNA breaks in budding yeast (Figure 1D). It is possible that the cells used in this study rely on the Rad52 pathway for chromosome circularization because the single chromosome has an inverted telomere sequence near one end of the chromosome. If such a sequence were deleted, cells might undergo end-to-end fusion through the NHEJ pathway that is more common in human cells (Palm and de Lange, 2008). Additional experiments showed that this finding was not due to a loss in NHEJ activity and that this pathway is able to fuse linearized plasmids in budding yeast cells.
The work of Wu et al. provides new insights into how chromosomes fuse together and how telomeres are maintained independently from the telomerase enzyme. Moreover, the findings from this study might go beyond yeast and improve our understanding of various human medical syndromes caused by the ends of chromosomes fusing to form ring shapes (Pristyazhnyuk and Menzorov, 2018).
Article and author information
Author details
© 2020, Nugent and Sugimoto
This article is distributed under the terms of the Creative Commons Attribution License, which permits unrestricted use and redistribution provided that the original author and source are credited.
1,140

Page views

66

Downloads

1

Citations
Article citation count generated by polling the highest count across the following sources: Crossref, PubMed Central, Scopus.
A two-part list of links to download the article, or parts of the article, in various formats.
Downloads
(link to download the article as PDF)
Open citations
(links to open the citations from this article in various online reference manager services)
Cite this article
(links to download the citations from this article in formats compatible with various reference manager tools)
Constance Nugent
Katsunori Sugimoto
Telomeres: Getting to grips with circular chromosomes
eLife 9:e60150.
https://doi.org/10.7554/eLife.60150
Further reading
Telomeres define the natural ends of eukaryotic chromosomes and are crucial for chromosomal stability. The budding yeast Cdc13, Stn1 and Ten1 proteins form a heterotrimeric complex, and the inactivation of any of its subunits leads to a uniformly lethal phenotype due to telomere deprotection. Although Cdc13, Stn1 and Ten1 seem to belong to an epistasis group, it remains unclear whether they function differently in telomere protection. Here, we employed the single-linear-chromosome yeast SY14, and surprisingly found that the deletion of CDC13 leads to telomere erosion and intrachromosome end-to-end fusion, which depends on Rad52 but not Yku. Interestingly, the emergence frequency of survivors in the SY14 cdc13Δ mutant was ~29 fold higher than that in either the stn1Δ or ten1Δ mutant, demonstrating a predominant role of Cdc13 in inhibiting telomere fusion. Chromosomal fusion readily occurred in the telomerase-null SY14 strain, further verifying the default role of intact telomeres in inhibiting chromosome fusion.

Genetics and Genomics
Immunology and Inflammation

Disruption of epithelial barriers is a common disease manifestation in chronic degenerative diseases of the airways, lung and intestine. Extensive human genetic studies have identified risk loci in such diseases, including in chronic obstructive pulmonary disease (COPD) and inflammatory bowel diseases (IBD). The genes associated with these loci have not fully been determined, and functional characterization of such genes requires extensive studies in model organisms. Here, we report the results of a screen in Drosophila melanogaster that allowed for rapid identification, validation and prioritization of COPD risk genes that were selected based on risk loci identified in human genome-wide association studies (GWAS) studies. Using intestinal barrier dysfunction in flies as a readout, our results validate the impact of candidate gene perturbations on epithelial barrier function in 56% of the cases, resulting in a prioritized target gene list. We further report the functional characterization in flies of one family of these genes, encoding for nicotinic acetylcholine receptor subunits (nAchR). We find that nAchR signaling in enterocytes of the fly gut promotes epithelial barrier function and epithelial homeostasis by regulating the production of the peritrophic matrix. Our findings identify COPD associated genes critical for epithelial barrier maintenance, and provide insight into the role of epithelial nAchR signaling for homeostasis.

Genetics and Genomics
Microbiology and Infectious Disease

Plasmids enable the dissemination of antimicrobial resistance (AMR) in common Enterobacterales pathogens, representing a major public health challenge. However, the extent of plasmid sharing and evolution between Enterobacterales causing human infections and other niches remains unclear, including the emergence of resistance plasmids. Dense, unselected sampling is essential to developing our understanding of plasmid epidemiology and designing appropriate interventions to limit the emergence and dissemination of plasmid-associated AMR. We established a geographically and temporally restricted collection of human bloodstream infection (BSI)-associated, livestock-associated (cattle, pig, poultry, and sheep faeces, farm soils) and wastewater treatment work (WwTW)-associated (influent, effluent, waterways upstream/downstream of effluent outlets) Enterobacterales. Isolates were collected between 2008 and 2020 from sites <60 km apart in Oxfordshire, UK. Pangenome analysis of plasmid clusters revealed shared 'backbones', with phylogenies suggesting an intertwined ecology where well-conserved plasmid backbones carry diverse accessory functions, including AMR genes. Many plasmid 'backbones' were seen across species and niches, raising the possibility that plasmid movement between these followed by rapid accessory gene change could be relatively common. Overall, the signature of identical plasmid sharing is likely to be a highly transient one, implying that plasmid movement might be occurring at greater rates than previously estimated, raising a challenge for future genomic One Health studies.