Telomeres: Getting to grips with circular chromosomes
A strain of budding yeast that contains one large chromosome reveals how the telomere capping complex CST maintains linear but not circular chromosomes.
Genetic material is stored inside cells in structures called chromosomes, which have a repetitive sequence known as a telomere at each end. Specialized proteins bind to these sequences to form a protective 'cap' that protects the chromosome and prevents it from fusing with other chromosomes. The enzyme telomerase also helps maintain chromosomes by adding repetitive sequences of DNA to the ends of telomeres.
One of the most widely studied capping molecules is a protein called Cdc13 that binds to certain types of single-stranded DNA in budding yeast, and forms a complex with two other proteins (Stn1 and Ten1) that recruits telomerase (Wellinger and Zakian, 2012). Several lines of evidence suggest that this CST complex also recruits a DNA replication enzyme called primase-Polα, and can regulate the activity of this enzyme at the ends of chromosomes as well as other locations in the genome (Giraud-Panis et al., 2010; Price et al., 2010; Barbero Barcenilla and Shippen, 2019).
Similar complexes have also been identified in other eukaryotes, including mammals, which contain Stn1, Ten1, and another protein called CTC1 within their CST complex (Giraud-Panis et al., 2010; Price et al., 2010). However, it has proved challenging to work out the roles performed by the different proteins in the CST complex because cells that lack just one of these proteins struggle to survive (Figure 1A). Now, in eLife, Jin-Qiu Zhou and co-workers at the Chinese Academy of Sciences and ShanghaiTech University – including Zhi-Jing Wu as first author – report the results of experiments that help improve our understanding of the CST complex (Wu et al., 2020).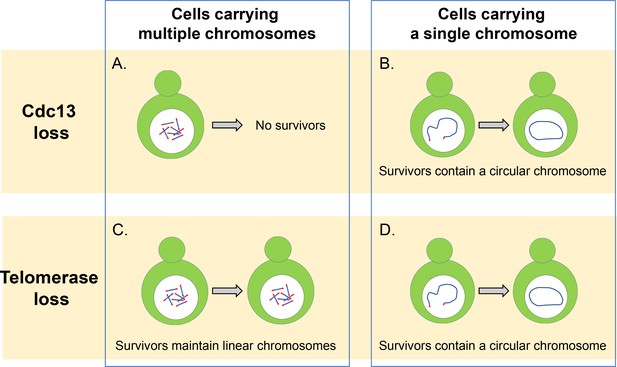 First, Wu et al. investigated how deleting the CST complex affected the viability of a strain of budding yeast in which all of its 16 chromosomes were fused together to form a single circular chromosome (Shao et al., 2019). They found that removing CST did not stop the cells from proliferating or lead to more cell deaths, even when the circular chromosome contained the repetitive telomere sequences. It appears, therefore, that the main role of the CST complex is to maintain linear chromosomes and to prevent chromosomes from fusing with other chromosomes, and that it is not essential for the replication of internal telomere sequences.
In addition to forming a circular ring, the 16 chromosomes of budding yeast can also be fused together to form a single linear chromosome (Shao et al., 2018). Wu et al. found that removing the CST complex greatly reduced the viability of these cells, but some of these cells were able to survive by fusing the ends of their linear chromosome to form a circular ring (Figure 1B). Individually deleting the genes that code for the different proteins of the CST complex revealed that cells lacking Cdc13 displayed a higher rate of fusion than cells missing the genes for Stn1 and Ten1. This suggests that Cdc13 plays a dominant role in inhibiting the fusion of chromosomes, and that Stn1 and Ten1 contribute to the protection of telomeres independently of Cdc13. However, the details of this mechanism still remain unclear and require further investigation.
In wild-type cells that contain multiple chromosomes, it is rare to find fused or circular chromosomes, even when the activity of telomerase has been compromised: this is because cells can extend and maintain telomeres by using a mechanism called homology-directed recombination that repairs double stranded breaks in DNA (Figure 1C). However, Wu et al. found that reducing the number of chromosomes led to more fusions being detected in cells lacking the enzyme telomerase. This suggests that reducing the number of chromosomes increases the likelihood that cells will be able to produce circularized chromosomes and survive the loss of telomerase.
It was thought that fusing the two ends of the singular linear chromosome would rely on a DNA repair pathway called the nonhomologous end-joining (NHEJ) pathway (Haber, 2016). However, Wu et al. demonstrated that in the absence of telomerase, chromosome fusion depended on Rad52, which plays a critical role in the homologous recombination of DNA breaks in budding yeast (Figure 1D). It is possible that the cells used in this study rely on the Rad52 pathway for chromosome circularization because the single chromosome has an inverted telomere sequence near one end of the chromosome. If such a sequence were deleted, cells might undergo end-to-end fusion through the NHEJ pathway that is more common in human cells (Palm and de Lange, 2008). Additional experiments showed that this finding was not due to a loss in NHEJ activity and that this pathway is able to fuse linearized plasmids in budding yeast cells.
The work of Wu et al. provides new insights into how chromosomes fuse together and how telomeres are maintained independently from the telomerase enzyme. Moreover, the findings from this study might go beyond yeast and improve our understanding of various human medical syndromes caused by the ends of chromosomes fusing to form ring shapes (Pristyazhnyuk and Menzorov, 2018).
Article and author information
Author details
© 2020, Nugent and Sugimoto
This article is distributed under the terms of the Creative Commons Attribution License, which permits unrestricted use and redistribution provided that the original author and source are credited.
1,044

Page views

65

Downloads

1

Citations
Article citation count generated by polling the highest count across the following sources: Crossref, PubMed Central, Scopus.
A two-part list of links to download the article, or parts of the article, in various formats.
Downloads
(link to download the article as PDF)
Open citations
(links to open the citations from this article in various online reference manager services)
Cite this article
(links to download the citations from this article in formats compatible with various reference manager tools)
Constance Nugent
Katsunori Sugimoto
Telomeres: Getting to grips with circular chromosomes
eLife 9:e60150.
https://doi.org/10.7554/eLife.60150
Further reading
Telomeres define the natural ends of eukaryotic chromosomes and are crucial for chromosomal stability. The budding yeast Cdc13, Stn1 and Ten1 proteins form a heterotrimeric complex, and the inactivation of any of its subunits leads to a uniformly lethal phenotype due to telomere deprotection. Although Cdc13, Stn1 and Ten1 seem to belong to an epistasis group, it remains unclear whether they function differently in telomere protection. Here, we employed the single-linear-chromosome yeast SY14, and surprisingly found that the deletion of CDC13 leads to telomere erosion and intrachromosome end-to-end fusion, which depends on Rad52 but not Yku. Interestingly, the emergence frequency of survivors in the SY14 cdc13Δ mutant was ~29 fold higher than that in either the stn1Δ or ten1Δ mutant, demonstrating a predominant role of Cdc13 in inhibiting telomere fusion. Chromosomal fusion readily occurred in the telomerase-null SY14 strain, further verifying the default role of intact telomeres in inhibiting chromosome fusion.

Developmental Biology
Genetics and Genomics

Unlike single-gene mutations leading to Mendelian conditions, common human diseases are likely to be emergent phenomena arising from multilayer, multiscale and highly interconnected interactions. Atrial and ventricular septal defects are the most common forms of cardiac congenital anomalies in humans. Atrial septal defects (ASD) show an open communication between left and right atria postnatally, potentially resulting in serious hemodynamic consequences if untreated. A milder form of atrial septal defect, patent foramen ovale (PFO), exists in about one quarter of the human population, strongly associated with ischaemic stroke and migraine. The anatomic liabilities and genetic and molecular basis of atrial septal defects remain unclear. Here, we advance our previous analysis of atrial septal variation through quantitative trait locus (QTL) mapping of an advanced intercross line (AIL) established between the inbred QSi5 and 129T2/SvEms mouse strains, that show extremes of septal phenotypes. Analysis resolved 37 unique septal QTL with high overlap between QTL for distinct septal traits and PFO as a binary trait. Whole genome sequencing of parental strains and filtering identified predicted functional variants, including in known human congenital heart disease genes. Transcriptome analysis of developing septa revealed downregulation of networks involving ribosome, nucleosome, mitochondrial and extracellular matrix biosynthesis in the 129T2/SvEms strain, potentially reflecting an essential role for growth and cellular maturation in septal development. Analysis of variant architecture across different gene features, including enhancers and promoters, provided evidence for involvement of non-coding as well as protein coding variants. Our study provides the first high resolution picture of genetic complexity and network liability underlying common congenital heart disease, with relevance to human ASD and PFO.

Mutant RHO is the most frequent genetic cause of autosomal dominant retinitis pigmentosa. Here, we developed an allele-specific gene editing therapeutic drug to selectively target the human T17M RHO mutant allele while leaving the wild-type RHO allele intact for the first time. We identified a Staphylococcus aureus Cas9 (SaCas9) guide RNA that was highly active and specific to the human T17M RHO allele. In vitro experiments using HEK293T cells and patient-specific induced pluripotent stem cells (iPSCs) demonstrated active nuclease activity and high specificity. Subretinal delivery of a single adeno-associated virus serotype 2/8 packaging SaCas9 and sgRNA to the retinas of the RHO humanized mice showed that this therapeutic drug targeted the mutant allele selectively, thereby downregulating the mutant RHO mRNA expression. Administration of this therapeutic drug resulted in a long-term (up to 11 months after treatment) improvement of retinal function and preservation of photoreceptors in the mutant humanized heterozygous mice. Our study demonstrated a dose-dependent therapeutic effect in vivo. Unwanted off-target effects were not observed at the whole-genome sequencing level. Our study provides strong support for the further development of this effective therapeutic drug to treat RHO-T17M associated autosomal dominant retinitis pigmentosa (adRP), also offers a generalizable framework for developing gene editing medicine. Furthermore, our success in restoring the vision loss in the suffering RHO humanized mice verifies the feasibility of allele-specific CRISPR/Cas9-based medicines for other autosomal dominant inherited retinal dystrophies.