Stem cells have the ability to divide and self-renew or specialize into many different types of cells that replenish tissues and organs. Historically, and based largely on blood stem cells, divisions have been thought to be asymmetric, resulting in two daughter cells with different fates: an identical, slow-cycling stem cell and a faster-cycling progenitor cell committed to differentiation. However, self-renewal of many tissues, such as the intestine, is ensured by cells that do not display strong division asymmetry and are instead organized as pools of progenitor cells. Daughter cells of these progenitors frequently do not appear to differ in their likelihood to self-renew or specialize (Post and Clevers, 2019).
Establishing the design principles underlying such progenitor pools is key to understanding how continuous self-renewal is maintained. Now, in eLife, Kacy Gordon and colleagues from the University of North Carolina and Duke University report new insights about stem cell division in the nematode Caenorhabditis elegans (Gordon et al., 2020).
In C. elegans, germ stem cells – which ensure the production of oocytes and sperm – reside at one end of tube-shaped gonads in what is known as the progenitor zone. The progenitor zone is capped by a large cell called the distal tip cell. The distal tip cell controls the proliferation of germ stem cells, and its finger-like extensions are thought to communicate with these cells (Fitzgerald and Greenwald, 1995; Byrd et al., 2014). Proximal sheath cells (Sh1 cells) surround the gonads and wrap the differentiating germ stem cells exiting the progenitor zone.
Germ stem cells within the progenitor zone show some variation in specialization (the cells closest to the proximal end of the gonads start expressing genes associated with the differentiation of reproductive cells). But the orientation of progenitor division was reported to be largely random, compatible with the idea that the progenitor zone, or at least a distal portion thereof, forms a 'bag' of mostly equivalent proliferating cells – with the most proximal being randomly pushed out and differentiating. The speed of the cell cycle is largely similar among progenitors, apparently furthering the notion that the differentiation process is not controlled by division asymmetry (Maciejowski et al., 2006; Crittenden et al., 2006; Jaramillo-Lambert et al., 2007; Chiang et al., 2015; Rosu and Cohen-Fix, 2017).
To investigate how the cell fate of germ stem cells is regulated, Gordon et al. used fluorescent labeling of both the distal tip cell and the Sh1 cells and tracked the dividing germ stem cells. This revealed that both the distal tip cell and Sh1 cells intercalate long protrusions that contact the germ stem cells (Figure 1a). Unexpectedly, most cell divisions happened at the distal tip cell-Sh1 interface. Most strikingly, these divisions were often asymmetrical, with one daughter cell staying in contact with the distal tip cell and the other one with Sh1 cells – turning the idea on its head that the progenitor zone is a pool of randomly proliferating cells. Manipulation of the cytoskeleton-related gene expression further suggested that a tightly knit interface between the distal tip cell and Sh1 cells may be necessary for robust proliferation. However, this does not rule out that this interface could also respond to signals from dividing germ stem cells. This interface may also play a role in positioning gene expression patterns within the progenitor zone.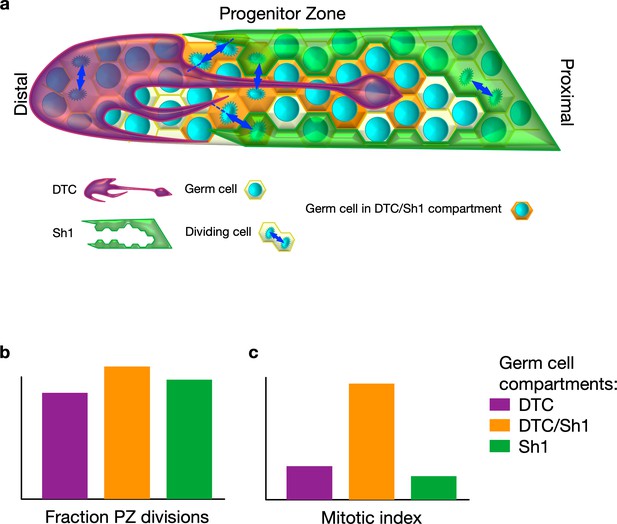 The work of Gordon et al. illustrates that a niche is more than just a region that accommodates a given number of stem cells or that serves as a punctual source of a self-renewal signals (Schofield, 1978). Rather, these experiments have unearthed hidden layers of control and thus provide a stepping stone to future research unraveling unknown mechanisms underlying cell fate determination. For example, what is the purpose of asymmetric cell division in this specific area? Could the intricate shape of the niche enlarge the surface area and so increase the number of asymmetric divisions in this progenitor zone? This asymmetry, even if it does not anchor stem cells, could still shape clonal dynamics in a way that helps minimize mutations and prevent premature senescence of germline stem cells (Cairns, 2006; Chiang et al., 2015; Cinquin et al., 2016).
In the future, it will be important to study germ stem cells below the gonad surface, which may have different behaviors;, and to assay the impact of asymmetric division on the dynamics of stem cell clones. It remains to be seen if protrusions similar to those of the distal tip cell and those of other cell types such as embryonic stem cells (Ramírez-Weber and Kornberg, 1999; Inaba et al., 2015; Junyent et al., 2020), are a prevalent feature of stem cell niches. Such structures could have remained hidden because of imaging difficulties, and may represent a hub for asymmetric cell divisions in tissues currently viewed as lacking those features.
Interchangeability of Caenorhabditis elegans DSL proteins and intrinsic signalling activity of their extracellular domains in vivo

Development 121:4275–4282.

The relationship between the spleen colony-forming cell and the haemopoietic stem cell

Blood Cells 4:7–25.
Article and author information
Author details
© 2020, Cinquin and Cinquin
This article is distributed under the terms of the Creative Commons Attribution License, which permits unrestricted use and redistribution provided that the original author and source are credited.
731

Page views

49

Downloads

0

Citations
Article citation count generated by polling the highest count across the following sources: Crossref, PubMed Central, Scopus.
A two-part list of links to download the article, or parts of the article, in various formats.
Downloads
(link to download the article as PDF)
Open citations
(links to open the citations from this article in various online reference manager services)
Cite this article
(links to download the citations from this article in formats compatible with various reference manager tools)
Amanda Cinquin
Olivier Cinquin
Stem Cells: More than just a pool
eLife 9:e61397.
https://doi.org/10.7554/eLife.61397
Further reading
Developmental Biology
Stem Cells and Regenerative Medicine

Stem cells reside in and rely upon their niche to maintain stemness but must balance self-renewal with the production of daughters that leave the niche to differentiate. We discovered a mechanism of stem cell niche exit in the canonical C. elegans distal tip cell (DTC) germ stem cell niche mediated by previously unobserved, thin, membranous protrusions of the adjacent somatic gonad cell pair (Sh1). A disproportionate number of germ cell divisions were observed at the DTC-Sh1 interface. Stem-like and differentiating cell fates segregated across this boundary. Spindles polarized, pairs of daughter cells oriented between the DTC and Sh1, and Sh1 grew over the Sh1-facing daughter. Impeding Sh1 growth by RNAi to cofilin and Arp2/3 perturbed the DTC-Sh1 interface, reduced germ cell proliferation, and shifted a differentiation marker. Because Sh1 membrane protrusions eluded detection for decades, it is possible that similar structures actively regulate niche exit in other systems.

Developmental Biology
Neuroscience

How does wiring specificity of neural maps emerge during development? Formation of the adult Drosophila olfactory glomerular map begins with patterning of projection neuron (PN) dendrites at the early pupal stage. To better understand the origin of wiring specificity of this map, we created genetic tools to systematically characterize dendrite patterning across development at PN type-specific resolution. We find that PNs use lineage and birth order combinatorially to build the initial dendritic map. Specifically, birth order directs dendrite targeting in rotating and binary manners for PNs of the anterodorsal and lateral lineages, respectively. Two-photon- and adaptive optical lattice light-sheet microscope-based time-lapse imaging reveals that PN dendrites initiate active targeting with direction-dependent branch stabilization on the timescale of seconds. Moreover, PNs that are used in both the larval and adult olfactory circuits prune their larval-specific dendrites and re-extend new dendrites simultaneously to facilitate timely olfactory map organization. Our work highlights the power and necessity of type-specific neuronal access and time-lapse imaging in identifying wiring mechanisms that underlie complex patterns of functional neural maps.

Cell Biology
Developmental Biology

Environmental cues, such as physical forces and heterotypic cell interactions play a critical role in cell function, yet their collective contributions to transcriptional changes are unclear. Focusing on human endothelial cells, we performed broad individual sample analysis to identify transcriptional drifts associated with environmental changes that were independent of genetic background. Global gene expression profiling by RNAseq and protein expression by LC-MS directed proteomics distinguished endothelial cells in vivo from genetically matched culture (in vitro) samples. Over 43% of the transcriptome was significantly changed by the in vitro environment. Subjecting cultured cells to long-term shear stress significantly rescued the expression of approximately 17% of genes. Inclusion of heterotypic interactions by co-culture of endothelial cells with smooth muscle cells normalized approximately 9% of the original in vivo signature. We also identified novel flow dependent genes, as well as genes that necessitate heterotypic cell interactions to mimic the in vivo transcriptome. Our findings highlight specific genes and pathways that rely on contextual information for adequate expression from those that are agnostic of such environmental cues.