Cancer treatments have become increasingly effective over the past few decades, but the chemotherapy drugs that kill tumour cells also damage healthy tissues. This can lead to serious side effects that go on to impair the quality of life of patients after recovery. For instance, cisplatin, a drug used to treat testicular cancer, is toxic to kidneys and hair cells in the ear that are necessary for hearing processes (Daugaard, 1990; Einhorn, 2002; Rybak and Ramkumar, 2007; Pabla and Dong, 2008; Lanvers-Kaminsky et al., 2017). Now, in eLife, Jason Berman and colleagues in institutions across Canada – including Jamie Wertman as first author – report the results of a study screening for compounds that reduce the toxicity of cisplatin (Wertman et al., 2020).
To do so, the team enlisted the zebrafish Danio rerio, a tiny freshwater tropical fish similar to humans at the molecular level, but can be bred cheaply and quickly (Schartl, 2014). It has become an exceptionally important in vivo model for biomedical research, especially to test the toxicity of drugs such as cisplatin or the antibiotics gentamicin (Rocha-Sanchez et al., 2018; Swanhart et al., 2011). Indeed, even at the larval stage, the fish has easily accessible hair cells in its lateral line (a sensory organ under the skin), and a primitive, anatomically simple kidney (Swanhart et al., 2011).
Wertman et al. examined whether 1200 compounds could protect the kidneys and lateral line hair cells of zebrafish larvae against the toxic effects of cisplatin. The screening highlighted 22 molecules, including two that offered the highest levels of protection: dopamine, a compound that nerve cells use to communicate, and L-mimosine, a rare plant non-protein amino acid similar to the amino acid tyrosine (Figure 1). Their protective potential was confirmed in vivo in the primitive kidney and another population of hair cells in zebrafish larvae. In addition, dopamine and L-mimosine did not keep cisplatin from killing cancer cells grown in the laboratory.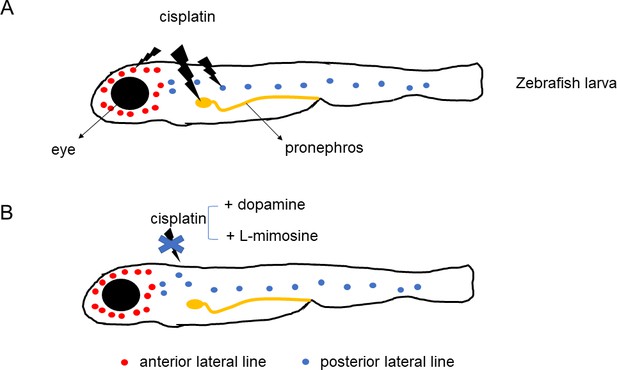 The next step would be to investigate how dopamine and L-mimosine perform this protective role. Organic cation transporters are a family of proteins that help to carry molecules – including dopamine – into cells. In their absence, cisplatin is less toxic for ears and kidneys (Hucke et al., 2019). It is therefore possible that dopamine and L-mimosine compete with cisplatin for access to the transporters: this would result in fewer cisplatin molecules accessing kidney and ear hair cells, ultimately protecting the organs against the cancer drug.
Finally, it is essential to demonstrate that dopamine and L-mimosine do not impair the anticancer activity of cisplatin in vivo, which could also be done in zebrafish larvae. In addition, this animal model could be useful to study neurotoxicity, another potential side effect of the drug. This would allow scientists to investigate whether the two compounds only protect specific organs, or globally interfere with cisplatin activity.
Confirming that dopamine and L-mimosine preserve the anticancer properties of cisplatin in vivo, together with fully understanding how they shield ears and kidneys from the drug's toxicity should help to develop protective therapies. Ultimately, this would allow more aggressive cancer chemotherapy to be performed, and improve the quality of life of cancer survivors.
Cisplatin nephrotoxicity: experimental and clinical studies

Danish Medical Bulletin 37:1–12.
Article and author information
Author details
© 2020, Ciarimboli
This article is distributed under the terms of the Creative Commons Attribution License, which permits unrestricted use and redistribution provided that the original author and source are credited.
567

Page views

30

Downloads

0

Citations
Article citation count generated by polling the highest count across the following sources: Crossref, PubMed Central, Scopus.
A two-part list of links to download the article, or parts of the article, in various formats.
Downloads
(link to download the article as PDF)
Open citations
(links to open the citations from this article in various online reference manager services)
Cite this article
(links to download the citations from this article in formats compatible with various reference manager tools)
Giuliano Ciarimboli
Toxicity: Fishing for protective compounds
eLife 9:e61547.
https://doi.org/10.7554/eLife.61547
Further reading
Dose-limiting toxicities for cisplatin administration, including ototoxicity and nephrotoxicity, impact the clinical utility of this effective chemotherapy agent and lead to lifelong complications, particularly in pediatric cancer survivors. Using a two-pronged drug screen employing the zebrafish lateral line as an in vivo readout for ototoxicity and kidney cell-based nephrotoxicity assay, we screened 1280 compounds and identified 22 that were both oto- and nephroprotective. Of these, dopamine and L-mimosine, a plant-based amino acid active in the dopamine pathway, were further investigated. Dopamine and L-mimosine protected the hair cells in the zebrafish otic vesicle from cisplatin-induced damage and preserved zebrafish larval glomerular filtration. Importantly, these compounds did not abrogate the cytotoxic effects of cisplatin on human cancer cells. This study provides insights into the mechanisms underlying cisplatin-induced oto- and nephrotoxicity and compelling preclinical evidence for the potential utility of dopamine and L-mimosine in the safer administration of cisplatin.

Anti-tumor drug resistance is a challenge for human triple-negative breast cancer (TNBC) treatment. Our previous work demonstrated that TNFAIP2 activates RAC1 to promote TNBC cell proliferation and migration. However, the mechanism by which TNFAIP2 activates RAC1 is unknown. In this study, we found that TNFAIP2 interacts with IQGAP1 and Integrin β4. Integrin β4 activates RAC1 through TNFAIP2 and IQGAP1 and confers DNA damage-related drug resistance in TNBC. These results indicate that the Integrin β4/TNFAIP2/IQGAP1/RAC1 axis provides potential therapeutic targets to overcome DNA damage-related drug resistance in TNBC.

The mTOR inhibitor, everolimus, is an important clinical management component of metastatic ER+ breast cancer (BC). However, most patients develop resistance and progress on therapy, highlighting the need to discover strategies that increase mTOR inhibitor effectiveness. We developed ER+ BC cell lines, sensitive or resistant to everolimus, and discovered that combination treatment of ONC201/TIC10 with everolimus inhibited cell growth in 2D/3D in vitro studies. We confirmed increased therapeutic response in primary patient cells progressing on everolimus, supporting clinical relevance. We show that ONC201/TIC10 mechanism in metastatic ER+ BC cells involves oxidative phosphorylation inhibition and stress response activation. Transcriptomic analysis in everolimus resistant breast patient tumors and mitochondrial functional assays in resistant cell lines demonstrated increased mitochondrial respiration dependency, contributing to ONC201/TIC10 sensitivity. We propose that ONC201/TIC10 and modulation of mitochondrial function may provide an effective add-on therapy strategy for patients with metastatic ER+ BCs resistant to mTOR inhibitors.