Pregnancy Loss: A possible link between olfaction and miscarriage
Unexplained repeated pregnancy loss is associated with an altered perception of male odors and differences in brain regions that process smells.
Unexplained repeated pregnancy loss is a poorly understood condition that can cause significant distress and for which no effective treatment exists. Much research to date has focused on dysfunctions of the uterus or hormonal signaling (Saravelos and Regan, 2014), but the possible involvement of the nervous system has not been explored despite the role of the olfactory system in mammalian reproduction being well-documented (Dulac and Torello, 2003).
Exposing female rodents to the smell of adult males can lead to synchronized menstrual cycling (Whitten, 1956) and accelerated sexual maturation (Vandenbergh, 1967), as well as to embryos failing to implant in the uterus (Bruce, 1959). Olfactory cues might also play a role in human reproduction: for instance, the menstrual cycle phase may influence preferences for male odors (Rantala et al., 2006). This presents the possibility that altered neural processing of socially relevant odors, such as the scent of a partner, may be linked to pregnancy loss and other reproductive disorders. Now, in eLife, Noam Sobel (Weizmann Institute of Science) and colleagues – including Liron Rozenkrantz, Reut Weissgross and Tali Weiss as joint first authors – report that women who have experienced unexplained repeated pregnancy loss process the odors of males differently (Rozenkrantz et al., 2020).
The researchers started by measuring the ability of women to discern the body odor of their spouse when presented with three choices – a blank odor, their spouse's odor and a non-spouse odor. Women who had experienced unexplained repeated pregnancy loss (the uRPL group) were almost twice as likely to be able to recognize their spouse's odor as women who had not experienced the condition (the control group). Indeed, women in the control group performed no better than would be expected by chance (Figure 1A). Might this be due to women in the uRPL group simply having a better sense of smell? Rozenkrantz et al. found that women in the uRPL group were only marginally better at discerning odors in general, which suggests that the observed effect may be specific to smells that are socially important. Moreover, women in the uRPL group rated non-spousal odors differently from women in the control group in terms of perceived intensity, pleasantness, sexual attraction and fertility, again indicating that olfactory processing is altered in women who have experienced the condition.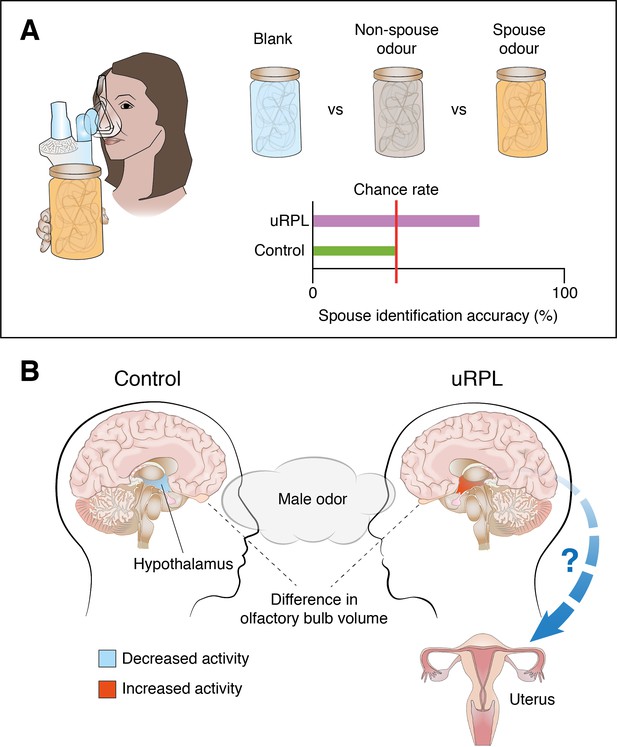 Rozenkrantz et al. next asked whether these differences in olfactory performance and perception were also reflected in brain form and function. Magnetic resonance imaging (MRI) showed that the olfactory bulb – the first brain structure that relays olfactory information from the nose – was significantly smaller in women in the uRPL group than in women in the control group (Figure 1B). This is a striking finding since smaller olfactory bulbs have previously been linked to poorer olfactory performance (Rombaux et al., 2010).
Rozenkrantz et al. next addressed whether the observed differences in the perception of male odors were reflected in altered brain activity. For this purpose, women from the uRPL and control groups were presented with non-spouse male odors while watching arousing movie clips in an MRI scanner. The initial analysis focused on the hypothalamus, a small but critical structure deep in the brain that links olfactory and reproductive functions. Rozenkrantz et al. found that activity in the hypothalamus increased in women from the uRPL group exposed to non-spouse male odor, while it decreased in women from the control group (Figure 1B). Additionally, exposure to non-spouse male odor increased correlated activity between the hypothalamus and the insula (an area in the cortex) significantly more in the control group than in the uRPL group. The link between these two brain areas may facilitate odor-based kin recognition (Lundström et al., 2009).
Overall, these experiments provide compelling evidence that women who have experienced unexplained repeated pregnancy loss perceive socially important odors in a different way, and that this is associated with specific changes in brain structure and function. However, this latest work does not reveal causal links between olfaction and the condition, and further research is needed to establish whether these differences in perception arise as a consequence of experiencing multiple miscarriages or whether they are present beforehand.
Rozenkrantz and colleagues – who are based at the Weizmann Institute of Science, the Edith Wolfson Medical Center and the Sheba Medical Center – also discuss conceptual similarities to the Bruce effect, a phenomenon first described in rodents, where pregnancy is terminated in females exposed to the scent of an unfamiliar male (Bruce, 1959). Since women in the uRPL group perceived non-spouse odors differently, this could be linked to an increased risk of miscarriage via a similar mechanism. However, the Bruce effect in rodents relies on brain structures that are nonexistent or vestigial in humans, casting doubts on the existence of this phenomenon in humans. Finally, it is also possible that partners of women experiencing unexplained repeated pregnancy loss might have a unique scent that contributes to repeated miscarriages. Exploring the possible mechanisms linking olfaction with unexplained pregnancy loss will thus be an important direction for future studies.
Article and author information
Author details
© 2020, Borak and Kohl
This article is distributed under the terms of the Creative Commons Attribution License, which permits unrestricted use and redistribution provided that the original author and source are credited.
2,756

Page views

95

Downloads

0

Citations
Article citation count generated by polling the highest count across the following sources: Crossref, PubMed Central, Scopus.
A two-part list of links to download the article, or parts of the article, in various formats.
Downloads
(link to download the article as PDF)
Open citations
(links to open the citations from this article in various online reference manager services)
Cite this article
(links to download the citations from this article in formats compatible with various reference manager tools)
Neven Borak
Johannes Kohl
Pregnancy Loss: A possible link between olfaction and miscarriage
eLife 9:e62534.
https://doi.org/10.7554/eLife.62534
Further reading
Mammalian olfaction and reproduction are tightly linked, a link less explored in humans. Here, we asked whether human unexplained repeated pregnancy loss (uRPL) is associated with altered olfaction, and particularly altered olfactory responses to body-odor. We found that whereas most women with uRPL could identify the body-odor of their spouse, most control women could not. Moreover, women with uRPL rated the perceptual attributes of men's body-odor differently from controls. These pronounced differences were accompanied by an only modest albeit significant advantage in ordinary, non-body-odor-related olfaction in uRPL. Next, using structural and functional brain imaging, we found that in comparison to controls, most women with uRPL had smaller olfactory bulbs, yet increased hypothalamic response in association with men's body-odor. These findings combine to suggest altered olfactory perceptual and brain responses in women experiencing uRPL, particularly in relation to men's body-odor. Whether this link has any causal aspects to it remains to be explored.

The heterogeneity of white matter damage and symptoms in concussion has been identified as a major obstacle to therapeutic innovation. In contrast, most diffusion MRI (dMRI) studies on concussion have traditionally relied on group-comparison approaches that average out heterogeneity. To leverage, rather than average out, concussion heterogeneity, we combined dMRI and multivariate statistics to characterize multi-tract multi-symptom relationships.

Using cross-sectional data from 306 previously concussed children aged 9–10 from the Adolescent Brain Cognitive Development Study, we built connectomes weighted by classical and emerging diffusion measures. These measures were combined into two informative indices, the first representing microstructural complexity, the second representing axonal density. We deployed pattern-learning algorithms to jointly decompose these connectivity features and 19 symptom measures.

Early multi-tract multi-symptom pairs explained the most covariance and represented broad symptom categories, such as a general problems pair, or a pair representing all cognitive symptoms, and implicated more distributed networks of white matter tracts. Further pairs represented more specific symptom combinations, such as a pair representing attention problems exclusively, and were associated with more localized white matter abnormalities. Symptom representation was not systematically related to tract representation across pairs. Sleep problems were implicated across most pairs, but were related to different connections across these pairs. Expression of multi-tract features was not driven by sociodemographic and injury-related variables, as well as by clinical subgroups defined by the presence of ADHD. Analyses performed on a replication dataset showed consistent results.

Using a double-multivariate approach, we identified clinically-informative, cross-demographic multi-tract multi-symptom relationships. These results suggest that rather than clear one-to-one symptom-connectivity disturbances, concussions may be characterized by subtypes of symptom/connectivity relationships. The symptom/connectivity relationships identified in multi-tract multi-symptom pairs were not apparent in single-tract/single-symptom analyses. Future studies aiming to better understand connectivity/symptom relationships should take into account multi-tract multi-symptom heterogeneity.

Financial support for this work came from a Vanier Canada Graduate Scholarship from the Canadian Institutes of Health Research (G.I.G.), an Ontario Graduate Scholarship (S.S.), a Restracomp Research Fellowship provided by the Hospital for Sick Children (S.S.), an Institutional Research Chair in Neuroinformatics (M.D.), as well as a Natural Sciences and Engineering Research Council CREATE grant (M.D.).

Gustatory sensory neurons detect caloric and harmful compounds in potential food and convey this information to the brain to inform feeding decisions. To examine the signals that gustatory neurons transmit and receive, we reconstructed gustatory axons and their synaptic sites in the adult Drosophila melanogaster brain, utilizing a whole-brain electron microscopy volume. We reconstructed 87 gustatory projections from the proboscis labellum in the right hemisphere and 57 from the left, representing the majority of labellar gustatory axons. Gustatory neurons contain a nearly equal number of interspersed pre-and post-synaptic sites, with extensive synaptic connectivity among gustatory axons. Morphology- and connectivity-based clustering revealed six distinct groups, likely representing neurons recognizing different taste modalities. The vast majority of synaptic connections are between neurons of the same group. This study resolves the anatomy of labellar gustatory projections, reveals that gustatory projections are segregated based on taste modality, and uncovers synaptic connections that may alter the transmission of gustatory signals.