Blood Flow: Supplying the sleeping brain
During sleep, the brain experiences large fluctuations in blood volume and altered coupling between neural and vascular signals.
The amount of blood the brain receives is tightly regulated to respond to the metabolic needs of neurons. This 'neurovascular coupling' allows flexible delivery of energy, with blood rushing in when neurons are active (Iadecola, 2017). Many brain imaging techniques rely on this process. Functional magnetic resonance imaging (or fMRI for short), in particular, uses blood oxygenation signals to pinpoint changes in neural activity. Understanding neurovascular dynamics is therefore essential for neuroscience research and the correct interpretation of fMRI measurements.
Sleep profoundly transforms most aspects of brain physiology, including blood oxygenation signals (Horovitz et al., 2008), but its effects on neurovascular dynamics are not well understood. Now, in eLife, Patrick J. Drew and colleagues from Pennsylvania State University – with Kevin Turner as first author – report an in-depth characterization of how blood volume and neurovascular coupling change across arousal states in mice (Turner et al., 2020; Figure 1).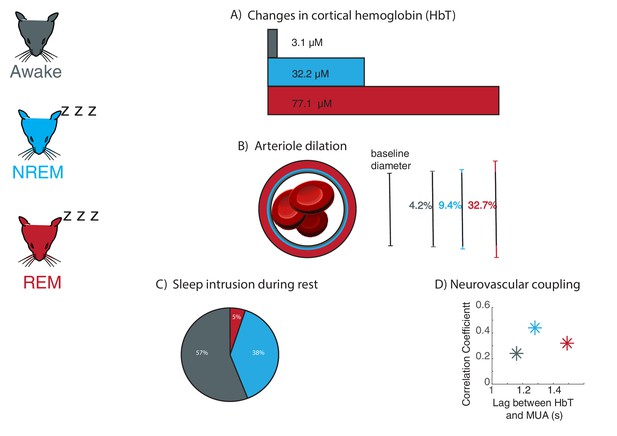 To investigate this question, Turner et al. monitored behavioral, neural, and vascular signals while mice were awake or in non-rapid and rapid eye movement sleep (respectively NREM and REM). The heads of the animals were immobilized to allow imaging. However, mice can still sleep with their eyes open under these conditions, prompting Turner et al. to collect detailed behavioral and physiological measurements to determine sleep stages.
First, intrinsic optical signal imaging was used to infer the amount of hemoglobin, which in turn is correlated with the volume of blood in the brain. This method relies on the light reflection changing with the hemoglobin content, and it revealed large variations in the volume of blood in the brain during sleep. When mice entered NREM sleep, the amplitude of oscillations in hemoglobin levels more than doubled compared to the awake state; during REM sleep, they showed a prolonged increase in total hemoglobin that lasted more than 30 seconds. The amount of total hemoglobin changed drastically as mice woke up or fell asleep, highlighting that blood volume dynamics are coupled with arousal state. Together, these results show that blood volume in the brain fluctuates greatly during sleep.
In addition to these large-scale measurements of hemoglobin, Turner et al. tracked the diameter of tiny vessels known as arterioles. During NREM sleep, arteriole diameters fluctuated greatly, and they increased even further (over tens of seconds) when mice entered REM sleep. These measurements helped to unravel how arterioles, capillaries and veins each contribute to the changes in global blood volume measured by intrinsic optical signal imaging.
Next, Turner et al. examined whether the changes in blood volume during sleep were linked to variations in neural activity, which normally drive fluctuations in the diameter of arterioles (Mateo et al., 2017). This revealed that the strength of the neurovascular coupling changed depending on arousal states, increasing substantially during NREM sleep compared to wakefulness. The timing of the coupling was also altered, with the blood volume response being slower during REM sleep than in the awake state.
Many studies that use head-fixed mice do not systemically assess whether the animals are awake, raising the question of how much time they actually spend asleep. Analyzing all 15 seconds rest periods in which mice had their eyes open showed that they were actually sleeping in nearly half of these intervals. In addition, only measuring heart rate or whisker movements could not reliably identify sleeping periods. These findings suggest that head-fixed imaging studies should include measurements of arousal state to detect if the mice are asleep.
Overall, Turner et al. identify a striking transformation of neurovascular dynamics during sleep: blood volume increases and exhibits large oscillations, and coupling to neural activity is altered. Intriguingly, vascular dynamics during sleep, including variations in blood volume, are much larger than those driven by the well-studied stimuli and behaviors found in the awake state. Why is this the case? In addition to changes in neural activity and cognition, sleep also involves increased waste clearance from the brain, which has been linked to vascular oscillations (Xie et al., 2013; Iliff et al., 2013; Mestre et al., 2018; van Veluw et al., 2020). Thus, these results also help identify the consequences of sleep for the brain, and how blood dynamics may contribute to brain health.
Article and author information
Author details
© 2020, Williams and Lewis
This article is distributed under the terms of the Creative Commons Attribution License, which permits unrestricted use and redistribution provided that the original author and source are credited.
2,719

Page views

220

Downloads

2

Citations
Article citation count generated by polling the highest count across the following sources: Crossref, PubMed Central, Scopus.
A two-part list of links to download the article, or parts of the article, in various formats.
Downloads
(link to download the article as PDF)
Open citations
(links to open the citations from this article in various online reference manager services)
Cite this article
(links to download the citations from this article in formats compatible with various reference manager tools)
Stephanie D Williams
Laura D Lewis
Blood Flow: Supplying the sleeping brain
eLife 9:e64597.
https://doi.org/10.7554/eLife.64597
Further reading
To understand how arousal state impacts cerebral hemodynamics and neurovascular coupling, we monitored neural activity, behavior, and hemodynamic signals in un-anesthetized, head-fixed mice. Mice frequently fell asleep during imaging, and these sleep events were interspersed with periods of wake. During both NREM and REM sleep, mice showed large increases in cerebral blood volume ([HbT]) and arteriole diameter relative to the awake state, two to five times larger than those evoked by sensory stimulation. During NREM, the amplitude of bilateral low-frequency oscillations in [HbT] increased markedly, and coherency between neural activity and hemodynamic signals was higher than the awake resting and REM states. Bilateral correlations in neural activity and [HbT] were highest during NREM, and lowest in the awake state. Hemodynamic signals in the cortex are strongly modulated by arousal state, and changes during sleep are substantially larger than sensory-evoked responses.

Developmental Biology

Neuroscience

Neuronal identity dictates the position in an epithelium, and the ability to detect, process, and transmit specific signals to specified targets. Transcription factors (TFs) determine cellular identity via direct modulation of genetic transcription and recruiting chromatin modifiers. However, our understanding of the mechanisms that define neuronal identity and their magnitude remain a critical barrier to elucidate the etiology of congenital and neurodegenerative disorders. The rodent vomeronasal organ provides a unique system to examine in detail the molecular mechanisms underlying the differentiation and maturation of chemosensory neurons. Here, we demonstrated that the identity of postmitotic/maturing vomeronasal sensory neurons (VSNs), and vomeronasal-dependent behaviors can be reprogrammed through the rescue of Tfap2e/AP-2ε expression in the Tfap2eNull mice, and partially reprogrammed by inducing ectopic Tfap2e expression in mature apical VSNs. We suggest that the TF Tfap2e can reprogram VSNs bypassing cellular plasticity restrictions, and that it directly controls the expression of batteries of vomeronasal genes.

Previously, we developed a novel model for anxiety during motivated behavior by training rats to perform a task where actions executed to obtain a reward were probabilistically punished and observed that after learning, neuronal activity in the ventral tegmental area (VTA) and dorsomedial prefrontal cortex (dmPFC) represent the relationship between action and punishment risk (Park and Moghaddam, 2017). Here, we used male and female rats to expand on the previous work by focusing on neural changes in the dmPFC and VTA that were associated with the learning of probabilistic punishment, and anxiolytic treatment with diazepam after learning. We find that adaptive neural responses of dmPFC and VTA during the learning of anxiogenic contingencies are independent from the punisher experience and occur primarily during the peri-action and reward period. Our results also identify peri-action ramping of VTA neural calcium activity, and VTA-dmPFC correlated activity, as potential markers for the anxiolytic properties of diazepam.