Unique integrated stress response sensors regulate cancer cell susceptibility when Hsp70 activity is compromised
Molecular chaperones, such as Hsp70, prevent proteotoxicity and maintain homeostasis. This is perhaps most evident in cancer cells, which overexpress Hsp70 and thrive even when harboring high levels of misfolded proteins. To define the response to proteotoxic challenges, we examined adaptive responses in breast cancer cells in the presence of an Hsp70 inhibitor. We discovered that the cells bin into distinct classes based on inhibitor sensitivity. Strikingly, the most resistant cells have higher autophagy levels, and autophagy was maximally activated only in resistant cells upon Hsp70 inhibition. In turn, resistance to compromised Hsp70 function required the integrated stress response transducer, GCN2, which is commonly associated with amino acid starvation. In contrast, sensitive cells succumbed to Hsp70 inhibition by activating PERK. These data reveal an unexpected route through which breast cancer cells adapt to proteotoxic insults and position GCN2 and autophagy as complementary mechanisms to ensure survival when proteostasis is compromised.
The many pathways that ensure the maintenance of protein homeostasis (proteostasis) must be tightly regulated to maintain cell function. Several proteostasis pathways are required to fold nascent or damaged proteins or mediate their degradation, which prevents the formation of toxic protein intermediates and aggregates that impair cellular homeostasis (Balch et al., 2008; Mu et al., 2008). The regulation and maintenance of cellular proteostasis is especially vital for cancer cells that thrive under hostile conditions, including anoxia, hypoglycemia, and oxidative stress (Mei et al., 2013; Yan et al., 2015). In addition, cancer cells grow uncontrollably, which requires high levels of protein biosynthesis, and are also aneuploid, producing orphaned proteins that should otherwise reside in multiprotein complexes (Williams and Amon, 2009). Each of these events disturb cellular proteostasis, thereby provoking cellular stress responses. As a result, tumor progression requires proteostasis adaptation and modulation of cellular stress responses (Benbrook and Long, 2012; Cubillos-Ruiz et al., 2017; McConkey, 2017; Wang and Kaufman, 2014).
One proteostatic mechanism to reduce proteotoxic stress is to slow translation. Indeed, reduced translation in cancer cells, which decreases the protein burden, allows for the selective production of proteins required for proliferation, tumor initiation, progression, and metastasis. This phenomenon commonly arises from phosphorylation of the alpha subunit of translation initiation factor 2 (eIF2α) (Blagden and Willis, 2011; Guo et al., 2017; Koromilas, 2015; Wek and Cavener, 2007). In mammals, four kinases, the dsRNA-activated kinase (PKR), the heme-regulated inhibitor (HRI), the general control non-derepressible two factor (GCN2), and the PKR-like ER resident kinase (PERK), promote eIF2α phosphorylation (Harding et al., 2000; Pakos-Zebrucka et al., 2016; Sidrauski et al., 2015). The resulting integrated stress response (ISR) also facilitates cancer cell survival (Darini et al., 2019; Sidrauski et al., 2015; Wek, 2018), yet the role of each of the four ISR transducers in tumor initiation—or in maintenance of cellular homeostasis in most cells—is unclear. Moreover, how a single phosphorylation event integrates multiple stress stimuli and orchestrates different biological outcomes is incompletely understood.
Proteotoxic stress is especially problematic for secretory pathway function. Since cancer cells grow uncontrollably and require copious levels of growth factors, extracellular matrix components, and plasma membrane receptors and transporters, the unfolded protein response (UPR) mitigates the accumulation of toxic misfolded proteins in the endoplasmic reticulum (ER) in the cells (Hetz et al., 2020; Ojha and Amaravadi, 2017; Ron and Walter, 2007; Yan et al., 2015). The UPR is induced by three ER-localized transmembrane sensors, namely inositol-required enzyme 1 (IRE1), activating transcription factor 6 (ATF6), and PERK, which as noted above is also a component of the ISR (Bi et al., 2005; Walter and Ron, 2011). Among other events, the UPR favors the production of pro-folding molecular chaperones, augments protein secretion, and increases ER-associated degradation as well as lipid synthesis, which expands the ER. Together, the ISR and the UPR reestablish proteostasis or can alternatively initiate a cell death pathway if stress cannot be rectified (Bi et al., 2005; Nam and Jeon, 2019; Oyadomari and Mori, 2004; Walter and Ron, 2011). How cancer cells and most other cells avoid ISR/UPR-activated apoptosis is also poorly understood (Cerezo et al., 2016; Cubillos-Ruiz et al., 2017; Lin et al., 2019).
To mitigate misfolded protein toxicity, the activity of the ubiquitin-proteasome and autophagy pathways also rise upon UPR/ISR induction in cancer cells (Clarke et al., 2011; Kim et al., 2015; Schönthal, 2012). These protective pathways additionally favor amino acid recycling and cancer cell survival (Amaravadi et al., 2016; B'chir et al., 2013; Levine and Kroemer, 2008; Ma et al., 2014; Mizushima et al., 2008). Based on the vital roles played by the UPR, ISR, and protein degradation pathways—and their known links to cell proliferation, apoptosis, chemotherapeutic resistance, and metastasis—inhibitors of these pathways represent new therapeutic targets (Deshaies, 2014; Grandjean and Wiseman, 2020; Hazari et al., 2016; Lazova et al., 2012; Sharifi et al., 2016) Molecular chaperones, via their ability to augment protein folding and protect cells from proteotoxic damage, are also induced in cancer cells. In fact, molecular chaperones, such as Hsp70 and Hsp90, are predictors of poor prognoses in cancer patients and have emerged as new therapeutic targets (Calderwood and Gong, 2016; Joshi et al., 2018; Powers et al., 2009; Sannino and Brodsky, 2017; Whitesell and Lindquist, 2005).
Through the application of the Hsp70 inhibitor, MAL3-101, we previously reported that Hsp70 plays a crucial role in the survival of rhabdomyosarcoma, a childhood cancer that is largely refractory to conventional therapies (Sabnis et al., 2016; Sannino et al., 2018). MAL3-101 binds a unique site in Hsp70 where it blocks allosteric activation by the Hsp40 co-chaperone. The compound, a pyrimidinone peptoid, primarily targets cytosolic Hsp70 with minor effects on the activity of the ER resident Hsp70 chaperone, BiP, and lacks toxicity in non-transformed cells and rodents (Adam et al., 2014; Fewell et al., 2004; Patham et al., 2009; Sabnis et al., 2016; Singh et al., 2020; Wisén et al., 2010). MAL3-101-mediated Hsp70 inhibition led to the accumulation of p-eIF2α and CHOP in rhabdomyosarcoma cell lines and in a mouse model, thereby initiating an apoptotic response (Sabnis et al., 2016). Interestingly, components of the autophagy pathway and autophagic flux appeared to be higher in Hsp70 inhibitor resistant cells that were isolated after drug escalation (Sannino et al., 2018). However, the molecular mechanisms that led to Hsp70 inhibitor resistance and thereby rewired the rhabdomyosarcoma proteostasis pathways were unclear. A deeper understanding of how drug resistance arises when cancer cells are challenged with proteostasis inhibitors is critical for enabling future clinical applications.
In contrast to rhabdomyosarcoma, which is relatively rare, breast cancer represents one of the most common causes of death worldwide (Bray et al., 2018; Kohler et al., 2015). Breast cancer is a heterogeneous group of tumors subdivided into luminal, HER2, and Triple Negative Breast Cancer (TNBC) types depending on the expression of the estrogen receptor, progesterone receptor, and epidermal growth factor receptor 2 (HER2) (Bareche et al., 2018; Cancer Genome Atlas Network, 2012; Perou et al., 2000). We now report that breast cancer cells bin into distinct groups when challenged with the specific Hsp70 inhibitor, MAL3-101. Although both resistant and sensitive breast cancer cell lines accumulated p-eIF2α when Hsp70 activity was thwarted, the resistant cells exclusively required the autophagy pathway to survive when challenged with MAL3-101. We then discovered that the ISR sensor, GCN2, was also essential for drug resistance. In contrast, the dual UPR/ISR sensor, PERK, initiated cell death in inhibitor-sensitive cells. These findings delineate distinct roles of ISR inducers in cell survival and highlight the interplay between the ISR/UPR, Hsp70, and protective protein degradation pathways.
Protein homeostasis, that is, proteostasis, balances metabolic demands via protein synthesis with protein quality control, which clears the cell of potentially toxic misfolded proteins (Balch et al., 2008; Jayaraj et al., 2020; Luh and Bertolotti, 2020). In some cancer cells, proteostasis modulation is essential for cell survival, rapid rates of cell division, and metastasis (Nam and Jeon, 2019; Wang and Kaufman, 2014). In this work, we utilized an established allosteric inhibitor of Hsp70-mediated proteostasis, MAL3-101 (Gestwicki and Shao, 2019; Huryn et al., 2011), to explore how cells resist a proteostasis collapse. This goal was justified based on Hsp70's prominent role in almost every branch of the proteostasis pathway. As a model system for these studies, we used breast cancer cells since Hsp70 is overexpressed in metastatic breast cancer, prevents apoptosis, and contributes to the limited efficacy of Hsp90-based treatments in clinical trials (Garrido et al., 2006; Goloudina et al., 2012; Guo et al., 2005; Powers et al., 2010; Powers et al., 2013). Ultimately, our analysis identified a range of sensitivities to MAL3-101 among the tested cell lines. The lines included the main breast cancer subtypes, confirming the heterogeneity of this type of cancer. The focus on Hsp70 in these cancer-derived cells lines also highlights the importance of precision medicine strategies based on tumor proteostasis (Naito and Urasaki, 2018).
Prior work indicated that MAL3-101 primarily targets cytosolic Hsp70, but the activity of the ER resident Hsp70 chaperone, BiP, is also somewhat affected by the drug (Fewell et al., 2004; Patham et al., 2009; Sabnis et al., 2016; Sannino et al., 2018; Singh et al., 2020). Therefore, effects on both cytosolic stress responses as well as the UPR/ISR were anticipated, as shown in the current study. Specifically, we find that Hsp70 inhibition initiates a p-eIF2α-mediated stress response in Hsp70 inhibitor sensitive and resistant lines, suggesting that cancer cells attempt to ameliorate stress by modulating their transcriptomes and proteomes to survive and proliferate. Yet, apoptosis can result if key changes in a new proteostasis set-point cannot be attained. By using archived, well established cancer cell lines, we capitalized on naturally occurring variations in these responses. Indeed, prior work indicated that the ISR/UPR and eIF2α phosphorylation can regulate cancer cell fate, depending on the nature of the stress and metabolic state (Blagden and Willis, 2011; Chiti and Dobson, 2006; Darini et al., 2019; Guo et al., 2017; Kim et al., 2015; Koromilas, 2015; Kouroku et al., 2007; Nam and Jeon, 2019; Pakos-Zebrucka et al., 2016; Travers et al., 2000; Yoshida et al., 2001a; Yoshida et al., 2001b). In this study, we discovered that p-eIF2α signaling elicits an apoptotic response at both the mRNA and protein levels in MAL3-101 sensitive cells. On the other hand, MAL3-101-resistant cells exploit p-eIF2α signaling to augment a specific protein degradation—autophagy—which overcomes the rise in toxic proteins and prevents cell death. In accordance with these findings, induction of autophagy via mTOR inhibition reduced the survival of MAL3-101-sensitive cells in the presence of MAL3-101. The role of autophagy as a pro-survival mechanism is supported further by other studies in which this pathway was shown to confer resistance to chemotherapy, immunotherapy, and HER2- and ER-targeted therapies in breast cancer (Martin et al., 2009; Robainas et al., 2017; Samaddar et al., 2008; Schoenlein et al., 2009; Sui et al., 2013; Tracey et al., 2020; Vazquez-Martin et al., 2009; Zambrano and Yeh, 2016). In addition, we previously reported that lab-generated MAL3-101-resistant rhabdomyosarcoma cells, which were obtained by long-term dose escalation, were partially resensitized to MAL3-101 if autophagy was simultaneously inhibited (Sannino et al., 2018). Together, our study supports the importance of monitoring autophagy efficiency in various cancers in parallel to the development of specific autophagy inhibitors that can be administrated alone or in combination with approved secondary therapies (Amaravadi et al., 2011; Chude and Amaravadi, 2017; Piffoux et al., 2021; Rebecca et al., 2019; Shi et al., 2017).
While the current work employed a cancer cell model, the survival of all cells during homeostatic changes requires proteostasis adaptation through modulation of the ISR and UPR (Grandjean and Wiseman, 2020; Hetz et al., 2020). What is a matter of investigation—and can be specifically investigated by genetic approaches—is the role of each stress sensor in cell survival. To our knowledge, our work highlights the first example in which different ISR sensors dictate unique fates in a specific cell type. While PERK primarily initiates a pro-apoptotic response in MAL3-101 sensitive cells, GCN2 oversees an autophagy-mediated pro-survival mechanism in resistant cells when Hsp70 is inhibited. Specifically, GCN2 knockdown blunted the MAL3-101-dependent induction of autophagy, leading to CHOP accumulation and cell death (Figures 10 and 11). Based on our results, we propose a model (Figure 14) in which Hsp70 inhibition increases the accumulation of unfolded proteins that trigger the ISR. Because GCN2 regulates the amino acid response in a manner that depends on the tRNA-sensing ribosomal P-stalk (Harding et al., 2019; Harding et al., 2003; Inglis et al., 2019; Nakamura et al., 2018; Ye et al., 2010), we reason that Hsp70 inhibition favors the accumulation of unfolded ubiquitinated proteins (Figure 2A; Sannino et al., 2018), thereby limiting amino acid availability and protein translation. Numerous other examples exist in which a rise in unfolded proteins, by inhibiting the ubiquitin-proteasome pathway, similarly activates a starvation response (Fan et al., 2018; Kocaturk and Gozuacik, 2018; Wojcik, 2013).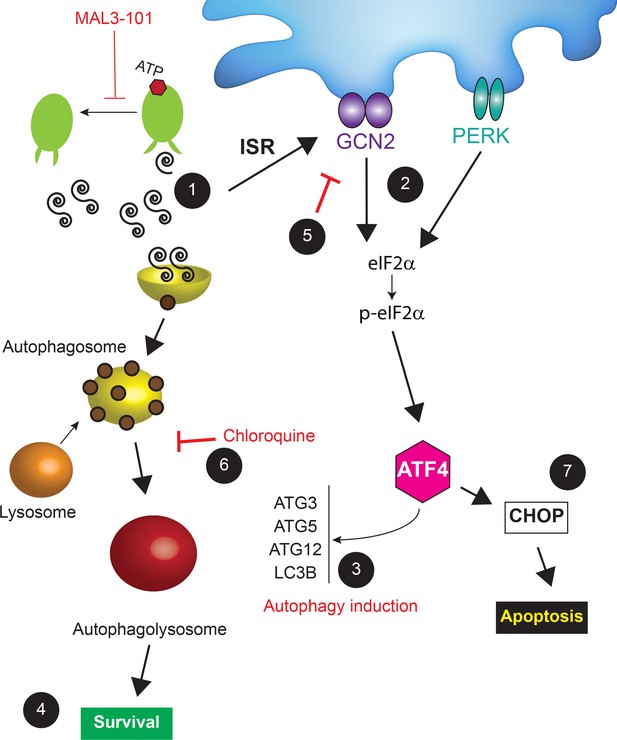 In the resistant cells, we also found that induction of GCN2/p-eIF2α signaling increases the levels of autophagy-related genes when Hsp70 is inhibited, favoring breast cancer cell survival (Figure 12). Accordingly, the GCN2/ATF4 pathway was reported to play a role in the transcriptional activation of autophagy genes such as MAP1LC3B, ATG3, ATG12, and Becn1 upon amino acid starvation (B'chir et al., 2013). In line with the contribution of GCN2 signaling in balancing amino acid availability in resistant cells, asparagine synthetase expression (ASNS) is induced in MAL3-101-resistant cells but not in MAL3-101 sensitive lines when Hsp70 activity is perturbed (data not shown). Also in accordance with our discovery, other reports suggested that GCN2/ATF4 signaling plays a role in the survival and proliferation of cell lines and cancer xenografts under suboptimal growth conditions as a result of amino acid/nutrient deprivation and unbalanced protein synthesis (Harding et al., 2019; Nakamura et al., 2018; Rajanala et al., 2019; Ye et al., 2010). Moreover, GCN2 sustains mTORC1 suppression when amino acids are limited (Ye et al., 2015). Based on our results and these related studies, we conclude that chaperone-mediated proteotoxic stress cannot be attenuated and cancer cell apoptosis is induced when autophagy fails to compensate for Hsp70 inhibition, or when GCN2 activity is impaired.
In summary, we provide evidence that ISR sensors are differentially integrated in proteostasis networks in cancer cells and most likely other cell types. Our work highlights the importance of investigating the interplay between different proteostatic pathways and supports ongoing efforts to modulate GCN2 and eIF2a phosphorylation in cancer (Kardos et al., 2020). The targeted regulation of different ISR pathways will also prove valuable in a range of other maladies, including neurodegenerative disease, retinal degeneration, and ischemia (Chen et al., 2019; Grzmil and Hemmings, 2012; Halliday et al., 2015; Krzyzosiak et al., 2018; Luh and Bertolotti, 2020; Nguyen et al., 2018; Rabouw et al., 2019; Zhu et al., 2019; Zyryanova et al., 2018). In parallel, further investigation and chemical optimization of inhibitors of Hsp70 and other chaperones will augment progress on the development of effective combinatorial treatments for breast cancer (Evans et al., 2010; Joshi et al., 2018).
All data generated or analysed during this study are included in the manuscript and source files.
Integration of autophagy, proteasomal degradation, unfolded protein response and apoptosis

Experimental Oncology 34:286–297.

Deficiency of caspase-3 in MCF7 cells blocks Bax-mediated nuclear fragmentation but not cell death

Clinical Cancer Research 7:1474–1480.