Shore crabs reveal novel evolutionary attributes of the mushroom body
Neural organization of mushroom bodies is largely consistent across insects, whereas the ancestral ground pattern diverges broadly across crustacean lineages resulting in successive loss of columns and the acquisition of domed centers retaining ancestral Hebbian-like networks and aminergic connections. We demonstrate here a major departure from this evolutionary trend in Brachyura, the most recent malacostracan lineage. In the shore crab Hemigrapsus nudus, instead of occupying the rostral surface of the lateral protocerebrum, mushroom body calyces are buried deep within it with their columns extending outwards to an expansive system of gyri on the brain's surface. The organization amongst mushroom body neurons reaches extreme elaboration throughout its constituent neuropils. The calyces, columns, and especially the gyri show DC0 immunoreactivity, an indicator of extensive circuits involved in learning and memory.
Insect mushroom bodies, particularly those of Drosophila, are the most accessible models for elucidating molecular and computational algorithms underlying learning and memory within genetically and connectomically defined circuits (e.g. Aso et al., 2014a; Senapati et al., 2019; Jacob and Waddell, 2020; Modi et al., 2020). An advantage of Drosophila is that it exemplifies a ground pattern organization that is largely consistent across hexapod lineages (Li and Strausfeld, 1997; Ito et al., 1998; Ito et al., 2014; Sinakevitch et al., 2001; Groh and Rössler, 2011; Montgomery and Ott, 2015).
Because of the importance of mushroom bodies in understanding the relevance of synaptic organization in sentience and cognition, recognizing evolutionary divergence of these centers would be expected to yield experimentally testable predictions about evolved modifications of circuitry in relation to ecological demands imposed on the species. However, insect mushroom bodies show a remarkably conserved organization, which makes them relatively unsuited for neuroevolutionary studies. There are some minor exceptions, to be sure: in honey bees and ants, calycal domains receive modality-specific afferents; in beetles, dietary generalists have more elaborate calyces than specialists; in aquatic beetles, a modality switch has replaced olfactory input with a visual input into the calyces (Gronenberg, 2001; Farris and Schulmeister, 2011; Lin and Strausfeld, 2012). Less attention has been given to neural arrangements comprising the mushroom body lobes (columns), although some studies have addressed distinctions in basal groups such as silverfish (Zygentoma), dragonflies and mayflies (Farris, 2005; Strausfeld et al., 2009).
The evolutionary stability of the insect mushroom body contrasts with the recent demonstration that mushroom bodies of malacostracan crustaceans have undergone substantial and often dramatic modification of the mandibulate (ancestral) mushroom body ground pattern (Stegner and Richter, 2011; Wolff and Strausfeld, 2015; Wolff et al., 2017; Strausfeld et al., 2020). Whereas Stomatopoda (mantis shrimps), the sister group of Eumalacostraca, possesses mushroom bodies that correspond to those of insects, equipped with calyces from which arise prominent columns (Wolff et al., 2017), the trend over geological time has been a reduction of those columnar components such that the ancestral ground pattern organization of parallel fibers and orthogonal Hebbian networks has morphed to provide planar arrangements within domed centers lacking columns (Wolff and Strausfeld, 2015; Sayre and Strausfeld, 2019; Strausfeld et al., 2020). These neuronal adaptations, nevertheless, share the property with insect mushroom bodies of being immunopositive to an antibody raised against the catalytic subunit of protein kinase A, encoded by the Drosophila gene DC0, that is required for effective learning and memory (Kalderon and Rubin, 1988; Skoulakis et al., 1993). Antibodies raised against DC0 are reliable identifiers of neuropils mediating learning and memory in arthropods and other phyla (Strausfeld et al., 2009; Wolff et al., 2012; Wolff and Strausfeld, 2015).
Whereas the evolutionary shift from columnar mushroom bodies to noncolumnar homologues is demonstrated across most decapod crustaceans, one lineage has until now defied unambiguous identification of a columnar or even a noncolumnar center. This is Brachyura, known in the vernacular as true crabs, here represented by Hemigrapsus nudus. Brachyura is a comparatively young lineage, recognized from fossils dating from the mid-Jurassic (Schweitzer and Feldmann, 2010; Guinot, 2019). Phylogenomics places the origin of Brachyura also as mid-to-late Jurassic (Wolfe et al., 2019). Brachyura is the most species-rich decapod clade, comprising 6793 currently known species (Ng et al., 2008). It is also a hugely successful lineage; extant species occupy benthic, littoral, estuarine, brackish, fresh water, terrestrial and even arboreal habitats. Many of these ecologies are defined by complex topographies (Hartnell, 1988; Lee, 2015).
Historically, identifying a mushroom body homologue in the crab's brain has been problematic. Claims for homologous centers range from paired neuropils in the brain's second segment, the deutocerebrum, later attributed to the olfactory system (Bethe, 1897), to an insistence that the crab's reniform body is a mushroom body (Maza et al., 2016; Maza et al., 2021). Demonstrated 138 years ago in stomatopod crustaceans, the reniform body is a morphologically distinct center that coexists in the brain's lateral protocerebrum adjacent to its columnar mushroom bodies (Bellonci, 1882; Thoen et al., 2020).
Until the present, observations of the varunid shore crab Hemigrapsus nudus have identified large anti-DC0-reactive domains occupying almost the entire rostral volume of its lateral protocerebrum but no evidence for mushroom bodies (Thoen et al., 2020). The affinity of these domains to anti-DC0 suggested, however, a cognitive center far more expansive than found in any other arthropod of comparable size, with the possible exception of the domed mushroom body of the land hermit crab Coenobita clypeatus (Wolff et al., 2012). Here we demonstrate that in the shore crab there are indeed paired mushroom bodies. But these have been 'hiding in plain sight,' having undergone an entirely unexpected neurological transformation that is opposite to the evolutionary trend toward a domed noncolumnar morphology shown in other lineages.
Here, we provide evidence at the level of neuronal arrangements showing that in the shore crab paired mushroom bodies have undergone an evolved transformation that is possibly unique to Arthropoda. They are inverted: their calyces reside deep within the lateral protocerebrum, a location allowing outward expansion of the mushroom body columns, which reach expanded cortex-like folds beneath the brain's surface. The entire disposition of the shore crab's mushroom bodies is opposite to that of any other crustacean, or insect, in which the calyces are situated under the rostral surface of the lateral protocerebrum with their columns extending downwards into deeper neuropil (Strausfeld et al., 2009; Wolff et al., 2017; Sayre and Strausfeld, 2019).
Traits defining neuronal organization demonstrate that the mushroom bodies of Stomatopoda phenotypically correspond to those defining the mushroom bodies of Drosophila (Wolff et al., 2017). The following description uses complementary methods that resolve those traits in Hemigrapsus nudus. Reduced silver staining demonstrates spatial arrangements of calycal and columnar neuropils and their detailed neuroarchitecture. Osmium-ethyl gallate treatment of intact brains resolves neuronal densities; and serial sections of these preparations provide the three-dimensional reconstructions shown throughout this account (see Materials and methods). Golgi mass-impregnations enable crucial insights into the exceptionally elaborate organization of mushroom body intrinsic neurons, identified as the phenotypic homologues of insect Kenyon cells. Immunohistology has been used to resolve DC0-immunopositive components of the mushroom body calyces and columns, and antibodies raised against GAD (glutamic acid decarboxylase) reveal putative levels of local inhibition. Antibodies raised against tyrosine hydroxylase (TH) and 5-hydroxytryptophan (5HT) demonstrate arborizations consistent with those of output and input neurons intersecting different levels of the Drosophila and stomatopod mushroom body columns.
We show that despite the varunid mushroom body's unparalleled intricacy and its unique transformation of the ancestral ground pattern, its defining traits nevertheless demonstrate phenotypic homology with the mushroom bodies of insects and those of other crustaceans. We close with a Discussion proposing that the evolution of such intricacy, and the expansion of the lateral protocerebrum to accommodate mushroom body enlargement, is likely to have contributed novel circuits and, ultimately, to cognitive flexibility permitting varunid Brachyura to exploit complex ecological topographies at the interface of marine and terrestrial biotopes.
The Results are organized into eight sections, the first describing the overall location and structure of the varunid mushroom body. This is followed by the identification of its neural components and their arrangements as elaborate networks comprising the paired calyces. Descriptions of the internal organization of the calyces' rostral extensions, and their two prominent columns, culminates with an explanation of the cortex-like organization of overlying gyri to which the columns project. The final observations address the relationship of the mushroom body to the reniform body, a center common to malacostracan crustaceans. To provide a three-dimensional understanding of this highly intricate system, descriptions refer to locations and arrangements within a reconstructed lateral protocerebrum and its major components (see Materials and methods).
Unique organization of the varunid mushroom body
Studies by Hanström in the 1920s and 1930s on the brains of malacostracan crustaceans concluded that mushroom bodies equipped with calyces and columns (lobes), as they are in insects and mantis shrimps (Bellonci, 1882), have been reduced in decapods to columnless centers lying immediately beneath the rostral surface of the lateral protocerebrum. Recent comparisons of the brains of reptantian decapods have confirmed that its lineages share the evolutionary trend of reduction and loss of the mushroom body column (Sayre and Strausfeld, 2019). Those mushroom bodies nevertheless retain most elements of ancestral networks: diffusely arranged in Axiidea, Astacidea, and Achelata (Sayre and Strausfeld, 2019), but precisely stratified in terrestrial and marine Anomura (hermit crabs: Harzsch and Hansson, 2008; Wolff et al., 2012; Sayre and Strausfeld, 2019).
Ocypodidae (fiddler crabs) and Varunidae (shore crabs), two lineages of Brachyura (true crabs), do not conform to this trend. As demonstrated previously and again here, large DC0-positive domains cover much of the varunid lateral protocerebrum, suggesting relatively large (for an arthropod) learning and memory neuropils (Strausfeld et al., 2020). The proposition that the reniform body is the crab's mushroom body (Maza et al., 2016; Maza et al., 2021) is refuted by Golgi impregnations and 3D reconstructions of the lateral protocerebrum demonstrating the reniform body as entirely distinct from the huge DC0-positive mushroom body adjacent to it (Figure 13). Similarity, conjunction, and congruence are established criteria for assessing phenotypic homology (Patterson, 1988). In all the lineages where reniform bodies have been identified these criteria exclude it as mushroom body homologue.
That the brachyuran mushroom body has until now remained unrecognized can be attributed to its unexpected and radical reorganization. Even its population of conservatively estimated 22,000 densely packed globuli cells is not where it would be expected to be. Based on observations of other pancrustaceans, the expectation is that globuli cells are clustered over the rostral surface of the lateral protocerebrum, close to where it joins the eyestalk nerve (see Sayre and Strausfeld, 2019). But in Hemigrapsus nudus the globuli cell cluster is sandwiched between the lobula and the lateral protocerebrum. As in the shore crab Carcinus maenas, where new neurons are generated lifelong in the antennular lobes and lateral protocerebrum (Schmidt, 1997; Hansen and Schmidt, 2001), osmium-ethyl gallate histology on H. nudus indicates that new globuli cells also continue to proliferate, as do neurons supplying the reniform body (Maza et al., 2016). In addition to the unique disposition of the globuli cells, the reorganization has inverted the entire mushroom body such that its two voluminous calyces are deeply buried in the rostral domain of the lateral protocerebrum where they receive inputs from the deutocerebrum's olfactory lobes and the protocerebrum's optic lobes.
We show here that each calyx gives rise to a large column extending outwards and merging with broad overlying gyri that form the rostral surface of the lateral protocerebrum. The gyri are pillowed into folds and sulci thus forming a cortex-like architecture. This system receives additional afferent supply and gives rise to ensembles of pyramidal cell-like efferent neurons, the axons of which extend to the eyestalk nerve. Throughout this massive structure, the mushroom body and its gyri are strongly immunoreactive to antibodies raised against DC0.
Although the crab mushroom body appears vastly different from the right-way-up 'traditional' insect or stomatopod homologue (Figure 14), it nevertheless shares their defining traits. For example, intrinsic neurons originating from globuli cells contribute to the brachyuran calyces and columns, as do the Kenyon cells of an insect mushroom body (Figure 14A,B). As in stomatopods, shrimps, and insects, the axon-like processes of intrinsic cells are clustered in their respective fascicles, as they are in any one of the longitudinal divisions of the insect mushroom body columns, where short intermingling collaterals can provide orthogonal connectivity (Sjöholm et al., 2005; Strausfeld et al., 2003; Tanaka et al., 2008). Other longitudinal divisions of the varunid mushroom body column are populated by intrinsic processes that interweave to provide rectilinearity, as they do in one of the two mushroom body columns of the shrimp Lebbeus groenlandicus (Sayre and Strausfeld, 2019), or in the stratified dome-like mushroom body of hermit crabs (Wolff and Strausfeld, 2015). We show here that true crabs express the whole panoply of intrinsic cell arrangements. These include segregated and intermingling 'parallel fibers' as in Stomatopoda or the core lobe (column) of Drosophila (Wolff et al., 2017; Strausfeld et al., 2003); rectilinear networks that extend part way into a column from the calyx; dense arrangements of intrinsic processes extending across the columns comparable to certain neurons populating the mushroom body column in honey bees or crickets (Strausfeld, 2002; Hamanaka and Mizunami, 2019); and arrangements comparable to the longitudinal laminations of the mushroom body lobes (columns) of Dictyoptera and Lepidoptera (Sinakevitch et al., 2001; Sjöholm et al., 2005). In short, the crab mushroom body column appears to embody all known arrangements across Pancrustacea. If each arrangement of a specific type of intrinsic neurons represents a distinct computational property, as suggested from studies of honeybees and fruit flies (Perisse et al., 2013; Traniello et al., 2019), then the crab would appear to be singularly well-equipped. The same applies to its calycal arrangements, which in H. nudus are elaborate and discretely partitioned into territories denoted by different morphologies of intrinsic neurons and afferents. This zonal organization corresponds to the more compact and highly ordered modality-specific domains typifying hymenopteran calyces (Gronenberg, 2001), and, to a lesser extent, Drosophila calyces as well (Yagi et al., 2016; Li et al., 2020a).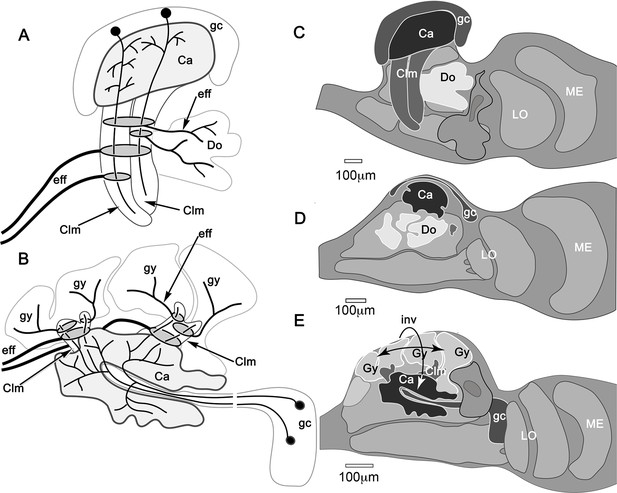 The varunid lateral protocerebrum has two calyces, each providing a massive column. This doubling of the calyx has many precedents. In the stomatopod lateral protocerebrum there are four adjacent columns, each associated with a distinct ensemble of globuli cells and hence a calyx. That organization has been compared to the Drosophila mushroom body, which is a composite neuropil of four hemi-mushroom bodies derived from four clonal lineages, as it is in the honey bee (Ito et al., 1997; Farris et al., 2004; Wolff et al., 2017). Consequently, the mushroom bodies in an insect's lateral protocerebrum are paired but completely fused. The varunid has two calyces in immediate contact, but not quite fused as no intrinsic neuron has been seen that extends its field of processes into both. Only one calyx (Ca2) appears to receive input from a tract of axons carrying relays from the medulla and from the reniform body. Such an asymmetric input to twin calyces is not unique: a comparable arrangement is found in the Drosophila mushroom body, where visual inputs terminate in an 'accessory calyx' attached to one side of the fused calyx (Vogt et al., 2016; Li et al., 2020b). A similar arrangement involving visual inputs has been described from the swallowtail butterfly (Kinoshita et al., 2015).
Of particular note is the extensive organization of GAD-immunoreactive arborizations that extend into every domain of the H. nudus calyces. These provide dense systems of minute processes, the dispositions of which would allow synaptic contact with every neuronal process supplying a microglomerulus. Accepting that varunid intrinsic neurons correspond to insect Kenyon cells, these GAD-immunoreactive systems suggest correspondence with wide-field anaxonal inhibitory neurons that extend throughout the Drosophila calyx ('APL neurons': Liu and Davis, 2009; Amin et al., 2020). Consequently, such putatively inhibitory anaxonal neurons in the crab suggest a global role in local synaptic inhibition at microglomeruli. Arrangements of aminergic neurons in the calyces and columns further correspond to mushroom body input and output neurons recognized in Drosophila (Aso et al., 2014b; Owald et al., 2015). It is also notable that highly localized and densely branching TH- and 5HT-immunoreactive neurons occur at different levels of the crab's calyces. These correspond to similar dispositions of immunoreactive neurons in the layered calyces of columnar mushroom bodies, including those of stomatopods and shrimps (Wolff et al., 2017; Sayre and Strausfeld, 2019). Neurons in the Hemigrapsus mushroom body having the same immunoreactive signatures are associated with columns, from their origin at the calyces out to the level of their 'fuzzy' interface with gyri and also in the gyri. Their successive levels in a column approximate the arrangements of output neurons from successive partitions of insect mushroom bodies, as exemplified in cockroaches and Drosophila (Li and Strausfeld, 1997; Tanaka et al., 2008; Aso et al., 2014b); and in crustaceans by the successive fields of efferent neurons in the mushroom bodies of Stomatopoda, Stenopodidea, and Caridea (Wolff et al., 2017; Sayre and Strausfeld, 2019; Strausfeld et al., 2020).
Is the organization of gyri an outlier, and what is its homologue in other lineages?
Comparisons of the varunid brain with those of other pancrustaceans meet an impasse when considering the lateral protocerebrum's system of gyri, a cortex-like feature that appears to be special to Brachyura. As described above, there is no obvious terminus of a mushroom body column: its efferent neurons merge with systems of local interneurons in the gyri and, with these local interneurons, they extend amongst the dendrites of efferent neurons that leave the gyri. If these arrangements do not correspond to organization in other pancrustaceans and mandibulates, then what developmental events might have given rise to such a departure from the reptantian ground pattern?
Three developmental studies on the malacostracan lateral protocerebrum should be noted. Two demonstrate early stages of the formation of the larval lateral protocerebrum, in which there is not yet evidence for morphogenetic reorganization in what will become the lateral protocerebrum (Harzsch and Dawirs, 1996; Sintoni et al., 2007). The third demonstrates that massive reorganization and new generation of neuropils can accompany late development in the pelagic larva (Lin and Cronin, 2018). All of those authors have indicated that crustaceans can undergo radical metamorphosis during the change from a pelagic larva to a preadult, the larval stage providing pools of neural precursor cells for subsequent development. Those precursors would likely contribute not only to the formation and differentiation of adult centers in the lateral protocerebrum but also to any taxon-specific morphogenic rearrangements.
Might the relationship of the insect mushroom body with the rest of the brain suggest an origin for the gyri? In insects, many of the mushroom body efferent neurons terminate in neuropils of the superior medial protocerebrum (honeybee: Strausfeld, 2002; cockroach: Li and Strausfeld, 1997, Li and Strausfeld, 1999; Drosophila: Ito et al., 1998; Tanaka et al., 2008; Aso et al., 2014a; Aso et al., 2014b). This is the most rostral part of the forebrain in insects, comprising dense networks of local interneurons that are interposed between the terminals of mushroom body outputs and the dendrites of interneurons whose axons terminate in successive strata of the central complex's fan-shaped body (Phillips-Portillo and Strausfeld, 2012). A comparable arrangement in crustaceans with eyestalks requires that efferent neurons (particularly TH-immunoreactive MBONs) from the mushroom bodies extend axons from that distant origin into the midbrain's superior protocerebrum. These connections are suggested by silver-stained brains of H. nudus showing numerous axons from the eyestalk nerve directly targeting the medial protocerebrum. This speaks against the gyri being medial neuropils displaced distally.
One possible interpretation of the gyri is that they represent enormously expanded versions of tubercles, swollen ends of a column typifying mushroom bodies of certain caridid shrimps (in Stenopodidae and Thoridae: Sayre and Strausfeld, 2019) and insects (Zygentoma, Ephemeroptera: Farris, 2005). Tubercles of caridid (or insect) mushroom bodies are compact, comprising tangled extensions of intrinsic neuron processes associated with a concentrated system of TH- and 5HT-immunoreactive processes intersecting that level of the column. Those arrangements are absent from gyri. Although there are TH- and 5HT-immunoreactive fields in gyri, these do not appear to interact with intrinsic fibers in the columns. Nevertheless, that gyri are as strongly DC0-immunoreactive as the calyces and columns suggests that they play crucial roles in memory acquisition and, or, maintenance. There is one gyrus (pGy), however, that is not obviously DC0-immunoreactive and is quite distinct from the others (Figure 11A,B,F). This gyrus is situated most proximally, near the entry of the olfactory globular tract into the lateral protocerebrum from the eye stalk nerve. It is denoted by its association with allatostatin-positive processes. Its afferent supply suggests a role in olfaction, but its sensory associations and roles in behavior await functional studies.
Far more elaborated than a tubercle, gyri comprise many morphologically distinct types of neurons, including efferents of unknown antigenicity. The presence in gyri of local interneurons and rectilinear networks further indicates an identity that is indirectly associated with the mushroom body. A clue is suggested by other Reptantia, in which certain mushroom body outputs target neuropils at deep levels of the lateral protocerebrum (Mellon et al., 1992a; Mellon et al., 1992b; McKinzie et al., 2003). If these less well-studied neuropils became inverted, they would overlie the inverted brachyuran mushroom bodies as do the gyri (Figure 14B,E). In that scenario, the relationship between a mushroom body and its target neuropils is essentially the same as in other reptantians (Figure 14D), except a consequence of inversion is that those neuropils have been able to undergo unparalleled lateral expansion and gyrification.
The varunid mushroom body in the context of pancrustacean evolution and cognition
The organization of traits defining mushroom bodies is phenotypically identical in stomatopods and insects (Wolff et al., 2017). The same characters have since resolved divergent homologues in all malacostracan crustaceans except Brachyura, the most recent lineage of decapod crustaceans (Wolfe et al., 2019). By identifying and describing the mushroom body of the shore crab, the present study completes the survey of mushroom body diversification and phenotypic correspondences, thereby enabling future transcriptomic verification or rejection.
In considering the possible significance of the varunid mushroom body being larger and more elaborate than that of any other pancrustacean, it is relevant to consider a well-studied proxy that shares with mushroom bodies circuit and genetic correspondences, as well as cognitive properties. For example, it has been suggested that the cerebellum, caudal to the vertebrate midbrain-hindbrain boundary, would be a fitting proxy because of comparable arrangements of parallel fibers (Schürmann, 1987; Farris, 2011; Li et al., 2020a). However, mushroom bodies are situated rostral to the arthropod brain's deutocerebral-tritocerebral boundary. A homologous location is occupied by the hippocampi, rostral to the vertebrate midbrain-hindbrain boundary (Bridi et al., 2020). Mushroom bodies and hippocampi are restricted, respectively, to the protocerebrum and its vertebrate homologue the telencephalon (Hirth and Reichert, 1999). Neuroanatomical arrangements that are intensely immunoreactive to antibodies against DC0 are shared by the hippocampus and mushroom bodies. At least 16 orthologous genes are required for the same functions in both (Wolff and Strausfeld, 2016). Gene expression profiling of early mushroom body development in Drosophila and of the murine pallium resolve further correspondences (Tomer et al., 2010).
A range of behaviors supported by both the insect mushroom bodies and hippocampus relate to allocentric memory, recall of place, and the use of space (Krebs et al., 1989; López et al., 2003; Salas et al., 2003; Ladage et al., 2009; Montgomery et al., 2016; van Dijk et al., 2017). Insects that are permitted explorative foraging acquire enlarged mushroom bodies compared with constrained siblings, a property also pertaining to the hippocampus (Basil et al., 1996; Montgomery et al., 2016; van Dijk et al., 2017). As is true for mammalian and avian hippocampi voluminous mushroom bodies indicate a species' reliance on spatial or social cues (Healy and Krebs, 1992; Withers et al., 1993; Withers et al., 2008; Ott and Rogers, 2010; Molina and O'Donnell, 2007; Molina and O'Donnell, 2008). Hippocampal lesions impair place memory (Day et al., 2001; Clark et al., 2005), as do lesions of mushroom bodies (Mizunami et al., 1998; Buehlmann et al., 2020; Kamhi et al., 2020). The volume and neuronal complexity of mushroom bodies in insects also relates to species with highly developed spatial cognition (cockroaches, hymenopterans; Strausfeld et al., 2009). The enormous mushroom bodies of varunid crabs suggest comparable cognitive properties relating to space. Shore crabs are opportunistic generalists that live at the interface of two biotopes, marine and terrestrial (Jacoby, 1981). They are adept at learning complex tasks (Tomsic and Romano, 2013), such as maze learning (Davies et al., 2019), organizing 'ad hoc' collaborative actions, establishing social status (Kaczer et al., 2007; Tanner and Jackson, 2012), and retaining acquired motor skills (Hughes and O'Brien, 2001). Operant conditioning and the retention of contextual memories suggest considerable intelligence (Abramson and Feinman, 1990; Pereyra et al., 1999).
The present description of the varunid mushroom body concludes studies establishing that divergent evolution of the crustacean mushroom body maps to specific malacostracan lineages. These findings offer hitherto unexplored opportunities for relating divergent cognitive centers to specific ecologies and behavioral repertoires required to negotiate them.
Source data are preserved on vibratome immunostained sections maintained at 4° C in investigator's laboratory (NJS). Likewise, original data of selectively impregnated neurons (Golgi material) and silver stains are curated and maintained in the NJS laboratory.
Nuove ricerche Sulla struttura del ganglio ottico della Squilla mantis

Memorie Della Accademia Delle Scienze dell'Istituto Di Bologna, Serie 4 Tomo 3:419–426.

Immunocytochemical detection of acetylated α-tubulin and Drosophila synapsin in the embryonic crustacean nervous system

International Journal of Developmental Biology 41:477–484.

The Drosophila mushroom body is a quadruple structure of clonal units each of which contains a virtually identical set of neurones and glial cells

Development 124:761–771.

The organization of extrinsic neurons and their implications in the functional roles of the mushroom bodies in Drosophila melanogaster Meigen

Learning & Memory 5:52–77.

Invertebrate synapsins: a single gene codes for several isoforms in Drosophila

The Journal of Neuroscience 16:3154–3165.

Characterization of oscillatory olfactory interneurons in the protocerebrum of the crayfish

Journal of Experimental Biology 167:5–38.

Systema brachyurorum: part I. An annotated checklist of extant brachyuran crabs of the world

Raffles Bulletin of Zoology Supplement Series 17:1–286.

Book

The architecture of the mushroom bodies and related neuropils in the insect brain

In: Gupta A. P, editors. Arthropod Brain: Its Evolution, Development, Structure, and Functions. New York: John Wiley & Sons. pp. 231–264.

Book

A multidisciplinary approach to learning and memory in the crab Neohelice (Chasmagnathus) granulata

In: Menzel R, Benjamin P. R, editors. Handbook of Behavioral Neuroscience. Academic Press. pp. 337–355.
Ronald L Calabrese

Senior and Reviewing Editor; Emory University, United States

Pedro Martinez Serra

Reviewer; University of Barcelona ICREA, Spain
In the interests of transparency, eLife publishes the most substantive revision requests and the accompanying author responses.
Acceptance summary:
Arthropod mushroom bodies are high-order integrating centers involved in learning and memory. In this paper Strausfeld and Sayre analyze the detailed architecture of the mushroom body in a shore crab (Brachyura) as the most recent chapter of a comprehensive treatise on crustacean brain evolution. They show how this architecture is very different from that present in many other arthropod groups; providing a clear example of how anatomical structures can vary in different animals to better cope with their specific lifestyles. The emerging picture of homology and divergence of crustacean mushroom bodies is of substantial value for two reasons: 1) it provides a solid framework for continued evolutionary and functional studies at the molecular, developmental, and behavioral levels. 2) comparative neuroscience is critically important for accurate generalization of findings in genetic model species that currently dominate in neuroscience research.
Decision letter after peer review:
Thank you for submitting your article "Shore crabs reveal novel evolutionary attributes of the mushroom body" for consideration by eLife. Your article has been reviewed by three peer reviewers, and the evaluation has been overseen Ronald Calabrese as the Senior and Reviewing Editor. The following individuals involved in review of your submission have agreed to reveal their identity: Sarah Farris (Reviewer #1); Pedro Martinez Serra (Reviewer #2); Charles Derby (Reviewer #3).
The reviewers have discussed the reviews with one another and the Reviewing Editor has drafted this decision to help you prepare a revised submission.
We would like to draw your attention to changes in our revision policy that we have made in response to COVID-19 (https://elifesciences.org/articles/57162). Specifically, we are asking editors to accept without delay manuscripts, like yours, that they judge can stand as eLife papers without additional data, even if they feel that they would make the manuscript stronger. Thus the revisions requested below only address clarity and presentation.
Summary:
Arthropod mushroom bodies are high-order integrating centers involved in learning and memory. In this paper Strausfeld and Sayre analyze the detailed architecture of the mushroom body in a shore crab (Brachyura) as the most recent chapter of a comprehensive treatise on crustacean brain evolution. They show how this architecture is very different from that present in many other arthropod groups; providing a clear example of how anatomical structures can vary in different animals to better cope with their specific lifestyles. The emerging picture of homology and divergence of crustacean mushroom bodies is of substantial value for two reasons: 1) it provides a solid framework for continued evolutionary and functional studies at the molecular, developmental, and behavioral levels. 2) comparative neuroscience is critically important for accurate generalization of findings in genetic model species that currently dominate in neuroscience research.
Minor points:
The reviewers have identified a number of minor concerns that must be addressed before publication.
Reviewer #1:
I have no major comments or criticisms, only a few suggestions as listed below.
Throughout: I am curious about the rostral, proximal cells that are DC0 positive and the proximal gyrus that is DC0 +AT positive. Could they be associated with each other? Although they are designated MBONs I am skeptical as MBONs are typically not DC0 positive. They are reminiscent of Y-tract Kenyon cells in the Lepidoptera- cell bodies separate from main mass of granule cells, possibly producing a separate neuropil with their dendrites (if proximal gyrus is indeed associated with them).
Figure legends, figures, and text sometimes do not match up, for example:
Results: describe the pedestal of the reniform body but it is not indicated in either figure of Figure 1—figure supplement 1;
The Results describe projection neurons to the LPC in the AGT, which is labeled as the OGT in the figure and legend;
Another pass through the figures/legends/text would clear up any other discrepancies.
Introduction: what is a Hebbian network? Is any network that is capable of associative synaptic plasticity a Hebbian network?
Introduction, eighth paragraph: remove "of".
Add "the" "…ecological topographies at the interface…"
Subsection "The varunid lateral protocerebrum", second paragraph: replace "is" with "are".
Add "and" "…situated laterally and constrained to a volume".
Subsection "The varunid lateral protocerebrum", last paragraph: Confusing phrasing suggests that mushroom body axons are carried to the midbrain via the eyestalk nerve (I assume this is referring to efferents).
"Salient both in osmium ethyl gallate stained brains" The other part of both is not indicated (I assume referring to reduced silver staining).
Subsection "Neuronal organization of the calyces", fourth paragraph: replace "of" with "in".
Space between "calyx 2".
Unclear phrase "at a level limited to their emergence from the calyces a small part of their initial length".
Merge sentences "difficult to discern in reduced silver, in part because…".
Figure 9 legend: correct spelling (supplying).
Subsection "The reniform body", last paragraph: is DC0/PKA expression sufficient to define a learning and memory center?
Discussion: Unclear what pyramidal-like means; are they similar to pyramidal cells (?) in morphology, connectivity some other way?
Discussion: correct spelling "accessory".
Figure 3—figure supplement 1 legend: should be afferent terminals or fibers.
Reviewer #2:
The paper is well written and clear. The experimental details and the description of tracts, neuronal processes, and network connections are exhaustive. The evolutionary discussion is particularly interesting, though I would prefer to have a hypothetical scenario on how the specific structure and position of the brachyuran mushroom body has arisen within the crustacea, or eventually, within the Arthropoda (if the authors can provide any).
There are some minor issues that I have to note:
1) There are several typos (or misspelled words) through the text. Please, give another careful read to the text.
2) The name of the species used does not appear until the end of the Introduction. Please provide this name in the Abstract and early in the Introduction; otherwise, the reader needs to wait unduly to discover which species is the target of the paper.
Other comments pertaining to the general presentation of the work:
While, as mentioned, the anatomical description of the mushroom body is exceptional (the Golgi impregnations are spectacular), one is left with the impression that the "proof" that the structures that are constitutive parts of a mushroom body (a center that integrates sensory information) are functioning as such. Needless to say, homology propositions should (if possible) include structural and functional data.
In this context, it would have been nice to have complementary imaging assays on output responses to specific stimulus; a functional approach taken already in crabs by Maza et al. in 2020. Moreover, the lack of tracing experiments, allowing the visualization of projections to the mushroom body substructures does not allow the identification of the afferent tracks providing the sensory information to it.
Other comments that would be important to address:
The lack of resolution (in general) provided by 3D reconstructions make difficult to appreciate the relative disposition of some structures. I would suggest helping the reader by providing a diagram with the positions of key structures such as: Ca1, Ca2, Ca1Gy1, Ca1Gy2, gct1, and gct2. The diagram should include the medial and rostral axis for orientation. Figure 10 gives a partial solution to the problem, though a diagram would be clearer.
We are told that in Figure 10 there is a "synapsin-actin" labelled section. Is that correct? I cannot see any panel with that staining method; while I do see this method used in Figure 3.
The authors have used previously antibodies against DC0, phosphorylated CaMKII (pCAMKII), and Leo in other animals to identify the mushroom body; why not all of them also here?
The Discussion of the results is exhaustive (I am particularly impressed by the discussion of the gyri system). However, I missed a very specific discussion on the terminology and characteristics of the brachyuran mushroom body. I am thinking specifically of a discussion of the data provided by Maza and co-authors. To the point, a similar study in the crab species Neohelice granulata (done by Maza and collaborators) has raised some controversy on the specific nature of the mushroom body and its components in the Brachyura. Since the view of Strausfeld and collaborators is at the center of these polemical interpretations, it would be important that the authors delve a little bit more into their different views about crab's mushroom bodies in this paper.
I find Figure 1—figure supplement 1 to be a good illustration of the Hemigrapsus brain, and thus, suggest that the authors incorporate it into the article text, perhaps as an introductory diagram to the discussion of the results. The incorporation of a Drosophila scheme would be particularly useful for those of us that are better acquainted with the fly mushroom body.
All in all, this is an excellent paper on a particularly interesting topic-the evolutionary history of nervous system architectures. Further work into the cellular components (cell type diversity) and the patterning mechanisms that organize the different subdomains should provide us with the necessary insights into the development of the varunid mushroom body.
Reviewer #3:
Add "the": "at the level of neuronal arrangements".
There is something wrong with the sentence "the following description of uses…"
"Stomatopod" should be lower case (unless you want to use "Stomatopoda").
Subsection "The calyces and their origin from globuli cells", end of second paragraph: this finding of neurogenesis in the LP is interesting. It is barely mentioned, though. Perhaps expand, and discuss? Also, neurogenesis in a similar region was described in the shore crab Carcinus maenas by Schmidt, 1997, and Hansen and Schmidt, 2001.
"a small clusters of cell bodies" should be corrected.
"The origin.… are" should be corrected.
"protocerebra" rather than "protocebra".
References:
In the references, there are many species names that should be in italics;
Spelling should be "Animal Behaviour";
Correct the spelling of "Neuroscience".
Figure 1—figure supplement 1 legend:
"antennular nerve" rather than "antennule nerve" – for parallel construction with "antennal nerve" (rather than (antenna nerve);
Shouldn't "medial" be "medina"?;
Add the missing "(";
"divides" should be "divide".
Figure 3—figure supplement 1 legend: "Afferent terminals fibers" should be corrected.
Figure 4—figure supplement 1 legend: "intrinsic neurons fields" should be corrected.
Figure 7—figure supplement 1 legend: "neuron" should be "neurons".
https://doi.org/10.7554/eLife.65167.sa1
The reviewers have identified a number of minor concerns that must be addressed before publication.
We have adopted the changes required, and we have followed all but one of the suggestions. We have introduced the species name Hemigrapsus nudus in the Abstract and early in the Discussion. We have followed the advice of the second reviewer and promoted Figure 1—figure supplement 1 into the main body of the paper where it is now Figure 1. The same has been done for Figure 2—figure supplement 1, which is now Figure 4, responding to the comments of the third reviewer. The existing figures have been renumbered accordingly and references to them in the text are adjusted accordingly. These figure numbers are self-evident and do not appear as red mark-ups although the relevant legends do.
Responding to a question from reviewer 1, at this stage of our studies we are unable to identify further traits that might suggest correspondence of the proximal allatostatin containing gyrus to the Y-tract of lepidopteran mushroom bodies. Concerns regarding proximal large perikarya, many of which are DC0 positive, are appropriate and we have responded to these. Our interpretation of them as MBONs is based on Golgi-impregnated morphologies of neurons originating from that cell cluster, the branches of which appear to spread across gyri associated with the calyces and lobes. DC0-immunoreactive axons have been identified extending from those levels into the eyestalk nerve and we have added an inset showing this in what is now Figure 2. The image suggests that some of these neurons may have the status of efferent neurons. Further exploration is required to determine if this is accurate. In the interest of caution we have changed the putative identity of MBONs in this figure to a more neutral status of DC0-positive cell bodies (DC0cbs). All other corrections requested by reviewer 1 have been made.
We agree with the second reviewer that a future aim of studies on brachyuran (and other crustacean) brains should be to employ calcium imagining of sensory induced activity. This is our intention in the longer term. The entire lateral protocerebrum is accessible for optical imaging, as already shown by Maza et al., 2020, the description of which is cited in the present references. Likewise, there is much to be done with regard to tracing all of the afferent supply to the mushroom bodies and efferent from them, not just of this taxon but also of others that are available for experimentation (at present limited due to current conditions), and our focus on evolutionary divergence. A start on that undertaking by us (Strausfeld et al., 2020) demonstrated the ready accessibility of these lateral brain regions by virtue of their disposition in the eyestalk.
The second reviewer suggested the addition of a line diagram that would clarify some of the 3D reconstructions. On first reading this we were puzzled, as our considerable investment in generating a 3D model was specifically geared to demonstrate the elaborate relationships described here. However, on further scrutiny we realized that a critical layer of what was originally Figure 11 had been accidentally inverted such that the gyri ended up unrelated to their respective calyces. This demonstrated how intently the reviewer must have studied this figure, and the perplexity that it generated. This figure has now been corrected to show the accurate relationships of all parts of mushroom bodies and the accompanying reniform body, as well as their correct medial, rostral, and ventral axes (see the revised illustrations, now Figure 13). A supplementary figure for Figure 13 has been added showing a schematic of the relationship between the two calyces and their cognate gyri.
Reviewer 2 proposed that we further reflect on two papers by Maza and colleagues, working on another varunid crab species, that claim a different set of neuropils constituting the crab's mushroom body (Maza et al., 2016, 2020, both cited). However, consideration of these differences requires considerable discussion and it has the potential of opening a Pandora's box of dissenting opinions; and, as remarked by the second reviewer, unnecessary polemics. In the present work we simply state that the identification of a center by Maza et al. corresponds to the center identified by Bellonci in 1882 as the reniform body. Bellonci discovered this in the mantis shrimp, where he also discovered the first example of a crustacean mushroom body. He described the two as distinct. The same center in crabs has, however, been given the identity of a mushroom body by Maza et al., despite Thoen et al., 2019, and others pointing out that this interpretation is insecure: our remark in the discussion of the present work is that "similarity, conjunction, and congruence are established criteria for assessing phenotypic homology (Patterson, 1988)." The present work distinguishes the reniform body from the mushroom body. In other lineages, where mushroom bodies accompanied by reniform bodies have been identified Patterson's criteria exclude the latter as a mushroom body homologue (expressio unius; exclusio alterius). This is unlikely to put the matter to rest, however, and the box will eventually have to be opened as a separate commentary that will include those other lineages.
We know from pleasing experience that the third reviewer is meticulous in inspecting manuscripts and we thank him for his scrutiny of this one; and, also for pointing out two important papers of adult neurogenesis in crabs. Reference to these has been added to the Results section and both references have contributed to remarks in the Discussion.
https://doi.org/10.7554/eLife.65167.sa2
Article and author information
Author details
National Science Foundation (1754798)
The funders had no role in study design, data collection and interpretation, or the decision to submit the work for publication.
The research described here is supported by the National Science Foundation under Grant No. 1754798 awarded to NJS. Our gratitude is once again directed to Daniel Kalderon, Columbia University, New York, for supplying the DC0 antibodies, as he has during the last decade and longer. We thank the staff of the University of Washington's Friday Harbor Marine Laboratories, San Juan, for their unfailing help in obtaining living specimens. Briana Olea-Rowe and Hannah Joy Miller provided expert technical assistance. Students and trainees have, over a number of years, made significant contribution to histological material contributing to this research. We have profited from discussions and advice from Wulfila Gronenberg (University of Arizona) and Frank Hirth (Kings College, University of London) and are indebted to Camilla Strausfeld for her advice, critically discussing versions of the manuscript, suggesting many improvements and meticulously editing the text. We also thank the three reviewers for providing constructively helpful suggestions.
Senior and Reviewing Editor
Ronald L Calabrese, Emory University, United States
Sarah Farris
Pedro Martinez Serra, University of Barcelona ICREA, Spain
Charles Derby
© 2021, Strausfeld and Sayre
This article is distributed under the terms of the Creative Commons Attribution License, which permits unrestricted use and redistribution provided that the original author and source are credited.
627

Page views

65

Downloads

5

Citations
Article citation count generated by polling the highest count across the following sources: Crossref, PubMed Central, Scopus.
A two-part list of links to download the article, or parts of the article, in various formats.
Downloads
(link to download the article as PDF)
Open citations
(links to open the citations from this article in various online reference manager services)
Cite this article
(links to download the citations from this article in formats compatible with various reference manager tools)
Nicholas Strausfeld
Marcel E Sayre
Shore crabs reveal novel evolutionary attributes of the mushroom body
eLife 10:e65167.
https://doi.org/10.7554/eLife.65167
Further reading
Ecology
Evolutionary Biology

Groups of animals inhabit vastly different sensory worlds, or umwelten, which shape fundamental aspects of their behaviour. Yet the sensory ecology of species is rarely incorporated into the emerging field of collective behaviour, which studies the movements, population-level behaviours, and emergent properties of animal groups. Here, we review the contributions of sensory ecology and collective behaviour to understanding how animals move and interact within the context of their social and physical environments. Our goal is to advance and bridge these two areas of inquiry and highlight the potential for their creative integration. To achieve this goal, we organise our review around the following themes: (1) identifying the promise of integrating collective behaviour and sensory ecology; (2) defining and exploring the concept of a 'sensory collective'; (3) considering the potential for sensory collectives to shape the evolution of sensory systems; (4) exploring examples from diverse taxa to illustrate neural circuits involved in sensing and collective behaviour; and (5) suggesting the need for creative conceptual and methodological advances to quantify 'sensescapes'. In the final section, (6) applications to biological conservation, we argue that these topics are timely, given the ongoing anthropogenic changes to sensory stimuli (e.g. via light, sound, and chemical pollution) which are anticipated to impact animal collectives and group-level behaviour and, in turn, ecosystem composition and function. Our synthesis seeks to provide a forward-looking perspective on how sensory ecologists and collective behaviourists can both learn from and inspire one another to advance our understanding of animal behaviour, ecology, adaptation, and evolution.

Changes in an organism's environment, genome, or gene expression patterns can lead to changes in its metabolism. The metabolic phenotype can be under selection and contributes to adaptation. However, the networked and convoluted nature of an organism's metabolism makes relating mutations, metabolic changes, and effects on fitness challenging. To overcome this challenge, we use the long-term evolution experiment (LTEE) with E. coli as a model to understand how mutations can eventually affect metabolism and perhaps fitness. We used mass spectrometry to broadly survey the metabolomes of the ancestral strains and all 12 evolved lines. We combined this metabolic data with mutation and expression data to suggest how mutations that alter specific reaction pathways, such as the biosynthesis of nicotinamide adenine dinucleotide, might increase fitness in the system. Our work provides a better understanding of how mutations might affect fitness through the metabolic changes in the LTEE and thus provides a major step in developing a complete genotype–phenotype map for this experimental system.

Ecology
Evolutionary Biology

Temperature determines the geographical distribution of organisms and affects the outbreak and damage of pests. Insects seasonal polyphenism is a successful strategy adopted by some species to adapt the changeable external environment. Cacopsylla chinensis (Yang & Li) showed two seasonal morphotypes, summer-form and winter-form, with significant differences in morphological characteristics. Low temperature is the key environmental factor to induce its transition from summer-form to winter-form. However, the detailed molecular mechanism remains unknown. Here, we firstly confirmed that low temperature of 10 °C induced the transition from summer-form to winter-form by affecting the cuticle thickness and chitin content. Subsequently, we demonstrated that CcTRPM functions as a temperature receptor to regulate this transition. In addition, miR-252 was identified to mediate the expression of CcTRPM to involve in this morphological transition. Finally, we found CcTre1 and CcCHS1, two rate-limiting enzymes of insect chitin biosyntheis, act as the critical down-stream signal of CcTRPM in mediating this behavioral transition. Taken together, our results revealed that a signal transduction cascade mediates the seasonal polyphenism in C. chinensis. These findings not only lay a solid foundation for fully clarifying the ecological adaptation mechanism of C. chinensis outbreak, but also broaden our understanding about insect polymorphism.