Remodeling Synapses: From mice to men
All-trans retinoic acid induces functional and structural plasticity of synapses in human cortical circuits through the engagement of the spine apparatus.
Over the last decade, the synapses that connect neurons have emerged as important therapeutic targets in a host of neurological disorders ranging from autism to Alzheimer's disease. Synaptic signaling can either excite or inhibit the postsynaptic neuron, and the vast majority of excitatory synapses in the mammalian brain rely on structures called dendritic spines (Figure 1). The 'head' of each dendritic spine contains receptors for the chemical neurotransmitter glutamate, which is released by the presynaptic neuron. Neurons can contain different types of glutamate receptors, but the AMPA-type glutamate receptor (AMPAR) is responsible for the majority of fast synaptic transmission and also controls the strength of the synapse.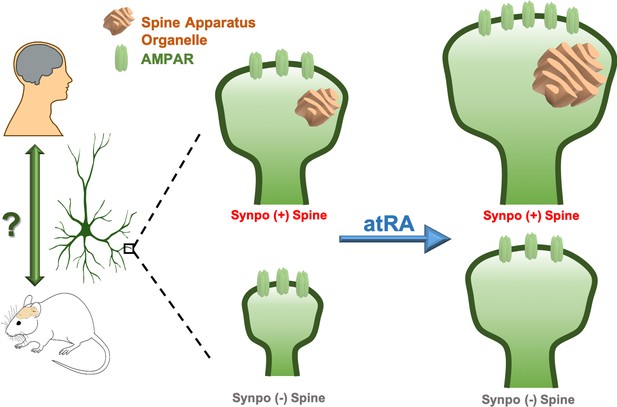 Many forms of synaptic plasticity – the process that allows specific synapses to become stronger or weaker over time – rely on the addition and removal of AMPARs (Diering and Huganir, 2018). These changes are often accompanied by an increase or decrease in the size of the dendritic spine head (Matsuzaki et al., 2004). Changes in synapse number or strength are a pathological hallmark of several diseases, including neurodevelopmental disorders and Alzheimer's disease (Forrest et al., 2018), which means that molecules that can consistently modify synapses are attractive as potential therapeutics. Among the most promising of these is a derivative of vitamin A called all-trans retinoic acid, which can potently increase synaptic strength in cultured rodent neurons (Aoto et al., 2008). This molecule appears to function as part of a homeostatic pathway that engages the protein translation machinery in dendritic spines to increase the strength of synapses when synaptic input drops (Jakawich et al., 2010; Wang et al., 2011).
Since all-trans retinoic acid is a potent synaptic regulator with a well-defined mechanism of action, it offers tremendous promise to guide therapeutic development for disorders characterized by synaptic dysfunction. But the critical question is whether these effects and mechanisms are readily translatable to the human brain. Now, in eLife, Andreas Vlachos of the University of Freiburg and colleagues – including Maximilian Lenz as first author – report striking parallels between human and rodent neurons in the synaptic effects of all-trans retinoic acid (Lenz et al., 2021).
The researchers prepared slices from surgically resected brain tissue from patients undergoing neurosurgery to ask whether all-trans retinoic acid has the same effects on human pyramidal neurons from layer 2/3 of the cortex as it has on rodent neurons. They found that the molecule enhanced synaptic currents, without altering many other features of neuronal excitability. Along with these changes, Lenz et al. found that all-trans retinoic acid drove enlargement of dendritic spine heads, but the overall density of dendritic spines did not change: this suggests that all-trans retinoic acid drives AMPAR accumulation and structural plasticity at pre-existing synaptic sites. Finally, Lenz et al. demonstrated that the changes in synaptic strength induced by all-trans retinoic acid in human neurons depended on mRNA translation but not on transcription, a mechanistic signature first seen in rodent neurons.
Next, Lenz et al. – who are based at the University of Freiburg and Goethe-University Frankfurt – explored the relationship between synaptic modulation by all-trans retinoic acid and the spine apparatus, an organelle that is present in a subset of dendritic spines and whose function has remained enigmatic (Jedlicka and Deller, 2017). They found that all-trans retinoic acid enlarged the spine apparatus and, strikingly, that the cross-sectional area of the spine apparatus varied with the size of the dendritic spine itself. This suggests that the spine apparatus might have a key role in the modulation of synaptic strength by all-trans retinoic acid.
To test this hypothesis, Lenz et al. examined the effects of all-trans retinoic acid in synaptopodin knockout mice, which lack the spine apparatus. They found that all-trans retinoic acid did not enhance synaptic currents in cortical pyramidal neurons in the knockout mice; however, when synaptopodin was reintroduced, all-trans retinoic acid was able to increase synaptic currents. Curiously, losing the spine apparatus did not prevent all-trans retinoic acid from enlarging dendritic spines, even though spine size was reduced in the synaptopodin knockout mice.
These results suggest that the spine apparatus helps regulate synaptic architecture, but that all-trans retinoic acid can induce structural remodeling of synapses independently of this organelle. This finding was particularly intriguing because the enlargement of spines and the enhancement of synaptic function often go hand-in-hand. These results underscore the fact that while morphological and functional changes are highly coordinated at cortical synapses, they likely rely on distinct mechanistic pathways.
These results provide a clear answer as to whether the effects of all-trans retinoic acid in rodents can be translated to humans. The molecule is a potent regulator of excitatory synapses in human cortical neurons and uses a mechanism for synaptic regulation that appears largely conserved from rodents to humans. The work of Lenz et al. also raises some important questions about the role of the spine apparatus in the regulation of synapses by all-trans retinoic acid in particular, and by other modulators more generally.
It is tempting to speculate that the spine apparatus may be part of a satellite secretory pathway that delivers locally-translated membrane proteins, such as AMPARs, in dendrites. However, future studies are needed to address the specific role of the spine apparatus relative to other secretory mechanisms that might also operate in dendrites (Pierce et al., 2001; Mikhaylova et al., 2016).
Article and author information
Author details
© 2021, Althaus and Sutton
This article is distributed under the terms of the Creative Commons Attribution License, which permits unrestricted use and redistribution provided that the original author and source are credited.
887

Page views

85

Downloads

0

Citations
Article citation count generated by polling the highest count across the following sources: Crossref, PubMed Central, Scopus.
A two-part list of links to download the article, or parts of the article, in various formats.
Downloads
(link to download the article as PDF)
Open citations
(links to open the citations from this article in various online reference manager services)
Cite this article
(links to download the citations from this article in formats compatible with various reference manager tools)
J Christian Althaus
Michael A Sutton
Remodeling Synapses: From mice to men
eLife 10:e67895.
https://doi.org/10.7554/eLife.67895
Further reading
A defining feature of the brain is the ability of its synaptic contacts to adapt structurally and functionally in an experience-dependent manner. In the human cortex, however, direct experimental evidence for coordinated structural and functional synaptic adaptation is currently lacking. Here, we probed synaptic plasticity in human cortical slices using the vitamin A derivative all-trans retinoic acid (atRA), a putative treatment for neuropsychiatric disorders such as Alzheimer's disease. Our experiments demonstrated that the excitatory synapses of superficial (layer 2/3) pyramidal neurons underwent coordinated structural and functional changes in the presence of atRA. These synaptic adaptations were accompanied by ultrastructural remodeling of the calcium-storing spine apparatus organelle and required mRNA translation. It was not observed in synaptopodin-deficient mice, which lack spine apparatus organelles. We conclude that atRA is a potent mediator of synaptic plasticity in the adult human cortex.

Midbrain and striatal dopamine signals have been extremely well characterized over the past several decades, yet novel dopamine signals and functions in reward learning and motivation continue to emerge. A similar characterization of real-time sub-second dopamine signals in areas outside of the striatum has been limited. Recent advances in fluorescent sensor technology and fiber photometry permit the measurement of dopamine binding correlates, which can divulge basic functions of dopamine signaling in non-striatal dopamine terminal regions, like the dorsal bed nucleus of the stria terminalis (dBNST). Here, we record GRABDA signals in the dBNST during a Pavlovian lever autoshaping task. We observe greater Pavlovian cue-evoked dBNST GRABDA signals in sign-tracking (ST) compared to goal-tracking/intermediate (GT/INT) rats and the magnitude of cue-evoked dBNST GRABDA signals decreases immediately following reinforcer-specific satiety. When we deliver unexpected rewards or omit expected rewards, we find that dBNST dopamine signals encode bidirectional reward prediction errors in GT/INT rats, but only positive prediction errors in ST rats. Since sign- and goal-tracking approach strategies are associated with distinct drug relapse vulnerabilities, we examined the effects of experimenter-administered fentanyl on dBNST dopamine associative encoding. Systemic fentanyl injections do not disrupt cue discrimination but generally potentiate dBNST dopamine signals. These results reveal multiple dBNST dopamine correlates of learning and motivation that depend on the Pavlovian approach strategy employed.

The cell bodies of postganglionic sympathetic neurons innervating the heart primarily reside in the stellate ganglion (SG), alongside neurons innervating other organs and tissues. Whether cardiac-innervating stellate ganglionic neurons (SGNs) exhibit diversity and distinction from those innervating other tissues is not known. To identify and resolve the transcriptomic profiles of SGNs innervating the heart, we leveraged retrograde tracing techniques using adeno-associated virus (AAV) expressing fluorescent proteins (GFP or Td-tomato) with single cell RNA sequencing. We investigated electrophysiologic, morphologic, and physiologic roles for subsets of cardiac-specific neurons and found that three of five adrenergic SGN subtypes innervate the heart. These three subtypes stratify into two subpopulations; high (NA1a) and low (NA1b and NA1c) neuropeptide-Y (NPY) -expressing cells, exhibit distinct morphological, neurochemical, and electrophysiologic characteristics. In physiologic studies in transgenic mouse models modulating NPY signaling, we identified differential control of cardiac responses by these two subpopulations to high and low stress states. These findings provide novel insights into the unique properties of neurons responsible for cardiac sympathetic regulation, with implications for novel strategies to target specific neuronal subtypes for sympathetic blockade in cardiac disease.