Skin Immunity: A new player in the dermis
Langerhans-like cells located in the dermis can travel to lymph nodes where they modulate immune responses.
The skin is part of the first line of defense protecting the body from infection. It harbors a range of immune cells, including Langerhans cells (Langerhans, 1868). Initially thought to be part of the nervous system, Langerhans cells play an important role in the defense against pathogens (Schuler and Steinman, 1985).
Due to their characteristic, branch-like morphology, Langerhans cells are considered a subset of dendritic cells, which are bone-marrow derived leucocytes. As such, Langerhans cells have been thought to play an important role in detecting and transporting antigens (signature molecules from pathogens) to the lymph nodes and presenting them to other immune cells such as naïve T cells to initiate an immune response (Kubo et al., 2009).
However, it has been shown that enhanced antigen-specific immune responses in the skin can occur even in the absence of Langerhans cells (Bennett et al., 2005). Moreover, recent cell-fate mapping studies and gene expression analyses have revealed that Langerhans cells derive from the embryo rather than the bone marrow and have properties closer to macrophages than dendritic cells. Dubbed 'macrophages in dendritic clothing', the migratory capacity of Langerhans cells to travel from the epidermis to skin-draining lymph nodes has, however, been considered exceptional, especially since macrophages do not leave the tissues they reside in (Doebel et al., 2017).
Now, in eLife, Christiane Ruedl and colleagues at the Zhejiang University School of Medicine, the Nanyang Technological University and the Malaghan Institute of Medical Research – including Jianpeng Sheng as first author – report a new paradigm of Langerhans cells (Sheng et al., 2021). Sheng et al. tracked immune cells in the skin of mice and discovered that unlike other dendritic cells, Langerhans cells do not migrate to the lymph nodes.
Previously, dendritic cells in the skin have been classified into Langerhans cells, which reside in the epidermis, and three other types dendritic cells located in the dermis (Figure 1; Malissen et al., 2014). Sheng et al. have found a fourth population of dendritic cells in the dermis, which turned out to look a lot like Langerhans cells, and named them Langerhans-like cells. These lookalikes shared many signature genes with Langerhans cells.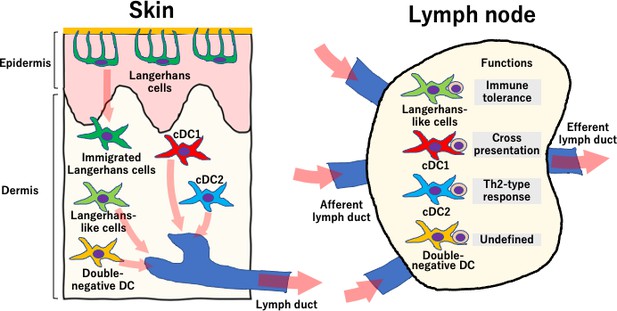 Fate-mapping analyses of the bone marrow of mice confirmed that similar to Langerhans cells, Langerhans-like cells were resistant to radiation (which most immune cells are not). However, the lookalikes were gradually replaced by adult bone-marrow cells, suggesting that Langerhans-like cells are derived both from embryonic and adult bone marrow, while Langerhans cells are of embryonic origin.
Notably, Sheng et al. found only Langerhans-like cells, but not Langerhans cells, in the skin-draining lymph nodes, suggesting it is the lookalike cells that are able to travel. Moreover, using transgenic mice that can deplete Langerhans cells, Sheng et al. demonstrated that the lookalikes were found both in the skin and lymph nodes. This indicates that Langerhans cells and lookalike cells are indeed independent cell populations.
Previous research has shown that depending on the circumstances, Langerhans cells may be involved both in inducing dermatitis or reducing inflammation in the skin (Rajesh et al., 2019; Otsuka et al., 2018; Honda et al., 2019). Consistent with previous research, Sheng et al. demonstrated that removing Langerhans cells prolonged skin inflammation against hapten, a small molecule that can cause contact dermatitis (Kaplan et al., 2005). On the other hand, only Langerhans-like cells were able to develop an immune tolerance (that is, unresponsiveness) towards hapten. This may be relevant for maintaining an immunological tolerance to harmless substances in the absence of any obvious inflammation and help maintain homeostasis of the skin. These results indicate that Langerhans cells and Langerhans-like cells have distinct roles in skin immunity.
The finding that epidermal Langerhans cells do not appear to travel to skin-draining lymph nodes comes as a surprise and raises several questions. While Sheng et al. also identified 'immigrated Langerhans cells' in the dermis, it remains unclear if they play any role in this location and whether this is indeed their last destination. Also, if Langerhans cells do not migrate to the lymph nodes, how do they pass antigens to other dendritic cells in the skin?
Characterizing the distinct role of each dendritic cell population in the skin has long been one of the central goals of skin immunology. It will be interesting to see if the findings of Sheng et al. also apply to human skin and whether any counterparts of Langerhans-like cells can be identified there. A better understanding of the different roles of dendritic cells in the skin would certainly be beneficial for the development of treatments for various inflammatory skin disorders.
Article and author information
Author details
© 2021, Egawa and Kabashima
This article is distributed under the terms of the Creative Commons Attribution License, which permits unrestricted use and redistribution provided that the original author and source are credited.
4,553

Page views

307

Downloads

1

Citations
Article citation count generated by polling the highest count across the following sources: Crossref, PubMed Central, Scopus.
A two-part list of links to download the article, or parts of the article, in various formats.
Downloads
(link to download the article as PDF)
Open citations
(links to open the citations from this article in various online reference manager services)
Cite this article
(links to download the citations from this article in formats compatible with various reference manager tools)
Gyohei Egawa
Kenji Kabashima
Skin Immunity: A new player in the dermis
eLife 10:e68979.
https://doi.org/10.7554/eLife.68979
Further reading
Immunology and Inflammation

Dendritic cells residing in the skin represent a large family of antigen-presenting cells, ranging from long-lived Langerhans cells (LC) in the epidermis to various distinct classical dendritic cell subsets in the dermis. Through genetic fate mapping analysis and single-cell RNA-sequencing, we have identified a novel separate population of LC-independent CD207+CD326+ LClike cells in the dermis that homed at a slow rate to the lymph nodes (LNs). These LClike cells are long-lived and radio-resistant but, unlike LCs, they are gradually replenished by bone marrow-derived precursors under steady state. LClike cells together with cDC1s are the main migratory CD207+CD326+ cell fractions present in the LN and not, as currently assumed, LCs, which are barely detectable, if at all. Cutaneous tolerance to haptens depends on LClike cells, whereas LCs suppress effector CD8+ T-cell functions and inflammation locally in the skin during contact hypersensitivity. These findings bring new insights into the dynamism of cutaneous dendritic cells and their function opening novel avenues in the development of treatments to cure inflammatory skin disorders.

Immunology and Inflammation

The co-expression of inhibitory receptors (IRs) is a hallmark of CD8+ T-cell exhaustion (Tex) in people living with HIV-1 (PLWH). Understanding alterations of IRs expression in PLWH on long-term antiretroviral treatment (ART) remains elusive but is critical to overcoming CD8+ Tex and designing novel HIV-1 cure immunotherapies. To address this, we combine high-dimensional supervised and unsupervised analysis of IRs concomitant with functional markers across the CD8+ T-cell landscape on 24 PLWH over a decade on ART. We define irreversible alterations of IRs co-expression patterns in CD8+ T cells not mitigated by ART and identify negative associations between the frequency of TIGIT+ and TIGIT+ TIM-3+ and CD4+ T-cell levels. Moreover, changes in total, SEB-activated, and HIV-1-specific CD8+ T cells delineate a complex reshaping of memory and effector-like cellular clusters on ART. Indeed, we identify a selective reduction of HIV-1 specific-CD8+ T-cell memory-like clusters sharing TIGIT expression and low CD107a that can be recovered by mAb TIGIT blockade independently of IFNγ and IL-2. Collectively, these data characterize with unprecedented detail the patterns of IRs expression and functions across the CD8+ T-cell landscape and indicate the potential of TIGIT as a target for Tex precision immunotherapies in PLWH at all ART stages.

Genetics and Genomics
Immunology and Inflammation

Age-associated DNA methylation in blood cells convey information on health status. However, the mechanisms that drive these changes in circulating cells and their relationships to gene regulation are unknown. We identified age-associated DNA methylation sites in six purified blood-borne immune cell types (naive B, naive CD4+ and CD8+ T cells, granulocytes, monocytes, and NK cells) collected from healthy individuals interspersed over a wide age range. Of the thousands of age-associated sites, only 350 sites were differentially methylated in the same direction in all cell types and validated in an independent longitudinal cohort. Genes close to age-associated hypomethylated sites were enriched for collagen biosynthesis and complement cascade pathways, while genes close to hypermethylated sites mapped to neuronal pathways. In silico analyses showed that in most cell types, the age-associated hypo- and hypermethylated sites were enriched for ARNT (HIF1β) and REST transcription factor (TF) motifs, respectively, which are both master regulators of hypoxia response. To conclude, despite spatial heterogeneity, there is a commonality in the putative regulatory role with respect to TF motifs and histone modifications at and around these sites. These features suggest that DNA methylation changes in healthy aging may be adaptive responses to fluctuations of oxygen availability.