Antidepressants: Where ketamine and dopamine collide
Ketamine strengthens connections between two brain regions that are involved in the production and regulation of dopamine, which may explain how the drug can alleviate depression.
1987 was a watershed year in the history of antidepressants, with Prozac being the first selective serotonin reuptake inhibitor drug to be approved for use in the US. Prozac and other drugs that limit the reuptake of neurotransmitters such as serotonin, norepinephrine and dopamine would dominate the market for the next three decades. These treatments were marked improvements over their predecessors, but it has become clear that they are not the silver bullet they were once touted to be: moderate efficacy, insensitive populations, and untenable side effects have all limited their clinical utility (Warden et al., 2007).
Enter Ketamine. First synthesized over 75 years ago, this small, unassuming compound had so far been relegated to veterinary clinics as a pet anesthetic, while also doubling as a club drug that could induce dissociation and euphoria. In the early 2000s, however, reports started to emerge suggesting that a single dose of ketamine could have profound and lasting antidepressant effects (Berman et al., 2000). After over a decade of research, the US Food and Drug Administration (FDA) finally approved ketamine, in the form of 'esketamine', for the treatment of depression (Carboni et al., 2021). However, the mechanisms that drive the antidepressant effects of ketamine are poorly understood: this is unusual for an FDA-approved drug, although not unheard of for molecules used to treat affective disorders such as depression. How can a compound used to anesthetize cats or induce a psychedelic-like high have clinical utility?
Dopamine, the so-called 'pleasure or reward neuromodulator', is indispensable for regulating responses to rewards such as delicious foods, sex or addictive substances; however, it has also been implicated in certain mood disorders (Berridge, 2018). In fact, the emergence of depression has been linked to disruption in the activity of the dopamine-producing neurons present in the ventral tegmental area (VTA) of the brain, but few studies have examined whether ketamine elicits its antidepressant effects by altering the activity of these cells (Hamon and Blier, 2013). Now, in eLife, Yevgenia Kozorovitskiy and colleagues at Northwestern University – including Mingzheng Wu as first author – report how ketamine can strengthen brain circuits that include the VTA (Wu et al., 2021).
The researchers used a 'learned helplessness' experimental mouse model which mimics the blunted behavioral or emotional reactions that are one of the hallmarks of depression (Bylsma et al., 2008). The rodents were repeatedly exposed to mild electric shocks to the foot that were impossible to escape: over time, they learn that it was pointless to try to avoid this stressor, and they froze rather than try to escape. Antidepressants – including ketamine, as Wu et al. now show – alleviate this helplessness and restore escape behaviors. The researchers had also genetically manipulated the rodents to introduce a bioengineered molecule that emits light when neurons become activated, with the change in fluorescence being used as a proxy for neuronal activity (Inoue, 2020). The experiments revealed that in mice with learned helplessness, the activity pattern of VTA neurons was abnormal: however, ketamine treatment could reverse this disruption (Figure 1).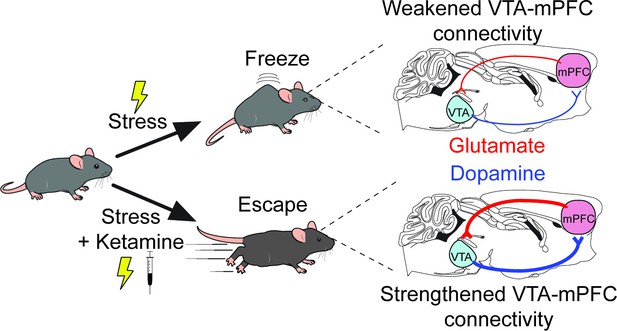 These data clearly demonstrated that VTA dopamine neurons are involved in responding to stressors, but whether ketamine acts by changing the activity of the neurons themselves remained unresolved. To test for a causal link, Wu et al. selectively inhibited VTA neurons by using another bioengineered molecule, a receptor called DREADD that can only be selectively activated by a synthetic molecule (Dobrzanski and Kossut, 2017). Ketamine had no effect when the VTA neurons were inhibited, demonstrating that VTA dopamine neuron activity is necessary for the drug to have an antidepressant effect.
Further physiology experiments were then conducted in the VTA to determine how ketamine could impact neuronal activity, with, somewhat unexpectedly, few noticeable effects emerging. This suggested that rather than acting locally, ketamine most likely worked by modulating the activity of an upstream brain region that influences VTA activity. The medial prefrontal cortex (mPFC for short) represented an attractive target because it sends dense projections to the VTA, and because it mediates, in part, the antidepressant effects of katamine (Vertes, 2004; Moda-Sava et al., 2019).
Indeed, Wu et al. discovered that injecting ketamine specifically into the mPFC (but not other VTA-projecting brain regions) replicated the improvements observed when the mice were administered the drug systemically. In addition, antidepressant-like effects that mirrored those induced by ketamine emerged when mPFC neurons that express the receptor for dopamine were artificially activated using excitatory DREADDs.
The research presented by Wu et al. provides a unique understanding of the antidepressant effects of ketamine on canonical reward circuits. Specifically, the results suggest that the drug acts by strengthening a recurrent neural circuit between the VTA and the mPFC, which allows ketamine's antidepressant properties to persist long after the compound has been cleared from the body. The data pave the way for future studies that directly examine how the effects of ketamine are mediated by mPFC projections to the VTA. Ultimately, this knowledge will help to find and design more selective compounds which can target these circuits to treat depression and related disorders.
Article and author information
Author details
© 2021, Marcus and Bruchas
This article is distributed under the terms of the Creative Commons Attribution License, which permits unrestricted use and redistribution provided that the original author and source are credited.
5,759

Page views

176

Downloads

0

Citations
Article citation count generated by polling the highest count across the following sources: Crossref, PubMed Central, Scopus.
A two-part list of links to download the article, or parts of the article, in various formats.
Downloads
(link to download the article as PDF)
Open citations
(links to open the citations from this article in various online reference manager services)
Cite this article
(links to download the citations from this article in formats compatible with various reference manager tools)
David J Marcus
Michael R Bruchas
Antidepressants: Where ketamine and dopamine collide
eLife 10:e70148.
https://doi.org/10.7554/eLife.70148
Further reading
Escaping aversive stimuli is essential for complex organisms, but prolonged exposure to stress leads to maladaptive learning. Stress alters neuronal activity and neuromodulatory signaling in distributed networks, modifying behavior. Here, we describe changes in dopaminergic neuron activity and signaling following aversive learning in a learned helplessness paradigm in mice. A single dose of ketamine suffices to restore escape behavior after aversive learning. Dopaminergic neuron activity in the ventral tegmental area (VTA) systematically varies across learning, correlating with future sensitivity to ketamine treatment. Ketamine's effects are blocked by chemogenetic inhibition of dopamine signaling. Rather than directly altering the activity of dopaminergic neurons, ketamine appears to rescue dopamine dynamics through actions in the medial prefrontal cortex (mPFC). Chemogenetic activation of Drd1 receptor positive mPFC neurons mimics ketamine's effects on behavior. Together, our data link neuromodulatory dynamics in mPFC-VTA circuits, aversive learning, and the effects of ketamine.

Developmental Biology

Neuroscience

Efficient neurotransmission is essential for organism survival and is enhanced by myelination. However, the genes that regulate myelin and myelinating glial cell development have not been fully characterized. Data from our lab and others demonstrates that cd59, which encodes for a small GPI-anchored glycoprotein, is highly expressed in developing zebrafish, rodent, and human oligodendrocytes (OLs) and Schwann cells (SCs), and that patients with CD59 dysfunction develop neurological dysfunction during early childhood. Yet, the function of Cd59 in the developing nervous system is currently undefined. In this study, we demonstrate that cd59 is expressed in a subset of developing SCs. Using cd59 mutant zebrafish, we show that developing SCs proliferate excessively and nerves may have reduced myelin volume, altered myelin ultrastructure, and perturbed node of Ranvier assembly. Finally, we demonstrate that complement activity is elevated in cd59 mutants and that inhibiting inflammation restores SC proliferation, myelin volume, and nodes of Ranvier to wildtype levels. Together, this work identifies Cd59 and developmental inflammation as key players in myelinating glial cell development, highlighting the collaboration between glia and the innate immune system to ensure normal neural development.

Cochlear implants are neuroprosthetic devices that can restore hearing in people with severe to profound hearing loss by electrically stimulating the auditory nerve. Because of physical limitations on the precision of this stimulation, the acoustic information delivered by a cochlear implant does not convey the same level of acoustic detail as that conveyed by normal hearing. As a result, speech understanding in listeners with cochlear implants is typically poorer and more effortful than in listeners with normal hearing. The brain networks supporting speech understanding in listeners with cochlear implants are not well understood, partly due to difficulties obtaining functional neuroimaging data in this population. In the current study, we assessed the brain regions supporting spoken word understanding in adult listeners with right unilateral cochlear implants (n=20) and matched controls (n=18) using high-density diffuse optical tomography (HD-DOT), a quiet and non-invasive imaging modality with spatial resolution comparable to that of functional MRI. We found that while listening to spoken words in quiet, listeners with cochlear implants showed greater activity in the left prefrontal cortex than listeners with normal hearing, specifically in a region engaged in a separate spatial working memory task. These results suggest that listeners with cochlear implants require greater cognitive processing during speech understanding than listeners with normal hearing, supported by compensatory recruitment of the left prefrontal cortex.