Plant Ecology: Getting the metabolites right
A study of almost 800 Arabidopsis thaliana plants from across Europe reveals how the environment and evolutionary pressures shape their metabolites.
All living organisms look different. Even within a species, individuals can show differences in their shape, size and coloring. This is true both for outward appearances and for physiological traits, such as the concentration of various metabolites. These variations are determined by the underlying genetics of the organism and by the environment it lives in. This results in phenotypic differences that affect the entire organism, allowing it to rapidly respond to changes in its environment. A well-known example of this is the change in color and pattern of butterfly wings under different temperatures, which is regulated by specific hormones (Bhardwaj et al., 2020).
The relationship between genotype and phenotype has been of interest since Mendel postulated the existence of 'internal factors' that are passed on to the next generation (Mendel, 1865), and Bateson originated the term 'genetics' (Bateson, 1909). This link is of major interest in fields ranging from evolutionary biology to molecular biology, and also medicine or agriculture, where untangling genetic effects on phenotypes from environmental effects can lead to beneficial interventions.
The mechanisms by which genetic differences translate into phenotypic differences involve many intermediate steps (Figure 1A); this so-called 'in-between-ome' consists of the transcriptome, the proteome and the metabolome. The integration of data from these different levels is necessary to understand how complex phenotypes evolve, and how they are regulated (Subramanian et al., 2020). In plants, the metabolome – all of the small molecules required for an organism to live – is particularly important for adaptation. This is because plants, being immobile, rely on the substances they can absorb from their environment and the derivatives they can produce. However, it is unclear how the variety of metabolites found in plants from different environments arose during evolution. Now, in eLife, Daniel J Kliebenstein, from the University of California Davis, along with colleagues from Austria, the United States and Germany – including Ella Katz as first author – report the factors that drive phenotypic differences in the chemical composition of a specific type of metabolites found in the plant Arabidopsis thaliana (Katz et al., 2021).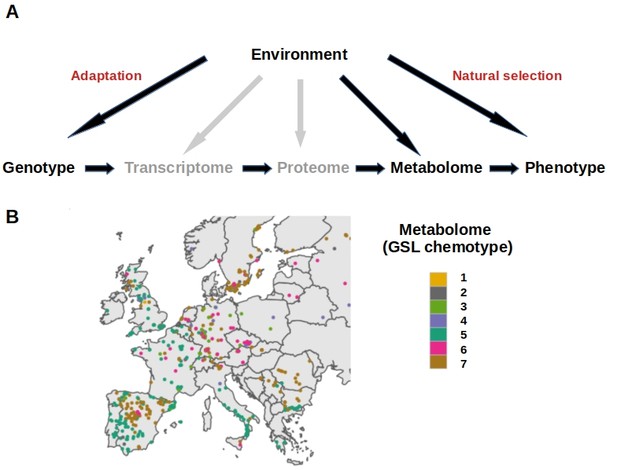 Katz et al. measured the levels of specialized metabolites called glucosinolates in nearly 800 lines of A. thaliana from different ecosystems in Europe. Glucosinolates are biologically active compounds that protect plants from pests and diseases. They are usually found in the Brassicaceae family (Rask et al., 2000), which includes plants like broccoli, cauliflower or mustard, and provide these plants with their characteristic taste. Additionally, plants use glucosinolates to counteract both biotic stress, caused by other living organisms such as herbivores that try to eat the plants, and abiotic stress, such as drought stress (Del Carmen Martínez-Ballesta et al., 2013). The fact that glucosinolates can protect plants from predators, pests and other stressors make it likely that the mechanisms that regulate the abundance of these compounds in individual plants are under strong selection and evolutionary constraints.
The analysis performed by Katz et al. revealed that plants from different regions in Europe had glucosinolates with different chemical compositions or 'chemotypes'. The spatial distribution of the different chemotypes throughout Europe exhibits distinctive patterns, both at a local and a global scale (Figure 1B). But how did this trait variation evolve? What is its genetic basis and what phenotypic consequences does it have?
To answer these questions, Katz et al. used a technique called genome-wide association mapping (GWAS), which scans the genome of each plant for genetic markers that may be associated with the different chemotypes detected. This analysis found only two major sites in the genome that are responsible for variation in glucosinolate content. However, these previously known loci cannot explain all the variation observed, suggesting that additional loci must also be involved. Additionally, Katz et al. discovered previously unknown alleles at these sites and showed that different combinations of these alleles could lead to similar chemotypes in similar environments.
Based on these observations, Katz et al. suggest that these different combinations of alleles emerged through a mixture of evolutionary events. Some arose through parallel evolution, which occurs when mutations in the same gene lead to similar traits. Others are the result of convergent evolution, where independent mutations in different genes give rise to similar features. Apart from the genetic factors, Katz et al. also show how environmental parameters like climate and geography directly affect the chemotype of A. thaliana in different regions. Specifically, they found that specific environmental conditions were associated with certain chemotypes across different geographic locations.
Katz et al. show that many factors, both environmental and genetic, shape the chemotype of glucosinolates in A. thaliana. The findings highlight the complexity of the interplay between genetics and the environment, and how both contribute to the evolution of traits in natural populations. They also underline how complex traits appear in a population that is adapted to distinct environments. Additionally, this work demonstrates the need to correctly design studies that aim to explain and dissect complex traits, given that results can be confounded by individuals from the same species being adapted to distinct environmental conditions. Future work will show whether the findings of Katz et al. findings hold for other traits, and if they shed light on general principles of trait evolution.
Experiments in plant hybridization

Proceedings of the Natural History Society of Brünn.
Article and author information
Author details
© 2021, Korte
This article is distributed under the terms of the Creative Commons Attribution License, which permits unrestricted use and redistribution provided that the original author and source are credited.
1,136

Page views

77

Downloads

1

Citations
Article citation count generated by polling the highest count across the following sources: Crossref, PubMed Central, Scopus.
A two-part list of links to download the article, or parts of the article, in various formats.
Downloads
(link to download the article as PDF)
Open citations
(links to open the citations from this article in various online reference manager services)
Cite this article
(links to download the citations from this article in formats compatible with various reference manager tools)
Arthur Korte
Plant Ecology: Getting the metabolites right
eLife 10:e70149.
https://doi.org/10.7554/eLife.70149
Further reading
Plants produce diverse metabolites to cope with the challenges presented by complex and ever-changing environments. These challenges drive the diversification of specialized metabolites within and between plant species. However, we are just beginning to understand how frequently new alleles arise controlling specialized metabolite diversity and how the geographic distribution of these alleles may be structured by ecological and demographic pressures. Here, we measure the variation in specialized metabolites across a population of 797 natural Arabidopsis thaliana accessions. We show that a combination of geography, environmental parameters, demography and different genetic processes all combine to influence the specific chemotypes and their distribution. This showed that causal loci in specialized metabolism contain frequent independently generated alleles with patterns suggesting potential within-species convergence. This provides a new perspective about the complexity of the selective forces and mechanisms that shape the generation and distribution of allelic variation that may influence local adaptation.

Ecology
Genetics and Genomics

Adulis, located on the Red Sea coast in present-day Eritrea, was a bustling trading centre between the first and seventh centuries CE. Several classical geographers--Agatharchides of Cnidus, Pliny the Elder, Strabo-noted the value of Adulis to Greco--Roman Egypt, particularly as an emporium for living animals, including baboons (Papio spp.). Though fragmentary, these accounts predict the Adulite origins of mummified baboons in Ptolemaic catacombs, while inviting questions on the geoprovenance of older (Late Period) baboons recovered from Gabbanat el-Qurud ('Valley of the Monkeys'), Egypt. Dated to ca. 800-540 BCE, these animals could extend the antiquity of Egyptian-Adulite trade by as much as five centuries. Previously, Dominy et al. (2020) used stable istope analysis to show that two New Kingdom specimens of P. hamadryas originate from the Horn of Africa. Here, we report the complete mitochondrial genomes from a mummified baboon from Gabbanat el-Qurud and 14 museum specimens with known provenance together with published georeferenced mitochondrial sequence data. Phylogenetic assignment connects the mummified baboon to modern populations of Papio hamadryas in Eritrea, Ethiopia, and eastern Sudan. This result, assuming geographical stability of phylogenetic clades, corroborates Greco-Roman historiographies by pointing toward present-day Eritrea, and by extension Adulis, as a source of baboons for Late Period Egyptians. It also establishes geographic continuity with baboons from the fabled Land of Punt (Dominy et al., 2020), giving weight to speculation that Punt and Adulis were essentially the same trading centres separated by a thousand years of history.

While bacterial diversity is beneficial for the functioning of rhizosphere microbiomes, multi-species bioinoculants often fail to promote plant growth. One potential reason for this is that competition between different species of inoculated consortia members creates conflicts for their survival and functioning. To circumvent this, we used transposon insertion mutagenesis to increase the functional diversity within Bacillus amyloliquefaciens bacterial species and tested if we could improve plant growth promotion by assembling consortia of highly clonal but phenotypically dissimilar mutants. While most insertion mutations were harmful, some significantly improved B. amyloliquefaciens plant growth promotion traits relative to the wild-type strain. Eight phenotypically distinct mutants were selected to test if their functioning could be improved by applying them as multifunctional consortia. We found that B. amyloliquefaciens consortium richness correlated positively with plant root colonization and protection from Ralstonia solanacearum phytopathogenic bacterium. Crucially, 8-mutant consortium consisting of phenotypically dissimilar mutants performed better than randomly assembled 8-mutant consortia, suggesting that improvements were likely driven by consortia multifunctionality instead of consortia richness. Together, our results suggest that increasing intra-species phenotypic diversity could be an effective way to improve probiotic consortium functioning and plant growth promotion in agricultural systems.