Translation: The long and short of it
Longer poly(A) tails improve translation in early development, but not in mature cells that have higher levels of the protein PABPC.
The genetic code stored in DNA provides cells with the blueprint they need to make proteins. The relevant gene is first transcribed into an intermediate molecule called mRNA (short for messenger RNA), which in turn gets translated by large cellular machines called ribosomes into the string of amino acids that make up a protein. At the end of each mRNA molecule is a poly(A) tail comprised of tens to hundreds of nucleotides called adenosines. The length of these tails can vary greatly between different mRNAs, and longer poly(A) tails are thought to improve translation and increase mRNA stability (Sachs, 1990).
Poly(A) tails stimulate the process of translation through a protein called PABPC (short for Poly(A)-Binding Protein, Cytoplasmic), which binds to the tail (Kühn and Wahle, 2004). This led to the assumption that mRNA molecules with longer tails are translated more efficiently (meaning they produce more proteins) because they can be bound by more copies of PABPC.
However, decades of research on the poly(A) tail have led to inconsistent results: in some experiments, longer poly(A) tails improve translation as hypothesized, while in others they have no effect (Beilharz and Preiss, 2007; Legnini et al., 2019; Lim et al., 2016; Lima et al., 2017; Morgan et al., 2017; Nudel et al., 1976; Subtelny et al., 2014). The contentious role of PABPC in translation efficiency has raised fundamental questions: exactly how important are the poly(A) tail and PABPC in translation, and what are their relative roles in different types of cell? Now, in eLife, David P Bartel and Kehui Xiang from the Whitehead Institute for Biomedical Research and Massachusetts Institute of Technology report new findings that help to answer these questions (Xiang and Bartel, 2021).
To investigate the role PABPC and poly(A) tail length play in translation efficiency, Xiang and Bartel manipulated PABPC levels in Xenopus oocytes and in post-embryonic mammalian cells. They then measured the length of the poly(A) tails and compared this to the number of ribosomes occupying each mRNA molecule, which acts as a readout for translation efficiency.
Xiang and Bartel discovered that poly(A) tail length is only linked to translation efficiency when certain criteria are met (Figure 1). They found that when PABPC concentrations were increased in oocytes, mRNAs with shorter poly(A) tails would bind to more ribosomes and show improved translation, whereas those with longer tails were unaffected. Therefore, the first criterion is that PABPC concentrations must be limiting for the protein to preferentially bind to mRNAs with longer poly(A) tails and enhance their translation. Second, for this coupling to occur, mRNA molecules not bound by PABPC must be protected from degradation. Finally, the higher number of PABPC proteins connected to the longer tails must help ribosomes load onto the mRNA molecule more efficiently to increase the amount of protein each mRNA can produce.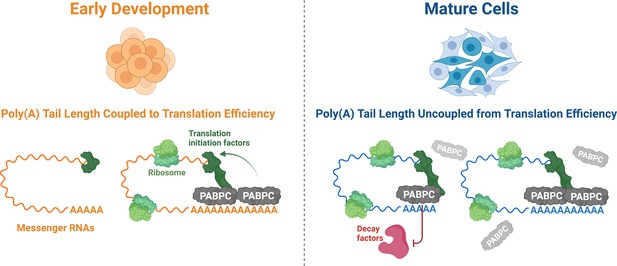 In oocytes and early embryos, all three of these conditions are met. This suggests that, during the early stages of development, coupling between poly(A) tail length and translation efficiency plays a primary role in gene expression. However, the relative amount of PABPC protein greatly increases as development progresses, and it eventually occupies every accessible poly(A) tail. Since every mRNA with a poly(A) tail is bound to at least one PABPC, translation no longer depends on the length of the tail, and it is likely that additional factors determine translation efficiency. In this situation, PABPC takes on a new role and instead protects mRNA molecules from destruction, particularly those with shorter poly(A) tails (Figure 1). Its role in stabilising mRNAs could be significant as many 'housekeeping' genes, whose expression is required for normal cellular function, tend to have shorter poly(A) tails (Lima et al., 2017).
With exhaustive experiments in different cell types and cellular conditions, Xiang and Bartel firmly establish that the roles of PABPC and poly(A) are highly context-dependent. These results reconcile many years of controversy, by demonstrating that PABPC and the poly(A) tail play different roles in different situations: during the early stages of development, poly(A) tail length and translation efficiency are coupled together by PABPC, while later in development, this relationship is lost and PABPC instead promotes mRNA stability.
Future studies can build upon this foundation by studying how mRNAs with shorter poly(A) tails are stabilised during early development, or which additional factors regulate translation efficiency in mature cells. Furthermore, it remains a mystery how the transition between early and late development is sensed and regulated, leading to a dramatic increase in PABPC levels. Finally, this study raises the interesting possibility that certain cell types, organisms, or cellular conditions exploit the dynamic relationship between PABPC abundance and poly(A) tail length to fine tune gene expression.
Article and author information
Author details
© 2021, Passmore and Tang
This article is distributed under the terms of the Creative Commons Attribution License, which permits unrestricted use and redistribution provided that the original author and source are credited.
1,980

Page views

184

Downloads

4

Citations
Article citation count generated by polling the highest count across the following sources: Crossref, PubMed Central, Scopus.
A two-part list of links to download the article, or parts of the article, in various formats.
Downloads
(link to download the article as PDF)
Open citations
(links to open the citations from this article in various online reference manager services)
Cite this article
(links to download the citations from this article in formats compatible with various reference manager tools)
Lori A Passmore
Terence TL Tang
Translation: The long and short of it
eLife 10:e70757.
https://doi.org/10.7554/eLife.70757
Further reading
Chromosomes and Gene Expression

In animal oocytes and early embryos, mRNA poly(A)-tail length strongly influences translational efficiency (TE), but later in development this coupling between tail length and TE disappears. Here, we elucidate how this coupling is first established and why it disappears. Overexpressing cytoplasmic poly(A)-binding protein (PABPC) in Xenopus oocytes specifically improved translation of short-tailed mRNAs, thereby diminishing coupling between tail length and TE. Thus, strong coupling requires limiting PABPC, implying that in coupled systems longer-tail mRNAs better compete for limiting PABPC. In addition to expressing excess PABPC, post-embryonic mammalian cell lines had two other properties that prevented strong coupling: terminal-uridylation-dependent destabilization of mRNAs lacking bound PABPC, and a regulatory regime wherein PABPC contributes minimally to TE. Thus, these results revealed three fundamental mechanistic requirements for coupling and defined the context-dependent functions for PABPC, which promotes TE but not mRNA stability in coupled systems and mRNA stability but not TE in uncoupled systems.

Cell Biology
Chromosomes and Gene Expression

Meiotic chromosome segregation relies on synapsis and crossover recombination between homologous chromosomes. These processes require multiple steps that are coordinated by the meiotic cell cycle and monitored by surveillance mechanisms. In diverse species, failures in chromosome synapsis can trigger a cell cycle delay and/or lead to apoptosis. How this key step in 'homolog engagement' is sensed and transduced by meiotic cells is unknown. Here we report that in C. elegans, recruitment of the Polo-like kinase PLK-2 to the synaptonemal complex triggers phosphorylation and inactivation of CHK-2, an early meiotic kinase required for pairing, synapsis, and double-strand break induction. Inactivation of CHK-2 terminates double-strand break formation and enables crossover designation and cell cycle progression. These findings illuminate how meiotic cells ensure crossover formation and accurate chromosome segregation.

Cell Biology
Chromosomes and Gene Expression

Skeletal muscle exhibits remarkable plasticity in response to environmental cues, with stress-dependent effects on the fast-twitch and slow-twitch fibers. Although stress-induced gene expression underlies environmental adaptation, it is unclear how transcriptional and epigenetic factors regulate fiber type-specific responses in the muscle. Here, we show that flavin-dependent lysine-specific demethylase-1 (LSD1) differentially controls responses to glucocorticoid and exercise in postnatal skeletal muscle. Using skeletal muscle-specific LSD1-knockout mice and in vitro approaches, we found that LSD1 loss exacerbated glucocorticoid-induced atrophy in the fast fiber-dominant muscles, with reduced nuclear retention of Foxk1, an anti-autophagic transcription factor. Furthermore, LSD1 depletion enhanced endurance exercise-induced hypertrophy in the slow fiber-dominant muscles, by induced expression of ERRγ, a transcription factor that promotes oxidative metabolism genes. Thus, LSD1 serves as an 'epigenetic barrier' that optimizes fiber type-specific responses and muscle mass under the stress conditions. Our results uncover that LSD1 modulators provide emerging therapeutic and preventive strategies against stress-induced myopathies such as sarcopenia, cachexia, and disuse atrophy.