Lineage Switching: How lung cancer cells change identity
Changes in MAPK signaling allow lung cancer cells to transition between lineages that respond differently to treatment.
Cancer cells that arise from different areas of the body will share several common hallmarks (Hanahan and Weinberg, 2011). However, it is possible to distinguish between these cells as they will also retain features of their tissue of origin. This lineage is important because it helps determine which cancer treatments will be the most effective and whether the genes responsible for making the cell cancerous can be targeted with a specific therapy.
However, some cancer cells can also switch lineage, allowing them to evade treatments tailored to these specific 'oncogenes' (Quintanal-Villalonga et al., 2020). Reminiscent of the differentiation process that takes place for stem cells during embryonic development, this ability to transition from one lineage to another could be genetically or epigenetically encoded and may represent a hallmark of cancer (Le Magnen et al., 2018).
A clinically important example of lineage switching is seen in a type of lung cancer known as adenocarcinomas (or LUADs). Some of these tumors have mutations in the genes coding for either the EGFR or KRAS proteins, which overactivate the MAPK signaling pathway – a molecular cascade which normally helps cells to respond appropriately to their environment by controlling cell division and other biological processes.
LUADs with mutations in the gene for EGFR can be treated with a therapy that specifically targets this oncogene. However, after treatment about 5% of these LUADs will adopt another lineage, turning instead into an aggressive neuroendocrine tumor called small cell lung cancer (SCLC; Offin et al., 2019; Aggarwal et al., 2018). Neuroendocrine cancer can also emerge at other sites in the body, such as the prostate following treatment with another targeted therapy. Regardless of their origin, all advanced neuroendocrine tumors share similar molecular features, are difficult to treat and can spread quickly (Park et al., 2018). They also do not respond to the EGFR-targeted drugs used to treat LUADs, as they rarely express the mutated proteins, even if the mutations are present in the genome. Conversely, SCLCs that become resistant to standard chemotherapy may lose expression of neuroendocrine features and transition to another lineage. Although recent studies have shed light on how lineage switching happens at the molecular level (Marjanovic et al., 2020; Ku et al., 2017; Chen et al., 2019), there are still crucial gaps in our knowledge about the biological mechanisms underlying these transitions.
Now, in eLife, William Lockwood from the British Columbia Cancer Agency and co-workers in Canada and the United States – including Yusuke Inoue as first author – report that the MAPK signaling pathway may regulate lineage switching in lung cancer cells (Inoue et al., 2021). First, experiments revealed that activating MAPK signaling, by increasing the levels of EGFR and KRAS, caused SCLC cells from patients to express fewer neuroendocrine markers when cultured in the laboratory. In particular, MAPK signaling reduced the expression of transcription factors needed for neuroendocrine cell traits. This suggests that the high levels of MAPK activation normally found in LUADs usually prevents these cancer cells from adopting a neuroendocrine identity (Figure 1). Furthermore, these molecular changes impacted how the tumor cells grew and behaved, suggesting that these transformed SCLC cells can be used as a preclinical model for studying aspects of lineage switching.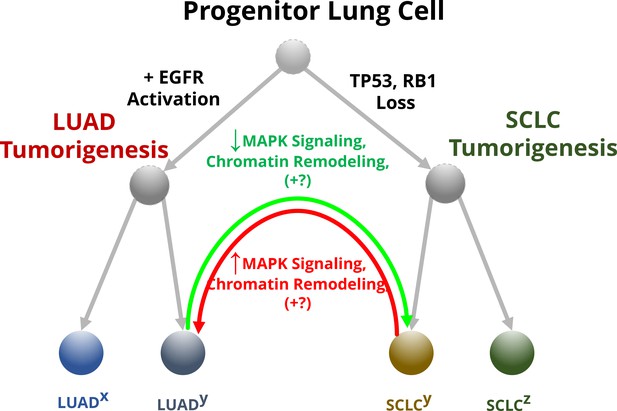 Further experiments showed that the terminal component of the MAPK pathway, known as ERK, is responsible for changing the expression of transcription factors which specify neuroendocrine identity. Inoue et al. found that ERK activates two proteins (CBP and p300) that alter the conformation of the DNA segments in which the genes for the neuroendocrine transcription factors reside, stopping them from being transcribed. When ERK and CBP/p300 were inhibited, increasing the levels of EGFR and KRAS no longer reduced the expression of neuroendocrine transcription factors. This provides strong evidence that these three proteins (ERK, CBP and p300) all play a key role in controlling neuroendocrine identity.
Next, Inoue et al. attempted to recapitulate the lineage transition seen in patients, where LUADs occasionally switch to a neuroendocrine SCLC phenotype. To do this, they first genetically engineered LUAD cells with existing mutations in the gene for EGFR and the tumor suppressor gene TP53 to have an additional molecular change which reduces the activity of another tumor suppressor gene called RB1: these genetic alterations are found in nearly all LUADs that assume a neuroendocrine phenotype as a resistance mechanism to EGFR-targeted therapy. These cells were then exposed to a potent EGFR inhibitor. However, despite the cells becoming resistant to the inhibitor treatment, no change in growth characteristics, lineage markers or switch to a neuroendocrine phenotype were identified.
It is unclear why this strategy did not work, and what additional steps are needed for LUADs to fully transition into neuroendocrine cells. This process may be more successful in vivo, or other molecular differences between SCLCs and LUADs could play a role. Nevertheless, these carefully conducted 'negative' studies commendably illustrate that important details are missing about this transition, which is involved in a range of human cancers and is associated with poor prognosis (Balanis et al., 2019).
Finally, the molecular insights gained from Inoue et al. could be expanded on and used in the clinic to both test and develop new therapies. This could help identify which patients are most at risk of tumor lineage switches and enable early interventions that improve the outcomes of treatment.
Article and author information
Author details
© 2021, von Itzstein et al.
This article is distributed under the terms of the Creative Commons Attribution License, which permits unrestricted use and redistribution provided that the original author and source are credited.
1,019

Page views

96

Downloads

0

Citations
Article citation count generated by polling the highest count across the following sources: Crossref, PubMed Central, Scopus.
A two-part list of links to download the article, or parts of the article, in various formats.
Downloads
(link to download the article as PDF)
Open citations
(links to open the citations from this article in various online reference manager services)
Cite this article
(links to download the citations from this article in formats compatible with various reference manager tools)
Mitchell S von Itzstein
Benjamin J Drapkin
John D Minna
Lineage Switching: How lung cancer cells change identity
eLife 10:e71610.
https://doi.org/10.7554/eLife.71610
Further reading
Lineage transformation between lung cancer subtypes is a poorly understood phenomenon associated with resistance to treatment and poor patient outcomes. Here, we aimed to model this transition to define underlying biological mechanisms and identify potential avenues for therapeutic intervention. Small cell lung cancer (SCLC) is neuroendocrine in identity and, in contrast to non-SCLC (NSCLC), rarely contains mutations that drive the MAPK pathway. Likewise, NSCLCs that transform to SCLC concomitantly with development of therapy resistance downregulate MAPK signaling, suggesting an inverse relationship between pathway activation and lineage state. To test this, we activated MAPK in SCLC through conditional expression of mutant KRAS or EGFR, which revealed suppression of the neuroendocrine differentiation program via ERK. We found that ERK induces the expression of ETS factors that mediate transformation into a NSCLC-like state. ATAC-seq demonstrated ERK-driven changes in chromatin accessibility at putative regulatory regions and global chromatin rewiring at neuroendocrine and ETS transcriptional targets. Further, ERK-mediated induction of ETS factors as well as suppression of neuroendocrine differentiation were dependent on histone acetyltransferase activities of CBP/p300. Overall, we describe how the ERK-CBP/p300-ETS axis promotes a lineage shift between neuroendocrine and non-neuroendocrine lung cancer phenotypes and provide rationale for the disruption of this program during transformation-driven resistance to targeted therapy.

Bariatric surgery is becoming more prevalent as a sustainable weight loss approach, with vertical sleeve gastrectomy (VSG) being the first line of surgical intervention. We and others have shown that obesity exacerbates tumor growth while diet-induced weight loss impairs obesity-driven progression. It remains unknown how bariatric surgery-induced weight loss impacts cancer progression or alters responses to therapy. Using a pre-clinical model of diet induced obesity followed by VSG or diet-induced weight loss, breast cancer progression and immune checkpoint blockade therapy was investigated. Weight loss by bariatric surgery or weight matched dietary intervention before tumor engraftment protected against obesity-exacerbated tumor progression. However, VSG was not as effective as dietary intervention in reducing tumor burden despite achieving a similar extent of weight and adiposity loss. Circulating leptin did not associate with changes in tumor burden, however circulating IL-6 was elevated in mice after VSG. Uniquely, tumors in mice that received VSG displayed elevated inflammation and immune checkpoint ligand PD-L1+ myeloid and non-immune cells. Further, mice that received VSG had reduced tumor T lymphocytes and markers of cytolysis suggesting an ineffective anti-tumor microenvironment. VSG-associated elevation of PD-L1 prompted us to next investigate the efficacy of immune checkpoint blockade in lean, obese, and formerly obese mice that lost weight by VSG or weight matched controls. While obese mice were resistant to immune checkpoint blockade, anti-PD-L1 potently impaired tumor progression after VSG through improved anti-tumor immunity. Thus, in formerly obese mice, surgical weight loss followed by immunotherapy reduced breast cancer burden. Last, we compared transcriptomic changes in adipose tissue after bariatric surgery from both patients and mouse models that revealed a conserved bariatric surgery associated weight loss signature (BSAS). Importantly, BSAS significantly associated with decreased tumor volume. Our findings demonstrate conserved impacts of obesity and bariatric surgery-induced weight loss pathways associated with breast cancer progression.

Cancer Biology

Cell Biology

Centrosomes act as the main microtubule organizing center (MTOC) in metazoans. Centrosome number is tightly regulated by limiting centriole duplication to a single round per cell cycle. This control is achieved by multiple mechanisms, including the regulation of the protein kinase PLK4, the most upstream facilitator of centriole duplication. Altered centrosome numbers in mouse and human cells cause p53-dependent growth arrest through poorly defined mechanisms. Recent work has shown that the E3 ligase TRIM37 is required for cell cycle arrest in acentrosomal cells. To gain additional insights into this process, we undertook a series of genome-wide CRISPR/Cas9 screens to identify factors important for growth arrest triggered by treatment with centrinone B, a selective PLK4 inhibitor. We found that TRIM37 is a key mediator of growth arrest after partial or full PLK4 inhibition. Interestingly, PLK4 cellular mobility decreased in a dose-dependent manner after centrinone B treatment. In contrast to recent work, we found that growth arrest after PLK4 inhibition correlated better with PLK4 activity than with mitotic length or centrosome number. These data provide insights into the global response to changes in centrosome number and PLK4 activity and extend the role for TRIM37 in regulating the abundance, localization, and function of centrosome proteins.