Contextual control of conditioned pain tolerance and endogenous analgesic systems
The mechanisms underlying the transition from acute to chronic pain are unclear but may involve the persistence or strengthening of pain memories acquired in part through associative learning. Contextual cues, which comprise the environment in which events occur, were recently described as a critical regulator of pain memory; both male rodents and humans exhibit increased pain sensitivity in environments recently associated with a single painful experience. It is unknown, however, how repeated exposure to an acute painful unconditioned stimulus in a distinct context modifies pain sensitivity or the expectation of pain in that environment. To answer this question, we conditioned mice to associate distinct contexts with either repeated administration of a mild visceral pain stimulus (intraperitoneal injection of acetic acid) or vehicle injection over the course of 3 days. On the final day of experiments, animals received either an acid injection or vehicle injection prior to being placed into both contexts. In this way, contextual control of pain sensitivity and pain expectation could be tested respectively. When re-exposed to the noxious stimulus in a familiar environment, both male and female mice exhibited context-dependent conditioned analgesia, a phenomenon mediated by endogenous opioid signaling. However, when expecting the presentation of a painful stimulus in a given context, males exhibited conditioned hypersensitivity whereas females exhibited endogenous opioid-mediated conditioned analgesia. These results are evidence that pain perception and engagement of endogenous opioid systems can be modified through their psychological association with environmental cues. Successful determination of the brain circuits involved in this sexually dimorphic anticipatory response may allow for the manipulation of pain memories, which may contribute to the development of chronic pain states.
This study covers a series of experiments designed to characterize conditioned pain processing using a novel animal model in which mechanical nociception (von Frey test) and writhing are assessed following exposure to contextual cues that have been paired with visceral pain (intraperitoneal acetic acid injection). The results reveal that such cues exert complex, dose- and sex-dependent effects on pain processing. These experiments address an important topic from a translational perspective, because learning is an important but understudied contributor to the human pain experience and because there is evidence for sex differences in human pain expression. These findings will be of broad interest to researchers across fields of associative learning, neuroscience, and pain research.
https://doi.org/10.7554/eLife.75283.sa0
Chronic pain development may involve the generalization and strengthening of acute pain memories (Moseley and Vlaeyen, 2015). Neuronal encoding of painful stimuli, known as nociception, is an evolutionarily conserved, unconditioned response (UCR) generated upon exposure to a tissue-damaging unconditioned stimulus (UCS). When pain persists, subjects are either repeatedly presented with or chronically experiencing this UCS, providing opportunity for various external cues or conditioned stimuli (CS) to become associated with the UCS. Pairings of the painful UCS with external cues can eventually lead to the development of a conditioned response (CR) elicited by the CS alone. In this way, nociceptive signaling and resulting pain behaviors may be modulated by previously biologically irrelevant stimuli.
Pavlov, 2010, was the first to describe the process through which a biologically irrelevant stimulus could come to exert control over physiological processes in a way that allows the organism to prepare for the upcoming disruption of homeostasis produced by the UCS. In addition to auditory stimuli like those used in Pavlov's experiments, the immediate environment or 'context' may control these preparatory responses as was demonstrated in an important experiment performed by Siegel et al., 1982. Over the course of 15 days, Siegel et al. treated rats with escalating doses of a mu-opioid receptor agonist (heroin) in one distinct physical environment. After training, animals received an ostensibly lethal dose of heroin (96.4% mortality rate in heroin-naïve rats) in the same environment where training occurred, or in a separate, novel environment. When administered in a novel context, this dose of heroin killed 64.3% of animals; the same amount of heroin administered in the familiar context decreased the death rate by ~50% such that only 32.4% of animals died. Similar to the CR first reported by Pavlov, 2010, this work suggested that the familiar environment served as a CS that predicted upcoming heroin administration, thereby initiating internal processes associated with drug tolerance. This phenomenon has since been termed a 'conditioned compensatory response' as exposure to the CS begins the process of compensating for the upcoming drug effect (see also Siegel, 1977; see Siegel et al., 2000, for a review). Here, we used a similar experimental paradigm to determine if repeated exposure to an acute painful stimulus in a specific context affects sensitivity to that stimulus. In other words, do animals exhibit conditioned compensatory responses to painful stimuli? And if they do, what is the physiological basis of that response?
It is also well documented that context can exert control over learned behaviors related to fear and anxiety (Bouton and Bolles, 1979) as well as over instrumental and choice behaviors (Trask and Bouton, 2014). Recently, context was found to influence pain behaviors in male mice and humans after a single conditioning trial (Martin et al., 2019). Both male mice and men exhibited stress-induced hyperalgesia if tested in an environment previously associated with a painful stimulus (Martin et al., 2019). Similarly, in a place avoidance task, male mice avoided the environment previously associated with this same noxious UCS (Martin et al., 2019). Neither female mice nor women exhibited conditioned hypersensitivity, conditioned place aversion, or context-dependent increases in circulating stress hormones in these experiments, suggesting that context did not impact nociceptive signaling in females as it did in males. However, an alternative interpretation of these data may be that contextual cues engaged compensatory endogenous analgesic systems in females, even in the absence of ongoing pain, such that their pain behaviors pre- and post-conditioning were indistinguishable. This hypothesis is appealing given the potential therapeutic implications that could follow if environment is capable of modulating endogenous analgesic mechanisms. To date, the few studies that have examined environmental influence on conditioned analgesia have primarily done so in fear conditioning paradigms. In general, those studies found that following fear conditioning in which a CS predicts an aversive shock outcome, animals exhibited increased pain tolerance (i.e., conditioned hypoalgesia) in the environment, or context, where fear conditioning occurred (Fanselow and Helmstetter, 1988; Harris and Westbrook, 1994; Harris and Westbrook, 1995; Helmstetter and Fanselow, 1987; Watkins et al., 1993). Although the conditioned fear responses exhibited following this associative learning have been extensively studied, the potential compensatory analgesic responses produced by context exposure have received little to no attention outside of these paradigms. We therefore designed a novel set of experiments to determine if context could be used as a CS to engage endogenous analgesic mechanisms and thus increase pain tolerance, in the absence of overt fear conditioning or ongoing pain.
In the present set of experiments (see Figure 5 for a summary), we asked whether environment can exert control over pain sensitivity and pain expectation through associative learning. We first demonstrated, in a within-subject manner, that a context (CS) paired with a painful experience (acetic acid injection; UCS) can induce conditioned analgesia in animals upon re-exposure to the CS. Although female mice demonstrate this conditioned analgesia after pairing a relatively weak UCS with the CS, male mice only develop conditioned analgesia if a stronger UCS is used throughout conditioning trials. We then determined that this effect is likely not mediated by stress, but rather by activation of the endogenous opioid system since administration of the opioid antagonist naloxone blocked conditioned analgesia in both sexes. In a second set of experiments, we demonstrated that males exhibit conditioned hypersensitivity when placed into a context previously associated with pain. Alternatively, females exhibit conditioned analgesia that is dependent on endogenous opioid signaling when placed into a similar environment. Together, these results demonstrate that context can come to exert control over the endogenous opioid system such that it is recruited as a conditioned compensatory response to ongoing painful stimuli in both sexes, or in anticipation of a painful stimulus in females.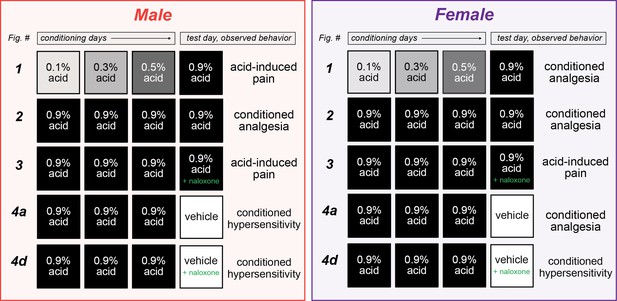 In the ongoing search for better/novel analgesics, many preclinical biologists, including some of the present authors, have taken a reductionist approach using highly standardized in vitro or in vivo assays to determine how particular genes or proteins contribute to the process of nociception. In so doing, significantly less has been learned about the influence external factors have on pain perception and the development of chronic pain. In their 'Imprecision Hypothesis' (2015), Moseley and Vlaeyen posit that chronic pain may develop, in part, as a result of associative learning; repeated coupling of a UCS – in this case a noxious input – with neutral cues like a specific movement of the body (e.g., bending over) or context may lead to the perception of pain (CR) upon subsequent presentation of these newly CS. Data presented in this manuscript are, to our knowledge, the first preclinical test of this hypothesis; we repeatedly paired noxious visceral stimulation (i.e., IP acetic acid injection; UCS) with a unique context (i.e., a behavior chamber; CS). Similar to the results obtained following a single pairing of this same UCS and CS (Martin et al., 2019), male mice developed conditioned hypersensitivity upon CS presentation alone (Figure 4B). In contrast, when females are exposed to the CS, they engage their endogenous opioid system, such that behavioral responses appear similar to those exhibited prior to injury or conditioning (Figure 4C). These divergent results suggest there are qualitative sex differences in the biological processes that mediate pain expectation.
The biological basis and evolutionary explanation for these qualitative sex differences is currently unknown. Dimorphisms in endogenous opioid circuit anatomy and function are well documented (Chakrabarti et al., 2010; Liu et al., 2007; Loyd and Murphy, 2006; Loyd et al., 2008; Tershner et al., 2000). Perhaps adaptive pressures associated with the reproduction timeframe and energy requirement led to differential abilities to recruit endogenous opioid signaling such that female organisms are better able to activate this system as a means of dampening ongoing pain. Another intriguing hypothesis is that brain regions required for contextual conditioning – like the dorsal hippocampus (Maren and Holt, 2004; Matus-Amat et al., 2004) and retrosplenial cortex (Keene and Bucci, 2008; Kwapis et al., 2015; Miller et al., 2021; Trask et al., 2021) – and those involved in descending pain inhibition are differentially connected in each sex. For example, electrical stimulation of the retrosplenial cortex decreases both formalin-associated spontaneous pain (Reis et al., 2010) and post-surgical mechanical hypersensitivity (Rossaneis et al., 2011) by modulating opioid signaling in the anterior pretectal nucleus (Rossaneis et al., 2011). Because only male rats were used in these studies, it is unclear (1) if this circuit functions similarly in female rodents, (2) if this circuit is engaged during contextual conditioning, and (3) if the retrosplenial cortex, or other structures important for contextual learning, differentially projects to other brain regions associated with endogenous analgesia modulation in the two sexes.
In addition to assessing pain expectation, we also examined if associative learning impacts pain sensitivity, or the magnitude of the UCR elicited by a noxious stimulus. The UCS used in these experiments was IP injection of acetic acid, a procedure that induces reflexive writhing behaviors (Koster et al., 1959). In addition to writhing, hindpaw mechanical sensitivity testing was used as a second UCR to examine a behavioral output that, by definition in this experimental paradigm, is modulated by descending control. Recently, Tansley et al., 2019, characterized a phenomenon in which pain in one part of the body causes hyperalgesia in an anatomically separate body region if evoked with a relatively mild noxious stimulus. In contrast to the 'pain-inhibits-pain' idea associated with the electrophysiological phenomenon known as DNIC, this observation which has been called 'anti-DNIC', facilitatory CPM, or 'hyperalgesic DCN' is observed across multiple rodent species and mouse strains and does not depend on the anatomical proximity of the injured and test sites. Despite initially demonstrating hyperalgesic DCN, both male and female mice in the present experiments developed conditioned analgesia after repeated exposure to the noxious stimuli; both sexes exhibited less pain when presented with a noxious UCS in an environment (CS) associated with an acute pain memory (Figure 2B and C). Notably, however, there was a quantitative sex difference in the strength of the UCS required to develop this conditioned pain tolerance; male mice only developed conditioned pain tolerance if trained with high doses of acetic acid. Strength of conditioning also influenced whether conditioned analgesia was observed in writhing behaviors. Context (CS) had no effect on writhing behaviors except in female mice trained with high doses of acetic acid (Figure 2F). Conditioned analgesia was not observed in writhing data collected from female mice trained with lower doses of acetic acid, or male mice trained with high or low doses of acid. One potential explanation for the observed differences in writing and hindpaw withdrawal behaviors is that writhing may reflect the reflexive unconditional response to acetic acid (analogous to rodent jumping in response to a shock presentation; animals habituate to stimuli with repeated presentations) whereas the sensitivity of the hindpaw might be a more direct assessment of pain expectancy (analogous to freezing to a tone previously paired with shock). Regardless, these data reiterate the idea that females are particularly sensitive to, and thus able to associate, external cues more strongly with visceral pain stimuli. This is perhaps unsurprising given the extensive literature describing sex differences in pain perception.
The idea that males and females perceive pain differently is a long-standing topic in both academic and popular science discussions. Upon review of this topic, it is clear that women are more sensitive to acute pain stimuli than men, and that chronic pain is more frequently reported in women than it is in men (Mogil, 2012; Mogil, 2020). Rodent data presented in this paper agree with this conclusion; female mice exhibited more pain than male mice following low (0.1%; Figure 1D) and high (0.9%; Figure 2D) acetic acid administration. Similar quantitative sex differences have been previously reported in other visceral pain models. For example, male and ovariectomized female rodents are less sensitive to chemical or mechanical injury of the colon and urinary bladder (reviewed by Traub and Ji, 2013). Combined with the fact that stronger UCS will support more conditioning to stimuli presented with those UCS (Holland, 1979; Morris and Bouton, 2006; see Rescorla and Wagner, 1972), the present results suggest that females more readily associate contextual cues with noxious visceral stimuli because they perceive visceral pain more intensely than males. Under this logic, females should develop conditioned analgesia more quickly than males if the same noxious stimulus is used to train both sexes. In support of this hypothesis, six of eight female mice included in Figure 2 exhibited conditioned analgesia on day 2 of the paradigm (i.e., higher paw withdrawal thresholds in the acid-paired chamber on day 2 vs. day 1) whereas zero of the eight male mice in this same study exhibited conditioned analgesia on day 2 (Figure 2—figure supplement 1). An additional interpretation of the present results is that the visceral pain introduced via acetic acid injection created a secondary internal context that males are unable to generalize. A wide variety of internal states have been shown to serve as contextual stimuli that influence behavioral performance (Garfinkel et al., 2021; Schepers and Bouton, 2017; Schepers and Bouton, 2019; see Bouton, 1991). Under this interpretation, the present results, in which males show conditioned hypersensitivity when placed into the acid-paired context without the UCS, might be explained by a lack of generalization as only the exteroceptive, but not interoceptive, context is the same as that which was included in training. While this seems unlikely to explain all results, interoceptive contexts might have played a role in the current design.
Strength of conditioning, or lack of UCS generalization, may also have influenced whether conditioned hyperalgesia or analgesia was displayed in the training context in the absence of the UCS. For example, after one pairing of 0.9% acetic acid and context, male mice exhibit conditioned hypersensitivity (Martin et al., 2019) whereas females, based on the observations made in these studies, likely exhibit conditioned analgesia. Would females exhibit conditioned hypersensitivity if trained with a single exposure to 0.1% acetic acid? Would males exhibit conditioned analgesia if trained with more than three exposures to 0.9% acetic acid? Experiments of this nature would allow for the classification of these sex differences as qualitative or quantitative. To this end, it is also important to clarify how long conditioned analgesia/hyperalgesia last in the absence of further conditioning and to determine the stimulus intensity and frequency required to maintain conditioning. Answers to these questions might allow for better explanations as to why chronic pain is more prevalent in females than males and provide opportunities to develop pain therapies based on associative learning principles. Although the opportunity for maladaptive learning exists, females may be better prepared, biologically speaking, to associate relief of ongoing pain with CS than males. Confirmation of this hypothesis may lead to the development of novel cognitive therapeutic strategies for pain that rely on the principles of Pavlovian conditioning, or those related to other memory-based manipulations like reframing (Pavlova et al., 2022). However, these approaches should be developed with caution. In the present study, mice were exposed to only novel CS and UCS. It is a well-documented finding that previous exposure to a putative CS makes it more difficult to become predictive of a UCS (termed 'latent inhibition'; e.g., Lubow, 1973). In cases of chronic pain development in humans, it is rarely the case that either the environment or the chronic pain are inherently novel, and thus, this type of conditioning would likely take longer to develop than in the procedure employed here.
In conclusion, the data presented here demonstrate that context can control pain perception while an animal is actively experiencing pain or when an animal is anticipating a painful experience. These results are evidence that pain perception and engagement of endogenous opioid systems can become dependent on the environment for expression and can be modified through their psychological association with environmental cues. Future work will examine the neural pathways associated with the contextual control of pain processing including those that mediate opioid release in response to pain-associated environments. Further, additional studies will need to examine if continuous chronic pain is susceptible to the effects of conditioning observed here.
All data generated or analyzed during this study are included in the manuscript.
Book

Context and retrieval in extinction and in other examples of interference in simple associative learning

In: Dachowski L, Flaherty CF, editors. Current Topics in Animal Learning: Brain, Emotion, and Cognition. Lawrence Erlbaum Associates. pp. 25–53.

Acetic acid for analgesic screening

Federation Proceedings 18:412–430.

Book

A theory of Pavlovian conditioning: Variations in the effectiveness of reinforcement and nonreinforcement

In: Black AH, Prokasy WF, editors. Classical Conditioning II: Current Research and Theory. New York, NY: Appleton-Century-Crofts. pp. 64–99.
Laura A Bradfield

Reviewing Editor; University of Technology Sydney, Australia

Michael A Taffe

Senior Editor; University of California, San Diego, United States

Laura A Bradfield

Reviewer; University of Technology Sydney, Australia

Sean B Ostlund

Reviewer; University of California, Irvine, United States
Our editorial process produces two outputs: i) public reviews designed to be posted alongside the preprint for the benefit of readers; ii) feedback on the manuscript for the authors, including requests for revisions, shown below. We also include an acceptance summary that explains what the editors found interesting or important about the work.
Decision letter after peer review:
Thank you for submitting your article "Contextual control of conditioned pain tolerance and endogenous analgesic systems: Evidence for sex-based differences in endogenous opioid engagement" for consideration by eLife. Your article has been reviewed by 3 peer reviewers, including Laura A Bradfield as Reviewing Editor and Reviewer #1, and the evaluation has been overseen by Michael Taffe as the Senior Editor. The following individuals involved in review of your submission have agreed to reveal their identity: Sean B Ostlund (Reviewer #2); Steve Negus (Reviewer #3).
The reviewers have discussed their reviews with one another, and the Reviewing Editor has drafted this to help you prepare a revised submission.
Essential revisions:
Upon consultation with the reviewers, the essential revisions are seen as:
1) The inclusion of a control experiment in Figure 5, to investigate the effects of naloxone in vehicle-treated rats, as explained in more detail in the comments by Reviewer #1 and #3.
2) The evaluation of pain behaviours other than that of mechanical hypersensitivity, in line with the detailed comments provided by reviewers #2 and #3 is requested to determine the specificity (or indeed generality) of the behavioural responses to acetic acid injection.
3) Some rearrangement of the manuscript to improve logical flow is necessary. In particular, reviewers #1 and #2 note that they found Figure 1 confusing, along with other several detailed suggestions.
4) Some consideration of the qualitative vs. quantitative sex difference is necessary. Experimental exploration of this idea is encouraged but not essential, however, some thoughtful discussion of this issue is necessary.
Reviewer #1 (Recommendations for the authors):
Weakness 1:
– I suggest the authors make it clear and consistent between the text and figures as to which experiment is which (e.g. ascending dose experiment = Experiment 1, consistent dose experiment = Experiment 2, naloxone experiments = Experiments 3+ and so on).
– I also wasn't sure which animals received acetic acid injections prior to training, as shown in Figure 1. Was this all animals? Or is it just an illustration of what would happen if animals received acetic acid injections in the absence of context training? This needs to be made clearer.
– It could just be the way the figures converted to pdf or some other factor, but the figures I had were a bit blurry (except Figure 1) and the writing was a little on the small side.
– Where the naloxone experiments are reported and mice are no longer separated by sex, this needs to be signposted and a rationale given, particularly considering the large sex differences reported in equal sections. Moreover, it needs to be stated whether males and females are equally distributed among groups in Figures 4B, C, and E.
Weakness 2:
– I don't have a specific suggestion for this weakness, but I am curious as to whether the authors agree/disagree regarding whether the lack of difference from Day 1 vs. Day 4 in male mice in conditioned tolerance suggests that they did not develop this response? If not, why not?
Weakness 3:
– I suggest the authors temper their language here a little, e.g. "we did not find any evidence to suggest that the effects are mediated by corticosterone" rather than stating the effects were not mediated by corticosterone.
Weakness 4:
– The null effect in the vehicle group in Figure 4E relies on a very low sample size, n = 4. I always find it a little uncomfortable to conclude that a treatment did not have an effect based on such low numbers because the chances of a Type II error are so high. However, without any conditional pain tolerance in this group, I can see that it is very unlikely for naloxone to have any effect – effects are probably already at ceiling. I would suggest changing the wording in lines 314-315 to something like "we found no evidence for any effect of naloxone on referred mechanical…." Rather than saying naloxone had no effect.
Weakness 5:
– I suggest that the authors make their interpretation of the data reported in this section a bit clearer, particularly in light of their stated premise for these experiments (i.e. that it is unclear if the compensatory analgesic response was context-dependent or autonomic response to the acetic acid). To me it seems that the data in the males suggests the latter but I wasn't clear if that was the author's interpretation as well? And if so, what does this mean for the results in the rest of the manuscript?
– With regards to the females data shown in Figure 5E, either the authors would need to demonstrate that naloxone-mediated sensitivity is not present in the vehicle context in the absence of an acetic acid injection, or provide a good explanation as to why they are not including these data.
Reviewer #2 (Recommendations for the authors):
Below I outline a few specific issues and suggestions for strengthening the paper, though more general comments made in the public comments should also be considered.
1) Writhing and other responses to pain and pain-paired stimuli.
a. An important alternative explanation to consider is that behavioral effects of the pre-test treatment carried over into the test session in a way that interfered with von Frey testing. How would a general increase in writhing, recuperative (e.g., grooming), or locomotor behavior impact these measurements? Do the authors have any measurements of these behaviors during von Frey test sessions.
b. Did the authors measure writhing or other behaviors during the context exposure sessions? Understanding the time course of such outcomes would not only help address the alternative account just discussed, it could also provide great insight into the nature of the conditioned responses reported here. It is possible that the paired-context elicited a US-specific analgesic response which primarily countered the visceral pain related to the acid injection. This diminished visceral pain could itself explain the absence of mechanical allodynia, though it would not explain the conditioned analgesia observed in females in the final experiment. Alternatively, perhaps there was no attenuation of writhing or visceral pain in the paired context, which would strength the authors' conclusions and focus on the nociceptive touch. Did naloxone pretreatment diminish writhing and/or would such an effect be expected from the literature?
2) I believe the conceptual framework for the study and the model tested here could be presented more clearly. Figure 1 is particularly confusing until one has already read the methods, including the final experiment. Exactly what changes are needed depends on how the authors respond to my comment #1B, since I think there may be a need to emphasize the direct effects of the acid injection (visceral pain, writhing) and distinguish these from nociceptive touch assessment. I was also confused by the different "scenarios". Why is Scenario 1 associated with "examin(ing) pain sensitivity" when this is done in all experiments (if by pain sensitivity we mean von Frey testing)? Why is Scenario 2 association with "exam(ing) pain expectation" when this is done in all experiments (if by pain expectation we mean the conditioned effects of context cues)? If Scenario 2 is supposed to be linked to the last experiment (without pre-test acid injection), which it seems, why does it emphasize naloxone assessment, which was also done with the earlier design. I think the schematic tries to distinguish between some key differences in questions asked across studies but may cause more confusion that clarification. Here are a few suggestions. Consider using only the Scenario 1 example and filling in with more informative labels, like visceral pain and mechanical pain. The posture of the mouse alone does not make this clear. If the context only variation on the test is to be presented in "scenario 2", then I suggest leaving out the naloxone pill bottle (which again is not specific to this experiment and is represented in a confusing way). I would also use more objective terms for descriptors (e.g., Examine contextual modulation of visceral pain vs. mechanical pain). The term expectation here is somewhat loaded and would suggest a cognitive processes for some readers, which would be more compelling if there was evidence of pain type specificity or other indications of cognitive representation (e.g., inflation). And both the paired and unpaired contexts should be represented in any context-only Scenario 2 illustration.
3) Again, depending on how the authors respond to Comment #1B, I would be interested in a discussion of the somewhat paradoxical finding that pain-paired context cues support opposing conditioned pain responses in the final experiment. Presumably conditioned hypersensitivity and conditioned analgesia have different adaptive functions and are governed by different mechanisms. Elucidating the factors that differentially influence these CRs will likely be an important step in establishing this model and determining its impact on the field. It is also important to address why effects vary depending on whether or not visceral pain is administered prior to testing. Here are some items to consider:
a. Pain-specificity: I noted the possibility that this may relate to pain type/modality; i.e., visceral pain-paired cues may selectively block the 'expected' visceral pain, effectively canceling out the hypersensitivity to nociceptive touch that would have been induced by the pre-test injection. Perhaps such cues also act directly (in absence of visceral pain) on touch perception in order to increase vigilance, or sensitivity to outside threats.
b. Strength of learning or CR: Conditioned analgesia appears to depend on the strength of conditioning (or at least UCS intensity) in the first two experiments, so perhaps this also accounts for the sex difference in conditioned analgesia in the final experiment. But then where was the conditioned allodynia in the early experiments? Obscured by a floor effect?
c. Cue control: Is there reason to think that the visceral pain, itself, might be encoded as part of the training context, such that mice failed to fully generalize to the external context cues in the final experiment?
d. Timing: Is there any evidence that conditioned analgesia and allodynia are temporally and/or hierarchically organized, with the former preceding the latter. Perhaps this relates to strength of conditioning. If paired with a sufficiently strong pain UCS, context cues may elicit an immediate conditioned analgesic response with the persistence of this effect depending on associative strength. This might be followed by a conditioned state in which pain perception is heightened.
Reviewer #3 (Recommendations for the authors):
1. IP acid served as the US in this study, and the primary UR was mechanical hypersensitivity elicited by a second US (von Frey filaments) applied to a different anatomical target (hind paw). IP acid produces a number of other more direct URs (e.g. writhing, grimace, reduced locomotion, etc). l115 of Methods indicates that mice might have been video recorded during conditioning or test sessions. Were sessions recorded? Were these more direct behaviors scored either in real time or from recordings? Did US+CS pairing produce either "conditioned pain tolerance" to any of these more direct behaviors in the presence of US+CS (e.g. less writhing or grimace, more locomotion), or conditioned expression of these behaviors in the absence of the US (e.g. CS-induced expression of writhing, grimace, or reduced locomotion)? If these data are available, it would be helpful to include them. If they are not available, it would be helpful in Discussion to note that these other behaviors also function as IP acid-induced URs, they were not studied here, and the generality of US+CS pairing effects for these other behaviors remains to be examined.
2. An important finding in this study is the apparent higher potency of IP acid to elicit the mechanical hypersensitivity UR in females than males. Three comments on this finding. (a) First, how do sex differences in this UR relate to other published evidence for presence or absence of sex differences in other URs elicited by IP acid (e.g. Tansley 2019 reference, PMID: 20453868, PMID: 33622770)? Sex differences in expression of pain behaviors with other visceral pain models are mentioned (l468-470), but studies using IP acid are highly pertinent and should also be mentioned. My understanding is that these studies have generally observed a nonsignificant trend for higher expression by females of these other URs, including IP acid-induced thermal hypersensitivity in the Tansley 2019 paper. This suggests that the larger sex difference observed here for IP acid-induced mechanical hypersensitivity is unusual. (b) Second, how might this sex difference in potency of IP acid to induce acute hypersensitivity influence expression of the conditioned hypersensitivity expressed in males but not females in Figure 5? At present, this difference is described as a qualitative sex difference; however, an alternative explanation is that it is a quantitative potency difference in IP acid effects. Specifically, it is possible that a lower acid concentration or a smaller number of conditioning trials might produce conditioned hypersensitivity in females, or that a higher acid concentration or greater number of conditioning trials might engage an opioid-mediated resistance to conditioned hypersensitivity in males. This possibility could be explored experimentally as it was for conditioned pain tolerance, but it should at least be mentioned as a possibility in the Discussion. (c) Lastly, the first sentence of the Abstract suggests that associative learning mechanisms such as those studied here might contribute to the transition from acute to chronic pain, and the Discussion notes that chronic pain is more prevalent in women than men (l465). In this study, though, data in Figure 5 show conditioned expression of the pain behavior only in males. This greater expression of conditioned pain behavior in males appears inconsistent with the greater prevalence of chronic pain in women.
3. In Figure 5D and 5E, a control group should be included that receives vehicle on all three conditioning days followed by naloxone pretreatment to vehicle on the Day 4 test day. Current interpretation of data in Figure 5E assumes that naloxone would not produce mechanical hypersensitivity in vehicle trained mice, and inclusion of this control experiment would test this important prediction.
https://doi.org/10.7554/eLife.75283.sa1
Essential revisions:

Upon consultation with the reviewers, the essential revisions are seen as:

1) The inclusion of a control experiment in Figure 5, to investigate the effects of naloxone in vehicle-treated rats, as explained in more detail in the comments by Reviewer #1 and #3.
This control experiment was added in as new Figure 4F. Over the course of 3 days, mice were repeatedly injected with PBS vehicle then exposed to a specific context for 60 minutes. On day 4, mice were pre-treated with naloxone or vehicle control prior to being placed into the training context. Hindpaw withdrawal thresholds were measured 45 min after placement into this context. Unlike the thresholds of animals trained with acid injections (see Figure 4E), hindpaw withdrawal thresholds of vehicle-trained mice were unchanged by naloxone administration, suggesting that endogenous opioid signaling does not influence pain sensitivity in environments that are not previously associated with pain.
2) The evaluation of pain behaviours other than that of mechanical hypersensitivity, in line with the detailed comments provided by reviewers #2 and #3 is requested to determine the specificity (or indeed generality) of the behavioural responses to acetic acid injection.
Writhing, a reflexive pain behavior initiated by acetic acid injection, was added into the following experiments: Figures 1E-G, 2E-G, and 3G-H. The inclusion of these data make it clear that the strength of the unconditioned stimulus affects the magnitude of conditioned analgesia. Although females exhibit acid-related hindpaw mechanical hypersensitivity (a phenomenon labeled 'hyperalgesic descending control of nociception' (DCN); see below) after training with low doses of acetic acid, they do not exhibit conditioned analgesia in the writhing test unless trained with high doses of acetic acid. Similarly, males, which do not exhibit hyperalgesic DCN unless trained with high doses of acetic acid, do not exhibit conditioned analgesia in the writhing component of any of the current experiments, suggesting that conditioning was not strong enough to evoke CS-induced analgesia. Additional discussion of stimulus generalization, a point raised by Reviewer 2, has been added to the discussion.
3) Some rearrangement of the manuscript to improve logical flow is necessary. In particular, reviewers #1 and #2 note that they found Figure 1 confusing, along with other several detailed suggestions.
Significant changes have been made to improve the flow of the manuscript. First, old Figure 1 was removed and replaced with a graphical summary (Figure 5). This new summary figure illustrates the experimental design and behavioral results obtained in each sex for all conditioning paradigms used in the manuscript. Second, and at the request of public comments on BioRxiv, we have updated terminology used throughout the manuscript as follows: while the appropriate translation of Pavlov's original Russian text, "conditional" and "unconditional" have been replaced with "conditioned" and "unconditioned"; "pain tolerance" has been replaced with "analgesia"; the term "anti-DNIC" has been replaced with "hyperalgesic descending control of nociception (DCN)". This last change adheres to the terminology suggestions put forth by Bannister et al., (2021) Pain, which clearly distinguishes between the phenomena known as "conditioned pain modulation", "diffuse noxious inhibitory controls", and "descending control of nociception". Third, additional details were added to the methods section to make our experimental timeline explicitly clear.
4) Some consideration of the qualitative vs. quantitative sex difference is necessary. Experimental exploration of this idea is encouraged but not essential, however, some thoughtful discussion of this issue is necessary.
This topic is now specifically addressed in the discussion. References for manuscripts that have used acetic acid as a conditioning stimulus are also included throughout the text, as are day-by-day hindpaw withdrawal thresholds (Supp. Figure 2-1) for all animals included in Figure 2 experiments. The addition of these data and the writhing behaviors described above suggest that there are quantitative sex differences in the current datasets, and the possibility of qualitative differences when UCS are not present on test day (i.e., results in Figure 4).
https://doi.org/10.7554/eLife.75283.sa2
Article and author information
Author details
National Institutes of Health (K99HL155791)
National Institutes of Health (R01NS070711)
National Institutes of Health (R37NS108278)
Advancing a Healthier Wisconsin
The funders had no role in study design, data collection and interpretation, or the decision to submit the work for publication.
All protocols were in accordance with National Institute of Health guidelines and were approved by the Institutional Animal Care and Use Committee at the Medical College of Wisconsin (Milwaukee, WI; protocol #0383).
Michael A Taffe, University of California, San Diego, United States
Laura A Bradfield, University of Technology Sydney, Australia
Laura A Bradfield, University of Technology Sydney, Australia
Sean B Ostlund, University of California, Irvine, United States
Steve Negus
© 2022, Trask et al.
This article is distributed under the terms of the Creative Commons Attribution License, which permits unrestricted use and redistribution provided that the original author and source are credited.
1,448

Page views

283

Downloads

2

Citations
Article citation count generated by polling the highest count across the following sources: Crossref, PubMed Central, Scopus.
A two-part list of links to download the article, or parts of the article, in various formats.
Downloads
(link to download the article as PDF)
Open citations
(links to open the citations from this article in various online reference manager services)
Cite this article
(links to download the citations from this article in formats compatible with various reference manager tools)
Sydney Trask
Jeffrey S Mogil
Fred J Helmstetter
Cheryl L Stucky
Katelyn E Sadler
Contextual control of conditioned pain tolerance and endogenous analgesic systems
eLife 11:e75283.
https://doi.org/10.7554/eLife.75283
Further reading
Medial frontal cortical areas are thought to play a critical role in the brain's ability to flexibly deploy strategies that are effective in complex settings, yet the underlying circuit computations remain unclear. Here, by examining neural ensemble activity in male rats that sample different strategies in a self-guided search for latent task structure, we observe robust tracking during strategy execution of a summary statistic for that strategy in recent behavioral history by the anterior cingulate cortex (ACC), especially by an area homologous to primate area 32D. Using the simplest summary statistic – strategy prevalence in the last 20 choices – we find that its encoding in the ACC during strategy execution is wide-scale, independent of reward delivery, and persists through a substantial ensemble reorganization that accompanies changes in global context. We further demonstrate that the tracking of reward by the ACC ensemble is also strategy-specific, but that reward prevalence is insufficient to explain the observed activity modulation during strategy execution. Our findings argue that ACC ensemble dynamics is structured by a summary statistic of recent behavioral choices, raising the possibility that ACC plays a role in estimating – through statistical learning – which actions promote the occurrence of events in the environment.

Postsynaptic mitochondria are critical for the development, plasticity, and maintenance of synaptic inputs. However, their relationship to synaptic structure and functional activity is unknown. We examined a correlative dataset from ferret visual cortex with in vivo two-photon calcium imaging of dendritic spines during visual stimulation and electron microscopy reconstructions of spine ultrastructure, investigating mitochondrial abundance near functionally and structurally characterized spines. Surprisingly, we found no correlation to structural measures of synaptic strength. Instead, we found that mitochondria are positioned near spines with orientation preferences that are dissimilar to the somatic preference. Additionally, we found that mitochondria are positioned near groups of spines with heterogeneous orientation preferences. For a subset of spines with a mitochondrion in the head or neck, synapses were larger and exhibited greater selectivity to visual stimuli than those without a mitochondrion. Our data suggest mitochondria are not necessarily positioned to support the energy needs of strong spines, but rather support the structurally and functionally diverse inputs innervating the basal dendrites of cortical neurons.

Several discrete groups of feeding-regulated neurons in the nucleus of the solitary tract (nucleus tractus solitarius; NTS) suppress food intake, including avoidance-promoting neurons that express Cck (NTSCck cells) and distinct Lepr- and Calcr-expressing neurons (NTSLepr and NTSCalcr cells, respectively) that suppress food intake without promoting avoidance. To test potential synergies among these cell groups we manipulated multiple NTS cell populations simultaneously. We found that activating multiple sets of NTS neurons (e.g., NTSLepr plus NTSCalcr (NTSLC), or NTSLC plus NTSCck (NTSLCK)) suppressed feeding more robustly than activating single populations. While activating groups of cells that include NTSCck neurons promoted conditioned taste avoidance (CTA), NTSLC activation produced no CTA despite abrogating feeding. Thus, the ability to promote CTA formation represents a dominant effect but activating multiple non-aversive populations augments the suppression of food intake without provoking avoidance. Furthermore, silencing multiple NTS neuron groups augmented food intake and body weight to a greater extent than silencing single populations, consistent with the notion that each of these NTS neuron populations plays crucial and cumulative roles in the control of energy balance. We found that silencing NTSLCK neurons failed to blunt the weight-loss response to vertical sleeve gastrectomy (VSG) and that feeding activated many non-NTSLCK neurons, however, suggesting that as-yet undefined NTS cell types must make additional contributions to the restraint of feeding.