Contractile force assessment methods for in vitro skeletal muscle tissues
Over the last few years, there has been growing interest in measuring the contractile force (CF) of engineered muscle tissues to evaluate their functionality. However, there are still no standards available for selecting the most suitable experimental platform, measuring system, culture protocol, or stimulation patterns. Consequently, the high variability of published data hinders any comparison between different studies. We have identified that cantilever deflection, post deflection, and force transducers are the most commonly used configurations for CF assessment in 2D and 3D models. Additionally, we have discussed the most relevant emerging technologies that would greatly complement CF evaluation with intracellular and localized analysis. This review provides a comprehensive analysis of the most significant advances in CF evaluation and its critical parameters. In order to compare contractile performance across experimental platforms, we have used the specific force (sF, kN/m2), CF normalized to the calculated cross-sectional area (CSA). However, this parameter presents a high variability throughout the different studies, which indicates the need to identify additional parameters and complementary analysis suitable for proper comparison. We propose that future contractility studies in skeletal muscle constructs report detailed information about construct size, contractile area, maturity level, sarcomere length, and, ideally, the tetanus-to-twitch ratio. These studies will hopefully shed light on the relative impact of these variables on muscle force performance of engineered muscle constructs. Prospective advances in muscle tissue engineering, particularly in muscle disease models, will require a joint effort to develop standardized methodologies for assessing CF of engineered muscle tissues.
The main function of skeletal muscle is to produce contractile force (CF) (Vandenburgh et al., 2008; Shadrin et al., 2016), which is necessary for locomotion, respiration, and metabolic processes (Kaji et al., 2010; Qazi et al., 2015; Wang et al., 2019; Yusuf and Brand-Saberi, 2012). CF may be compromised during aging or due to major injuries or genetic mutations, such as in muscular dystrophies. Calcium (Ca2+) homeostasis, which is usually dysregulated in these conditions, has a profound impact on force production (Vallejo-Illarramendi et al., 2014; Al Tanoury et al., 2021). Muscular contraction is initiated by motoneurons, which release acetylcholine (ACh) upon activation by action potentials. ACh causes sarcolemmal depolarization and opening of calcium channels at the sarcolemma and the sarcoplasmic reticulum. Ca2+ diffuses throughout the sarcomere and initiates contraction by a cross-bridge cycle between actin and myosin (Widmaier and Raff, 2008; Fernández-Costa et al., 2021; Santoso et al., 2021).
For years, standard 2D cellular cultures and animal models have been used to understand muscle physiopathology and to develop novel treatments for muscle diseases. Despite the many discoveries regarding those models, a comparison with native human muscle suggests that major challenges remain in order to obtain a fully representative or trustworthy model (Horvath et al., 2016; Santoso et al., 2021; Wang et al., 2019). Characteristics such as size, drug diffusion, or immune response are difficult to match with the ones occurring in the human body (Fernández-Costa et al., 2021; Khodabukus, 2021). For instance, the muscular dystrophy X-linked mouse (mdx) is a well-accepted preclinical model for Duchenne Muscular Dystrophy (DMD) (Bersini et al., 2018; Lasa-Fernandez et al., 2020; Al Tanoury et al., 2021). However, mdx mice present substantial differences compared to Duchenne patients regarding muscle regeneration, Ca2+ handling, and life expectancy (Raymackers et al., 2003; Toral-Ojeda et al., 2018; Yoshioka et al., 2021b). Other DMD animal models (dogs or pigs) seem to better recapitulate the human disease, but they entail substantial drawbacks or challenges such as higher variability in disease progression, longer experimental times, and, obviously, much higher costs (Smith et al., 2016; Kornegay, 2017).
In vitro models, as an alternative to animal models, are already providing promising results in different applications such as disease modeling (Shimizu et al., 2017; Nesmith et al., 2016; Badu-Mensah et al., 2020; Fernández-Garibay et al., 2021), drug discovery (Vandenburgh, 2010; Ikeda et al., 2017; Afshar et al., 2020; Alave Reyes-Furrer et al., 2021), gene therapy (Powell et al., 1999; Vandenburgh et al., 1996), reconstructive surgery (Brady et al., 2008; Kim et al., 2018; Gilbert-Honick et al., 2020), or even as bio-actuators in biohybrid systems (Yamamoto et al., 2011; Cvetkovic et al., 2014; Gao et al., 2021). Indeed, the latest technological advances in tissue engineering such as 3D bioprinting or the development of novel biomaterials and culture platforms (Capel et al., 2019; Denes et al., 2019; Costantini et al., 2021; Gupta et al., 2021; Peper et al., 2021) are facilitating the development of better in vitro skeletal muscle constructs. To this end, researchers have recapitulated many native skeletal muscle features, including contraction (Madden et al., 2015; Urciuolo et al., 2020; Akiyama et al., 2021; Alave Reyes-Furrer et al., 2021), vascularization (van der Schaft et al., 2011; Bersini et al., 2018; Osaki et al., 2018a; Gilbert-Honick et al., 2018), mechanical tension (Okano and Matsuda, 1998; Vandenburgh and Karlisch, 1989), neuromuscular junction (NMJ) (Afshar Bakooshli et al., 2019; Yoshioka et al., 2020; Vila et al., 2021), and muscle stiffness (Urciuolo et al., 2020). These features, represented in Figure 1 (top), are considered key requirements for generating functional and mature skeletal muscle constructs.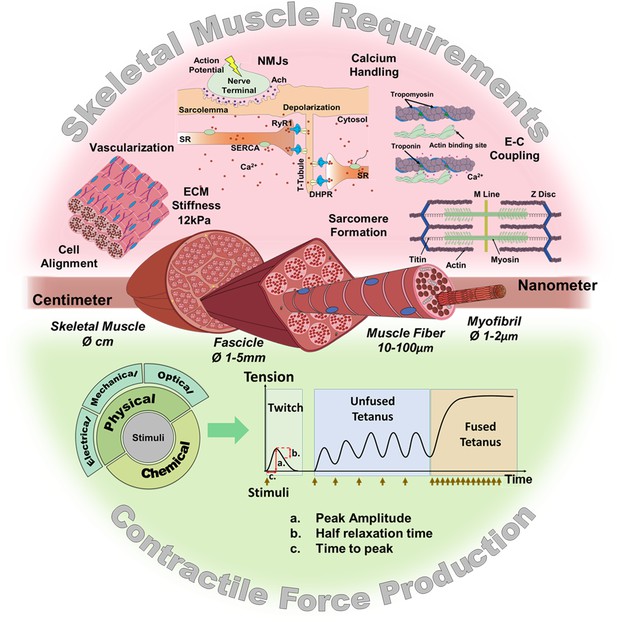 The current gold standard for the characterization of in vitro muscle models includes expression analysis of myogenic markers, determination of the fusion index, and evaluation of striation pattern and ACh receptor aggregation (Bajaj et al., 2011; Toral-Ojeda et al., 2016; Toral-Ojeda et al., 2018). Whereas this information is helpful for understanding the basic differentiation status of the culture, CF provides further physiological information about the degree of tissue maturation and functionality (Madden et al., 2015; Ikeda et al., 2016; Juhas et al., 2016; Nagashima et al., 2020). Indeed, CF evaluation has already established its usefulness as a primary outcome measure in drug screening platforms (Ikeda et al., 2017; Shimizu et al., 2017; Vandenburgh et al., 2009), analyzing the performance of different cellular sources (Nagashima et al., 2020; Shimizu et al., 2020), assessing the effect of scaffold composition (Boontheekul et al., 2007; Hinds et al., 2011), or even evaluating the influence of heat stress (Takagi et al., 2018), and media supplements on muscle development (Martin et al., 2017; Mills et al., 2019; Xu et al., 2019).
However, it is quite challenging to compare CF magnitudes obtained under different experimental conditions in which crucial key factors differ such as culture platforms (Anene-Nzelu et al., 2013; Khodabukus and Baar, 2016), culturing methods, cell lines, scaffold materials (Zhuang et al., 2020; Gilbert-Honick et al., 2020; Perez-Puyana et al., 2021) or even construct size. Consequently, there is a wide range of results from different research laboratories worldwide that are difficult to compare or interpret. This fact raises the need to define homogeneous units and to standardize the methodology for CF assessment in order to facilitate proper comparison among studies.
Contractile force induction
Contractile force analysis
CF or tension, which is expressed in Newtons (N) is not a very informative parameter for engineered muscles, because it does not relate to the size and condition of the tissue construct. Instead, the Specific Force (sF), also referred to as mechanical stress, is the CF normalized to the cross-sectional area (CSA) of the construct, and it is expressed in Pascals (Pa = N/m2) (Bottinelli and Reggiani, 2000; Maganaris et al., 2001; Pirozzi et al., 2013; Miller et al., 2015). CF is proportional to the number of muscle fibers and thus to the cross-sectional area of the construct (Pirozzi et al., 2013). Hence, CF can be easily converted into sF following Equation 1 below.
A major drawback concerning this parameter is the wide diversity of criteria in the literature for defining and quantifying CSA of muscle constructs (Figure 2). In 2D models, CSA can be estimated as a circular shape, or calculated as an elliptical shape from the thickness and the width of the myotubes (Pirozzi et al., 2013; Jeon et al., 2019). As for 3D constructs, the CSA has been approximated to circular (Hinds et al., 2011; Juhas and Bursac, 2014; Nagashima et al., 2020), rectangular (Donnelly et al., 2010), or elliptical (Akiyama et al., 2021) shapes. Moreover, CSA may also be determined from immunohistochemical sections. In this case, most works consider the whole area of the engineered tissue (total CSA). However, non-contractile areas can account for up to 90% of the whole CSA (Sakar et al., 2012; Juhas and Bursac, 2014; Ebrahimi et al., 2021), which has a substantial impact on sF calculations. Thus, other studies consider only the area occupied by the myotubes, which is referred to as effective-CSA (Hinds et al., 2011; Sakar et al., 2012; Sato et al., 2013; Ebrahimi et al., 2021). Other authors normalize CF by cell number (mN/cell) or cell density (mN/cell*mm–2), of the muscle construct (Xu et al., 2019).
Studies summarized in Table 1 and Source Data 1 indicate a preference for normalizing CF to the whole CSA (calculated as a circular shape). However, as shown above, the use of sF to compare results across laboratories may turn out to be unreliable due to the large differences in the methodology used to calculate CSA. In addition, tissue processing required for immunohistochemical techniques may entail size artifacts that further affect CSA calculations. Along these lines, a previous study in human isolated fibers claims that diameter measurements present less variability than CSA measurements resulting in a more accurate normalization in N/m instead of sF (Krivickas et al., 2011). We believe that normalizing CF to diameter or to a related parameter (i.e. calculated circular CSA) would allow for a more reliable comparison among different studies, as long as similar contractile areas are verified. In any case, in order to compare sF, it is essential to thoroughly evaluate the method used in each study for CF normalization.
CF is affected by its relationship with different parameters, such as the frequency of the contractile stimulus (force-frequency), sarcomere length (force-length), and contraction velocity (force-velocity). Thus, an increase in stimulation frequency causes an increase in CF up to a maximal value (Fitts et al., 1991; Widmaier and Raff, 2008), although prolonged stimulation can lead to tissue fatigue and cause a decrease in CF over time (Grassi et al., 2015). In addition, contraction velocity is inversely related to cross-bridge formations and thus to CF production (Widmaier and Raff, 2008; Lindstedt et al., 2016). Power, defined by the product of CF and contraction velocity, is a measurable outcome of muscle contraction that reflects its efficiency and can be used to assess muscle fatigue (Alcazar et al., 2019). Finally, CF also depends on muscle length. An optimal length (L0) is where actin-myosin interactions are maximal and the muscle generates the highest tension (Fitts et al., 1991; Cheng et al., 2014a).
CF assessment should not be limited to determining the peak force value reached during contraction. It is rather preferred to analyze the complete contraction-relaxation profile. In essence, upon stimulation, skeletal muscle may present two types of mechanical profiles, as shown in Figure 1. An isolated contraction, or twitch response, is caused by a one-pulse stimulus that generates a single action potential (Widmaier and Raff, 2008). A tetanic contraction, in turn, is caused by a series of pulses whose frequency determines the contraction profile. Tetanic contraction may be unfused when the stimulation frequency allows the muscle to relax between pulses or fused when the interval between pulses is shorter than the time needed to reach relaxation. In the latter, the muscle exerts maximal CF (Widmaier and Raff, 2008; Wang et al., 2019).
Several parameters can be calculated from twitch and tetanus contraction profiles: The Tetanic-to-Twitch ratio, which compares maximal CF of these profiles, is independent from the size of the construct, and is affected by fatigue and maturation of muscle fibers, among others (Hill et al., 2021; Santoso et al., 2021). Time to peak (TTP) and half-relaxation time (RT50) can also be calculated from contraction profiles (Figure 1, lower graphs). These parameters contribute to evaluating contraction kinetics, and have revealed pathological phenotypes, such as impaired contractility in myotubes of ALS patients (Badu-Mensah et al., 2020).
Techniques for contractile force assessment
Hereafter, the most relevant techniques used to determine and measure CF in engineered skeletal muscle tissues, either for 2D or 3D configurations, are described: (1) cantilever deflection, (2) post deflection, or (3) force transducers. We also discuss alternative or emerging technologies for CF assessment, and provide a detailed comparison of the three main platforms currently in use.
Contractile force data analysis
The previous section gathers a summary of the most relevant techniques used to quantify CF in vitro. There is a distinctive approach for 2D and 3D tissue models and the different methodologies used to assess CF in each of them. This section provides a uniform analysis of published data using the three methods described, enabling comparison of contractility across different models. It also provides insights into the development of disease models and evaluation of the effect of several pharmacological treatments.
It is relatively common to find CF values with different metrics or without proper clarification of morphological parameters such as sample width/thickness or CSA. This indetermination hinders a straightforward comparison between data collected using the different methodologies. Table 1 compares the morphological information (diameter and CSA) and the CF and sF of different healthy muscle constructs. CF data was directly extracted from the studies, time-average measurements were selected for both twitch and tetanus contraction unless these data were not provided in the study (noted with #). Maximum or instantaneous CF values were used as a necessary replacement in those cases. Additionally, it was often necessary to recalculate other parameters from the information provided by the authors (graphs or images), since it was either missing or provided in different units. Values that were recalculated are noted with an asterisk (*) in the table. To calculate the CF values, we have assumed the following premises:
Determination of the CSA (mm2): For 2D models we used the width (diameter) and thickness of the tissue, assuming an elliptical shape (). Calculations were based on diameter measurement assuming that myotube thickness is 1.5 times lower than diameter. For the 3D models, we worked with the circular cross-section of the sample ( = , where is the radius of the construct). Note that for the comparison among studies, all data have been normalized to the whole CSA (Figure 2).

If the authors present the sF directly rather than CF from twitch or tetanus, a backward calculation was made to ensure the comparison for either the CSA or CF.

Tetanic-to-Twitch Ratio was calculated from sF data within the same study (sFTe / sFTw), except for the post deflection experiments with C2C12 myotubes, where data unavailability forced the use of sFTe and sFTw data from different studies.
Muscle construct size and composition
The size of myotubes in vitro is smaller than the size of muscle cells in the native muscle tissue, commonly known as muscle fibers (Figure 1). While in the muscle fibers size ranges from 10 to 100 µm (King et al., 2004; Powell et al., 2002), the size of the myotubes in the cantilever deflection was 33.15 ± 23.831 µm and 13.29 ± 4.810 µm for C2C12 and human, respectively. This in vitro data is clearly within the lower range of the scale and could be related to the lack of maturation of the tissue.
In 3D muscle constructs in vitro, the size is limited by gas diffusion and, thus, it is difficult to scale up. Diameters of the engineered tissues range between 0.14–2 mm for post deflection and 0.17–3 mm for force transducers. While as shown in Figure 7A, the average-CSA ranges between 0.001–1 mm2 for post deflection, and 0.0001–5 mm2 for force transducers. Of note, the length of muscle constructs, which is independent of the diameter, is substantially higher in the force transducer platform (12–20 mm) compared to the one in µposts (around 4 mm) (Vandenburgh et al., 2008; Gholobova et al., 2020b).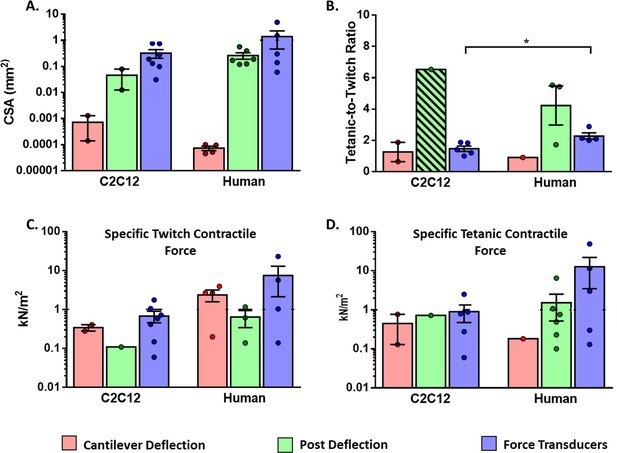 The dimensions of these constructs are affected by several variables such as the size of the culture platform (i.e. mold dimensions), hydrogel composition, and compaction (collagen vs. fibrinogen and matrigel) (Hinds et al., 2011; Pollot et al., 2018), culture protocols (i.e. stimulation during myogenesis), and cell culture density (Cvetkovic et al., 2014; Yoshioka et al., 2021a).
The scaffold composition, the type of proteins and their concentration, are also essential for tissue development and contraction performance. For example, time-to-tetanic peak was found almost two-times higher in 4 mg/ml fibrin-based hydrogels than in 2 mg/ml hydrogels. Additionally, when comparing fibrin with collagen I hydrogels, the latter exhibited lower twitch CF, tetanic CF, and tetanic-to-twitch ratio compared to fibrin hydrogels (Hinds et al., 2011). This can be partially explained by the elastic modulus of the hydrogel and the pore size. Collagen presents higher stiffness than fibrin, thus affecting the mechanical response of the tissue. The muscular cells need to overcome the elastic resistance provided by the hydrogel to exert proper contraction. On top of that collagen hydrogels present the smallest pore size and a higher degree of crosslinking fibers. Although this characteristic promotes differentiation, it also hinders cell migration (Pollot et al., 2018).
However, the core common issue in these 3D models is the number of myotubes and their localization within the scaffold. The cross-sectional area of native skeletal muscle presents a high and homogeneously distributed density of muscle fibers per area area (King et al., 2004). In contrast, histological studies of in vitro models have shown that myotubes are mainly in the outer ring of the constructs rather than homogeneously distributed along the cross-section (Nakamura et al., 2017). Thus, up to 90% of the CSA could be constituted by non-contractile tissue (Juhas and Bursac, 2014; Sakar et al., 2012; Akiyama et al., 2021; Ebrahimi et al., 2021), likely due to the lack of proper diffusion of nutrients and oxygen within the in vitro tissue (van der Schaft et al., 2011).
Several approaches such as tissue vascularization are being explored to overcome this hindrance (Gholobova et al., 2020a). For example, the use of porous biodegradable polymers promotes muscle differentiation and development of pre-vascular vessel-like structures (Levenberg et al., 2005). Other approaches include the use of sacrificial templates with thermo-responsive materials mimicking the vessel system (Wan et al., 2020), the development of aligned prevascularized muscles (van der Schaft et al., 2011), and the stimulation of angiogenesis and myogenesis through the exposure of myobundles to close-by engineered capillary networks (Osaki et al., 2018a).
Specific contractile force analysis
The performance of tissue constructs was analyzed by using Twitch Specific Force (Tw-sF), Tetanic Specific Force (Te-sF), and tetanic-to-twitch ratio parameters, which can be extracted or calculated from most studies (Table 1, Figure 7). In order to perform a consistent comparison, we have used the whole CSA (Figure 7A) to calculate sF, and segregated the data into two groups: muscle tissues generated with human myotubes or C2C12 myotubes. Of note, in this analysis human myotubes were generated from immortalized and primary human myoblasts, as well as human induced pluripotent stem cells (hPSC).
CSA data of muscle constructs (Figure 7A) was used to calculate sF generated in the different platforms (Figure 7C and D). These graphs show a vast data dispersion that required logarithmic scales. High dispersion and low data numbers prevented reaching statistical power for proper comparison among the different platforms. In any case, sF values of muscle constructs were much smaller (0.06–50 kN/m2) compared to the ones reported for native muscle, with maximal sF in the range of 100–700 kN/m2 (Maganaris et al., 2001; Urbanchek et al., 2001; Miller et al., 2015; Jeon et al., 2019).
On the contrary, tetanic-to-twitch data in Figure 7B presented low variability. This parameter was calculated from Te-sF and Tw-sF data within the same study, except for the case of C2C12 in µposts that was calculated from two different studies, due to lack of data availability. Interestingly, for the force transducer platform, we found that the tetanic-to-twitch ratio was significantly higher in human muscle compared to C2C12 muscle constructs (unpaired t-test, p < 0.05). We are uncertain about the relevance of this finding, but it is likely an intrinsic feature related to the species since gender-specific differences have been found for this parameter in native mouse muscles (Lafoux et al., 2020). Of note, this parameter is independent of CSA and provides a functional measurement that could be used to compare different studies regardless of the construct size or platform used.
Contractile force evaluation in disease models
Evaluation of CF in these platforms has also been successfully used to characterize the phenotype of muscle disease models. Table 2 shows a collection of the most relevant studies where CF is assessed for different drug-induced models or patient-dystrophic models. Remarkably, many of the studies have used human cell lines or primary cells from donor patients. The CF analysis confirmed that the disease engineered tissues exhibit an overall lower sF and poorer morphological characteristics compared to their healthy controls.
As shown in Table 2, the most common drugs used in these models are: dexamethasone, a synthetic glucocorticoid commonly used to induce muscle atrophy (Aguilar-Agon et al., 2021), and insulin growth factor 1 (IGF-1), which activates muscle stem cells (satellite cells, SCs) and regulates anabolic and catabolic pathways in skeletal muscle (Yoshida and Delafontaine, 2020). All these studies have shown that CF decreases or increases in a dose-dependent manner when dexamethasone or IGF-1 are applied, respectively. Authors have also identified changes in myotubes diameter and in the percentage of fibers with striation patterns or the expression of specific biomarkers. Finally, other drugs such as lovastatin (Madden et al., 2015; Afshar et al., 2020; Ananthakumar et al., 2020; Nagashima et al., 2020) and cerivastatin Brady et al., 2008; Madden et al., 2015; Zhang et al., 2018 have been used to generate statin-induced myopathy models in these systems.
Regardless of the experimental platform used or the size of the construct, in vitro muscle constructs present a significantly smaller CF compared to native tissue (0.2–2.9% of native muscle Tw-sF). Gene expression analyses performed on engineered constructs have shown that they are similar to fetal muscles and far removed from adult native muscle (Nagashima et al., 2020). The general conclusion is that engineered tissues are still at an immature stage of development. Indeed, some of the latest experimental approaches consider using co-culture with neural cells to stimulate NMJ formation, muscle innervation (Demestre et al., 2015; Zahavi et al., 2015; Rimington et al., 2021), and tissue maturation.
Among the main experimental platforms, the force transducer studies are the ones that have generated the highest amount of CF data. Moreover, this platform reports the highest CF mean values among the in vitro muscle constructs. Since constructs evaluated by the force transducer platforms are also the ones with the largest muscle mass, a proper normalization is necessary to compare the CF of the engineered muscles between the different platforms. When normalizing CF to total CSA, we found a very high data variability for all the parameters analyzed (twitch, tetanus), both in constructs generated by C2C12 cells and human cells. However, the tetanic-to-twitch ratio presented a low data variability, enabling comparison between different studies. Tetanic-to-Twitch ratio is a parameter independent of the CSA, which indicates that the total CSA used is not adequate for CF data normalization among studies, even those using the same platform.
There are several aspects influencing contractile function that largely differ across studies, that is, assessment time, tissue maturation, contractile area, and length and mass of the muscle construct. For instance, the percentage of myotubes with a cross-striated pattern, which accounts for the muscle maturation level, appears to be higher in muscle constructs assessed by force transducers ( > 95%) compared to µpost (73.52%) and cantilever platforms (12%) (Hinds et al., 2011; Ebrahimi et al., 2021; Al Tanoury et al., 2021). Importantly, none of these variables are normalized by total CSA, and many are rarely reported in the literature. One possibility for future analyses would be to use the effective CSA, considering the contractile area. This can be achieved with immunofluorescence analysis of sarcomeric proteins (Sakar et al., 2012; Juhas and Bursac, 2014). In addition, this analysis could also provide further valuable data such as muscle maturity level (cross-striation) and sarcomere length, which relates to optimal muscle length.
Our comparative analysis across the experimental platforms shows that sF values reported with the post deflection platform are substantially lower than those with force transducers. This may be due to several factors, including a lower contractile area, lower maturation level, and/or a suboptimal sarcomeric length. In the force transducer, the initial length, L0, in the resting state before contraction stimulation is adjustable, allowing pre-tension of the construct and maximization of CF. However, it is unattainable to control muscle length in the post deflection method or the cantilever system. In µposts, there is a shortening of L0 caused by the passive tension of the construct, that is, a progressive contraction of the cells and hydrogel during maturation. Muscle construct shortening in µposts may vary depending on the elastic modulus and would be more pronounced in hydrogels presenting lower elastic properties, such as fibrin, than collagen (Hinds et al., 2011; Cvetkovic et al., 2014). Due to limited available data, it is not possible to determine to what extent this factor affects the sF readout of µposts experiments. However, data extracted from few selected studies suggest that the sarcomere length does not differ substantially between cantilever deflection (1.58 µm, Santoso et al., 2021), post-deflection (2.76 µm, Ebrahimi et al., 2021) and force transducer platforms (1.5–2.7 µm, Hinds et al., 2011; Rao et al., 2018). Moreover, these data are in line with the optimal sarcomere length (about 2 µm) that produces the maximum tension in native muscles (Moo et al., 2020).
Another factor that may account for the lower sF values in µpost muscle constructs compared to force transducers is the muscle mass. Thus, in the force transducer platform, the muscle construct is undoubtedly longer, about 12–20 mm (Gholobova et al., 2020b) compared to 4 mm, in the case of µposts (Vandenburgh et al., 2008). The total CSA would not fully normalize for longer muscle constructs with similar CSA, where more muscle mass contributes to muscle contraction. Hence, an inappropriate CF normalization may partly account for higher sF values observed on average in force transducer constructs compared to post-deflection.
Finally, an unexpected finding derived from our analysis is the overall higher tetanic-to-twitch ratio values of muscle constructs in µpost (1.5–5.6) compared to constructs assessed by force transducers (1-3). Native rat and human muscles present tetanic-to-twitch ratios in the range of 4–10 (Cheng et al., 2014a), so constructs in µposts appear to recapitulate more closely this feature of native muscles. We hypothesize that constructs assessed using force transducers may suffer undue stress due to the additional manipulation required for FC measurement, which may cause malfunction or fatigue, limiting the tetanic response.
Multiple physiological conditions still need to be adjusted and accounted for in order to achieve higher and more reliable contractile performance data in engineered muscles. In light of the CF and tetanic-to-twitch ratio data, it appears that the use of the ratio would limit the variability of CF data, rendering it a useful parameter for CF data comparison across studies.
Conclusions and future challenges
CF is a key parameter used to assess the actual functionality of in vitro muscle models. In this review, we have discussed the three main methodologies commonly used to measure CF in muscle in vitro systems: cantilever deflection, post deflection, and force transducers. These platforms cover the evaluation of 2D and 3D in vitro skeletal muscle models, from myotubes to muscle engineered tissue in healthy and disease models.
Currently, there is no standard parameter to express CF for in vitro muscle systems. Thus, we have used specific contractile force (sF), by normalizing either twitch or tetanic contraction with the calculated whole cross-sectional area of the engineered tissue in order to compare all the relevant studies. We believe, however, that a more accurate way to calculate sF would be to use the effective-CSA to normalize CF. This would require analyzing the specific number of myotubes in the CSA, which is unfortunately not available in many studies up to date. Therefore, for future studies, we propose that contractility studies in skeletal muscle constructs should include information related to the construct size (length and diameter), contractile area (i.e. myotube coverage in CSA), maturity level (i.e. % of myotubes showing cross-striations), and sarcomere length to complement the information on contractile performance. In any case, we highly recommend including the tetanic-to-twitch ratio since this parameter provides unique information about muscle contractile performance. Furthermore, our analysis suggests that it may enable proper comparison among different studies. Future studies will help us understand the relative impact of these variables on the force performance of muscle constructs and, consequently, the best methodology for measuring and normalizing CF data.
To date, 3D models have evidenced the highest CF; however sF values present a high variability, with no significant differences among the platforms, and they are still far from the native sF range. There is a certain consensus that the cause of this reduced contractile capacity is a maturation deficit of the tissue constructs. In this line, different approaches are being developed to obtain more physiologically relevant muscle models by implementing vascularization, innervation, and mechanical or electromechanical stimulation. Nevertheless, how these new experimental developments would influence the CF of engineered muscle constructs remains unresolved.
Even though CF is a practical, distinctive parameter for assessing muscle function, it is highly influenced by intrinsic properties of the muscle constructs, so the assessment should be complemented alongside other methodologies, such as immunofluorescence, Ca2+ handling, and protein quantification. Future investigations should provide insights into integrating this information with contractile values reported in the literature. Moreover, we expect the emerging CF assessment technologies to provide unique insights into intracellular contractile mechanisms.
Given the growing interest in 3D models and the advances in this field, we anticipate a new generation of in vitro systems that will become the driving force behind subsequent research discoveries. Thus, there are still many opportunities for cooperation in these developments and a need for creative and technological researchers to make it possible.
Optogenetics, Tools and Applications in Neurobiology

Journal of Medical Signals and Sensors 7:71–79.

Conference

A Novel Functional In Vitro Model that Recapitulates Human Muscle Disorders

In Muscle Cell and Tissue - Current Status of Research Field. InTech.

Book

Human Physiology - The Mechanisms of Body Function

McGraw Hill LLC.
Article and author information
Author details
Basque Government Department of Health (2021333020)
Ainara Vallejo-Illarramendi
Diputación Foral de Gipuzkoa (Research and development)
Ministerio de Ciencia e Innovación (PID2020-119780RB-I00)
Ainara Vallejo-Illarramendi
The funders had no role in study design, data collection and interpretation, or the decision to submit the work for publication.
Mone Zaidi, Icahn School of Medicine at Mount Sinai, United States
Christopher L-H Huang, University of Cambridge, United Kingdom
© 2022, Vesga-Castro et al.
This article is distributed under the terms of the Creative Commons Attribution License, which permits unrestricted use and redistribution provided that the original author and source are credited.
2,631

Page views

506

Downloads

7

Citations
Article citation count generated by polling the highest count across the following sources: Crossref, PubMed Central, Scopus.
A two-part list of links to download the article, or parts of the article, in various formats.
Downloads
(link to download the article as PDF)
Open citations
(links to open the citations from this article in various online reference manager services)
Cite this article
(links to download the citations from this article in formats compatible with various reference manager tools)
Camila Vesga-Castro
Javier Aldazabal
Ainara Vallejo-Illarramendi
Jacobo Paredes
Contractile force assessment methods for in vitro skeletal muscle tissues
eLife 11:e77204.
https://doi.org/10.7554/eLife.77204
Further reading
Genetics and Genomics
Neuroscience

A hexanucleotide repeat expansion in C9ORF72 is the most common genetic cause of amyotrophic lateral sclerosis (ALS) and frontotemporal dementia (FTD). A hallmark of ALS/FTD pathology is the presence of dipeptide repeat (DPR) proteins, produced from both sense GGGGCC (poly-GA, poly-GP, poly-GR) and antisense CCCCGG (poly-PR, poly-PG, poly-PA) transcripts. Translation of sense DPRs, such as poly-GA and poly-GR, depends on non-canonical (non-AUG) initiation codons. Here, we provide evidence for canonical AUG-dependent translation of two antisense DPRs, poly-PR and poly-PG. A single AUG is required for synthesis of poly-PR, one of the most toxic DPRs. Unexpectedly, we found redundancy between three AUG codons necessary for poly-PG translation. Further, the eukaryotic translation initiation factor 2D (EIF2D), which was previously implicated in sense DPR synthesis, is not required for AUG-dependent poly-PR or poly-PG translation, suggesting that distinct translation initiation factors control DPR synthesis from sense and antisense transcripts. Our findings on DPR synthesis from the C9ORF72 locus may be broadly applicable to many other nucleotide repeat expansion disorders.

Cell Biology
Neuroscience

The amyloid beta (Aβ) plaques found in Alzheimer's disease (AD) patients' brains contain collagens and are embedded extracellularly. Several collagens have been proposed to influence Aβ aggregate formation, yet their role in clearance is unknown. To investigate the potential role of collagens in forming and clearance of extracellular aggregates in vivo, we created a transgenic Caenorhabditis elegans strain that expresses and secretes human Aβ1-42. This secreted Aβ forms aggregates in two distinct places within the extracellular matrix. In a screen for extracellular human Aβ aggregation regulators, we identified different collagens to ameliorate or potentiate Aβ aggregation. We show that a disintegrin and metalloprotease a disintegrin and metalloprotease 2 (ADM-2), an ortholog of ADAM9, reduces the load of extracellular Aβ aggregates. ADM-2 is required and sufficient to remove the extracellular Aβ aggregates. Thus, we provide in vivo evidence of collagens essential for aggregate formation and metalloprotease participating in extracellular Aβ aggregate removal.

Computational and Systems Biology
Neuroscience

The cerebellar granule cell layer has inspired numerous theoretical models of neural representations that support learned behaviors, beginning with the work of Marr and Albus. In these models, granule cells form a sparse, combinatorial encoding of diverse sensorimotor inputs. Such sparse representations are optimal for learning to discriminate random stimuli. However, recent observations of dense, low-dimensional activity across granule cells have called into question the role of sparse coding in these neurons. Here, we generalize theories of cerebellar learning to determine the optimal granule cell representation for tasks beyond random stimulus discrimination, including continuous input-output transformations as required for smooth motor control. We show that for such tasks, the optimal granule cell representation is substantially denser than predicted by classical theories. Our results provide a general theory of learning in cerebellum-like systems and suggest that optimal cerebellar representations are task-dependent.