Open-source tools for behavioral video analysis: Setup, methods, and best practices
Recently developed methods for video analysis, especially models for pose estimation and behavior classification, are transforming behavioral quantification to be more precise, scalable, and reproducible in fields such as neuroscience and ethology. These tools overcome long-standing limitations of manual scoring of video frames and traditional 'center of mass' tracking algorithms to enable video analysis at scale. The expansion of open-source tools for video acquisition and analysis has led to new experimental approaches to understand behavior. Here, we review currently available open-source tools for video analysis and discuss how to set up these methods for labs new to video recording. We also discuss best practices for developing and using video analysis methods, including community-wide standards and critical needs for the open sharing of datasets and code, more widespread comparisons of video analysis methods, and better documentation for these methods especially for new users. We encourage broader adoption and continued development of these tools, which have tremendous potential for accelerating scientific progress in understanding the brain and behavior.
Quantitative tools for video analysis
Traditional approaches to analyzing video data have involved researchers watching video playback and noting the times and locations of specific events of interest. These analyses are very time-consuming, require expert knowledge in the target species and experimental design, and are prone to user bias (Anderson and Perona, 2014). Video recordings are often made for many different animals and behavioral test sessions, but only reviewed for a subset of experiments. Complete sets of videos are rarely made accessible in published studies and the analysis methods are often vaguely described. There are variations in scoring criteria across researchers and labs, even over time by a single researcher. Collectively, these issues present major challenges for research reproducibility and the difficulty and cost of manual video analysis has led to the dominance of easy-to-use measures (lever pressing, beam breaks) in the neuroscience literature, and this has limited our understanding of brain-behavior relationships (Krakauer et al., 2017).
For example, 'reward seeking' has been a popular topic in recent years and is typically measured using beam breaks between response and reward ports located inside an operant arena (e.g., Cowen et al., 2012; Feierstein et al., 2006; Lardeux et al., 2009; van Duuren et al., 2009). By relying only on the discrete times when animals make a choice and receive a reward, it is not possible to describe how the animal moves during a choice or how it collects a reward. Animals may not move in the same way to a reward port when they expect a larger or smaller reward (e.g., Davidson et al., 1980). This could lead to, for example, a neural recording study labeling a cell as 'reward encoding' when it actually reflects differences in movement.
Commercial products (e.g., Ethovision by Noldus, Any-Maze by Stoelting) and open-source projects (e.g., JAABA: Kabra et al., 2013; SCORHE: Salem et al., 2015; OptiMouse: Ben-Shaul, 2017; ezTrack: Pennington et al., 2019) are available for semi-automated annotation and tracking of behaviors. These methods track animals based on differences between the animals and the background color or luminance. This can be challenging to do in naturalistic settings or for species or strains that do not have a uniform color (e.g., Long-Evans rats). These methods provide estimates of the overall position of an animal in its environment and can be used to measure the direction and velocity of its movements. These 'center of mass' tracking methods could be used to measure where an animal is and how fast it is moving. More sophisticated versions of these products may also detect the head and tail of common laboratory species such as rodents or zebrafish and draw inferences from the shape and location of the animal to classify a small subset of an animal's behavioral repertoire. However, these simpler tracking methods cannot account for movements of discrete sets of body parts (e.g., head scanning in rodents, which is associated with a classic measure of reward-guided decisions called 'vicarious trial-and-error' behavior: see Redish, 2016, for review).
More advanced analyses could be used to quantify movements across many pixels simultaneously in video recordings. For example, Stringer et al., 2019, used dimensionality reduction methods to study the spontaneous coding of visual- and movement-related information in the mouse visual cortex in relation to facial movements. Musall et al., 2019, used video recordings of motion data from several parts of the face of mice as they performed a decision-making task and related the measures from the video recordings to cortical imaging data. While these analyses would go beyond what is possible to achieve with a simple tracking method, the multivariate methods developed by Stringer and Musall are not themselves capable of categorizing movements, measuring transitions between different types of movements, or quantifying the dynamics of movement sequences. For these measures, a different approach is needed.
Methods for capturing the pose of an animal (the location and configuration of its body) have emerged in recent years (e.g., DeepLabCut: Mathis et al., 2018a; SLEAP: Pereira et al., 2022). These methods can provide a description of an animal's movement and posture during a behavioral task. They can be used to understand the dynamics of naturalistic movements and behaviors, as illustrated in Figure 1. Pose estimation methods provide information on the position and orientation of multiple parts of an animal, with recent methods being able to measure pose information for groups of animals (Chen et al., 2020; Lauer et al., 2021; Pereira et al., 2022; Walter and Couzin, 2021). Some recent methods now even allow for pose estimation to be run in real experimental time (Kane et al., 2020; Lopes et al., 2015; Pereira et al., 2022; Schweihoff et al., 2021).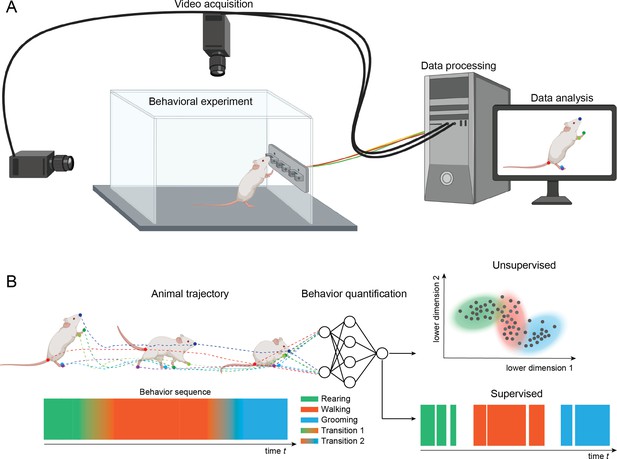 Methods for pose estimation emerged in computer vision research in the late 1970s (Marr et al., 1978; Nevatia and Binford, 1973). The methods became widely available for the analysis of pose in human behavior following improvements in computer vision (Behnke, 2003), deep learning (Szegedy et al., 2013), and computing using graphical processing units (GPUs) (Oh and Jung, 2004). However, these methods were often not robust or required a lot of training data, which were at the time not easily available for animal studies. As a result, a number of open-source tools emerged for pose estimation in animals (e.g., DeepLabCut: Mathis et al., 2018a, LEAP: Pereira et al., 2019; DeepPoseKit: Graving et al., 2019a). These tools are especially notable in that they were developed to address specific scientific questions by researchers and are not available from commercial sources. They are an outstanding example of the 'open-source creative process' (White et al., 2019).
One of these methods, DeepLabCut, has been shown to outperform the commercial software package EthoVision XT14 and a hardware-based measurement system from TSE Systems, based on IR beam breaks (Sturman et al., 2020). When tested across a set of common behavioral assays used in neuroscience (open field test, elevated plus maze, forced swim test), data from the pose estimation method was evaluated using a neural network classifier and performed as well as classifications by human experts, required data from fewer animals to detect differences due to experimental treatments, and in some cases (head dips in an elevated plus maze) detected effects of treatment (a drug) that was not detected by EthoVision.
In the case of reward seeking behavior, human annotation of videos could resolve the animal's position and when and for how long specific behaviors occurred. These measurements could be made by annotating frames in the video recordings, using tools such as the VIA annotator (Dutta and Zisserman, 2019), and commercial (e.g., EthoVision) or open-source (e.g., ezTrack) methods for whole-animal tracking. These measurements would not be able to account for coordinated movements of multiple body parts or for the dynamics of transitions between different behaviors that together comprise reward seeking behavior. These measurements are easily made using methods for pose estimation. These methods learn to track multiple body parts (for a rodent, the tip of snout, the ears, the base of the tail) and the positions of these body parts can be compared for different kinds of trials (small or large reward) using standard statistical models or machine learning methods. These analyses, together, allow for movements to be categorized (e.g., direct and indirect approach toward a reward port) and for transitions between different types of movements to be quantified (e.g., from turning to walking). It would even be possible to detect unique states associated with deliberation (e.g., head scanning between available choice options). All these measures could then be compared as a function of an experimental manipulation (drug or lesion) or used to assist in the analysis of simultaneously collected electrophysiological or imaging data. None of these measures are possible using conventional methods for annotating video frames or tracking overall the overall position of the animal in a behavioral arena.
Pose estimation methods have been crucial for several recent publications on topics as diverse as tracking fluid consumption to understand the neural coding of reward prediction errors (Ottenheimer et al., 2020), accounting for the effects of wind on the behavior of Drosophila (Okubo et al., 2020), understanding the contributions of tactile afferents and nociceptors to the perception of touch in freely moving mice (Schorscher-Petcu et al., 2021), understanding interactions between tactile processing by the rodent whisker system and its ability to guide locomotion (Warren et al., 2021), and measuring the relationship between eye movements and neural activity in freely behaving rodents (Keshavarzi et al., 2022). While a number of studies are emerging that take advantage of methods for pose estimation, there is still not enough widespread adoption of the methods across the research community, perhaps in part due to the technical nature of collecting high-quality video recordings as well as setting up and using methods for pose estimation. These methods depend on access to computing systems with GPUs and the ability to set up and use the required computer software, which is usually available as computer code written in Python or MATLAB. A researcher who wants to get started with these approaches will therefore face a number of questions about how to set up video methods in a laboratory setting. New users may also need to learn some of the jargon associated with video analysis methods, and some of these terms are defined in Table 1. The primary goals of this document are twofold: to provide information for researchers interested in setting methods for video analysis in a research lab and to propose best practices for the use and development of video analysis methods.
A basic setup for video recordings in animal experiments
In a typical setup for video recording, cameras are placed above, and in some cases to the side or below, the behavioral arena (Figure 1). The cameras send data to a computer and can be integrated with inputs from behavioral devices using custom-written programs using popular libraries such as OpenCV (Bradski, 2000), open-source data collection systems such as Bonsai (Lopes et al., 2015), or software included with many common commercial video capture boards (loopbio Motif). Video files can then be analyzed using a variety of open-source tools.
A common approach is to use methods for pose estimation, which track the position and orientation of the animal. This is done by denoting a set of 'keypoints' or "landmarks" (body parts) in terms of pixel locations on frames in the video recordings. Packages for pose estimation provide graphical user interfaces for defining keypoints and the keypoints are then analyzed with video analysis methods. In the example shown in Figure 1, keypoints are the colored dots on the tip of the snout, the ears, forelimbs and paw, midpoint of back, hindlimbs and paws, and base, middle, and end of tail. Once body parts have been defined, computer algorithms are used to track the skeleton formed by the points and to track the position and orientation of the skeleton over frames in the video file. Many open-source tools use machine learning methods for these intensive computational processes, which require GPUs to run in reasonable time. To run these analyses, many labs have either dedicated computers, institutional computing clusters, or cloud computing services such as Google Colab. The outputs of pose estimation can be analyzed to account for movement variability associated with different behaviors, to relate position and orientation to simultaneously collected brain activity (electrophysiology, optical imaging), or with algorithms that can describe and predict states and dynamical transitions of behaviors.
Best practices for experimenters and developers
Having described how to set up and use video recording methods and analysis methods for pose estimation, we would like to close by discussing some best practices in the use and development of methods for video analysis, including recommendations for the open sharing of video data and analysis code.
Best practices for experimenters
For those using video analysis methods in a laboratory setting, there are several key issues that should be followed as best practices. It is most crucial to develop a means of storing files in a manner in which they can be accessed in the lab, through cloud computing resources, and in data archives. These issues are discussed above in the 'Hardware and software for data analysis' section of this paper. Documentation of hardware is also a key best practice. All methods sections of manuscripts that use methods for video analysis should include details on the camera and lens that were used, the locations of and distances from the cameras relative to the behavioral arena, the acquisition rate and image resolution, environmental lighting (e.g., IR grids placed above the behavioral arena), properties of the arena (size, material, color, etc.).
Beyond within-lab data management and reporting details on hardware used in research manuscripts, more widespread sharing of video data is very much needed and is a core aspect of best practices for experimenters. In accordance with the demands of funders such as the NIH for data sharing, the open sharing of raw and processed videos and pose tracking data is crucial for research reproducibility and also for training new users on video methods. Several groups have created repositories to address this need (Computational Behavior, OpenBehavior). With widespread use, these repositories will help new users learn the required methods for data analysis, enable new analyses of existing datasets that could lead to new findings without having to do new experiments, and would enable comparisons of existing and newly developed methods for pose estimation and behavioral quantification. The latter benefit of data sharing could lead to insight into a major open question about methods for animal pose estimation: how choices about the parameters of any method for pose estimation or subsequent analysis impact analysis time, accuracy, and generalizability. Without these resources, it has not been possible to make confident statements about how existing methods compare across a wide range of datasets involving multiple types of research animals and in different experimental contexts. Guidance for how to implement data sharing can be found in several existing efforts of the machine learning community (Gebru et al., 2021; Hutchinson et al., 2021; Stoyanovich and Howe, 2019). A more widespread use of these frameworks for sharing data can improve the transparency and accessibility of research data for video analysis.
Best practices for developers
We recommend three topics receive more attention by developers of methods for video analysis. First, there is a need for a common file format for storing results from pose estimation. Second, there is a need for methods to compare pose estimation packages and assess the impact of the parameters of each package on performance in terms of accuracy and user time. Third, there is a need for better code documentation and analysis reproducibility. Each of these issues is discussed below. In addition to these topics, we would like to encourage developers to design interfaces to make their tools more accessible to novice users. This will allow the tools to become more widely used and studied, and will further not limit use of the tools to researchers with advanced technical skills such as programming.
First, it is important to point out that there is no common and efficient data format available for tools that enable pose estimation in animal research. Such a format would allow users to compare methods without having to recode their video data. The FAIR data principles (Wilkinson et al., 2016) are particularly apt for developing a common data format for video due to the large heterogeneity of data sources, intermediate analysis outputs, and end goals of the study. These principles call for data to be Findable (available in searchable repositories and with persistent and citable identifiers [DOIs]), Accessible (easily retrieved using the Internet), Interoperable (having a common set of terms to describe video data across datasets), and Reusable (containing information about the experimental conditions and outputs of any analysis or model to allow another group to readily make use of the data). A common file format for saving raw and processed video recordings and data from pose estimation models is needed to address these issues.
Second, there has also been a general lack of direct comparisons of different methods and parameter exploration within a given method on a standard set of videos. The choice of deep learning method and specific hyperparameters can affect the structural biases embedded in video data, thereby affecting the effectiveness of a given method (Sculley et al., 2015). Yet, it seems that many users stick to default parameters available in popular packages. For example, in pose estimation, certain properties of neural network architectures such as its maximum receptive field size can dramatically impact the performance across species owing to the variability in morphological features (Pereira et al., 2022). In addition to the intrinsic properties of particular species (e.g., Hayden et al., 2022), the analysis type will also dictate the importance of particular parameters on the task performance. For example, algorithms that achieve temporal smoothness in pose tracking are crucial for studies of fine motor control (Wu et al., 2020), but perhaps not as essential as preventing identity swaps for studies of social behavior (Pereira et al., 2022; Segalin et al., 2021a). Another important issue is that most methods do not report well-calibrated measures of the confidence of model fits or predictions. This is important as it has become clear that machine learning tools tend to be overconfident in their predictions (Abdar et al., 2021). Establishing standardized, interoperable data formats and datasets that include estimates of the fitted models and their predictions will enable comprehensive comparisons of existing and new methods for pose estimation and behavioral quantification.
For evaluating specific methods on lab-specific data, appropriate metrics and baseline methods for the research questions should be chosen. There may be cases where comparable baseline methods may not exist. For example, if a lab develops a new method for quantifying behavior for a specific organism or task on a lab-specific dataset, and there are no existing studies for that task. However, if related methods exist, it would be beneficial to compare performance of the new method against existing methods to study the advantages and disadvantages of the method. For more general claims (e.g., state-of-the-art pose estimator across organisms), evaluations on existing datasets and comparisons with baselines is important (see Table 4), to demonstrate the generality of the method and improvements over existing methods. A consensus on a standard set of data in the community for evaluation and an expansion to include more widely used behavioral tasks and assays would facilitate general model development and comparison. We show existing datasets in the community for method development in Table 4 and encourage the community to continue to open-source data and expand this list of available datasets to accelerate model development.
Third, reproducibility of results is crucial for acceptance of new methods for video analysis within the research community and for research transparency. Guidance for documenting the details of models and algorithms can be obtained from the Machine Learning Reproducibility Checklist. It is applicable to any computational model in general. Importantly, the checklist calls for including the range of hyperparameters considered for experiments, mean and variance of results from multiple runs, and an explanation of how samples were allocated for train/validation/test. Further guidance for sharing code is available in this GitHub resource: Publishing Research Code. It provides tips on open-sourcing research code, including specifications of code dependencies, training and evaluation code, and including pre-trained models as part of any code repository. Beyond these resources, we note that there is also a broader definition of reproducibility in that experiments should be robustly reproducible: experimental results should ideally not vary significantly under minor perturbations. For example, even if there are minor variations to lighting or arena size from the original experiments, the video analysis results should not change significantly. A framework to ensure robust reproducibility is currently an open question, but the existing frameworks should facilitate producing the same results under the same experimental conditions. Model interpretability is another important consideration depending on the purpose of the video analysis experiment. Many machine learning models are 'black box' models, and not easily interpretable; as such, post hoc explanations may not always be reliable (Rudin, 2019). One way to generate human-interpretable models is through program synthesis (Balog et al., 2017) and neurosymbolic learning (Sun et al., 2022; Zhan et al., 2021). These methods learn compositions of symbolic primitives, which are closer in form to human-constructed models than neural networks. Interpretable models can facilitate reproducibility and trustworthiness in model predictions for scientific applications. Efforts at deploying these approaches for methods for video analysis and behavioral quantification are very much needed.
We hope that our review of the current state of open-source tools for behavioral video analysis will be helpful to the community. We described how to set up video methods in a lab, provided an overview on currently available methods, and provided guidance for best practices in using and developing the methods. As newer tools emerge and more research groups become proficient at using available methods, there is a clear potential for the tools to help with advancing our understanding of the neural basis of behavior.
Conference

BehaveNet: nonlinear embedding and bayesian neural decoding of behavioral videos

Advances in Neural Information Processing Systems.

The OpenCV library

Dr Dobb's Journal of Software Tools 120:122–125.

Conference

Structured descriptions of complex objects

Proceedings of the 3rd international joint conference on artificial intelligence, IJCAI'73. pp. 641–647.

Book

Hidden Technical Debt in Machine Learning Systems Advances in Neural Information Processing Systems

Curran Associates, Inc.

Conference

Learning disentangled behavior embeddings

Advances in neural information processing systems. pp. 22562–22573.

Conference

Nutritional labels for data and models

A Quarterly Bulletin of the Computer Society of the IEEE Technical Committee on Data Engineering.

Conference

Deep neural networks for object detection

Advances in neural information processing systems.
Article and author information
Author details
National Science Foundation (1948181)
National Institutes of Health (DA046375)
Natural Sciences and Engineering Research Council of Canada (PGSD3-532647-2019)
National Institutes of Health (MH002952)
National Institutes of Health (MH124042)
National Institutes of Health (MH128177)
National Science Foundation (2024581)
The funders had no role in study design, data collection and interpretation, or the decision to submit the work for publication.
This paper emerged from a working group on methods for video analysis organized by the OpenBehavior project in the summer and fall of 2021. Ann Kennedy, Greg Corder, and Sam Golden were major contributors to the working group and their ideas impacted this manuscript. We would like to thank Ann Kennedy, Samantha White, and Jensen Palmer for helpful comments on the manuscript. NSERC Award #PGSD3-532647-2019 to JJS; NIH MH002952 for SPB; NIH MH124042 for KK; NIH MH128177 and NSF 2024581 to JZ; NSF 1948181 and NIH DA046375 to ML.
Laura L Colgin, University of Texas at Austin, United States
Denise J Cai, Icahn School of Medicine at Mount Sinai, United States
© 2023, Luxem, Sun et al.
This article is distributed under the terms of the Creative Commons Attribution License, which permits unrestricted use and redistribution provided that the original author and source are credited.
8,061

Page views

732

Downloads

8

Citations
Article citation count generated by polling the highest count across the following sources: PubMed Central, Crossref, Scopus.
A two-part list of links to download the article, or parts of the article, in various formats.
Downloads
(link to download the article as PDF)
Open citations
(links to open the citations from this article in various online reference manager services)
Cite this article
(links to download the citations from this article in formats compatible with various reference manager tools)
Kevin Luxem
Jennifer J Sun
Sean P Bradley
Keerthi Krishnan
Eric Yttri
Jan Zimmermann
Talmo D Pereira
Mark Laubach
Open-source tools for behavioral video analysis: Setup, methods, and best practices
eLife 12:e79305.
https://doi.org/10.7554/eLife.79305
Further reading
Medial frontal cortical areas are thought to play a critical role in the brain's ability to flexibly deploy strategies that are effective in complex settings, yet the underlying circuit computations remain unclear. Here, by examining neural ensemble activity in male rats that sample different strategies in a self-guided search for latent task structure, we observe robust tracking during strategy execution of a summary statistic for that strategy in recent behavioral history by the anterior cingulate cortex (ACC), especially by an area homologous to primate area 32D. Using the simplest summary statistic – strategy prevalence in the last 20 choices – we find that its encoding in the ACC during strategy execution is wide-scale, independent of reward delivery, and persists through a substantial ensemble reorganization that accompanies changes in global context. We further demonstrate that the tracking of reward by the ACC ensemble is also strategy-specific, but that reward prevalence is insufficient to explain the observed activity modulation during strategy execution. Our findings argue that ACC ensemble dynamics is structured by a summary statistic of recent behavioral choices, raising the possibility that ACC plays a role in estimating – through statistical learning – which actions promote the occurrence of events in the environment.

Postsynaptic mitochondria are critical for the development, plasticity, and maintenance of synaptic inputs. However, their relationship to synaptic structure and functional activity is unknown. We examined a correlative dataset from ferret visual cortex with in vivo two-photon calcium imaging of dendritic spines during visual stimulation and electron microscopy reconstructions of spine ultrastructure, investigating mitochondrial abundance near functionally and structurally characterized spines. Surprisingly, we found no correlation to structural measures of synaptic strength. Instead, we found that mitochondria are positioned near spines with orientation preferences that are dissimilar to the somatic preference. Additionally, we found that mitochondria are positioned near groups of spines with heterogeneous orientation preferences. For a subset of spines with a mitochondrion in the head or neck, synapses were larger and exhibited greater selectivity to visual stimuli than those without a mitochondrion. Our data suggest mitochondria are not necessarily positioned to support the energy needs of strong spines, but rather support the structurally and functionally diverse inputs innervating the basal dendrites of cortical neurons.

Several discrete groups of feeding-regulated neurons in the nucleus of the solitary tract (nucleus tractus solitarius; NTS) suppress food intake, including avoidance-promoting neurons that express Cck (NTSCck cells) and distinct Lepr- and Calcr-expressing neurons (NTSLepr and NTSCalcr cells, respectively) that suppress food intake without promoting avoidance. To test potential synergies among these cell groups we manipulated multiple NTS cell populations simultaneously. We found that activating multiple sets of NTS neurons (e.g., NTSLepr plus NTSCalcr (NTSLC), or NTSLC plus NTSCck (NTSLCK)) suppressed feeding more robustly than activating single populations. While activating groups of cells that include NTSCck neurons promoted conditioned taste avoidance (CTA), NTSLC activation produced no CTA despite abrogating feeding. Thus, the ability to promote CTA formation represents a dominant effect but activating multiple non-aversive populations augments the suppression of food intake without provoking avoidance. Furthermore, silencing multiple NTS neuron groups augmented food intake and body weight to a greater extent than silencing single populations, consistent with the notion that each of these NTS neuron populations plays crucial and cumulative roles in the control of energy balance. We found that silencing NTSLCK neurons failed to blunt the weight-loss response to vertical sleeve gastrectomy (VSG) and that feeding activated many non-NTSLCK neurons, however, suggesting that as-yet undefined NTS cell types must make additional contributions to the restraint of feeding.