Synapses: Dividing communication, at the nanoscale
Fluorescent glutamate sensors shed light on the microscopic organization underlining spontaneous neurotransmission.
Your conscious thoughts, your motivations, your most intricate movements are all built on the computational power that rest within synapses. At these sites, a transmitting presynaptic neuron sends information, in the form of chemical signals known as neurotransmitters, to a receiving postsynaptic cell. Neurotransmission begins when vesicles that store the neurotransmitters fuse with the presynaptic membrane, releasing the molecules into the space between the two neurons. These molecules are then captured by receptors on the membrane of the postsynaptic neuron, altering the activity of the receiving cell.
Most commonly, electrical signals trigger neurotransmitter release through an 'evoked vesicle fusion' process. Yet, in 1952 it was discovered that neurotransmission could also occur without electrical activity. This second mode of communication was given the placeholder moniker of 'spontaneous vesicle fusion', since its origin and use was unknown (Fatt and Katz, 1952). In fact, this process was originally assumed to be a natural consequence of imprecise molecular interactions. However, more recent evidence suggests that distinct molecular mechanisms underpin spontaneous and evoked vesicle fusion, with the two processes activating separate classes of postsynaptic receptors. This molecular segregation suggests that individual synapses could either specialize in one type of vesicle fusion, or could contain machinery and space for both evoked and spontaneous neurotransmission (Sara et al., 2011; Peled et al., 2014; Cho et al., 2015).
Recent innovations in mathematics and fluorescent microscopy have peered within the half-micron of the synaptic connection, identifying distinct nanometer arrangements of molecules that form a narrow column spanning between both sides of the synapse (Tang et al., 2016). Evoked vesicle fusion and detection takes place inside these columns, with the neurotransmitters being captured by receptors present within a carefully delineated postsynaptic nanodomain (Figure 1). Still, spontaneous fusion events cannot be detected via this approach: therefore, whether evoked and spontaneous vesicle fusion take place in the same location within synapses remains an open question.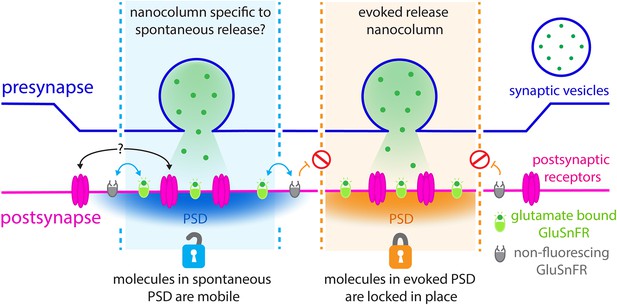 An emerging method in the field of neuroscience involves inserting fluorescent reporters into the postsynaptic membrane: these reporters glow when bound to the neurotransmitter glutamate, thus allowing scientists to visualize where and when neurotransmission occurs in the brain. However, these GluSnFR molecules are likely to 'photobleach', becoming unable to fluoresce if exposed to too much light stimulation. Now, in eLife, Ege Kavalali and colleagues at Vanderbilt University – including Camilla Wang as first author – report having used this perceived drawback of GluSnFRs to track where spontaneous vesicle fusion occurs (Wang et al., 2022).
From a methodology standpoint, the team established a new protocol to measure spontaneous vesicle fusion with unprecedented reliability. Previously, scientists could tell when spontaneous neurotransmission was taking place by measuring the electrical activity of receiving neurons, but the technique could not determine where this process was located among thousands of synapses. Wang et al. established protocols for using glutamate sensors to tell both where and when spontaneous vesicle fusion occurs. This is a thrilling development for future experiments, especially as more stable and quantitative versions of GluSnFRs are developed to measure how much neurotransmitter is released across longer measurement times.
From a scientific standpoint, Wang et al. made a breakthrough by leaning into the high bleaching rates of the current glutamate sensor. First, neurons were electrically stimulated, and successful evoked and spontaneous events were measured at individual synapses. Then, all GluSnFRs present in the microscope's field of view were photobleached, meaning that any emerging fluorescence would signal the presence of non-photobleached GluSnFRs migrating from other locations within the postsynaptic membrane. Spontaneous neurotransmission could still be detected under these conditions, but evoked glutamate release could not be spotted for close to an hour (Figure 1).
Paired with numerous controls, these experiments establish that most synapses support both types of fusion. In addition, they imply that these events take place at distinct locations within synapses, with GluSnFRs moving within the membrane differently within evoked and spontaneous postsynaptic nanodomains. In particular, a large fraction of GluSnFRs seems to be immobile at the postsynaptic membrane during evoked fusion, as suggested by the absence of non-photobleached reporters diffusing to these sites to replace the deactivated GluSnFRs.
Taken together, the results demonstrate that evoked and spontaneous vesicle fusion occur in discrete nanoscale postsynaptic locations, each featuring different diffusion characteristic for GluSnFRs – and, potentially, for actual postsynaptic glutamate receptors. This is further supported by prior studies which have also identified a mobile and immobile fraction of these proteins at the synapse (Heine et al., 2008; Graves et al., 2021).
Overall, the work by Wang et al. helps to fuel an intense field of study which has started to explore how brain activity and neural pathologies are rooted in the nanoscale organization of synapses (Ramsey et al., 2021; Hruska et al., 2022). More excitingly, it also offers a new experimental tool to begin investigating the neural function of spontaneous vesicle fusion.
Spontaneous subthreshold activity at motor nerve endings

The Journal of Physiology 117:109–128.
Article and author information
Author details
© 2022, Ralowicz and Hoppa
This article is distributed under the terms of the Creative Commons Attribution License, which permits unrestricted use and redistribution provided that the original author and source are credited.
906

Page views

157

Downloads

0

Citations
Article citation count generated by polling the highest count across the following sources: Crossref, PubMed Central, Scopus.
A two-part list of links to download the article, or parts of the article, in various formats.
Downloads
(link to download the article as PDF)
Open citations
(links to open the citations from this article in various online reference manager services)
Cite this article
(links to download the citations from this article in formats compatible with various reference manager tools)
Amelia J Ralowicz
Michael B Hoppa
Synapses: Dividing communication, at the nanoscale
eLife 11:e79446.
https://doi.org/10.7554/eLife.79446
Further reading
Synapses maintain both action potential-evoked and spontaneous neurotransmitter release; however, organization of these two forms of release within an individual synapse remains unclear. Here, we used photobleaching properties of iGluSnFR, a fluorescent probe that detects glutamate, to investigate the subsynaptic organization of evoked and spontaneous release in primary hippocampal cultures. In nonneuronal cells and neuronal dendrites, iGluSnFR fluorescence is intensely photobleached and recovers via diffusion of nonphotobleached probes with a time constant of ~10 s. After photobleaching, while evoked iGluSnFR events could be rapidly suppressed, their recovery required several hours. In contrast, iGluSnFR responses to spontaneous release were comparatively resilient to photobleaching, unless the complete pool of iGluSnFR was activated by glutamate perfusion. This differential effect of photobleaching on different modes of neurotransmission is consistent with a subsynaptic organization where sites of evoked glutamate release are clustered and corresponding iGluSnFR probes are diffusion restricted, while spontaneous release sites are broadly spread across a synapse with readily diffusible iGluSnFR probes.

Theta and gamma oscillations in the medial temporal lobe are suggested to play a critical role for human memory formation via establishing synchrony in neural assemblies. Arguably, such synchrony facilitates efficient information transfer between neurons and enhances synaptic plasticity, both of which benefit episodic memory formation. However, to date little evidence exists from humans that would provide direct evidence for such a specific role of theta and gamma oscillations for episodic memory formation. Here we investigate how oscillations shape the temporal structure of neural firing during memory formation in the medial temporal lobe. We measured neural firing and local field potentials in human epilepsy patients via micro-wire electrode recordings to analyze whether brain oscillations are related to co-incidences of firing between neurons during successful and unsuccessful encoding of episodic memories. The results show that phase-coupling of neurons to faster theta and gamma oscillations correlates with co-firing at short latencies (~20-30 ms) and occurs during successful memory formation. Phase-coupling at slower oscillations in these same frequency bands, in contrast, correlates with longer co-firing latencies and occurs during memory failure. Thus, our findings suggest that neural oscillations play a role for the synchronization of neural firing in the medial temporal lobe during the encoding of episodic memories.

Developmental Biology
Neuroscience

The organization of neural circuits determines nervous system function. Variability can arise during neural circuit development (e.g. neurite morphology, axon/dendrite position). To ensure robust nervous system function, mechanisms must exist to accommodate variation in neurite positioning during circuit formation. Previously we developed a model system in the Drosophila ventral nerve cord to conditionally induce positional variability of a proprioceptive sensory axon terminal, and used this model to show that when we altered the presynaptic position of the sensory neuron, its major postsynaptic interneuron partner modified its dendritic arbor to match the presynaptic contact, resulting in functional synaptic input (Sales et al., 2019). Here we investigate the cellular mechanisms by which the interneuron dendrites detect and match variation in presynaptic partner location and input strength. We manipulate the presynaptic sensory neuron by (a) ablation; (b) silencing or activation; or (c) altering its location in the neuropil. From these experiments we conclude that there are two opposing mechanisms used to establish functional connectivity in the face of presynaptic variability: presynaptic contact stimulates dendrite outgrowth locally, whereas presynaptic activity inhibits postsynaptic dendrite outgrowth globally. These mechanisms are only active during an early larval critical period for structural plasticity. Collectively, our data provide new insights into dendrite development, identifying mechanisms that allow dendrites to flexibly respond to developmental variability in presynaptic location and input strength.