Brain Repair: Gatekeeping astrocyte identity
New findings cast doubt on whether suppressing the RNA-binding protein PTBP1 can force astrocytes to become dopaminergic neurons.
As a cell acquires its final identity, it usually closes the door on the other cellular fates it could have adopted. Valiant guardian mechanisms ensure that this gate remains shut, even as a plethora of signals threaten to crack it open once more. These processes are particularly crucial for cells from highly related lineages – such as astrocytes and neurons, two types of brain cells that derive from the same progenitor cells.
In the past 15 years, work has shown that astrocytes, which belong to a class of non-neuronal cells that support and fine-tune the activity of nerve cells, can be converted into neurons if they are forced to express neurogenic transcription factors (Götz and Bocchi, 2021). In some brain regions such as the mouse striatum, injury can even re-activate a neurogenic programme which is otherwise suppressed (Magnusson et al., 2014). This raises the intriguing possibility that specific mechanisms help to safeguard the identity of astrocytes; these processes could also be harnessed to awaken neurogenic potential in astrocytes and help repair neural damage.
A top-selling candidate for gatekeeping the astrocyte-to-neuron conversion is the RNA-binding PTBP1 which, in vitro, inhibits neuronal fate by ensuring that a master repressor of neuronal genes remains active (Makeyev et al., 2007). The discovery of these regulatory interactions suggested that simply downregulating PTBP1 could release the brake on a neurogenic programme in non-neuronal cells (Xue et al., 2013; Figure 1A). In fact, two recent bodies of work suggest that when PTBP1 is knocked down, mouse astrocytes can turn into dopaminergic neurons with remarkable efficiency (Qian et al., 2020, Zhou et al., 2020). This class of nerve cells degenerates in Parkinson's disease, and both studies reported a drastic amelioration of motor deficits in a mouse model of this condition, with enormous implications for new brain therapies. Now, in eLife, Mingtao Li and colleagues at Sun Yat-sen University – including Weizhao Chen as first author – report results that question these findings (Chen et al., 2022).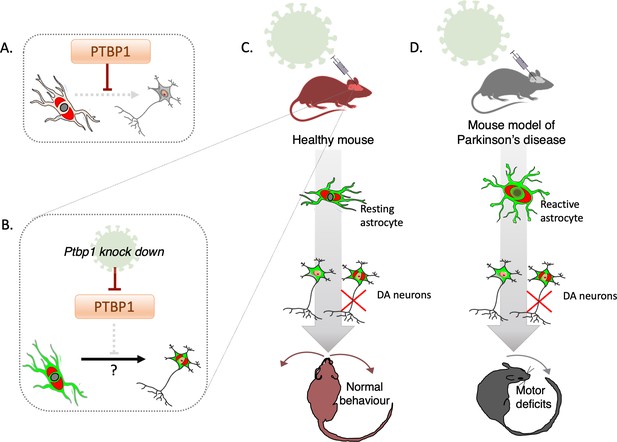 The team focused on whether the seemingly converted dopaminergic cells truly derived from astrocytes, using a transgenic mouse line that faithfully reports the origin of astrocytes. PTBP1 was successfully knocked down in astrocytes by using adeno-associated viruses, viral vectors that contain the information necessary to suppress the protein only in astrocytes (Figure 1B).
Dopaminergic neurons carrying the viral label were identified, but to the team's surprise, none of these were positive for the genetic tag that marked astrocyte origin (Figure 1C). This data strongly suggests that these neurons have not emerged from converted astrocytes, but that instead the viral vectors had lost their original specificity. This adds to recent, baffling observations, which highlighted that adeno-associated viruses designed to activate the expression of neuronal conversion factors only in astrocytes, fail to attain the required specificity (Wang et al., 2021).
Chen et al. then checked whether the manipulation could be successful if done on a type of astrocyte that may be more prone to changing its identity. These 'reactive' astrocytes emerge in damaged tissues, where they start to display traits present in neural stem cells (Sirko et al., 2013). A toxin was used to kill dopaminergic neurons as PTBP1 was suppressed in reactive astrocytes, yet even this scenario failed to turn the cells into neurons (Figure 1D). Conducting this manipulation in a mouse model of Parkinson's disease also did not lead to improvements in the animals' motor deficits. How this negative finding can be reconciled with earlier studies showing that these symptoms were corrected upon PTBP1 deactivation will require further clarification.
Taken together, the work by Chen et al. strongly argues against PTBP1 being the sole gatekeeper between astrocyte and neuronal fates, while also stressing the importance of rigorous genetic lineage tracing when conducting in vivo reprogramming. Still, given the powerful control that PTBP1 exerts on the molecular switch that represses neuronal genes, it would be premature to fully move away from studying the impact of this protein on astrocyte identity and function.
Article and author information
Author details
© 2022, Cooper and Berninger
This article is distributed under the terms of the Creative Commons Attribution License, which permits unrestricted use and redistribution provided that the original author and source are credited.
334

Page views

79

Downloads

0

Citations
Article citation count generated by polling the highest count across the following sources: Crossref, PubMed Central, Scopus.
A two-part list of links to download the article, or parts of the article, in various formats.
Downloads
(link to download the article as PDF)
Open citations
(links to open the citations from this article in various online reference manager services)
Cite this article
(links to download the citations from this article in formats compatible with various reference manager tools)
Alexis Cooper
Benedikt Berninger
Brain Repair: Gatekeeping astrocyte identity
eLife 11:e80232.
https://doi.org/10.7554/eLife.80232
Further reading
Neuroscience

Stem Cells and Regenerative Medicine

Lineage reprogramming of resident glial cells to dopaminergic neurons (DAns) is an attractive prospect of the cell-replacement therapy for Parkinson's disease (PD). However, it is unclear whether repressing polypyrimidine tract binding protein 1 (PTBP1) could efficiently convert astrocyte to DAns in the substantia nigra and striatum. Although reporter-positive DAns were observed in both groups after delivering the adeno-associated virus (AAV) expressing a reporter with shRNA or CRISPR-CasRx to repress astroglial PTBP1, the possibility of AAV leaking into endogenous DAns could not be excluded without using a reliable lineage-tracing method. By adopting stringent lineage-tracing strategy, two other studies show that either knockdown or genetic deletion of quiescent astroglial PTBP1 fails to obtain induced DAns under physiological condition. However, the role of reactive astrocytes might be underestimated because upon brain injury, reactive astrocyte can acquire certain stem cell hallmarks that may facilitate the lineage conversion process. Therefore, whether reactive astrocytes could be genuinely converted to DAns after PTBP1 repression in a PD model needs further validation. In this study, we used Aldh1l1-CreERT2-mediated specific astrocyte-lineage-tracing method to investigate whether reactive astrocytes could be converted to DAns in a 6-hydroxydopamine (6-OHDA) mouse model of PD. However, we found that no astrocyte-originated DAn was generated after effective and persistent knockdown of astroglial PTBP1 either in the substantia nigra or in striatum, while AAV 'leakage' to nearby neurons was easily observed. Our results confirm that repressing PTBP1 does not convert astrocytes to DAns, regardless of physiological or PD-related pathological conditions.

Evolutionary Biology

Neuroscience

Animals can evolve dramatic sensory functions in response to environmental constraints, but little is known about the neural mechanisms underlying these changes. The Mexican tetra, Astyanax mexicanus, is a leading model to study genetic, behavioral, and physiological evolution by comparing eyed surface populations and blind cave populations. We compared neurophysiological responses of posterior lateral line afferent neurons and motor neurons across A. mexicanus populations to reveal how shifts in sensory function may shape behavioral diversity. These studies indicate differences in intrinsic afferent signaling and gain control across populations. Elevated endogenous afferent activity identified a lower response threshold in the lateral line of blind cavefish relative to surface fish leading to increased evoked potentials during hair cell deflection in cavefish. We next measured the effect of inhibitory corollary discharges from hindbrain efferent neurons onto afferents during locomotion. We discovered that three independently derived cavefish populations have evolved persistent afferent activity during locomotion, suggesting for the first time that partial loss of function in the efferent system can be an evolutionary mechanism for neural adaptation of a vertebrate sensory system.

Neuroscience

Stem Cells and Regenerative Medicine

Brain organoids have been used to recapitulate the processes of brain development and related diseases. However, the lack of vasculatures, which regulate neurogenesis and brain disorders, limits the utility of brain organoids. In this study, we induced vessel and brain organoids, respectively, and then fused two types of organoids together to obtain vascularized brain organoids. The fused brain organoids were engrafted with robust vascular network-like structures and exhibited increased number of neural progenitors, in line with the possibility that vessels regulate neural development. Fusion organoids also contained functional blood–brain barrier-like structures, as well as microglial cells, a specific population of immune cells in the brain. The incorporated microglia responded actively to immune stimuli to the fused brain organoids and showed ability of engulfing synapses. Thus, the fusion organoids established in this study allow modeling interactions between the neuronal and non-neuronal components in vitro, particularly the vasculature and microglia niche.