Brain Repair: Gatekeeping astrocyte identity
New findings cast doubt on whether suppressing the RNA-binding protein PTBP1 can force astrocytes to become dopaminergic neurons.
As a cell acquires its final identity, it usually closes the door on the other cellular fates it could have adopted. Valiant guardian mechanisms ensure that this gate remains shut, even as a plethora of signals threaten to crack it open once more. These processes are particularly crucial for cells from highly related lineages – such as astrocytes and neurons, two types of brain cells that derive from the same progenitor cells.
In the past 15 years, work has shown that astrocytes, which belong to a class of non-neuronal cells that support and fine-tune the activity of nerve cells, can be converted into neurons if they are forced to express neurogenic transcription factors (Götz and Bocchi, 2021). In some brain regions such as the mouse striatum, injury can even re-activate a neurogenic programme which is otherwise suppressed (Magnusson et al., 2014). This raises the intriguing possibility that specific mechanisms help to safeguard the identity of astrocytes; these processes could also be harnessed to awaken neurogenic potential in astrocytes and help repair neural damage.
A top-selling candidate for gatekeeping the astrocyte-to-neuron conversion is the RNA-binding PTBP1 which, in vitro, inhibits neuronal fate by ensuring that a master repressor of neuronal genes remains active (Makeyev et al., 2007). The discovery of these regulatory interactions suggested that simply downregulating PTBP1 could release the brake on a neurogenic programme in non-neuronal cells (Xue et al., 2013; Figure 1A). In fact, two recent bodies of work suggest that when PTBP1 is knocked down, mouse astrocytes can turn into dopaminergic neurons with remarkable efficiency (Qian et al., 2020, Zhou et al., 2020). This class of nerve cells degenerates in Parkinson's disease, and both studies reported a drastic amelioration of motor deficits in a mouse model of this condition, with enormous implications for new brain therapies. Now, in eLife, Mingtao Li and colleagues at Sun Yat-sen University – including Weizhao Chen as first author – report results that question these findings (Chen et al., 2022).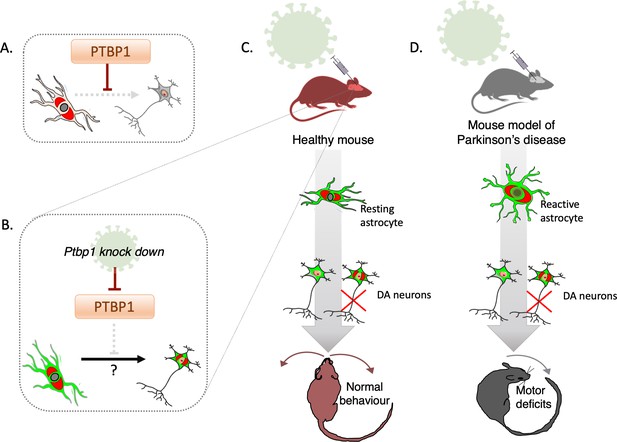 The team focused on whether the seemingly converted dopaminergic cells truly derived from astrocytes, using a transgenic mouse line that faithfully reports the origin of astrocytes. PTBP1 was successfully knocked down in astrocytes by using adeno-associated viruses, viral vectors that contain the information necessary to suppress the protein only in astrocytes (Figure 1B).
Dopaminergic neurons carrying the viral label were identified, but to the team's surprise, none of these were positive for the genetic tag that marked astrocyte origin (Figure 1C). This data strongly suggests that these neurons have not emerged from converted astrocytes, but that instead the viral vectors had lost their original specificity. This adds to recent, baffling observations, which highlighted that adeno-associated viruses designed to activate the expression of neuronal conversion factors only in astrocytes, fail to attain the required specificity (Wang et al., 2021).
Chen et al. then checked whether the manipulation could be successful if done on a type of astrocyte that may be more prone to changing its identity. These 'reactive' astrocytes emerge in damaged tissues, where they start to display traits present in neural stem cells (Sirko et al., 2013). A toxin was used to kill dopaminergic neurons as PTBP1 was suppressed in reactive astrocytes, yet even this scenario failed to turn the cells into neurons (Figure 1D). Conducting this manipulation in a mouse model of Parkinson's disease also did not lead to improvements in the animals' motor deficits. How this negative finding can be reconciled with earlier studies showing that these symptoms were corrected upon PTBP1 deactivation will require further clarification.
Taken together, the work by Chen et al. strongly argues against PTBP1 being the sole gatekeeper between astrocyte and neuronal fates, while also stressing the importance of rigorous genetic lineage tracing when conducting in vivo reprogramming. Still, given the powerful control that PTBP1 exerts on the molecular switch that represses neuronal genes, it would be premature to fully move away from studying the impact of this protein on astrocyte identity and function.
Article and author information
Author details
© 2022, Cooper and Berninger
This article is distributed under the terms of the Creative Commons Attribution License, which permits unrestricted use and redistribution provided that the original author and source are credited.
740

Page views

158

Downloads

2

Citations
Article citation count generated by polling the highest count across the following sources: Crossref, PubMed Central, Scopus.
A two-part list of links to download the article, or parts of the article, in various formats.
Downloads
(link to download the article as PDF)
Open citations
(links to open the citations from this article in various online reference manager services)
Cite this article
(links to download the citations from this article in formats compatible with various reference manager tools)
Alexis Cooper
Benedikt Berninger
Brain Repair: Gatekeeping astrocyte identity
eLife 11:e80232.
https://doi.org/10.7554/eLife.80232
Further reading
Neuroscience
Stem Cells and Regenerative Medicine

Lineage reprogramming of resident glial cells to dopaminergic neurons (DAns) is an attractive prospect of the cell-replacement therapy for Parkinson's disease (PD). However, it is unclear whether repressing polypyrimidine tract binding protein 1 (PTBP1) could efficiently convert astrocyte to DAns in the substantia nigra and striatum. Although reporter-positive DAns were observed in both groups after delivering the adeno-associated virus (AAV) expressing a reporter with shRNA or CRISPR-CasRx to repress astroglial PTBP1, the possibility of AAV leaking into endogenous DAns could not be excluded without using a reliable lineage-tracing method. By adopting stringent lineage-tracing strategy, two other studies show that either knockdown or genetic deletion of quiescent astroglial PTBP1 fails to obtain induced DAns under physiological condition. However, the role of reactive astrocytes might be underestimated because upon brain injury, reactive astrocyte can acquire certain stem cell hallmarks that may facilitate the lineage conversion process. Therefore, whether reactive astrocytes could be genuinely converted to DAns after PTBP1 repression in a PD model needs further validation. In this study, we used Aldh1l1-CreERT2-mediated specific astrocyte-lineage-tracing method to investigate whether reactive astrocytes could be converted to DAns in a 6-hydroxydopamine (6-OHDA) mouse model of PD. However, we found that no astrocyte-originated DAn was generated after effective and persistent knockdown of astroglial PTBP1 either in the substantia nigra or in striatum, while AAV 'leakage' to nearby neurons was easily observed. Our results confirm that repressing PTBP1 does not convert astrocytes to DAns, regardless of physiological or PD-related pathological conditions.

Ultrasonic vocalizations (USVs) fulfill an important role in communication and navigation in many species. Because of their social and affective significance, rodent USVs are increasingly used as a behavioral measure in neurodevelopmental and neurolinguistic research. Reliably attributing USVs to their emitter during close interactions has emerged as a difficult, key challenge. If addressed, all subsequent analyses gain substantial confidence. We present a hybrid ultrasonic tracking system, Hybrid Vocalization Localizer (HyVL), that synergistically integrates a high-resolution acoustic camera with high-quality ultrasonic microphones. HyVL is the first to achieve millimeter precision (~3.4–4.8 mm, 91% assigned) in localizing USVs, ~3× better than other systems, approaching the physical limits (mouse snout ~10 mm). We analyze mouse courtship interactions and demonstrate that males and females vocalize in starkly different relative spatial positions, and that the fraction of female vocalizations has likely been overestimated previously due to imprecise localization. Further, we find that when two male mice interact with one female, one of the males takes a dominant role in the interaction both in terms of the vocalization rate and the location relative to the female. HyVL substantially improves the precision with which social communication between rodents can be studied. It is also affordable, open-source, easy to set up, can be integrated with existing setups, and reduces the required number of experiments and animals.

How does the human brain combine information across the eyes? It has been known for many years that cortical normalization mechanisms implement 'ocularity invariance': equalizing neural responses to spatial patterns presented either monocularly or binocularly. Here, we used a novel combination of electrophysiology, psychophysics, pupillometry, and computational modeling to ask whether this invariance also holds for flickering luminance stimuli with no spatial contrast. We find dramatic violations of ocularity invariance for these stimuli, both in the cortex and also in the subcortical pathways that govern pupil diameter. Specifically, we find substantial binocular facilitation in both pathways with the effect being strongest in the cortex. Near-linear binocular additivity (instead of ocularity invariance) was also found using a perceptual luminance matching task. Ocularity invariance is, therefore, not a ubiquitous feature of visual processing, and the brain appears to repurpose a generic normalization algorithm for different visual functions by adjusting the amount of interocular suppression.