High-throughput library transgenesis in Caenorhabditis elegans via Transgenic Arrays Resulting in Diversity of Integrated Sequences (TARDIS)
High-throughput transgenesis using synthetic DNA libraries is a powerful method for systematically exploring genetic function. Diverse synthesized libraries have been used for protein engineering, identification of protein–protein interactions, characterization of promoter libraries, developmental and evolutionary lineage tracking, and various other exploratory assays. However, the need for library transgenesis has effectively restricted these approaches to single-cell models. Here, we present Transgenic Arrays Resulting in Diversity of Integrated Sequences (TARDIS), a simple yet powerful approach to large-scale transgenesis that overcomes typical limitations encountered in multicellular systems. TARDIS splits the transgenesis process into a two-step process: creation of individuals carrying experimentally introduced sequence libraries, followed by inducible extraction and integration of individual sequences/library components from the larger library cassette into engineered genomic sites. Thus, transformation of a single individual, followed by lineage expansion and functional transgenesis, gives rise to thousands of genetically unique transgenic individuals. We demonstrate the power of this system using engineered, split selectable TARDIS sites in Caenorhabditis elegans to generate (1) a large set of individually barcoded lineages and (2) transcriptional reporter lines from predefined promoter libraries. We find that this approach increases transformation yields up to approximately 1000-fold over current single-step methods. While we demonstrate the utility of TARDIS using C. elegans, in principle the process is adaptable to any system where experimentally generated genomic loci landing pads and diverse, heritable DNA elements can be generated.
This manuscript provides a description of an approach for efficiently integrating diverse libraries into the C. elegans genome and tools that enable researchers to use the method. It is a valuable contribution for researchers carrying out experiments that would benefit from easy generation of such libraries, and the data for the effectiveness of the method is solid. The advantages of this approach in terms of ease and effectiveness relative to others with similar aims will emerge as they are put to more general use in addressing biological problems.
https://doi.org/10.7554/eLife.84831.3.sa0
Transgenesis – the ability to insert foreign genetic material (known as transgenes) in to the genome of an organism – has revolutionized biological research. This approach has made it possible for scientists to study the role of specific genes and to produce animal models which mimic aspects of human diseases.
For transgenes to be maintained and passed down to future generations, they must be introduced into germ cells which will go on to form the egg and sperm of the organism. However, despite advances in genetic engineering, this process (called 'specific transgenesis') is still laborious and time-consuming, and limits researchers to working with only a small number of known DNA sequences at a time.
In contrast, 'exploratory transgenesis' – where dozens of transgenes from a library of DNA sequences are introduced simultaneously into multiple individuals – is more efficient and allows for more large-scale experiments. However, this approach can only be done with single-celled organisms like bacteria, and remains virtually impossible in laboratory animals like worms or mice.
Stevenson et al. therefore set out to boost the efficiency of exploratory transgenesis in a commonly used laboratory animal, the roundworm Caenorhabditis elegans. To do this, they used the 'library' principle of exploratory transgenesis in order to develop a new resource called TARDIS (short for, Transgenic Arrays Resulting in Diversity of Integrated Sequences).
First, Stevenson et al. genetically engineered worms to carry a 'landing site' for foreign DNA. Next, a library of transgenes and a mechanism which cuts pieces of DNA and pastes them into the landing site were introduced into the germ cells of these worms using traditional methods. The worms were then bred to generate a large population of offspring that had inherited this array of foreign DNA sequences. Finally, the 'cut and paste' mechanism was switched on and a random transgene was inserted into the landing site in the genome. This resulted in thousands of worms which each had a unique genetic modification that can be passed on to future generations.
These results show for the first time that larger-scale transgenesis experiments are possible in multi-cellular animals. In the future, Stevenson et al. hope that TARDIS can be adapted to different organisms and allow researchers to carry out experiments that were not previously possible.
Transgenesis, which is the specific and heritable introduction of foreign DNA into genomes, has been a central tool for functional analysis and genetic engineering for nearly 40 y. The power of transgenesis is due in part to the wide variety of assays and techniques that are built upon controlled introduction of novel DNA sequences into a native genome. While there are many uses for transgenesis, in practice most can be grouped into those inserting a small number of known sequences (specific transgenesis) and those introducing many sequence variants from experimental libraries (exploratory transgenesis). While the ability to perform specific transgenesis has become a de facto requirement for all model organisms, exploratory transgenesis remains effectively limited to single-cell models (both prokaryotic and eukaryotic) because of biological limitations generated by inheritance in multicellular organisms. In single-cell models, high-throughput transgenesis has been used for exploratory sampling of sequence space using protein interaction libraries (Joung et al., 2000), barcode-lineage tracking libraries (Levy et al., 2015; Nguyen Ba et al., 2019), directed evolution (Packer and Liu, 2015), synthetic promoter library screens (Wu et al., 2019), and mutagenesis screens (Bock et al., 2022; Erwood et al., 2022; Kim et al., 2022; Sánchez-Rivera et al., 2022). Despite the usefulness of such experiments in single-celled systems, either in microorganisms or in cell culture, increasing transgenic throughput in multicellular models holds the potential to expand the impact of exploratory transgenesis in functional domains, such as inter-tissue signaling, neuronal health, and animal behavior, that are dependent on multicellular interactions and therefore difficult to replicate in single-cell models.
Exploratory transgenesis in single-cell models has been facilitated by the availability of in vitro-generated DNA libraries, selectable markers, plasmids, in vivo homologous recombination, and most importantly, the ability to massively parallelize transgenesis using microbial transformation or eukaryotic cell transfection/transduction. Currently, there is no practical means to make populations of uniquely transgenic individuals from sequence libraries at a similar scale in animal systems due to the Weismann barrier (Weismann, 1893): the split between soma and germline. The requirement that the germline be accessible and editable has forced animal systems into a transgenic bottleneck compared to single-cell systems because it is very difficult to introduce exogenous DNA directly into the germline in a high-throughput manner, relying instead on injection, bombardment, or some other physical intervention. This low-throughput limitation in animals dramatically reduces the sequence diversity that can be sampled, effectively preventing large-scale exploratory experiments from being performed. Attempts have been made to parallelize transgenic creation in multicellular model organisms, for example, the development of Brainbow (Livet et al., 2007; Weissman and Pan, 2015), ifgMosaic analysis (Pontes-Quero et al., 2017), P[acman] libraries in Drosophila (Venken et al., 2009), and multiple types of transformation in plants (Ismagul et al., 2018; Xu et al., 2022). In Caenorhabditis elegans, CRISPR technology combined with custom engineered sites within the genome ('landing pads') has facilitated the generation of single-copy integrations (Malaiwong et al., 2023; Nonet, 2020; Nonet, 2021; Silva-García et al., 2019; Stevenson et al., 2020; Vicencio et al., 2019), and attempts have been made to multiplex transgenesis using traditional integration methods in conjunction with specialized landing pad systems (Gilleland et al., 2015 ; Kaymak et al., 2016; Mouridi et al., 2022; Radman et al., 2013). While these efforts have increased throughput over standard single-copy integration methods, throughput still remains too low for effective exploratory transgenesis, and in some cases requires significant additional labor, cost, equipment, and/or expertise.
Here, we present 'Transgenic Arrays Resulting in Diversity of Integrated Sequences' (TARDIS) (Stevenson et al., 2021), a simple yet powerful alternative to traditional single-copy transgenesis. TARDIS greatly expands throughput by explicitly separating and reordering of the conceptual steps of transgenesis (Figure 1). To increase throughput, TARDIS begins with an in vitro-generated DNA sequence library that is introduced into germ cells via traditional low-throughput methods (i.e., germline transformation, Figure 1). While traditional transgenesis typically couples the physical introduction of DNA into cells with the integration of a selected sequence from the original library, the DNA sequences in TARDIS are designed to be incorporated in large numbers into diverse, heritable sub-libraries (TARDIS libraries), rather than be directly integrated into the desired genomic locus. In addition to the sequence library, a functioning selectable marker is also included to stabilize the inheritance of the TARDIS library over generations. These TARDIS libraries function to create 'metaploidy' – expanding the total number of alleles available for inheritance, essentially making the worm genetically 'bigger on the inside.' TARDIS library-bearing animals are then allowed to propagate under selection to generate a large population of TARDIS library carriers. After population expansion, genome integration of a single-sequence unit is performed by inducing a double-strand break at a genetically engineered landing pad. This landing pad is designed to both integrate a sequence unit and act as a second selectable marker. We chose C. elegans to validate the TARDIS approach because C. elegans naturally form extrachromosomal arrays that can be several megabases in size (Carlton et al., 2022; Lin et al., 2021; Mello et al., 1991; Stinchcomb et al., 1985) from injected DNA, which simplifies the generation of heritable 'TARDIS library arrays' (TLA) that encompass significant sequence diversity.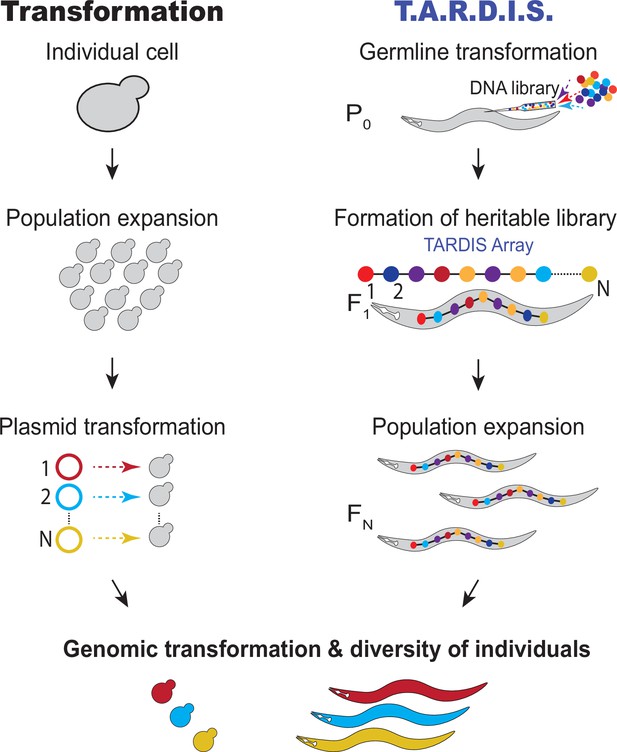 We demonstrate the functionality of TARDIS for two use cases: unique animal barcoding and promoter library transgenesis. Barcoding has been widely adopted in microbial systems for evolutionary lineage tracking (Jahn et al., 2018; Levy et al., 2015; Nguyen Ba et al., 2019) and for developmental lineage tracking in animals (Kebschull and Zador, 2018; McKenna et al., 2016). In microbial systems, barcode libraries have relied on highly diverse randomized oligo libraries, compared to animal systems, which have relied on CRE recombinases or randomized Cas9-induced mutations. Here, we present a novel TARDIS barcoding system for an animal model that mimics the scope and diversity previously only possible using microbial systems. Our results show that large, heritable libraries containing thousands of barcodes can be created and maintained as extrachromosomal arrays. Individual sequences are selected and removed from the library upon experimental induction of Cas9 in a proportion consistent with the composition of the TLA with rare overrepresented sequences. We found that TARDIS is also compatible with the integration of large promoters and can be used to simultaneously integrate promoters into multiple genomic locations, providing a tool for multiple insertions at defined locations across the genome. While we demonstrate the system's advantages in C. elegans, in principle, the system is adaptable for any situation where the sequences for integration can be introduced with high diversity and heritability, and where a genomic site for integration can be made or is available.
Here, we present the first implementation of a practical approach to large-scale library transgenesis in an animal system (Figure 1). Building on over a half century of advancements in C. elegans genetics, we can now make thousands of specific, independent genomic integrations from single microinjection events that traditionally yield at most a small handful of transgenic individuals. Increasing transgenesis throughput has long been desired, and in C. elegans several attempts have been made to multiplex transgenic protocols. Library mosSCI and RMCE, which both introduce a multiplexed injection mixture and do indeed achieve multiple integrations (Kaymak et al., 2016; Nonet, 2020). However, just as in the case of standard mosSCI or single-donor injections for RMCE, anti-array screening, genotyping, and the direct integration of the process substantially limit the multiplex potential of these methods. One group has adopted arrays with small pools of guides coupled with heatshock-inducible Cas9 to produce randomized mutations at targeted locations (Froehlich et al., 2021). This protocol shares similarities with TARDIS, in that diverse arrays are coupled with inducible Cas9. However, the focus of that technology was to produce randomized genomic edits, and it does not produce precise, library integrations into the genome. Recently, another group (Mouridi et al., 2022) built on the utility of heatshock Cas9 and integrated three individual sequences from an array. While these prior multiplexed methods made substantial contributions in improving the efficiency of specific transgenesis, none have yet demonstrated multiplexing beyond tens of unique sequences – orders of magnitude below what would be needed for exploratory transgenesis. TARDIS therefore provides the first true library-based approach for multiplexing transgenesis in C. elegans.
TARDIS as a method for creating barcoded individuals
Genetic barcode libraries have been applied to many high-throughput investigations to reduce sequencing costs and achieve a higher resolution within complex pools of individuals. By focusing the sequencing reads on a small section of the genome, a larger number of individual variants can be identified or experimentally followed. This critical advancement has led to the widespread use of barcoding for evolutionary lineage tracking in microbial systems (Blundell and Levy, 2014; Kasimatis et al., 2021; Levy et al., 2015; Levy, 2016; Nguyen Ba et al., 2019; Venkataram et al., 2016) – uncovering the fitness effects of thousands of individual lineages without requiring large coverage depth of the whole genome. In addition to this application, using barcoded individuals can be used to facilitate any application that involves screening a large pool of diverse individuals within a shared environment. For example, barcodes have been used in microbial studies investigating pharmaceutical efficacy (Smith et al., 2011) and barcoded variant screening (Emanuel et al., 2017). The TARDIS-based system presented here provides an approximately 1000×-fold increase in barcoding throughput in C. elegans, making it a unique resource among multicellular models that allows the large diversity pool and design logic of microbial systems to be adapted to animal models.
While we designed our barcode sequence units for the purpose of barcoding individuals, this approach could also prove useful in future optimization and functional understanding of array-based processes. In particular, the high-sequence diversity but identical physical design of the synthetic barcode library may provide a unique window into extrachromosomal array biology that would be helpful in optimizing sequence units for incorporation into heritable TLAs. For example, an unexpected result of the barcoding experiment was the discovery that a small minority of sequences were overrepresented, or 'jackpotted,' in the TLA relative to their frequency in the injection mix (Figure 3 and Figure 3—figure supplement 1). Our expectation was that arrays would form in an equal molar fashion proportional to the injection mix based on the model that arrays are formed by physical ligation of the injected DNA fragments (Mello et al., 1991). Deviations from random array incorporation have been observed before, and a bias for incorporating larger fragments has been proposed as an explanatory mechanism (Lin et al., 2021). Our results suggest that the ultimate array composition is not directly proportional to the molarity of the injected fragments or strictly weighted towards the size of the fragment as has been suggested. In contrast, we propose that array size affects the maintenance of extrachromosomal arrays. As such, selection can act to increase the rate of recovery for arrays that have increased their size through random amplification of some sequences by an unknown process early in the formation of the array or by expansion of similar sequences by DNA polymerase slippage during replication, as has been well documented for native chromosomes (Levinson and Gutman, 1987). These hypotheses would be consistent with observations of Lin et al., 2021 if the underlying mechanism for their observation is that inclusion of larger fragments tends to be positively correlated with ultimate array size, and therefore likelihood of maintenance.
TARDIS as a method for the introduction of promoters and other large constructs
While the barcode approach demonstrates the potential for using TARDIS to integrate large numbers of 433 bp PCR products, previous work using CRISPR/Cas9-initiated homology-directed repair has suggested that integration efficiencies decrease with the size of the insert (Dickinson and Goldstein, 2016). We therefore implemented TARDIS for integrating promoters cloned into a vector backbone and ranging in size from 330 bp to 5.5 kb to determine TARDIS functionality under a physically different use case directed specifically at functional analysis. We found that promoter libraries could be integrated into either single sites or two sites simultaneously. Unsurprisingly, the frequency at which various promoters were recovered varied from array to array (e.g., ahr-1p was never recovered in the single-site integration experiment despite being present in the array, while it was the most common promoter recovered in the two-site integration experiment) and likely reflects the same relationship between integration frequency and prevalence in the array, as was seen with the distribution of insert abundance for the barcodes. While we showed that plasmid donors can be used in the TARDIS pipeline, not all arrays contained all 13 plasmids. Given that the estimated 1–13 MB size of arrays (Carlton et al., 2022) would be adequate to hold copies of each of the plasmids, as well as the extreme diversity obtained when using smaller DNA fragments, differential presence of a given promoter fragment was somewhat unexpected. This may reflect a preferential use of linear fragments in the in situ assembly of arrays. Future use of linear fragments where feasible may increase incorporation and overall diversity (Priyadarshini et al., 2022).
For both the one- and two-site promoter library integrations, transgenic individuals were readily detected, suggesting that the TARDIS method for integration was highly efficient. It has long been understood that successful CRISPR editing at one site significantly increases the chances of successful editing at a second site. This is the premise behind commonly used co-conversion screening strategies (also referred to as co-CRISPR), such as the dpy-10 screen commonly used in C. elegans (Arribere et al., 2014; Ward, 2015). Here, we show that same type of co-conversion also occurs when using only 'large' (>1 kb), plasmid-based repair templates containing gene-sized repair constructs. Additionally, we have simultaneously targeted the same two landing pads presented here using standard CRISPR techniques and find that approximately half of hygromycin resistant individuals also have rescue of the Unc phenotype (i.e., editing has occurred at both sites; data not shown). Given the high rate of co-conversion, this work demonstrates multiplex integrations are possible not only by targeting multiple repair templates to a single site but also by simultaneously utilizing multiple insertion sites.
In order to recover individual edits most efficiently, given the high frequency of integration using TARDIS, we recommend to either heat-shock small cohorts of array-bearing individuals, such that most cohorts only yield one edited individual or to screen multiple individuals per cohort. Additionally, while split-selection methods allow for direct verification of integration, depending on the downstream use case, integrations should be confirmed by sequencing as errors can still occur, including internal deletions within the insert.
Expansion of TARDIS to other multicellular systems
Unlocking the investigative potential of transgenesis in animal systems would enable exploratory experiments normally restricted to single-cell models. For example, alanine scanning libraries and protein–protein interactions (Cunningham and Wells, 1989; Matthews, 1996; Wells, 1991), CRISPR library screening (Bock et al., 2022), and promoter library generation (Delvigne et al., 2015; Zaslaver et al., 2006). While we demonstrate the use of TARDIS in C. elegans here, the intellectual underpinnings of the approach are agnostic to the research model used. Conceptually, TARDIS facilitates high-throughput transgenesis by using two engineered components: a heritable TARDIS library containing multiplexed transgene units and a genomic split selection landing pad that facilitates integration of single-sequence units from the library. To generate the first TARDIS libraries, we capitalized on the endogenous capacity of C. elegans to assemble experimentally provided DNA into heritable extrachromosomal arrays. Extrachromosomal arrays are formed from exogenous DNA, are megabases in size (Lin et al., 2021; Woglar et al., 2020), do not require specific sequences to form and replicate, and can be maintained in a heritable manner via selection (Mello et al., 1991). These qualities make them suitable for use as a heritable library upon which TARDIS can be based. To adopt TLAs in systems beyond C. elegans, methods must be adopted to introduce large heritable libraries into the germline as most systems do not maintain extrachromosomal arrays. In mice, the locus H11 has been used for large transgenic insertions (Liu et al., 2022), while in Drosophila, the use of PhiC31-mediated transgenesis coupled with bacterial artificial chromosomes (BACs) has allowed for many approximately 10 kb+-sized fragments to be integrated into their respective genomes (Venken et al., 2006). Each of these large integration strategies can provide a vehicle for stable inheritance of a TLA.
The second component of the TARDIS integration system is a pre-integrated landing pad sequence. We have generally favored split selectable landing pads (SSLPs) that use HygR for its effectiveness (Mouridi et al., 2022; Stevenson et al., 2020; Stevenson et al., 2021). The SSLPs are engineered to accept experiment-specific units from the array. For example, here we used SSLPs designed to accept barcodes for experimental lineage tracking and promoters for generation of transcriptional reporters. To translate TARDIS to other systems, a genomic site needs to be engineered to act as a landing pad that can utilize sequence units from the TLA and can be customized to the specific system and use. Because TLAs allow the experimenter to design the library of interest and the landing pad to recapitulate the strengths of single-cell systems, adoption of TARDIS in multicellular animal experiments can leverage the high-resolution, high-diversity exploratory space of DNA synthesis. In addition to adapting assays currently restricted to single-cell models, TARDIS also opens the door to animal-specific uses, such as developmental biology, neurobiology, endocrinology, and cancer research.
In developmental genetics, the lack of large-library transgenesis has resulted in 'barcode' libraries in a different form, utilizing randomized CRISPR-induced mutations to form a unique indel. For example, GESTALT (McKenna et al., 2016) creates a diversity of barcodes in vivo via random indel formation at a synthetic target location. LINNAEUS (Spanjaard et al., 2018) similarly utilizes randomized targeting of multiple RFP transgenes to create indels, allowing for cells to be barcoded for single-cell sequencing. TARDIS barcodes do not rely on randomized indel generation and thus can be much simpler to implement with sequencing approaches outlined above.
In vivo cancer models have also adopted the high-resolution, high-variant detection of barcodes for the study of tumor growth and evolution. Rogers et al. developed Tuba-seq (Rogers et al., 2017; Winslow, 2022), a pipeline that takes advantage of small barcodes allowing for in vivo quantification of tumor size. In Tuba-seq, barcodes are introduced via lentiviral infection, leading to the barcoding of individual tumors. TARDIS brings the multiplexed library into the animal context without requiring viral vectors or intermediates, thereby allowing large in vivo library utilization and maintenance. Capitalizing on the large-sequence diversity possible within synthesized DNA libraries with a novel application in multicellular systems generates new opportunities for experimental investigation in animal systems heretofore only possible within microbial models.
In conclusion, here we have presented TARDIS, a simple yet powerful approach to transgenesis that overcomes the limitations of multicellular systems. TARDIS uses synthesized sequence libraries and inducible extraction and integration of individual sequences from these heritable libraries into engineered genomic sites to increase transgenesis throughput up to 1000-fold. While we demonstrate the utility of TARDIS using C. elegans, the process is adaptable to any system where experimentally generated genomic loci landing pads and diverse, heritable DNA elements can be generated.
The authors affirm that all data necessary for confirming the conclusions of the article are present within the article,figures, and tables. Plasmids pDSP15 (Addgene ID 193853), pDSP16 (Addgene ID19384), pMS84 (Addgene ID193852), pZCS36 (Addgene ID 193048), pZCS38 (Addgene ID193049), and pZCS41 (Addgene ID 193050), are available through Addgene and can be freely viewed and edited in ApE (Davis and Jorgensen, 2022) and other compatible programs. Strains PX740, GT332 and GT337 are available from the Caenorhabditis Genetics Center (cgc.umn.edu). Strains and plasmids not available at a public repository are available upon request. Illumina sequencing data are available at BioProject ID: PRJNA893002. All other data, code, plasmid and landing sequences and original microscopy images are available on Figshare (Stevenson et al., 2022). We plan to continue to develop TARDIS technology and provided descriptions of updated libraries and advancements at: https://github.com/phillips-lab/TARDIS (copy archived at ZCST, 2022).
NCBI BioProject

ID PRJNA893002. High-Throughput Library Transgenesis in Caenorhabditis elegans via Transgenic Arrays Resulting in Diversity of Integrated Sequences (TARDIS).
Book

Interactively Testing Remote Servers Using the Python Programming Language

CWI quarterly.
Reviewer #1 (Public Review):
This work describes a novel high-throughput approach to diverse transgenesis which the authors have named TARDIS for Transgenic Arrays Resulting in Diversity of Integrated Sequences. The authors describe the general approach: the generation of a synthetic 'landing pad' for transgene insertion (as previously reported by this group) that has a split selection hygromycin resistance gene, meaning that only perfect integration with the insert confers resistance to the otherwise lethal hygromycin drug. The authors then demonstrate two possible applications of the technology: individually barcoded lineages for lineage tracing and transcriptional reporter lines generated by inserting multiple promoters. In both cases, the authors did a limited 'proof of concept' study including many important controls, showcasing the potential of the method. The conclusions for applications of this method in C. elegans are supported by the data and the authors discuss important observations and considerations. In the discussion, the discuss the potential application of the method beyond C. elegans, although this remains speculative at this point given that a nontrivial aspect of the success of the method in worms is the self-assembly of DNA into heritable extrachromosomal arrays (a feature that is absent in most other systems).
https://doi.org/10.7554/eLife.84831.3.sa1
Reviewer #2 (Public Review):
This paper explores the possibility of integrating diverse and multiple DNA fragments in the genome taking advantage of plasmids in arrays, and CRISPR. Since the efficiency of integration in the genome is low, they, as others in the field, use selection markers to identify successful events of integration. The use of these selection markers is common and diverse, but they use a couple of distinct strategies of selection to:
- Introduce bar codes in the genome of individuals at one specific genomic site (gene for Hygromycin resistance with bar code in an intron with homology arms to complete a functional gene);
- Introduce promoters at two specific genomic landing pads downstream of fluorescent reporters.
The strengths of the study are the clever design of the selection markers, which enrich the collection of this type of markers. While the work is not methodologically novel - it adds to other recent studies, e.g. from Nonet, Mouridi et al., and Malaiwong et al, that use the integration of single and multiple/diverse DNA sequences in the C. elegans genome - it provides a protocol for doing so and tool to make it practical. A limited number of experiments using the method are presented here, and the real test of this method will be its use to address biological questions.
https://doi.org/10.7554/eLife.84831.3.sa2
The following is the authors' response to the original reviews.
Consolidated response to public comments:
We are grateful to the reviewers for their careful examination of our manuscript and for their insights for improving our work. We appreciate that they recognize the potential of the TARDIS approach for diverse transgenesis applications.
We address two primary concerns that the reviewers raise. First is a concern that this approach is not as innovative as stated. We acknowledge that our work builds upon previous studies in the field, such as those by Nonet, Mouridi et al., with Malaiwong coming after our initial preprint. However, we believe that our approach offers a unique contribution, in that prior work does not provide a protocol or process to provide large-scale multiplexed transgenesis. Specifically, our introduction of large sequence library arrays (TARDIS Library Arrays or TLAs). While high throughput multiplexed transgenesis is discussed in Nonet & Mouridi manuscripts, it is never demonstrated. It is the combination of library construction, heritable transmission of the library itself, and then induced transgenesis of library components at a defined location within single individuals that makes this approach particularly useful.
Second, there were concerns that we have not demonstrated that this approach will work beyond C. elegans. We agree that our discussion of the potential application of TARDIS beyond C. elegans is speculative at this point. Our intention was to highlight the potential for future development and application in other systems. In some cases, large integrations into the genome are possible, such as in the case of H11 locus in mice, which could provide a means to inherit a sequence library. We are hopeful that our success in C. elegans will inspire work in other systems. The motivation for this will naturally depend on the usefulness of actual TARDIS implementations, which will be forthcoming in due course.
Reviewer #1 (Recommendations For The Authors):

1. Section titled "Integration from TARDIS array to F1" beginning on line 161 has some missing details that make it difficult to follow. Many of those details are present in the following section titled "Generation and Integration of TARDIS promoter library", but should have been present sooner.

a. How many barcodes were in the array in line PX786?

b. Clarify the use of G-418, heat shock, hygromycin, etc. in this paragraph.

c. Please clarify that the L1 death is due to selection with G-418 - "We found that a portion of the initially plated worms die, likely due to lack of array inheritance." is confusing unless you add that they are selected in this step.

d. "These results suggest that approx. 100-200 worms need to be heat shocked to obtain an integrated line" - the math actually looks like 200-300, and this would be to get a single integrant.

2. In general, the barcoding study and results reported here read like a teaser/proof-of-concept but do not really robustly demonstrate the application of the method for barcoding and tracing individual lineages in a population of C. elegans. How many barcodes were in the array, and how many ended up in F1s? Would one need to screen for duplicate barcodes after integration?

3. The promoter library study is impressive but again, rather limited.

4. The Discussion section about extending this technology to other systems is fairly balanced, acknowledging the limitations that would need to be overcome. The language in the abstract and introduction is less balanced and oversells the current translation of this approach to systems outside C. elegans.

Reviewer #2 (Recommendations For The Authors):

As I mentioned in the Public Review, I appreciate the design of the selection markers for integration. However, I do not see a major advance in the field. The use of barcoding of individuals to address a biological question would change that impression.

Regarding the integration of promoters, I think this is something that anyone could address in diverse forms using existing knowledge.

Suggestions:

- Use one or two more landing pads for barcoding of animals and check numbers, efficacy, enrichments..etc. About 500 sequences overrepresented may be too much for future applications;

- Increase the number of landing pads for inserting promoters. Genomics context matters and this could help to have a better summary of the real expression patterns driven by the promoter of interest;

- Other references about landing pads would be Vicencio et al, Genetics 2019, and Nonet microPublication Biology 2021.
In addition to the general comments, the reviewers provided useful suggestions to the text that we have used to clarify the manuscript.
https://doi.org/10.7554/eLife.84831.3.sa3
Article and author information
Author details
National Institutes of Health (R35GM131838)
National Institutes of Health (R01AG056436)
Hang Lu
Patrick C Phillips
The funders had no role in study design, data collection and interpretation, or the decision to submit the work for publication.
We thank the Phillips lab members for helpful suggestions and technical assistance. In particular, we thank Erin Jahahn for her assistance in early TARDIS multiple integrations, Zach Muñoz for his assistance injecting several TARDIS libraries, Kristin Robinson for creating PXKR1, and Ellie Laufer for her assistance in genotyping individual promoter integrations. We also thank Sihoon Moon, Hyun Jee Lee, and Eric Andersen for technical assistance in plasmid construction.
Senior and Reviewing Editor
Michael B Eisen, University of California, Berkeley, United States
© 2023, Stevenson et al.
This article is distributed under the terms of the Creative Commons Attribution License, which permits unrestricted use and redistribution provided that the original author and source are credited.
654

Page views

75

Downloads

0

Citations
Article citation count generated by polling the highest count across the following sources: Crossref, PubMed Central, Scopus.
A two-part list of links to download the article, or parts of the article, in various formats.
Downloads
(link to download the article as PDF)
Open citations
(links to open the citations from this article in various online reference manager services)
Cite this article
(links to download the citations from this article in formats compatible with various reference manager tools)
Zachary C Stevenson
Megan J Moerdyk-Schauwecker
Stephen A Banse
Dhaval S Patel
Hang Lu
Patrick C Phillips
High-throughput library transgenesis in Caenorhabditis elegans via Transgenic Arrays Resulting in Diversity of Integrated Sequences (TARDIS)
eLife 12:RP84831.
https://doi.org/10.7554/eLife.84831.3
Further reading
Epidemiology and Global Health
Genetics and Genomics

Accurate inference of who infected whom in an infectious disease outbreak is critical for the delivery of effective infection prevention and control. The increased resolution of pathogen whole-genome sequencing has significantly improved our ability to infer transmission events. Despite this, transmission inference often remains limited by the lack of genomic variation between the source case and infected contacts. Although within-host genetic diversity is common among a wide variety of pathogens, conventional whole-genome sequencing phylogenetic approaches exclusively use consensus sequences, which consider only the most prevalent nucleotide at each position and therefore fail to capture low frequency variation within samples. We hypothesized that including within-sample variation in a phylogenetic model would help to identify who infected whom in instances in which this was previously impossible. Using whole-genome sequences from SARS-CoV-2 multi-institutional outbreaks as an example, we show how within-sample diversity is partially maintained among repeated serial samples from the same host, it can transmitted between those cases with known epidemiological links, and how this improves phylogenetic inference and our understanding of who infected whom. Our technique is applicable to other infectious diseases and has immediate clinical utility in infection prevention and control.

Cancer Biology
Genetics and Genomics

Cytotoxic CD8+ T lymphocytes (CTLs) are key players of adaptive anti-tumor immunity based on their ability to specifically recognize and destroy tumor cells. Many cancer immunotherapies rely on unleashing CTL function. However, tumors can evade killing through strategies which are not yet fully elucidated. To provide deeper insight into tumor evasion mechanisms in an antigen-dependent manner, we established a human co-culture system composed of tumor and primary immune cells. Using this system, we systematically investigated intrinsic regulators of tumor resistance by conducting a complementary CRISPR screen approach. By harnessing CRISPR activation (CRISPRa) and CRISPR knockout (KO) technology in parallel, we investigated gene gain-of-function as well as loss-of-function across genes with annotated function in a colon carcinoma cell line. CRISPRa and CRISPR KO screens uncovered 187 and 704 hits respectively, with 60 gene hits overlapping between both. These data confirmed the role of interferon‑γ (IFN-γ), tumor necrosis factor α (TNF-α) and autophagy pathways and uncovered novel genes implicated in tumor resistance to killing. Notably, we discovered that ILKAP encoding the integrin-linked kinase-associated serine/threonine phosphatase 2C, a gene previously unknown to play a role in antigen specific CTL-mediated killing, mediate tumor resistance independently from regulating antigen presentation, IFN-γ or TNF-α responsiveness. Moreover, our work describes the contrasting role of soluble and membrane-bound ICAM-1 in regulating tumor cell killing. The deficiency of membrane-bound ICAM-1 (mICAM-1) or the overexpression of soluble ICAM-1 (sICAM-1) induced resistance to CTL killing, whereas PD-L1 overexpression had no impact. These results highlight the essential role of ICAM-1 at the immunological synapse between tumor and CTL and the antagonist function of sICAM-1.

Genetics and Genomics
Neuroscience

The Maillard reaction, a chemical reaction between amino acids and sugars, is exploited to produce flavorful food ubiquitously, from the baking industry to our everyday lives. However, the Maillard reaction also occurs in all cells, from prokaryotes to eukaryotes, forming Advanced Glycation End-products (AGEs). AGEs are a heterogeneous group of compounds resulting from the irreversible reaction between biomolecules and α-dicarbonyls (α-DCs), including methylglyoxal (MGO), an unavoidable byproduct of anaerobic glycolysis and lipid peroxidation. We previously demonstrated that Caenorhabditis elegans mutants lacking the glod-4 glyoxalase enzyme displayed enhanced accumulation of α-DCs, reduced lifespan, increased neuronal damage, and touch hypersensitivity. Here, we demonstrate that glod-4 mutation increased food intake and identify that MGO-derived hydroimidazolone, MG-H1, is a mediator of the observed increase in food intake. RNAseq analysis in glod-4 knockdown worms identified upregulation of several neurotransmitters and feeding genes. Suppressor screening of the overfeeding phenotype identified the tdc-1-tyramine-tyra-2/ser-2 signaling as an essential pathway mediating AGEs (MG-H1) induced feeding in glod-4 mutants. We also identified the elt-3 GATA transcription factor as an essential upstream regulator for increased feeding upon accumulation of AGEs by partially controlling the expression of tdc-1 gene. Further, the lack of either tdc-1 or tyra-2/ser-2 receptors suppresses the reduced lifespan and rescues neuronal damage observed in glod-4 mutants. Thus, in C. elegans, we identified an elt-3 regulated tyramine-dependent pathway mediating the toxic effects of MG-H1 AGE. Understanding this signaling pathway may help understand hedonistic overfeeding behavior observed due to modern AGEs-rich diets.