Articular Cartilage: Where it all started
The progenitor cells that form articular cartilage express a gene for a protein called NFATc1, which stops articular chondrocytes from developing too early in the joint.
Articular cartilage is a smooth white tissue that covers the ends of bones where they join together. It is essential for maintaining the mobility of bone joints. However, despite this important role, the tissue is susceptible to degeneration caused by trauma, disease or ageing. This can lead to conditions such as osteoarthritis, which can cause chronic pain and, in some cases, disability (Cui et al., 2020).
Reversing damage to articular cartilage remains a great challenge in musculoskeletal medicine. One way to tackle this issue is to better understand how articular cartilage forms during embryonic development, as this knowledge could help researchers to develop new methods for rebuilding cartilage. Yet, the origins of the main cells in cartilage, known as articular chondrocytes, and the identity of the genes that regulate their production remain unclear. Now, in eLife, Xianpeng Ge (Capital Medical University in Beijing) and colleagues – including Fan Zhang and Yuanyuan Wang as joint first authors – report new insights into the formation of articular chondrocytes (Zhang et al., 2023).
Previous research has shown that the gene NFATc1 helps to regulate the development of bones by controlling cells that absorb and form bone (Winslow et al., 2006). To find out if NFATc1 could also be involved in cartilage development, Zhang et al. used genetically modified mouse embryos, in which cells expressing NFATc1 were tagged with a fluorescent marker that allowed the researchers to track these cells and their offspring over time. This revealed that NFATc1 is expressed in a group of progenitor cells throughout embryonic and even postnatal development, and that these cells are responsible for generating most of the articular chondrocytes (Figure 1).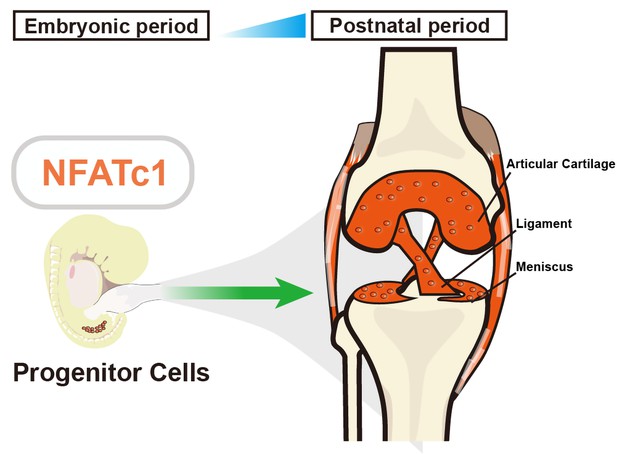 Further experiments in cells and embryonic mice revealed that the expression of NFATc1 decreased as the articular chondrocytes matured. Zhang et al. found that when the gene was removed from the cartilage progenitors, the maturation of chondrocytes was faster and the formation of articular cartilage in embryos was still supported. Consistent with this, when NFATc1 was overactivated, the progenitor cells could no longer mature into chondrocytes. This indicates that this gene negatively regulates the development of articular chondrocytes.
So far, it has been challenging to track how articular cartilage develops as most genetic markers cannot distinguish between the different cell types in the relevant tissues (Rux et al., 2019; Chijimatsu and Saito, 2019). The only exception is the gene Prg4, a widely used marker of articular cartilage progenitors. But since cells only start to express this gene at a later stage during development, the marker fails to track their movement during the earlier stages (Kozhemyakina et al., 2015). In contrast, NFATc1 is expressed early during articular cartilage development, and may therefore offer a better alternative for studying the origin of articular cartilage.
It was previously thought that NFATc1, together with another gene involved in cartilage formation, NFATc2, restricts the overgrowth of cartilage (also known as osteochondroma) at the sites where the ligaments insert into the bone. However, adjusting how much of either of those genes was removed from the mice's progenitor cells could in fact determine the number and size of osteochondromas (Ge et al., 2016). This knowledge may be helpful in understanding how NFATc1 may suppress the formation of cartilage in certain diseases.
It has been suggested that both NFATc1 and NFATc2 are key suppressors of osteoarthritis, which is crucial for articular cartilage formation in mice (Greenblatt et al., 2013). However, when Zhang et al. used a different approach to delete these two genes, they observed the opposite effect – removing NFATc1 and NFATc2 enhanced chondrogenesis under pathological conditions. This suggests that researchers should carefully consider the genetic ablating tools they use when studying the role of progenitor cells in articular cartilage.
Moreover, it has been shown that adult skeletal stem cells expressing NFATc1 behave as bone-cell progenitors and contribute to the early stages of repair following a bone fracture (Yu et al., 2022). This highlights the complex pool of progenitor cells that express NFATc1, and how the fate of these progenitors changes during different periods of development as well as adulthood. More importantly, to date, it remains unclear whether these NFATc1-expressing progenitor cells fulfill stemness criteria in the skeleton, such as stem-cell transplantation (Debnath et al., 2018), or if these cells are able to generate functional articular cartilage.
Despite a lack of evidence confirming the stemness of NFATc1-expressing progenitor cells, the work of Zhang et al. offers researchers an additional genetic tool to detect and track the origins of articular chondrocytes. Moreover, their findings provide valuable insights into the mechanism of articular cartilage formation. If studies in human cells achieve similar results, this may help scientists to identify potential treatments of cartilage diseases, such as osteoarthritis.
Article and author information
Author details
© 2023, Zhang et al.
This article is distributed under the terms of the Creative Commons Attribution License, which permits unrestricted use and redistribution provided that the original author and source are credited.
275

Page views

39

Downloads

0

Citations
Article citation count generated by polling the highest count across the following sources: Crossref, PubMed Central, Scopus.
A two-part list of links to download the article, or parts of the article, in various formats.
Downloads
(link to download the article as PDF)
Open citations
(links to open the citations from this article in various online reference manager services)
Cite this article
(links to download the citations from this article in formats compatible with various reference manager tools)
Long Zhang
Na Li
Ren Xu
Articular Cartilage: Where it all started
eLife 12:e87355.
https://doi.org/10.7554/eLife.87355
Further reading
Stem Cells and Regenerative Medicine

The origin and differentiation mechanism of articular chondrocytes remain poorly understood. Broadly, the difference in developmental mechanisms of articular and growth-plate cartilage is still less elucidated. Here, we identified that the nuclear factor of activated T-cells cytoplasmic 1 (NFATc1) is a crucial regulator of articular, but not growth-plate, chondrocyte differentiation during development. At the early stage of mouse knee development (embryonic day 13.5), NFATc1-expressing cells were mainly located in the flanking region of the joint interzone. With development, NFATc1-expressing cells generated almost all articular chondrocytes but not chondrocytes in limb growth-plate primordium. NFATc1-expressing cells displayed prominent capacities for colony formation and multipotent differentiation. Transcriptome analyses revealed a set of characteristic genes in NFATc1-enriched articular cartilage progenitors. Strikingly, the expression of NFATc1 was diminished with articular chondrocyte differentiation, and suppressing NFATc1 expression in articular cartilage progenitors was sufficient to induce spontaneous chondrogenesis while overexpressing NFATc1 suppresses chondrogenesis. Mechanistically, NFATc1 negatively regulated the transcriptional activity of the Col2a1 gene. Thus, our results reveal that NFATc1 characterizes articular, but not growth-plate, cartilage progenitors during development and negatively determines articular chondrocyte differentiation at least partly through regulating COL2A1 gene transcription.

The available treatments for depression have substantial limitations, including low response rates and substantial lag time before a response is achieved. We applied deep brain stimulation (DBS) to the lateral habenula (LHb) of two rat models of depression (Wistar Kyoto rats and lipopolysaccharide-treated rats) and observed an immediate (within seconds to minutes) alleviation of depressive-like symptoms with a high-response rate. Simultaneous functional MRI (fMRI) conducted on the same sets of depressive rats used in behavioral tests revealed DBS-induced activation of multiple regions in afferent and efferent circuitry of the LHb. The activation levels of brain regions connected to the medial LHb (M-LHb) were correlated with the extent of behavioral improvements. Rats with more medial stimulation sites in the LHb exhibited greater antidepressant effects than those with more lateral stimulation sites. These results indicated that the antidromic activation of the limbic system and orthodromic activation of the monoaminergic systems connected to the M-LHb played a critical role in the rapid antidepressant effects of LHb-DBS. This study indicates that M-LHb-DBS might act as a valuable, rapid-acting antidepressant therapeutic strategy for treatment-resistant depression and demonstrates the potential of using fMRI activation of specific brain regions as biomarkers to predict and evaluate antidepressant efficacy.

Social touch constitutes a key component of human social relationships, although in some conditions with social dysfunction, such as autism, it can be perceived as unpleasant. We have previously shown that intranasal administration of oxytocin facilitates the pleasantness of social touch and activation of brain reward and social processing regions, although it is unclear if it influences responses to gentle stroking touch mediated by cutaneous C-touch fibers or pressure touch mediated by other types of fibers. Additionally, it is unclear whether endogenous oxytocin acts via direct entry into the brain or by increased peripheral blood concentrations.

In a randomized controlled design, we compared effects of intranasal (direct entry into the brain and increased peripheral concentrations) and oral (only peripheral increases) oxytocin on behavioral and neural responses to social touch targeting C-touch (gentle-stroking) or other (medium pressure without stroking) cutaneous receptors.

Although both types of touch were perceived as pleasant, intranasal and oral oxytocin equivalently enhanced pleasantness ratings and responses of reward, orbitofrontal cortex, and social processing, superior temporal sulcus, regions only to gentle-stroking not medium pressure touch. Furthermore, increased blood oxytocin concentrations predicted the pleasantness of gentle stroking touch. The specificity of neural effects of oxytocin on C-touch targeted gentle stroking touch were confirmed by time-course extraction and classification analysis.

Increased peripheral concentrations of oxytocin primarily modulate its behavioral and neural responses to gentle social touch mediated by C-touch fibers. Findings have potential implications for using oxytocin therapeutically in conditions where social touch is unpleasant.

Key Technological Projects of Guangdong Province grant 2018B030335001.