Deep-Sea Adaptation: Surviving under pressure
Genomic analysis has shed light on how hadal snailfish have adapted to living at depths of several thousand metres.
The world's oceans are divided into five depth zones, with the hadal zone – which refers to depths of more than 6000 metres – being the deepest. Composed mainly of deep trenches, the hadal zone is among the most hostile environments on Earth because it is extremely cold and dark, there is very little food, the trenches are geographically isolated, and the hydrostatic pressure can reach values as high as 1000 times atmospheric pressure (Somero, 1992; Jamieson, 2015).
The most common vertebrate species in the hadal zone are fish called snailfishes, and hadal snailfishes can survive down to depths of about 8100 metres (Linley et al., 2016). Other species of snailfish live in coastal waters, which means that the snailfish (sometimes known as the sea snail) has the widest depth range of any marine fish species. Researchers have identified various ways in which hadal snailfish have adapted to their extreme environment (Wang et al., 2019; Mu et al., 2021), but we still do not fully understand how snailfish evolved and why they are among the few vertebrate species that have successfully adapted to the hadal zone.
Now, in eLife, Shunping He (Institute of Hydrobiology, Chinese Academy of Sciences), Kun Wang (Northwestern Polytechnical University) and colleagues – including Wenjie Xu, Chenglong Zhu, Xueli Gao, Baosheng Wu, Han Xu, Mingliang Hu and Honghui Zeng as joint first authors – report the results of a genomic study that provides new insights into the origin and evolution of the hadal snailfish (Xu et al., 2023).
Xu et al. started by generating genomic data for four hadal snailfish that had been collected from the Mariana Trench in the Northwest Pacific Ocean, and four Tanaka's snailfish that had been collected from the Southern Yellow Sea: Tanaka's snailfish is a close relative of the hadal snailfish that lives in shallower waters. After a series of thorough bioinformatic analyses, they identified 33 genes that are only found in hadal snailfish, 19 unitary pseudogenes, and various other differences between hadal snailfish and related species. For instance, there are 21 genes for which the gene number in hadal snailfish is higher than the gene number in Tanaka's snailfish. Strikingly, most of these genes and differences had not been observed before, probably due to the fragmented nature of early versions of the hadal snailfish genome. Xu et al. also observed that 51 genes present in other snailfish are not present in Hadal snailfish.
By comparing genomic and mitochondrial data belonging to snailfishes from different trenches – including the Kermadec Trench, which is about 6,400 kilometres from the Mariana Trench – they found that hadal snailfishes have successfully spread to multiple trenches in the Pacific Ocean over the course of a million years.
By associating gene variation, expression, and function, Xu et al. were able to yield several important insights into the ways the hadal snailfish has adapted to its extreme environment (Figure 1). First, the rh1 gene, which is critical for monochromatic vision in very dim light, is present and expressed in hadal snailfish, whereas other genes that are associated with seeing at different wavelengths (lws, rh2 and sws2) are lost or hardly expressed.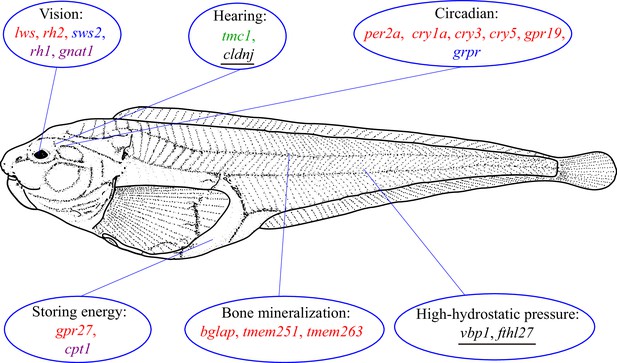 Second, the majority of the auditory genes were preserved in hadal snailfish and many of them were upregulated, probably to compensate for the loss of visual genes. Third, while many circadian rhythm genes have been lost, or have become pseudogenes, a small number of essential circadian clock control genes are present and expressed in the hadal snailfish, indicating that a rhythm cycle is retained, although it is probably not coupled to the day-night cycle.
Fourth, a gene called gpr27 that is involved in metabolism in other species is a pseudogene in the hadal snailfish, which probably helps it to reduce metabolism and store energy in order to survive periods when food is not available. Fifth, two genes that are involved in bone mineralization in other snailfish are not found in hadal snailfish: the fact that the skull of the hadal snailfish is not completely enclosed allows for the equalization of the internal and external pressure.
Finally, there are 14 copies of a gene called fthl27 in hadal snailfish, compared with just three copies in Tanaka's snailfish. This gene encodes a protein called ferritin, and Xu et al. suggest that the overexpression of this gene may increase the tolerance of cells to the high levels of reactive oxygen species that are found at high hydrostatic pressures: these pressures can disrupt cellular processes and cause oxidative stress, resulting in the production of reactive oxygen species.
Our understanding of the genetic basis of adaptation to the hadal zone continues to improve, thanks to the work of Xu et al. and other researchers. However, many questions remain unanswered. An important next step will be to perform experiments in the lab – as Xu et al. have done – in order to validate (or otherwise) what comparative genomics studies are suggesting. We just have to look.
Article and author information
Author details
© 2023, Wang and Yang
This article is distributed under the terms of the Creative Commons Attribution License, which permits unrestricted use and redistribution provided that the original author and source are credited.
356

Page views

44

Downloads

0

Citations
Article citation count generated by polling the highest count across the following sources: Crossref, PubMed Central, Scopus.
A two-part list of links to download the article, or parts of the article, in various formats.
Downloads
(link to download the article as PDF)
Open citations
(links to open the citations from this article in various online reference manager services)
Cite this article
(links to download the citations from this article in formats compatible with various reference manager tools)
Ying Wang
Liandong Yang
Deep-Sea Adaptation: Surviving under pressure
eLife 12:e90216.
https://doi.org/10.7554/eLife.90216
Further reading
Evolutionary Biology
Microbiology and Infectious Disease

Drug resistance remains a major obstacle to malaria control and eradication efforts, necessitating the development of novel therapeutic strategies to treat this disease. Drug combinations based on collateral sensitivity, wherein resistance to one drug causes increased sensitivity to the partner drug, have been proposed as an evolutionary strategy to suppress the emergence of resistance in pathogen populations. In this study, we explore collateral sensitivity between compounds targeting the Plasmodium dihydroorotate dehydrogenase (DHODH). We profiled the cross-resistance and collateral sensitivity phenotypes of several DHODH mutant lines to a diverse panel of DHODH inhibitors. We focus on one compound, TCMDC-125334, which was active against all mutant lines tested, including the DHODH C276Y line, which arose in selections with the clinical candidate DSM265. In six selections with TCMDC-125334, the most common mechanism of resistance to this compound was copy number variation of the dhodh locus, although we did identify one mutation, DHODH I263S, which conferred resistance to TCMDC-125334 but not DSM265. We found that selection of the DHODH C276Y mutant with TCMDC-125334 yielded additional genetic changes in the dhodh locus. These double mutant parasites exhibited decreased sensitivity to TCMDC-125334 and were highly resistant to DSM265. Finally, we tested whether collateral sensitivity could be exploited to suppress the emergence of resistance in the context of combination treatment by exposing wildtype parasites to both DSM265 and TCMDC-125334 simultaneously. This selected for parasites with a DHODH V532A mutation which were cross-resistant to both compounds and were as fit as the wildtype parent in vitro. The emergence of these cross-resistant, evolutionarily fit parasites highlights the mutational flexibility of the DHODH enzyme.

Evolutionary Biology
Neuroscience

The process of brain folding is thought to play an important role in the development and organisation of the cerebrum and the cerebellum. The study of cerebellar folding is challenging due to the small size and abundance of its folia. In consequence, little is known about its anatomical diversity and evolution. We constituted an open collection of histological data from 56 mammalian species and manually segmented the cerebrum and the cerebellum. We developed methods to measure the geometry of cerebellar folia and to estimate the thickness of the molecular layer. We used phylogenetic comparative methods to study the diversity and evolution of cerebellar folding and its relationship with the anatomy of the cerebrum. Our results show that the evolution of cerebellar and cerebral anatomy follows a stabilising selection process. We observed 2 groups of phenotypes changing concertedly through evolution: a group of 'diverse' phenotypes - varying over several orders of magnitude together with body size, and a group of 'stable' phenotypes varying over less than 1 order of magnitude across species. Our analyses confirmed the strong correlation between cerebral and cerebellar volumes across species, and showed in addition that large cerebella are disproportionately more folded than smaller ones. Compared with the extreme variations in cerebellar surface area, folial anatomy and molecular layer thickness varied only slightly, showing a much smaller increase in the larger cerebella. We discuss how these findings could provide new insights into the diversity and evolution of cerebellar folding, the mechanisms of cerebellar and cerebral folding, and their potential influence on the organisation of the brain across species.

Developmental Biology
Evolutionary Biology

Cephalochordates and tunicates represent the only two groups of invertebrate chordates, and extant cephalochordates – commonly known as amphioxus or lancelets – are considered the best proxy for the chordate ancestor, from which they split around 520 million years ago. Amphioxus has been an important organism in the fields of zoology and embryology since the 18th century, and the morphological and genomic simplicity of cephalochordates (compared to vertebrates) makes amphioxus an attractive model for studying chordate biology at the cellular and molecular levels. Here we describe the life cycle of amphioxus, and discuss the natural histories and habitats of the different species of amphioxus. We also describe their use as laboratory animal models, and discuss the techniques that have been developed to study different aspects of amphioxus.