With the ongoing pandemic, 2021 has evidenced both science's potential to deliver solutions to unprecedented challenges and how pervasive inequalities still limit who in our societies has access to those solutions.
Accelerating discovery and increasing equity in science and medicine have always been at the heart of eLife's mission, but over the past 12 months, we have stepped up our efforts and done more to get closer to our aspirations. We are also reporting twice a year on our plans and progress, in an invitation to the community to hold us accountable.
Here we report on our progress against the objectives that we outlined back in January, and share our plans for the rest of the year. Overall, our success has been mixed but progress has been made across a number of areas. Most of the actions set out in our previous report have been achieved on schedule, while some were revised slightly to reflect changes in circumstances. The timelines of a few actions have been extended as we've set up more democratised ways of working (see next section), which we believe will lead to more equitable outcomes in the longer term.
To date, our focus has encompassed:
Fostering inclusion and devolving decision making
Establishing best practices for diversity data collection and reporting
Diversifying the eLife editorial board
Increasing involvement of early-career reviewers
Addressing bias in peer review
Implementing a learning and development plan
Improving the diversity of the Executive Team and Governing Board
Questions and comments are welcome. Please feel free to share your feedback using the annotation tool or via email: edi@elifesciences.org. Anonymous feedback may also be shared via this form.
Report prepared by:
Stuart King, Research Culture Manager
Fostering inclusion and devolving decision making
Much of our focus so far this year has been fostering greater inclusion and empowering our communities as we work together towards transforming research communication and culture.
Progress since January: Over the past four months, eLife has set up five 'Working Groups' to pilot a new way of planning and decision making at eLife. With early-career advisors, editors and executive staff working more closely with eLife's leadership, each group is focusing on a specific challenge related either to eLife's transition to the 'publish, then review' model for research communication or to making eLife a more diverse and equitable initiative.
We hope that these voluntary groups will prove to be a more inclusive and democratised way of working than our previous typically top-down approaches and we are evaluating the initiative and learning as we go. Also, since we recognise that many of the complex issues that we are grappling with would strongly benefit from different perspectives, we have tasked some Working Groups with objectives that were outlined in our previous report. This means that some of those objectives are still a work in progress (see below for details), but we believe that the outcomes will be fairer and achieved in a way that is closer to how we'd like to work in the future.
To support our community members when working together, we have also shared a common set of expectations in the form of a Code of Conduct. This code is supported by a new team made up of members of our early-career advisor, editor and executive staff communities, who have all received professional training to help equip them with the skills needed for their roles.
Next Step: Between now and our next report, we plan to:
Monitor, learn from and improve the Working Groups initiative
Establishing best practices for diversity data collection and reporting
Improving our mechanisms to collect and report on the diversity present within different eLife communities has been another big area of activity so far this year. Informed by collaborations with other publishers and experts, we have redesigned and launched a number of new processes since January to allow individuals to voluntarily share their demographic information with us.
Progress since January: Over 40% of eLife editors responded to our new diversity monitoring form, giving us a previously unavailable insight into both the visible and invisible diversity of our editorial community. The data show how much our editorial boards do reflect the broader research communities, including where communities that are underrepresented among research are similarly underrepresented among our editors. Equipped with this new source of data, we are now better positioned to design actions to identify and reduce inequities and pursue expanding and diversifying our editorial community in a more equitable way (see next section for more details).
For authors, in the past month, we have updated the optional questions that are asked immediately following a new manuscript submission. The questions asking about career stage and gender have been revised to be more inclusive and facilitate data analysis, and we are now providing an opportunity for authors to describe their race and ethnicity too.
For reviewers, we have updated an existing regular survey to also include questions about the reviewer's career stage, gender and race and ethnicity. This option has allowed us to more quickly start collecting such data, however, as this survey is submitted anonymously we are limited to reporting on this data in an aggregated way, meaning, for example, we would not be able to use the data to explore biases in peer review (see "Limiting bias" below).
Next Steps: Before our next report, we plan to:
Identify a way to ask the optional demographic questions to authors who submit directly from preprint servers and not via our submission system
Identify a way to collect demographic data from reviewers that can be linked to the manuscripts to aid in our work to understand and address bias in peer review
Report on the response rates of our author and reviewer demographic data
Implement self-reported demographics monitoring as part of our recruitment process
Diversifying the eLife editorial board
The researchers that make up our editorial community decide on the research that we review as a journal, and we value their dedication to their roles as Senior and Reviewing Editors. We further recognise that there are many equally skilled scientists and medics who would excel as eLife editors, but who we have historically struggled to reach due to our past reliance on recommendations from existing editors for new additions to our board. To address this, we took the decision this year to begin recruiting new editors through open calls to apply; this work is now being led by one of our five Working Groups.
Progress since January: The Working Group that is focused on expanding participation in our editorial board has so far compiled an intentionally inclusive list of qualities that are needed to be an eLife editor. Following finalisation and approval via eLife leadership, this list will be shared publicly.
Also, while we have been moving closer to our target of having an equal number of men and women serving as eLife editors in recent years, progress on increasing the geographic diversity of our editorial community has been slower. The Working Group has thus also worked on launching eLife's first call for self-nominations for editors with a focus on Latin America, a region that has been heavily underrepresented on our board. Currently, four eLife editors are based in Mexico with a further seven across South America, and the target would be to recruit at least 10 more Reviewing Editors from this region.
While designing and running this call we will actively look to see how it may also help us to increase the representativeness of our editorial community when measured across other aspects of diversity. Based on lessons learned from this first call, we anticipate holding other calls for editors in areas, subjects or communities that are underrepresented in our editorial board.
Next steps: Over the next six months, we will:
Publicise the criteria for participation on our editorial board (carried forward from January 2021)
Launch the call for self-nominations for editors from Latin America
Monitor and report on the outcomes of the open call
Increasing involvement of early-career reviewers
Early-career researchers gaining first-hand experience of the peer review benefits not only them as researchers, but also helps journals and publishers by widening their pool of reviewers.
Progress since January: In addition to electing five new members to our Early-Career Advisory Group, as mentioned above, our early-career advisors are now more empowered to influence editorial and organisational planning and decision making through their involvement in the Working Groups initiative.
At the start of the year, we had also intended to take steps to expand our database of early-career reviewers in Medicine as this is a reinvigorated and growing section of the journal. This has been rescheduled for later in the year (see "Next steps" below). Instead, we switched to focus on Structural Biology and Molecular Biophysics as its higher publication volume will more quickly provide new opportunities for early-career reviewers to participate in peer review. In May, we openly invited postdocs and early-career independent investigators active in these fields to apply to join our pool of early-career reviewers. We received almost 300 applications in response, and are now reviewing and adding those who meet the requirements to the around 580 early-career reviewers already in the pool.
In partnership with PREreview, training in delivering ethical, bias-conscious and constructive peer review has been offered to all members of the eLife early-career reviewer pool. The training comprises two taught sessions and is based on materials developed in the course of the Open Reviewers programme we supported last year.
Next steps: Over the next six months, we will:
Report on results of our open call in Structural Biology and Molecular Biophysics
Identify the steps required to make a publicly available list of our early-career reviewer pool to support wider use
Recruit early-career reviewers in Medicine through an open call (carried forward from January 2021)
Monitor our editors' engagement of early-career reviewers from the pool
Offer more training opportunities for early-career reviewers
Work with PREreview to engage early-career researchers in Africa with reviewing preprints
Addressing bias in peer review
Previous studies of the review process indicate that biases – whether implicit or explicit – can influence decisions made during peer review, and that diverse panels of reviewers lead to fairer decisions for authors.
Progress since January: One of the five new Working Groups has been formed with the specific objective of helping us to better understand and address biases in the peer-review process, at eLife and beyond. The group are currently devising a range of questions and potential solutions that eLife can consider implementing, starting later in the year.
In parallel, and as set out in our January report, we have analysed our existing data of the geographic distribution of active reviewers from 2018 to 2019: the period over which we began explicitly encouraging our editors (from September 2018) and authors (from May 2019) to consider diversity – in terms of gender, geography and career stage – when inviting or suggesting reviewers.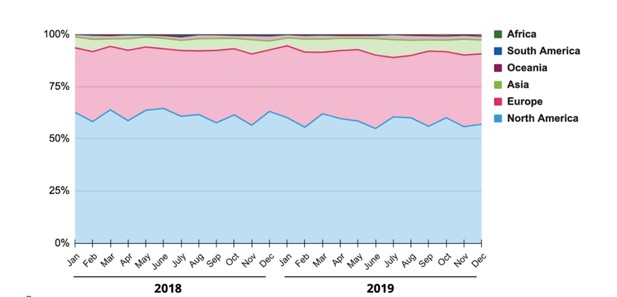 This analysis (shown above) reveals that, while there was month-on-month variation, the pool of reviewers became only slightly more geographically diverse over this period. The percentage of reviewers based in North America trended downwards, from 63% at the start of 2018 to 57% at the end of 2019. Over the same period, reviewers based in Europe increased slightly, from 31% to 34%, and reviewers in Asia rose from 5% to 7% of the reviewer pool. A lack of historical data means that we have been unable to explore any other demographic shifts in our reviewer community. Yet, as mentioned, above we are equipping ourselves with the ability to collect such data that would facilitate these analyses in future.
Next Steps: In time for our next report, we will:
Report on the actions arising from the work of our Working Group focused on bias in the peer-review process
Review our editor onboarding and other processes to highlight opportunities for expanding networks and the importance of considering diversity and inclusion in peer review
Implementing a learning and development plan
Educating ourselves to better understand the inequities faced by members of our communities is key to us helping to eradicate them. We want to feel confident and empowered to understand and address issues limiting equity, diversity and inclusion.
Progress since January: We have worked with an external consultant to survey eLife staff to gauge our collective baseline knowledge about, awareness and perception of equity, diversity and inclusion issues. The results of that survey were then used to inform the content of training for all staff that took place in June and early July. The survey results and follow-up discussions will also help determine our further development needs.
Our Editor-in-Chief, Deputy Editors, and all executive staff with management responsibilities also participated in a session focused on inclusive leadership, which was delivered by a specialist diversity and inclusion training provider. This training was to help ensure that our leadership sets an example and communicates in a sensitive and inclusive way, in support of creating a safe and supportive environment that is conducive to inviting contributions from diverse communities.
Next steps: Over the next six months, we will:
Continue to develop our learning plan based on the identified needs
Improving the diversity of the Executive Team and Governing Board
Increasing diversity across all of eLife is both the right thing for us to do and crucial for us to reform research communication on a global scale, but there are no shortcuts to achieving it.
Progress since January: Over the past six months, in addition to taking the more immediate steps to broaden our perspectives via the new Working Groups initiative, we have considered carefully what actions we can take to improve the diversity of our staff and governing body. eLife is a small organisation with just over 50 employees, and we see our very low level of staff turnover only as something positive. Related to this, eLife is also an organisation that invests heavily in open-source technology. Almost a quarter of eLife staff work in technology roles, a sector that has above-average salaries and where men remain overrepresented in the workforce.
Given the above context, we are very aware that our opportunities to influence the diversity present within our executive staff, or similarly reduce our gender pay gap, are limited and will take time. As such, we have and will continue to focus our attention on reviewing and improving recruitment and promotion. For example, in recent years, we've screened our job adverts for gender-biased language, and have started advertising new vacancies on diversity and inclusion-specialist job boards. Our job adverts now all include the salary range, as not disclosing this information is known to perpetuate pay inequalities. We also now consider remote working (for candidates eligible to work in the UK); which we hope will provide greater flexibility and widen our pool of new job applicants to include those who live beyond a commutable distance from our office in Cambridge, UK.
Next steps: In addition to implementing demographics monitoring as part of our recruitment process (as described above), before the end of the year we will also:
Develop approaches to professional development and promotion that are consistently applied across the organisation
Via a designated subcommittee, review the makeup of our Governing Board, members' term limits and processes for adding new members
#
We welcome comments or questions from researchers as well as other journals. Please annotate publicly on the article or contact us at: edi@elifesciences.org.

For the latest in published research sign up for our weekly email alerts. You can also follow @eLife on Twitter.