Transcription is a critical step in the series of events that results in genes being expressed as proteins. During transcription, an enzyme called RNA polymerase moves along a DNA template in order to produce a single strand of messenger RNA with a sequence of bases that matches the sequence in the DNA (with uracil replacing thymine). For several decades, a variety of structural, biochemical and single-molecule studies have been used to probe the details of transcription, but many open questions remain. Specifically, what are the key steps in the process that converts chemical energy into the mechanical energy that is needed to move the RNA polymerase in the required direction, and how fast are these steps? Now, in eLife, Carlos Bustamante and colleagues describe how a combination of single-molecule measurements and theoretical modelling has provided important insights into these questions (Dangkulwanich et al., 2013).
The main reaction pathway for transcription has three basic steps (Figure 1). First, the RNA polymerase moves forward by one base pair along the DNA template (a process called translocation); thermal energy actually causes the polymerase to oscillate back and forth, so something needs to happen to convert this random motion into motion along the DNA template in the correct direction. Second, a nucleotide triphosphate (NTP) molecule binds to the active site of the RNA polymerase. Third, chemical catalysis results in the nucleotide being added to the 3′ end of the RNA chain and pyrophosphate (which is produced when the phosphates are broken down to provide energy) being released. This whole process is then repeated to add another nucleotide. However, instead of moving forward overall, the RNA polymerase sometimes moves backwards along the DNA template and displaces the 3′ end of the RNA chain from the active site of the polymerase: this process, which is called backtracking, pauses RNA synthesis (Figure 1).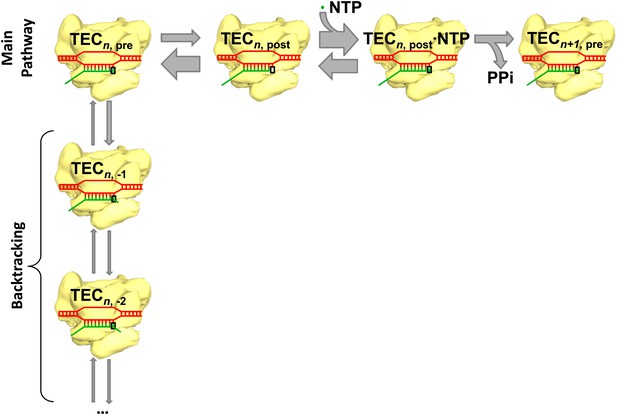 When developing theoretical models of the reaction pathway, researchers have generally assumed that the first two steps in the main reaction pathway—the translocation step and the NTP binding step—are much faster than the chemical catalysis step and may, therefore, be treated as though they are in equilibrium (Guajardo and Sousa, 1997; von Hippel and Pasman, 2002; Bai et al., 2004; Larson et al., 2012). However, this simple equilibrium model did not seem able to explain the results of experiments in which a force was applied to the RNA polymerase and the elongation velocity (the velocity at which the RNA chain is synthesized) was measured. This discrepancy prompted Steven Block of Stanford University and colleagues to propose the existence of a secondary site for binding NTP (Abbondanzieri et al., 2005; Larson et al., 2012).
There are good reasons to believe that NTP binding is in equilibrium: in other words, the rates at which NTP molecules bind to, and unbind from, the RNA polymerase are much faster than the catalysis rate. However, it is not clear that the rates at which the RNA polymerase moves forward and backward are also much faster than the catalysis rate. Now, by questioning the assumption that the translocation step is in equilibrium, Bustamante and colleagues—including Manchuta Dangkulwanich, Toyotaka Ishibashi and Shixin Liu as joint first authors—argue that a secondary NTP binding site is not needed.
Dangkulwanich et al. employed a dual-optical trapping technique (Galburt et al., 2007): one optical trap held a polystyrene bead that was attached to a molecule of RNA polymerase II (Pol II) from yeast, and the other trap held a bead that was attached to one end of the DNA template. Using this method, they were able to measure how the elongation velocity depended on the applied force and on the concentration of NTP, and also how pausing depended on these two variables. They also performed experiments in which a structure called a nucleosome was placed on the DNA template: this structure slows the forward motion of the Pol II, but it does not have any impact on the backward motion (Hodges et al., 2009).
Based on these results, Dangkulwanich et al. generated an energy landscape for the reaction pathway and arrived at several important conclusions. First, they found that the forward motion of the RNA polymerase was much slower than previously assumed, and also much slower than the backward motion: the forward motion was faster than the catalysis step by a factor of only 2.5, whereas the backwards motion was faster by a factor of 20. Since such a simple model with the translocation steps in the main reaction pathway not being in equilibrium could explain the force-velocity results, Dangkulwanich et al. argue that there is no need to invoke a more complex model with a secondary NTP binding site. Second, they found that backtracking by one base pair is much easier than backtracking by two or more base pairs.
This new model for Pol II bears some resemblance to a model that Andrei Ruckenstein's group at Rutgers University developed for E. coli RNA polymerase without assuming that the translocation step was in equilibrium (Maoiléidigh et al., 2011). Both models produce similar results, and the 'intermediate pause state' proposed for E. coli plays a similar role in modelling as the one-base-pair backtracking state does for Pol II in yeast.
The work by Bustamante and colleagues—who are based at the University of California Berkeley, the Lawrence Berkeley National Laboratory and the National Cancer Institute Center for Cancer Research—has now brought the importance of kinetic measurements to the forefront. However, more work is needed to work out all the details of the coupling between the chemical and mechanical processes. In particular, this latest Pol II model does not consider the effects of the sequence of bases, even though the elongation velocity is expected to greatly depend on sequence: indeed, if sequence-dependent kinetics is included in a simple model that assumes that the translocation step is in equilibrium, the force-velocity curve predicted by the model agrees with that observed in experiments on E. coil RNA polymerase (Bai et al., 2007).
Comparing the various models of transcription will require sequence-dependent measurements that are capable of directly imaging translocation events. Luckily, it appears that advances in single-molecule optical trapping and fluorescence techniques will make such measurements possible in the years ahead.
Article and author information
Author details
© 2013, Forties et al.
This article is distributed under the terms of the Creative Commons Attribution License, which permits unrestricted use and redistribution provided that the original author and source are credited.
808

Page views

50

Downloads

0

Citations
Article citation count generated by polling the highest count across the following sources: Crossref, PubMed Central, Scopus.
A two-part list of links to download the article, or parts of the article, in various formats.
Downloads
(link to download the article as PDF)
Open citations
(links to open the citations from this article in various online reference manager services)
Cite this article
(links to download the citations from this article in formats compatible with various reference manager tools)
Robert A Forties
Jie Ma
Michelle D Wang
Transcription: On the move
eLife 2:e01414.
https://doi.org/10.7554/eLife.01414
Further reading
Structural Biology and Molecular Biophysics

During transcription elongation, RNA polymerase has been assumed to attain equilibrium between pre- and post-translocated states rapidly relative to the subsequent catalysis. Under this assumption, recent single-molecule studies proposed a branched Brownian ratchet mechanism that necessitates a putative secondary nucleotide binding site on the enzyme. By challenging individual yeast RNA polymerase II with a nucleosomal barrier, we separately measured the forward and reverse translocation rates. Surprisingly, we found that the forward translocation rate is comparable to the catalysis rate. This finding reveals a linear, non-branched ratchet mechanism for the nucleotide addition cycle in which translocation is one of the rate-limiting steps. We further determined all the major on- and off-pathway kinetic parameters in the elongation cycle. The resulting translocation energy landscape shows that the off-pathway states are favored thermodynamically but not kinetically over the on-pathway states, conferring the enzyme its propensity to pause and furnishing the physical basis for transcriptional regulation.

Structural Biology and Molecular Biophysics

Paclitaxel (Taxol) is a taxane and a chemotherapeutic drug that stabilizes microtubules. While the interaction of paclitaxel with microtubules is well described, the lack of high-resolution structural information on a tubulin-taxane complex precludes a comprehensive description of the binding determinants that affect its mechanism of action. Here, we solved the crystal structure of baccatin III the core moiety of paclitaxel-tubulin complex at 1.9 Å resolution. Based on this information, we engineered taxanes with modified C13 side chains, solved their crystal structures in complex with tubulin, and analyzed their effects on microtubules (X-ray fiber diffraction), along with those of paclitaxel, docetaxel, and baccatin III. Further comparison of high-resolution structures and microtubules' diffractions with the apo forms and molecular dynamics approaches allowed us to understand the consequences of taxane binding to tubulin in solution and under assembled conditions. The results sheds light on three main mechanistic questions: (1) taxanes bind better to microtubules than to tubulin because tubulin assembly is linked to a βM-loopconformational reorganization (otherwise occludes the access to the taxane site) and, bulky C13 side chains preferentially recognize the assembled conformational state; (2) the occupancy of the taxane site has no influence on the straightness of tubulin protofilaments and; (3) longitudinal expansion of the microtubule lattices arises from the accommodation of the taxane core within the site, a process that is no related to the microtubule stabilization (baccatin III is biochemically inactive). In conclusion, our combined experimental and computational approach allowed us to describe the tubulin-taxane interaction in atomic detail and assess the structural determinants for binding.

Structural Biology and Molecular Biophysics

Volume-regulated anion channels (VRACs) mediate volume regulatory Cl- and organic solute efflux from vertebrate cells. VRACs are heteromeric assemblies of LRRC8A-E proteins with unknown stoichiometries. Homomeric LRRC8A and LRRC8D channels have a small pore, hexameric structure. However, these channels are either non-functional or exhibit abnormal regulation and pharmacology, limiting their utility for structure-function analyses. We circumvented these limitations by developing novel homomeric LRRC8 chimeric channels with functional properties consistent with those of native VRAC/LRRC8 channels. We demonstrate here that the LRRC8C-LRRC8A(IL125) chimera comprising LRRC8C and 25 amino acids unique to the first intracellular loop (IL1) of LRRC8A has a heptameric structure like that of homologous pannexin channels. Unlike homomeric LRRC8A and LRRC8D channels, heptameric LRRC8C-LRRC8A(IL125) channels have a large-diameter pore similar to that estimated for native VRACs, exhibit normal DCPIB pharmacology, and have higher permeability to large organic anions. Lipid-like densities are located between LRRC8C-LRRC8A(IL125) subunits and occlude the channel pore. Our findings provide new insights into VRAC/LRRC8 channel structure and suggest that lipids may play important roles in channel gating and regulation.