Development: Cell death machinery makes life more robust
Sydney Brenner really nailed it when he proposed that the small nematode, C. elegans, be adopted as a model organism. The ease with which genes can be mutated in these worms, combined with the fact that all worms pass through an essentially identical sequence of events as they grow and mature, has allowed researchers to use C. elegans to identify genes that control development (Jorgensen and Mango, 2002). Notably, many of the subjects that C. elegans has become a famous model for have been studied independently, and surprisingly little overlap has been found between them. Therefore, it is extremely informative when genes central to the function of one of these processes are found to 'moonlight' in other gene regulatory pathways. Another example of this phenomenon has just been published in eLife by Min Han and co-workers at the University of Colorado in Boulder, including Benjamin Weaver and Rebecca Zabinsky as joint first authors: they have shown that a protein called CED-3, which is a key regulator of the programed cell death pathway or 'apoptosis', works with the machinery involved in microRNA-mediated gene regulation to control normal animal development (Weaver et al., 2014).
The first indication of this functional overlap came from a genome-wide RNAi screen, a technique used to systematically look at the effects of reducing the activity of particular genes. During normal development, the expression level of many genes involved in diverse biological processes is controlled by microRNA molecules. These microRNAs often work in large complexes. Mutations in either ain-1 or ain-2, two components of the microRNA effector complex, formally known as the microRNA-Induced Silencing Complex (miRISC), cause large numbers of small developmental defects (Ding et al., 2005; Zhang et al., 2007). Weaver, Zabinsky et al. have now identified 118 genes that, when their activity is reduced, make these defects much worse. These genes encode a broad spectrum of proteins, an observation that is consistent with the number of different roles that microRNAs have in regulating developmental gene expression. These 'enhancer' genes likely control normal gene expression in parallel with miRISC complexes (by, for example, producing transcription factors and RNA-processing components) or play important roles in maintaining the integrity of biological pathways that are regulated by microRNAs.
Conspicuous amongst this treasure trove of interesting candidates were a surprising number of genes that have been implicated in controlling apoptosis, a process by which unwanted cells are safely destroyed in a controlled, predictable way. The most striking member of this subgroup was the ced-3 gene, which is recognized throughout biology as one of the central components of the highly conserved apoptotic pathway. The ced-3 gene encodes a caspase—a protein that breaks down other proteins—that is found in many different species and is kept in an inactive state until needed (Miura et al., 1993; Yuan et al., 1993). Once unleashed, the CED-3 caspase is sufficient to initiate apoptosis and, until now, was thought to play a role in only this process (Xue et al., 1996; Conradt and Xue, 2005).
In a series of genetic experiments, Weaver, Zabinsky et al. combined mutant versions of the ced-3 gene with mutations in the miRISC complex components that control microRNA-mediated gene regulation. This enhanced many of the defects that result from just compromising microRNA-mediated gene regulation. These defects are easily observable in growing animals and include those associated with the proper timing of developmental events, the formation of organs, and even behaviour. Therefore, ced-3 and other apoptotic pathway components somehow work in a non-apoptotic role to help keep development on track.
Weaver, Zabinsky et al. then addressed the question of whether the ability of CED-3 to break down proteins is essential to its role in developmental gene regulation (Figure 1). They observed that many of the proteins whose production is regulated by microRNA molecules, including one called LIN-28, contain peptide sequences that are predicted to be CED-3 cleavage sites (Xue et al., 1996). In a series of elegant in vitro experiments, Weaver, Zabinsky et al. demonstrated three findings: that recombinant CED-3 cleaves proteins that contain these sites; that cleavage is inhibited by caspase-specific inhibitors; and that mutating the CED-3 cleavage site found in LIN-28 prevents cleavage from occurring. Next they asked whether expressing a version of LIN-28 that CED-3 cannot break down would reproduce many of the developmental and genetic changes seen when ced-3 activity is lost. They found that expressing the modified version of LIN-28 not only caused the nematodes to grow more slowly, it also altered the order or patterns in which specific developmental processes normally occur.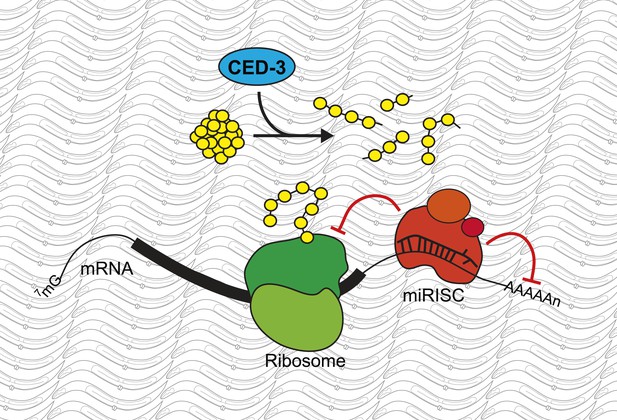 As with all provocative hypotheses, the proposal put forward by Weaver, Zabinsky et al. raises a number of additional questions. For example, how conserved is this mechanism in biology? Are the protein products of major microRNA targets enriched for putative CED-3 cleavage sites? How many of the remaining 117 candidates derived from the ain-1 or ain-2 enhancer screens are going to be as interesting or as exciting as ced-3? Given the breadth and complexity of microRNA-mediated gene regulation, we can be sure that there will be several.
CED-3 caspase acts with miRNAs to regulate non-apoptotic gene expression dynamics for robust development in C. elegans

eLife 3:e04265.
Article and author information
Author details
© 2014, Aguirre-Chen and Hammell
This article is distributed under the terms of the Creative Commons Attribution License, which permits unrestricted use and redistribution provided that the original author and source are credited.
1,248

Page views

79

Downloads

0

Citations
Article citation count generated by polling the highest count across the following sources: Crossref, PubMed Central, Scopus.
A two-part list of links to download the article, or parts of the article, in various formats.
Downloads
(link to download the article as PDF)
Open citations
(links to open the citations from this article in various online reference manager services)
Cite this article
(links to download the citations from this article in formats compatible with various reference manager tools)
Cristina Aguirre-Chen
Christopher M Hammell
Development: Cell death machinery makes life more robust
eLife 3:e05816.
https://doi.org/10.7554/eLife.05816
Further reading
Genetic redundancy and pleiotropism have limited the discovery of functions associated with miRNAs and other regulatory mechanisms. To overcome this, we performed an enhancer screen for developmental defects caused by compromising both global miRISC function and individual genes in Caenorhabditis elegans. Among 126 interactors with miRNAs, we surprisingly found the CED-3 caspase that has only been well studied for its role in promoting apoptosis, mostly through protein activation. We provide evidence for a non-apoptotic function of CED-3 caspase that regulates multiple developmental events through proteolytic inactivation. Specifically, LIN-14, LIN-28, and DISL-2 proteins are known miRNA targets, key regulators of developmental timing, and/or stem cell pluripotency factors involved in miRNA processing. We show CED-3 cleaves these proteins in vitro. We also show CED-3 down-regulates LIN-28 in vivo, possibly rendering it more susceptible to proteasomal degradation. This mechanism may critically contribute to the robustness of gene expression dynamics governing proper developmental control.

Developmental Biology

Neuroscience

Neuronal identity dictates the position in an epithelium, and the ability to detect, process, and transmit specific signals to specified targets. Transcription factors (TFs) determine cellular identity via direct modulation of genetic transcription and recruiting chromatin modifiers. However, our understanding of the mechanisms that define neuronal identity and their magnitude remain a critical barrier to elucidate the etiology of congenital and neurodegenerative disorders. The rodent vomeronasal organ provides a unique system to examine in detail the molecular mechanisms underlying the differentiation and maturation of chemosensory neurons. Here, we demonstrated that the identity of postmitotic/maturing vomeronasal sensory neurons (VSNs), and vomeronasal-dependent behaviors can be reprogrammed through the rescue of Tfap2e/AP-2ε expression in the Tfap2eNull mice, and partially reprogrammed by inducing ectopic Tfap2e expression in mature apical VSNs. We suggest that the TF Tfap2e can reprogram VSNs bypassing cellular plasticity restrictions, and that it directly controls the expression of batteries of vomeronasal genes.

Developmental Biology

Stem Cells and Regenerative Medicine

Basal cells are multipotent stem cells of a variety of organs, including the respiratory tract, where they are major components of the airway epithelium. However, it remains unclear how diverse basal cells are, and how distinct subpopulations respond to airway challenges. Using single cell RNA-sequencing and functional approaches, we report a significant and previously underappreciated degree of heterogeneity in the basal cell pool, leading to identification of six subpopulations in the adult murine trachea. Among these, we found two major subpopulations collectively comprising the most uncommitted of all the pool, but with distinct gene expression signatures. Notably, these occupy distinct ventral and dorsal tracheal niches and differ in their ability to self-renew and initiate a program of differentiation in response to environmental perturbations in primary cultures and in mouse injury models in vivo. We found that such heterogeneity is acquired prenatally, when the basal cell pool and local niches are still being established, and depends on the integrity of these niches, as supported by the altered basal cell phenotype of tracheal cartilage-deficient mouse mutants. Lastly, we show that features that distinguish these progenitor subpopulations in murine airways are conserved in humans. Together, the data provide novel insights into the origin and impact of basal cell heterogeneity on the establishment of regionally distinct responses of the airway epithelium during injury-repair and in disease conditions.