Dopamine System: Mapping neural circuits with CLARITY
How can a relatively small number of neurons influence aspects of behavior as diverse as motivation, learning, reward and movement by releasing just one type of molecule? This is the challenge facing neuroscientists working on the dopamine system – a population of ∼30,000 neurons that are located in just two regions of the brain.
At first it was thought that the neurons in the dopamine system were all quite similar, but over the past decade it has become clear that they exhibit a range of molecular, anatomical and functional properties (Lammel et al., 2008; Margolis et al., 2008; Lammel et al., 2011). Moreover, it seems that distinct subsets of dopamine neurons belong to discrete circuits that carry out different functions, although the architecture of these circuits remains an open question. For the most part, projections from a given subset of dopamine neurons target one region of the brain (Yetnikoff et al., 2014), but projections to a given subset arise from many different regions. It has been challenging to determine whether the different subsets all receive the same inputs, or whether some regions of the brain project more to one subset than another.
Now, in eLife, Mitsuko Watabe-Uchida and colleagues at Harvard University and the Cold Spring Harbor Laboratory – including William Menegas as first author – report that almost all dopamine neurons receive the same set of inputs from a range of brain regions (Menegas et al., 2015). However, one exception is a subset of dopamine neurons that project to a region called the tail of the striatum (Figure 1).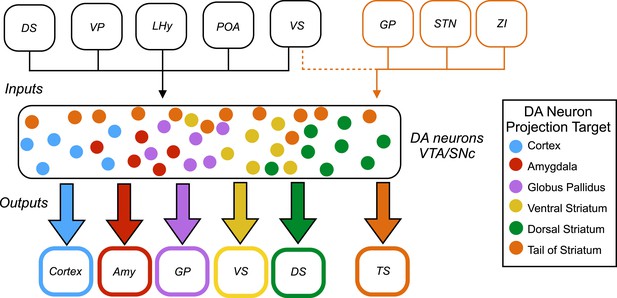 Menegas et al. used a combination of a powerful anatomical technique called CLARITY (Chung et al., 2013) and light-sheet microscopy to map the input and output projections of dopamine neurons in an intact mouse brain. First, subsets of dopamine neurons were classified according to which of eight regions – medial pre-frontal cortex, orbitofrontal cortex, central amygdala, globus pallidus, ventral striatum, dorsal striatum, tail of the striatum, or lateral habenula – they projected onto. Next, a given subset, based on its projection target, was infected to express two proteins (avian retroviral receptor and rabies virus envelop glycoprotein). Then, three weeks later, a modified rabies virus was injected into the dopamine neurons. This virus spreads retrogradely and labels neurons projecting to the dopamine neurons with green fluorescent protein. Menegas et al. had to develop a suite of new data acquisition and analysis tools to map the 3D position of the fluorescently labeled neurons and align their results across animals.
This analysis revealed that most subsets of dopamine neurons receive similar inputs from a number of regions of the brain, primarily from the ventral striatum and the hypothalamus, regardless of projection target (Figure 1). This suggests that functional specialization in the dopamine system arises within the two regions where the dopamine neurons are found – the ventral tegmental area and the substantia nigra pars compacta – or downstream from these regions.
A notable exception was the subset of dopamine neurons that project to the tail of the striatum: the majority of the inputs to this subset came from regions of the brain that do not project strongly onto the other subsets (Figure 1). This suggests that the activity of this subset of neurons is regulated in a way that differs from the regulation of the other subsets of dopamine neurons.
The findings of Menegas et al. largely complement recent results on the organization of neural circuits within the dopamine system from two other groups, but a few differences are worth noting. Within the substantia nigra pars compacta, Lerner et al. observed a reciprocally connected architecture, with the neurons that project to the dorsomedial striatum receiving more input from this region, and likewise for the neurons that project to the dorsolateral striatum (Lerner et al., 2015). Additionally, Beier et al. observed a 'biased input/discrete output' architecture within the ventral tegmental area, with neurons projecting to the medial nucleus accumbens and the lateral nucleus accumbens receiving different patterns of input (Beier et al., 2015). These discrepancies may reflect some limitations of the automated analysis used by Menegas et al.
These results from Menegas et al. show that the outputs of dopaminergic neurons are more distinctive then their inputs. This has implications for how and where specialization of dopami-nergic circuits arises, and suggests that many important computations are performed locally within the ventral tegmental area and the substantia nigra pars compacta. An immediate challenge is to gain a deeper understanding of the local microcircuit dynamics that govern the activity of dopamine neurons within these two regions.
Article and author information
Author details
© 2015, Willard and Gittis
This article is distributed under the terms of the Creative Commons Attribution License, which permits unrestricted use and redistribution provided that the original author and source are credited.
3,821

Page views

562

Downloads

3

Citations
Article citation count generated by polling the highest count across the following sources: Crossref, Scopus, PubMed Central.
A two-part list of links to download the article, or parts of the article, in various formats.
Downloads
(link to download the article as PDF)
Open citations
(links to open the citations from this article in various online reference manager services)
Cite this article
(links to download the citations from this article in formats compatible with various reference manager tools)
Amanda M Willard
Aryn H Gittis
Dopamine System: Mapping neural circuits with CLARITY
eLife 4:e11409.
https://doi.org/10.7554/eLife.11409
Further reading
Combining rabies-virus tracing, optical clearing (CLARITY), and whole-brain light-sheet imaging, we mapped the monosynaptic inputs to midbrain dopamine neurons projecting to different targets (different parts of the striatum, cortex, amygdala, etc) in mice. We found that most populations of dopamine neurons receive a similar set of inputs rather than forming strong reciprocal connections with their target areas. A common feature among most populations of dopamine neurons was the existence of dense 'clusters' of inputs within the ventral striatum. However, we found that dopamine neurons projecting to the posterior striatum were outliers, receiving relatively few inputs from the ventral striatum and instead receiving more inputs from the globus pallidus, subthalamic nucleus, and zona incerta. These results lay a foundation for understanding the input/output structure of the midbrain dopamine circuit and demonstrate that dopamine neurons projecting to the posterior striatum constitute a unique class of dopamine neurons regulated by different inputs.

Developmental Biology

Neuroscience

Defining the origin of neuronal diversity is a major challenge in developmental neurobiology. The Drosophila visual system is an excellent paradigm to study how cellular diversity is generated. Photoreceptors from the eye disc grow their axons into the optic lobe and secrete Hedgehog (Hh) to induce the lamina, such that for every unit eye there is a corresponding lamina unit made up of post-mitotic precursors stacked into columns. Each differentiated column contains five lamina neuron types (L1-L5), making it the simplest neuropil in the optic lobe, yet how this diversity is generated was unknown. Here, we found that Hh pathway activity is graded along the distal-proximal axis of lamina columns, and further determined that this gradient in pathway activity arises from a gradient of Hh ligand. We manipulated Hh pathway activity cell autonomously in lamina precursors and non-cell autonomously by inactivating the Hh ligand and by knocking it down in photoreceptors. These manipulations showed that different thresholds of activity specify unique cell identities, with more proximal cell types specified in response to progressively lower Hh levels. Thus, our data establish that Hh acts as a morphogen to pattern the lamina. Although this is the first such report during Drosophila nervous system development, our work uncovers a remarkable similarity with the vertebrate neural tube, which is patterned by Sonic Hh. Altogether, we show that differentiating neurons can regulate the neuronal diversity of their distant target fields through morphogen gradients.

Developmental Biology

Neuroscience

Neural circuit formation and function require that diverse neurons are specified in appropriate numbers. Known strategies for controlling neuronal numbers involve regulating either cell proliferation or survival. We used the Drosophila visual system to probe how neuronal numbers are set. Photoreceptors from the eye-disc induce their target field, the lamina, such that for every unit eye there is a corresponding lamina unit (column). Although each column initially contains ~6 post-mitotic lamina precursors, only 5 differentiate into neurons, called L1-L5; the 'extra' precursor, which is invariantly positioned above the L5 neuron in each column, undergoes apoptosis. Here, we showed that a glial population called the outer chiasm giant glia (xgO), which resides below the lamina, secretes multiple ligands to induce L5 differentiation in response to epidermal growth factor (EGF) from photoreceptors. By forcing neuronal differentiation in the lamina, we uncovered that though fated to die, the 'extra' precursor is specified as an L5. Therefore, two precursors are specified as L5s but only one differentiates during normal development. We found that the row of precursors nearest to xgO differentiate into L5s and, in turn, antagonise differentiation signalling to prevent the 'extra' precursors from differentiating, resulting in their death. Thus, an intricate interplay of glial signals and feedback from differentiating neurons defines an invariant and stereotyped pattern of neuronal differentiation and programmed cell death to ensure that lamina columns each contain exactly one L5 neuron.