Synthetic Biology: How to make an oscillator
Ever since it was discovered that the level of calcium ions inside a cell can oscillate (Woods et al., 1986), biologists have been intrigued by the periodic nature of many cellular signals. While we are slowly starting to grasp the many and varied roles that these periodic oscillations play in cellular communication, an open question remains: how are networks of genes able to generate sustained oscillations? Now, in eLife, Sebastian Maerkl and co-workers – including Henrike Niederholtmeyer and Zachary Sun as joint first authors – report that they have used a synthetic biology approach to reveal how simple gene circuits can produce robust oscillations in cells (Niederholtmeyer et al., 2015).
Initially, it was argued that periodic oscillations in the level of calcium ions and other cellular components had no role in signaling, but decades of research has revealed that periodic signals are better at relaying information than non-periodic signals (Rapp, 1987; Behar and Hoffman, 2010; Purvis and Lahav, 2013; Levine et al., 2013). Both types of signal can encode information in the size (amplitude) of the signal, but the frequency and phase of periodic signals can also encode information. As a result, periodic signals may be able to regulate complex cell processes more precisely than non-periodic signals. Importantly, recent advances in single-cell analysis and optogenetics have resulted in numerous in-depth studies that reveal how critical events, such as the determination of cell fate and multicellular communication, are controlled by periodic signals (the review by Sonnen and Auleha, 2014 describes other examples).
Mathematical analysis shows that an essential element of an oscillating circuit is an inhibitory feedback loop: if the activity of one gene in such a feedback loop increases, it activates other genes in the circuit that ultimately inhibit it (Rapp, 1987; Novak and Tyson, 2008; Purcell et al., 2010). This feedback loop needs to have an in-built time delay to enable the activities of the genes in the circuit to fluctuate in regular cycles.
The rise of synthetic biology has made it possible to design and construct synthetic networks in living cells that perform a specific role. In an early example of this, researchers at Princeton reported that they had constructed an oscillatory gene network in E. coli based on a cyclic network of three genes called the repressilator (Elowitz and Leibler, 2000; Figure 1). Theory predicts that the repressilator and other ring oscillators that have an odd number of genes (nodes) should be capable of producing sustained oscillations. However, since designing, building and testing new gene networks in living cells is a lengthy process, ring oscillators with more than three nodes have not been reported.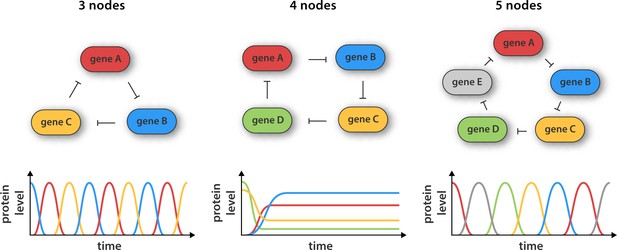 Now Maerkl and co-workers – who are based at the École Polytechnique Fédérale de Lausanne and the California Institute of Technology – have made ring architectures containing three, four and five genes (Figure 1). They built their prototype genetic circuits in a cell-free system by combining microfluidic flow reactors with extracts from E. coli bacteria (Niederholtmeyer et al, 2013; Noireaux et al., 2003). The major advantage of this approach is that it significantly decreases the time taken for each design-build-test cycle because it removes the need for various laborious tasks, such as molecular cloning and collecting measurements from individual cells.
Using this strategy Niederholtmeyer, Sun et al. were able to confirm the prediction that oscillators with three or five nodes are able to generate oscillations, whereas oscillators with four nodes are not. The period of the five-node oscillator is about twice as long as the three-node oscillator, indicating that cells can tune the periodicity of signals by increasing the complexity of their genetic circuits. Next, the researchers transferred their prototyped designs to living E. coli cells and showed that the oscillation period in cells matched the oscillation period in the cell-free systems. This is an important result as it shows that cell-free systems can be used to accurately capture the behavior of cells, which paves the way for researchers to use synthetic biology approaches in cell-free systems to explore the complex regulatory mechanisms that operate inside cells (van Roekel et al., 2015). The latest work should also greatly speed up the construction of complex new gene networks in bacteria, which could have applications in biofuel production, medical diagnosis and experiments to explore the ways that cells process information.
Article and author information
Author details
© 2015, Rosier et al.
This article is distributed under the terms of the Creative Commons Attribution License, which permits unrestricted use and redistribution provided that the original author and source are credited.
6,662

Page views

610

Downloads

7

Citations
Article citation count generated by polling the highest count across the following sources: Crossref, PubMed Central, Scopus.
A two-part list of links to download the article, or parts of the article, in various formats.
Downloads
(link to download the article as PDF)
Open citations
(links to open the citations from this article in various online reference manager services)
Cite this article
(links to download the citations from this article in formats compatible with various reference manager tools)
Bas JHM Rosier
Tom FA de Greef
Synthetic Biology: How to make an oscillator
eLife 4:e12260.
https://doi.org/10.7554/eLife.12260
Further reading
Biochemistry and Chemical Biology
Computational and Systems Biology

While complex dynamic biological networks control gene expression in all living organisms, the forward engineering of comparable synthetic networks remains challenging. The current paradigm of characterizing synthetic networks in cells results in lengthy design-build-test cycles, minimal data collection, and poor quantitative characterization. Cell-free systems are appealing alternative environments, but it remains questionable whether biological networks behave similarly in cell-free systems and in cells. We characterized in a cell-free system the 'repressilator', a three-node synthetic oscillator. We then engineered novel three, four, and five-gene ring architectures, from characterization of circuit components to rapid analysis of complete networks. When implemented in cells, our novel 3-node networks produced population-wide oscillations and 95% of 5-node oscillator cells oscillated for up to 72 hr. Oscillation periods in cells matched the cell-free system results for all networks tested. An alternate forward engineering paradigm using cell-free systems can thus accurately capture cellular behavior.

Biochemistry and Chemical Biology
Structural Biology and Molecular Biophysics

The Neuronal Calcium Sensor 1, an EF-hand Ca2+ binding protein, and Ric-8A coregulate synapse number and probability of neurotransmitter release. Recently, the structures of Ric-8A bound to Ga have revealed how Ric-8A phosphorylation promotes Ga recognition and activity as a chaperone and guanine nucleotide exchange factor. However, the molecular mechanism by which NCS-1 regulates Ric-8A activity and its interaction with Ga subunits is not well understood. Given the interest in the NCS-1/Ric-8A complex as a therapeutic target in nervous system disorders, it is necessary to shed light on this molecular mechanism of action at atomic level. We have reconstituted NCS-1/Ric-8A complexes to conduct a multimodal approach and determine the sequence of Ca2+ signals and phosphorylation events that promote the interaction of Ric-8A with Ga. Our data show that the binding of NCS-1 and Ga to Ric-8A are mutually exclusive. Importantly, NCS-1 induces a structural rearrangement in Ric-8A that traps the protein in a conformational state that is inaccessible to Casein Kinase II-mediated phosphorylation, demonstrating one aspect of its negative regulation of Ric-8A-mediated G-protein signaling. Functional experiments indicate a loss of Ric-8A GEF activity towards Ga when complexed with NCS-1, and restoration of nucleotide exchange activity upon increasing Ca2+ concentration. Finally, the high-resolution crystallographic data reported here define the NCS-1/Ric-8A interface and will allow the development of therapeutic synapse function regulators with improved activity and selectivity.

Biochemistry and Chemical Biology
Cell Biology

Antibodies are critical reagents to detect and characterize proteins. It is commonly understood that many commercial antibodies do not recognize their intended targets, but information on the scope of the problem remains largely anecdotal, and as such, feasibility of the goal of at least one potent and specific antibody targeting each protein in a proteome cannot be assessed. Focusing on antibodies for human proteins, we have scaled a standardized characterization approach using parental and knockout cell lines (Laflamme et al., 2019) to assess the performance of 614 commercial antibodies for 65 neuroscience-related proteins. Side-by-side comparisons of all antibodies against each target, obtained from multiple commercial partners, have demonstrated that: (i) more than 50% of all antibodies failed in one or more applications, (ii) yet, ~50–75% of the protein set was covered by at least one high-performing antibody, depending on application, suggesting that coverage of human proteins by commercial antibodies is significant; and (iii) recombinant antibodies performed better than monoclonal or polyclonal antibodies. The hundreds of underperforming antibodies identified in this study were found to have been used in a large number of published articles, which should raise alarm. Encouragingly, more than half of the underperforming commercial antibodies were reassessed by the manufacturers, and many had alterations to their recommended usage or were removed from the market. This first study helps demonstrate the scale of the antibody specificity problem but also suggests an efficient strategy toward achieving coverage of the human proteome; mine the existing commercial antibody repertoire, and use the data to focus new renewable antibody generation efforts.