Nitrogen Fixation: Waltzing around cofactors
Nitrogen is an element that is found in nearly all important biological molecules, including amino acids and nucleic acids. Nitrogen is also abundant in our atmosphere in the form of N2 molecules, but this form of the element cannot be used biologically, so N2 must be transformed or "fixed" into biologically reactive compounds such as ammonia (NH3) and nitrate (NO3-).
Nature employs enzymes called nitrogenases to fix nitrogen. These enzymes rely on "cofactors" to perform their chemistry: the most widely studied of these cofactors contains iron and molybdenum, and hence is called the FeMo-cofactor (Figure 1). Despite the fact that nitrogenase activity was discovered in 1934, a comprehensive understanding of how it works has remained elusive due to the intrinsic complexity of both the FeMo-cofactor and the nitrogen fixation reaction (Hoffman et al., 2014). Now, in eLife, Thomas Spatzal, Kathryn Perez, James Howard and Douglas Rees report that some of the atoms that make up the FeMo-cofactor migrate in unexpected ways during catalysis (Spatzal et al., 2015).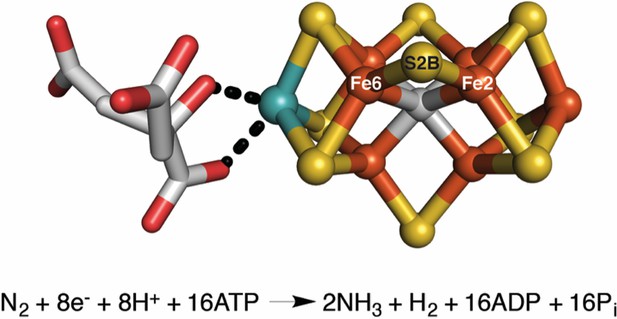 Molybdenum nitrogenase is an enzyme that contains a molybdenum-iron protein (which is catalytic) and an iron protein (which is involved in electron transfer). The molybdenum-iron protein is home to the FeMo-cofactor and a cluster of iron and sulfur atoms that transfers electrons between the iron protein and the FeMo-cofactor. During the reaction cycle, the FeMo-cofactor orchestrates the reduction of two distinct substrates, N2 and H+, and allocates hydrogen atoms into products (NH3 or H2). Elucidating a detailed mechanism for this process is important for understanding how molybdenum nitrogenase is able to achieve this challenging chemical transformation.
To clarify how substrates bind to the FeMo-cofactor, Rees and co-workers previously solved a high-resolution X-ray crystal structure of the molybdenum-iron protein bound to carbon monoxide, a molecule that inhibits the cofactor (Spatzal et al., 2014). Unexpectedly, this structure revealed that carbon monoxide replaces the sulfur atom at the S2B position in the FeMo-cofactor; this atom is one of three "belt sulfurs" that form bridges between pairs of iron atoms in the cofactor (Figure 1). Significantly, this process is reversible; reactivated molybdenum-iron protein was shown to once again contain sulfur in the S2B position. These structures serve to shed light on substrate binding in molybdenum nitrogenase and suggest a previously unanticipated kinetic instability, or lability, of the FeMo-cofactor.
Inspired by this apparent lability of the FeMo-cofactor, Spatzal, Perez et al. – who are based at the California Institute of Technology and the University of Minnesota – have now developed a means of labeling the S2B site of the FeMo-cofactor with selenium, the element immediately below sulfur in the periodic table. Selenocyanate is a compound that contains selenium, and has recently been identified as a substrate and inhibitor of nitrogenase. Spatzal, Perez et al. therefore used X-ray crystallography to identify changes in the molybdenum-iron protein after nitrogenase had reacted with selenocyanate. In particular, they used the fact that selenium scatters X-rays differently from sulfur to confirm that selenium replaces sulfur at the S2B position, further strengthening the notion that S2B is a labile element in the FeMo-cofactor.
Spatzal, Perez et al. then showed that incorporating selenium into the FeMo-cofactor does not alter the catalytic activity of the enzyme. Taking a series of crystallographic snapshots of the selenium-containing cofactor at different stages of catalysis revealed that under turnover conditions, selenium migrates to the other two belt-sulfur positions. Selenium is then replaced by sulfur after reacting with multiple substrates. However, this migration of selenium is only observed when N2 or acetylene (C2H2) are used as substrates, and not when H+ is the exclusive substrate.
Before this work, the dogma in the field was that the atoms in the FeMo-cofactor and other metallocofactors provide a rigid scaffold on which chemistry can be performed, with movements restricted to protein sidechains, substrates and products. Now we must consider that in nitrogenase – and potentially other enzymes – the atoms of metallocofactors may actively change positions and that this dynamic nature may be substrate-specific.
The work of Spatzal, Perez et al. raises many additional questions. For example, how does belt-sulfur migration correlate with the reaction mechanism? And how are the structural dynamics of the FeMo-cofactor coupled to the reduction of different substrates? It also provides a powerful tool for interrogating the FeMo-cofactor through site-specific selenium incorporation. Already this method has allowed us to see selenium waltzing around the FeMo-cofactor center, and it is hard to imagine what surprises this enzyme has in store for us next.
Article and author information
Author details
© 2016, Chen et al.
This article is distributed under the terms of the Creative Commons Attribution License, which permits unrestricted use and redistribution provided that the original author and source are credited.
976

Page views

126

Downloads

2

Citations
Article citation count generated by polling the highest count across the following sources: Crossref, PubMed Central, Scopus.
A two-part list of links to download the article, or parts of the article, in various formats.
Downloads
(link to download the article as PDF)
Open citations
(links to open the citations from this article in various online reference manager services)
Cite this article
(links to download the citations from this article in formats compatible with various reference manager tools)
Percival Yang-Ting Chen
Elizabeth C Wittenborn
Catherine L Drennan
Nitrogen Fixation: Waltzing around cofactors
eLife 5:e13977.
https://doi.org/10.7554/eLife.13977
Further reading
Biochemistry and Chemical Biology
Structural Biology and Molecular Biophysics

Dinitrogen reduction in the biological nitrogen cycle is catalyzed by nitrogenase, a two-component metalloenzyme. Understanding of the transformation of the inert resting state of the active site FeMo-cofactor into an activated state capable of reducing dinitrogen remains elusive. Here we report the catalysis dependent, site-selective incorporation of selenium into the FeMo-cofactor from selenocyanate as a newly identified substrate and inhibitor. The 1.60 Å resolution structure reveals selenium occupying the S2B site of FeMo-cofactor in the Azotobacter vinelandii MoFe-protein, a position that was recently identified as the CO-binding site. The Se2B-labeled enzyme retains substrate reduction activity and marks the starting point for a crystallographic pulse-chase experiment of the active site during turnover. Through a series of crystal structures obtained at resolutions of 1.32–1.66 Å, including the CO-inhibited form of Av1-Se2B, the exchangeability of all three belt-sulfur sites is demonstrated, providing direct insights into unforeseen rearrangements of the metal center during catalysis.

Biochemistry and Chemical Biology
Cell Biology

Nitric oxide (NO), as a gaseous therapeutic agent, shows great potential for the treatment of many kinds of diseases. Although various NO delivery systems have emerged, the immunogenicity and long-term toxicity of artificial carriers hinder the potential clinical translation of these gas therapeutics. Mesenchymal stem cells (MSCs), with the capacities of self-renewal, differentiation, and low immunogenicity, have been used as living carriers. However, MSCs as gaseous signaling molecule (GSM) carriers have not been reported. In this study, human MSCs were genetically modified to produce mutant β-galactosidase (β-GALH363A). Furthermore, a new NO prodrug, 6-methyl-galactose-benzyl-oxy NONOate (MGP), was designed. MGP can enter cells and selectively trigger NO release from genetically engineered MSCs (eMSCs) in the presence of β-GALH363A. Moreover, our results revealed that eMSCs can release NO when MGP is systemically administered in a mouse model of acute kidney injury (AKI), which can achieve NO release in a precise spatiotemporal manner and augment the therapeutic efficiency of MSCs. This eMSC and NO prodrug system provides a unique and tunable platform for GSM delivery and holds promise for regenerative therapy by enhancing the therapeutic efficiency of stem cells.

Biochemistry and Chemical Biology
Cell Biology

The ATPase p97 (also known as VCP, Cdc48) has crucial functions in a variety of important cellular processes such as protein quality control, organellar homeostasis, and DNA damage repair, and its de-regulation is linked to neuromuscular diseases and cancer. p97 is tightly controlled by numerous regulatory cofactors, but the full range and function of the p97–cofactor network is unknown. Here, we identify the hitherto uncharacterized FAM104 proteins as a conserved family of p97 interactors. The two human family members VCP nuclear cofactor family member 1 and 2 (VCF1/2) bind p97 directly via a novel, alpha-helical motif and associate with p97-UFD1-NPL4 and p97-UBXN2B complexes in cells. VCF1/2 localize to the nucleus and promote the nuclear import of p97. Loss of VCF1/2 results in reduced nuclear p97 levels, slow growth, and hypersensitivity to chemical inhibition of p97 in the absence and presence of DNA damage, suggesting that FAM104 proteins are critical regulators of nuclear p97 functions.