Cytoskeleton: Large-scale microtubule networks contract quite well
The cytoskeleton of a cell plays many important roles, such as giving the cell its shape and organizing its contents. The filaments that make up the cytoskeleton assemble from protein monomers found in the cell's cytoplasm. Two particularly important filament types for eukaryotic cells are actin filaments and microtubules, which both have crucial roles during various stages of cell division. For example, the mitotic spindle, which is essential for chromosome segregation, is made of microtubules. Motor proteins (for example myosin, kinesin and dynein) often work with these filaments to transport material across the cell and to form contracting structures such as muscles.
In the past decades, much effort has gone into characterizing the properties of microtubules, actin filaments and motor proteins, and their most important properties have probably been discovered already. However, we need a much better understanding of how all these components work together. Now, in eLife, Peter Foster, Sebastian Fürthauer, Michael Shelley and Daniel Needleman report the first quantitative study of an important process in this field of research – the contraction of microtubule networks (Foster et al., 2015).
Instead of relying on purified proteins to study how microtubules and motors organize (see, for example, Hentrich and Surrey, 2010), Foster et al. used extracts from frog eggs. These provide a more natural mixture of components and are commonly used to study the assembly of spindles (Sawin and Mitchison, 1991). They also performed the experiments in millimeter-wide channels, allowing them to finely control the overall geometry of the network. In all the experiments, drugs were used to promote the formation of stable microtubules and to prevent actin monomers assembling into filaments.
The microtubules initially formed in random configurations, and under the action of motor proteins assembled into star-shaped structures called asters, as previously reported (Hentrich and Surrey, 2010). The whole microtubule network then slowly contracted.
To clarify how these processes occurred, Foster and colleagues – who are based at Harvard University and New York University – used drugs to separately inhibit the activity of kinesin and dynein. This demonstrated that dynein accounts for 96% of the active stress in microtubule networks. Remarkably, carefully analyzing the contraction of the microtubule network also provided insights into actin biology. How is this possible?
While microtubule and the actin cytoskeleton are similar in many ways, there are important differences in the structures they form and the behaviors they display in vivo. Microtubules tend to form structures such as radial arrays because the filaments are few and tend to be straight due to their high rigidity. Moreover, since microtubules are often as long as the cell, the cell simply does not provide enough space to build the large microtubule networks that would be necessary for observing contraction. On the other hand, contraction is a common feature of actin networks, which can be made of many relatively short filaments that are 200 times more flexible than microtubules. These considerations reflect the fact that the behavior of a network is often largely a matter of scale: indeed, networks of filaments are usually analyzed in terms of filament length, the density of the filaments, and the overall size of the network (Lenz et al., 2012).
In the past, researchers have studied the contraction of actin networks at the micrometer scale. Now, Foster et al. were able to monitor the contraction of microtubule networks in millimeter-wide channels. Looking at the contractile behavior of filament networks in different regimes is especially valuable, because different contraction mechanisms are thought to operate at different scales. Actin network contractility is thought to require the bending of filaments, whereas microtubule contractility would rely on molecular motors holding tight to the ends of the microtubules (Figure 1). The ability to compare these two systems should improve our understanding of the general principles of contractility, and thus contribute to actin biology.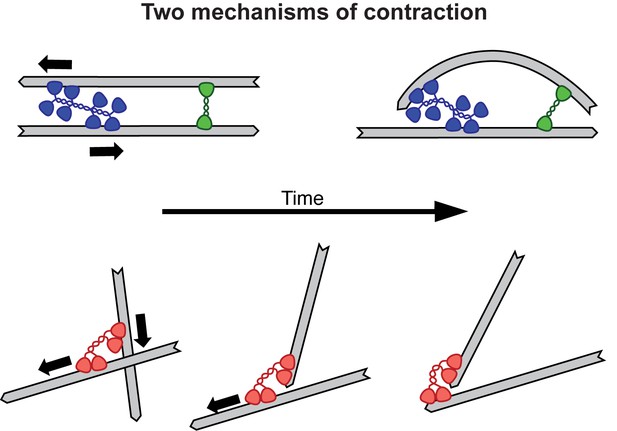 Foster et al.'s approach may also teach us more about how mitotic spindles form. The molecular motor dynein, which induces the bulk contraction of large random networks, is also thought to help form the focused poles of the spindle. Specifically, contractions driven by dynein motors likely help the spindle to adopt the correct shape. Thus by carefully quantifying this contraction process, Foster et al. have likely given us some of the parameters needed to create accurate models of the mitotic spindle. For instance, the extract always contracted to the same final density, which is surprisingly similar to the density of the mitotic spindle. Future research could investigate the mechanism responsible for this density limit.
A remarkable aspect of the study is that Foster et al. could fit the bulk properties of the contraction with a simple active gel theory, using just four parameters. For example, the theory can explain how the microtubule density varies at the edge of the network and how the rate of contraction depends on the overall size of the network. This advance in our knowledge of cytoskeletal network contractility was only possible through a tight interplay between experiments and theory.
Article and author information
Author details
© 2016, Belmonte et al.
This article is distributed under the terms of the Creative Commons Attribution License, which permits unrestricted use and redistribution provided that the original author and source are credited.
1,542

Page views

275

Downloads

4

Citations
Article citation count generated by polling the highest count across the following sources: Crossref, Scopus, PubMed Central.
A two-part list of links to download the article, or parts of the article, in various formats.
Downloads
(link to download the article as PDF)
Open citations
(links to open the citations from this article in various online reference manager services)
Cite this article
(links to download the citations from this article in formats compatible with various reference manager tools)
Julio M Belmonte
François Nédélec
Cytoskeleton: Large-scale microtubule networks contract quite well
eLife 5:e14076.
https://doi.org/10.7554/eLife.14076
Further reading
Computational and Systems Biology

Many cellular processes are driven by cytoskeletal assemblies. It remains unclear how cytoskeletal filaments and motor proteins organize into cellular scale structures and how molecular properties of cytoskeletal components affect the large-scale behaviors of these systems. Here, we investigate the self-organization of stabilized microtubules in Xenopus oocyte extracts and find that they can form macroscopic networks that spontaneously contract. We propose that these contractions are driven by the clustering of microtubule minus ends by dynein. Based on this idea, we construct an active fluid theory of network contractions, which predicts a dependence of the timescale of contraction on initial network geometry, a development of density inhomogeneities during contraction, a constant final network density, and a strong influence of dynein inhibition on the rate of contraction, all in quantitative agreement with experiments. These results demonstrate that the motor-driven clustering of filament ends is a generic mechanism leading to contraction.

Biochemistry and Chemical Biology

Structural Biology and Molecular Biophysics

Activation of G protein-coupled receptors (GPCRs) is an allosteric process. It involves conformational coupling between the orthosteric ligand binding site and the G protein binding site. Factors that bind at non-cognate ligand binding sites to alter the allosteric activation process are classified as allosteric modulators and represent a promising class of therapeutics with distinct modes of binding and action. For many receptors, how modulation of signaling is represented at the structural level is unclear. Here, we developed FRET sensors to quantify receptor modulation at each of the three structural domains of metabotropic glutamate receptor 2 (mGluR2). We identified the conformational fingerprint for several allosteric modulators in live cells. This approach enabled us to derive a receptor-centric representation of allosteric modulation and to correlate structural modulation to the standard signaling modulation metrics. Single-molecule FRET analysis revealed that a NAM increases the occupancy of one of the intermediate states while a PAM increases the occupancy of the active state. Moreover, we found that the effect of allosteric modulators on the receptor dynamics is complex and depend on the orthosteric ligand. Collectively, our findings provide a structural mechanism of allosteric modulation in mGluR2 and suggest possible strategies for design of future modulators.

Cell Biology

Structural Biology and Molecular Biophysics

Dynein harnesses ATP hydrolysis to move cargo on microtubules in multiple biological contexts. Dynein meets a unique challenge in meiosis by moving chromosomes tethered to the nuclear envelope to facilitate homolog pairing essential for gametogenesis. Though processive dynein motility requires binding to an activating adaptor, the identity of the activating adaptor required for dynein to move meiotic chromosomes is unknown. We show that the meiosis-specific nuclear-envelope protein KASH5 is a dynein activating adaptor: KASH5 directly binds dynein using a mechanism conserved among activating adaptors and converts dynein into a processive motor. We map the dynein-binding surface of KASH5, identifying mutations that abrogate dynein binding in vitro and disrupt recruitment of the dynein machinery to the nuclear envelope in cultured cells and mouse spermatocytes in vivo. Our study identifies KASH5 as the first transmembrane dynein activating adaptor and provides molecular insights into how it activates dynein during meiosis.