Cytoskeleton: Large-scale microtubule networks contract quite well
The cytoskeleton of a cell plays many important roles, such as giving the cell its shape and organizing its contents. The filaments that make up the cytoskeleton assemble from protein monomers found in the cell's cytoplasm. Two particularly important filament types for eukaryotic cells are actin filaments and microtubules, which both have crucial roles during various stages of cell division. For example, the mitotic spindle, which is essential for chromosome segregation, is made of microtubules. Motor proteins (for example myosin, kinesin and dynein) often work with these filaments to transport material across the cell and to form contracting structures such as muscles.
In the past decades, much effort has gone into characterizing the properties of microtubules, actin filaments and motor proteins, and their most important properties have probably been discovered already. However, we need a much better understanding of how all these components work together. Now, in eLife, Peter Foster, Sebastian Fürthauer, Michael Shelley and Daniel Needleman report the first quantitative study of an important process in this field of research – the contraction of microtubule networks (Foster et al., 2015).
Instead of relying on purified proteins to study how microtubules and motors organize (see, for example, Hentrich and Surrey, 2010), Foster et al. used extracts from frog eggs. These provide a more natural mixture of components and are commonly used to study the assembly of spindles (Sawin and Mitchison, 1991). They also performed the experiments in millimeter-wide channels, allowing them to finely control the overall geometry of the network. In all the experiments, drugs were used to promote the formation of stable microtubules and to prevent actin monomers assembling into filaments.
The microtubules initially formed in random configurations, and under the action of motor proteins assembled into star-shaped structures called asters, as previously reported (Hentrich and Surrey, 2010). The whole microtubule network then slowly contracted.
To clarify how these processes occurred, Foster and colleagues – who are based at Harvard University and New York University – used drugs to separately inhibit the activity of kinesin and dynein. This demonstrated that dynein accounts for 96% of the active stress in microtubule networks. Remarkably, carefully analyzing the contraction of the microtubule network also provided insights into actin biology. How is this possible?
While microtubule and the actin cytoskeleton are similar in many ways, there are important differences in the structures they form and the behaviors they display in vivo. Microtubules tend to form structures such as radial arrays because the filaments are few and tend to be straight due to their high rigidity. Moreover, since microtubules are often as long as the cell, the cell simply does not provide enough space to build the large microtubule networks that would be necessary for observing contraction. On the other hand, contraction is a common feature of actin networks, which can be made of many relatively short filaments that are 200 times more flexible than microtubules. These considerations reflect the fact that the behavior of a network is often largely a matter of scale: indeed, networks of filaments are usually analyzed in terms of filament length, the density of the filaments, and the overall size of the network (Lenz et al., 2012).
In the past, researchers have studied the contraction of actin networks at the micrometer scale. Now, Foster et al. were able to monitor the contraction of microtubule networks in millimeter-wide channels. Looking at the contractile behavior of filament networks in different regimes is especially valuable, because different contraction mechanisms are thought to operate at different scales. Actin network contractility is thought to require the bending of filaments, whereas microtubule contractility would rely on molecular motors holding tight to the ends of the microtubules (Figure 1). The ability to compare these two systems should improve our understanding of the general principles of contractility, and thus contribute to actin biology.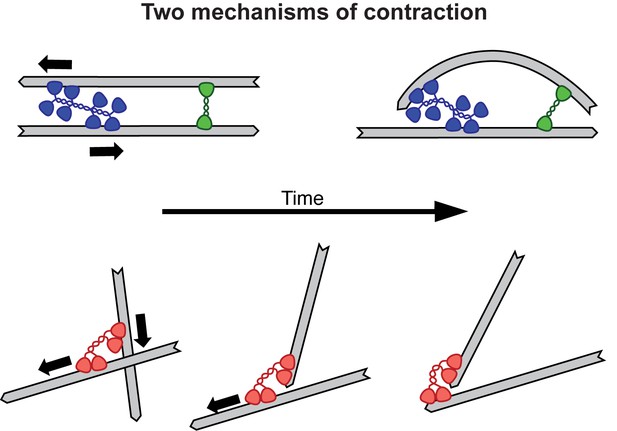 Foster et al.'s approach may also teach us more about how mitotic spindles form. The molecular motor dynein, which induces the bulk contraction of large random networks, is also thought to help form the focused poles of the spindle. Specifically, contractions driven by dynein motors likely help the spindle to adopt the correct shape. Thus by carefully quantifying this contraction process, Foster et al. have likely given us some of the parameters needed to create accurate models of the mitotic spindle. For instance, the extract always contracted to the same final density, which is surprisingly similar to the density of the mitotic spindle. Future research could investigate the mechanism responsible for this density limit.
A remarkable aspect of the study is that Foster et al. could fit the bulk properties of the contraction with a simple active gel theory, using just four parameters. For example, the theory can explain how the microtubule density varies at the edge of the network and how the rate of contraction depends on the overall size of the network. This advance in our knowledge of cytoskeletal network contractility was only possible through a tight interplay between experiments and theory.
Article and author information
Author details
© 2016, Belmonte et al.
This article is distributed under the terms of the Creative Commons Attribution License, which permits unrestricted use and redistribution provided that the original author and source are credited.
1,558

Page views

279

Downloads

4

Citations
Article citation count generated by polling the highest count across the following sources: Crossref, PubMed Central, Scopus.
A two-part list of links to download the article, or parts of the article, in various formats.
Downloads
(link to download the article as PDF)
Open citations
(links to open the citations from this article in various online reference manager services)
Cite this article
(links to download the citations from this article in formats compatible with various reference manager tools)
Julio M Belmonte
François Nédélec
Cytoskeleton: Large-scale microtubule networks contract quite well
eLife 5:e14076.
https://doi.org/10.7554/eLife.14076
Further reading
Computational and Systems Biology

Many cellular processes are driven by cytoskeletal assemblies. It remains unclear how cytoskeletal filaments and motor proteins organize into cellular scale structures and how molecular properties of cytoskeletal components affect the large-scale behaviors of these systems. Here, we investigate the self-organization of stabilized microtubules in Xenopus oocyte extracts and find that they can form macroscopic networks that spontaneously contract. We propose that these contractions are driven by the clustering of microtubule minus ends by dynein. Based on this idea, we construct an active fluid theory of network contractions, which predicts a dependence of the timescale of contraction on initial network geometry, a development of density inhomogeneities during contraction, a constant final network density, and a strong influence of dynein inhibition on the rate of contraction, all in quantitative agreement with experiments. These results demonstrate that the motor-driven clustering of filament ends is a generic mechanism leading to contraction.

Cell Biology
Structural Biology and Molecular Biophysics

The Endosomal Sorting Complexes Required for Transport (ESCRT) machinery mediates the membrane fission step that completes cytokinetic abscission and separates dividing cells. Filaments composed of ESCRT-III subunits constrict membranes of the intercellular bridge midbody to the abscission point. These filaments also bind and recruit cofactors whose activities help execute abscission and/or delay abscission timing in response to mitotic errors via the NoCut/Abscission checkpoint. We previously showed that the ESCRT-III subunit IST1 binds the cysteine protease CAPN7 (Calpain-7) and that CAPN7 is required for both efficient abscission and NoCut checkpoint maintenance (Wenzel et al., 2022). Here, we report biochemical and crystallographic studies showing that the tandem MIT domains of CAPN7 bind simultaneously to two distinct IST1 MIT interaction motifs. Structure-guided point mutations in either CAPN7 MIT domain disrupted IST1 binding in vitro and in cells, and depletion/rescue experiments showed that the CAPN7-IST1 interaction is required for: 1) CAPN7 recruitment to midbodies, 2) efficient abscission, and 3) NoCut checkpoint arrest. CAPN7 proteolytic activity is also required for abscission and checkpoint maintenance. Hence, IST1 recruits CAPN7 to midbodies, where its proteolytic activity is required to regulate and complete abscission.

Biochemistry and Chemical Biology
Structural Biology and Molecular Biophysics

The seventh pandemic of the diarrheal cholera disease, which began in 1960, is caused by the Gram-negative bacterium Vibrio cholerae. Its environmental persistence provoking recurring sudden outbreaks is enabled by V. cholerae's rapid adaption to changing environments involving sensory proteins like ToxR and ToxS. Located at the inner membrane, ToxR and ToxS react to environmental stimuli like bile acid, thereby inducing survival strategies e.g. bile resistance and virulence regulation. The presented crystal structure of the sensory domains of ToxR and ToxS in combination with multiple bile acid interaction studies, reveals that a bile binding pocket of ToxS is only properly folded upon binding to ToxR. Our data proposes an interdependent functionality between ToxR transcriptional activity and ToxS sensory function. These findings support the previously suggested link between ToxRS and VtrAC-like co-component systems. Besides VtrAC, ToxRS is now the only experimentally determined structure within this recently defined superfamily, further emphasizing its significance. In-depth analysis of the ToxRS complex reveals its remarkable conservation across various Vibrio species, underlining the significance of conserved residues in the ToxS barrel and the more diverse ToxR sensory domain. Unravelling the intricate mechanisms governing ToxRS's environmental sensing capabilities, provides a promising tool for disruption of this vital interaction, ultimately inhibiting Vibrio's survival and virulence. Our findings hold far-reaching implications for all Vibrio strains that rely on the ToxRS system as a shared sensory cornerstone for adapting to their surroundings.