Autophagy: A cause for childhood ataxia
Over 10 years ago, physicians examined two Turkish brothers, aged five and seven, because they had started walking later than expected and now walked with a "drunken sailor" gait. Repeated visits to the doctor did not lead to any improvement, and it was later revealed the two boys had underdeveloped cerebellums – the part of the brain that coordinates and regulates muscular activity. The boys' parents and two other brothers did not show symptoms, but the parents were later found to be third cousins. This discovery suggested that the loss of movement control observed in the brothers (which is more formally called ataxia) might be due to a recessive genetic mutation. In such cases, both parents carry a mutated version of a gene and a non-mutated version without obvious effect; however, it is possible that some of their children inherit only the mutated versions of the gene.
Now, in eLife, Jun Hee Lee, Daniel Klionsky, Margit Burmeister and collaborators – including Myungjin Kim and Erin Sandford of the University of Michigan as joint first authors – report the results of a search for a mutation that could explain the two brothers' ataxia and delayed development (Kim et al., 2016). The team – who include researchers from the US, Turkey and Hungary – initially performed genetic tests on the brothers, their siblings and their mother to narrow down to a specific region of a single chromosome. Next, they looked for a mutation within this region that was found in the ataxic brothers but not the general Turkish population, in the hope of finding the cause of the disease.
Eureka! Kim, Sandford et al. found a damaging DNA mutation within the search region on both versions of the chromosome. The mutation changed the 122nd amino acid of a protein called ATG5 from a glutamic acid (often simply labeled as an 'E') to an aspartic acid ('D'). But can such a relatively mild change in a protein sequence have caused the ataxia?
ATG5 was first identified in yeast as a protein that is involved in a process called autophagy that breaks down materials (including proteins and organelles) within cells so that they can be recycled (Tsukada and Ohsumi, 1993; Mizushima et al., 1998). Autophagy is important because a build-up of certain molecules within cells can cause disease (Klionsky and Codogno, 2013), and many human diseases – from cancer to heart disease – are thought to involve problems with autophagy regulation (Choi et al., 2013; Katsuno et al., 2014). Blocking the production of ATG5 in the brains of mice also leads to a progressive loss of neurons (Hara et al., 2006). It is perhaps not a surprise after all that a mutation that affects ATG5 might be behind childhood ataxia.
So, what does the mutation (called E122D for short) do to ATG5? The glutamic acid that is mutated in the ataxic boys is conserved across many species from yeast to man, suggesting it is important for the activity of this protein and has therefore been unchanged during evolution (Figure 1). Kim, Sandford et al. examined the position of this conserved glutamic acid within the protein's three-dimensional structure (Otomo et al., 2013.). They realized that this mutation might stop ATG5 from fusing with ATG12, another core autophagy protein that is required for ATG5's activity. Kim, Sandford et al. then went on to find that autophagy was impaired in cells taken from the ataxic brothers. They also found the levels of fused ATG12 and ATG5 were reduced, and confirmed that the E122D mutation interfered with the fusion of ATG12 and ATG5 in human cells grown in the laboratory.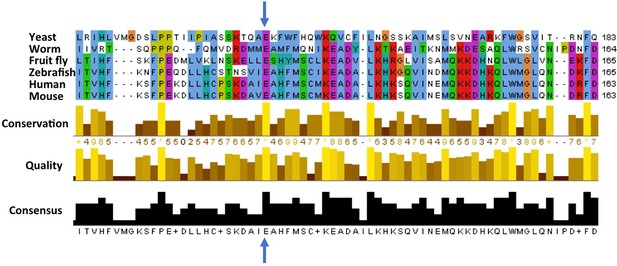 Since ATG5 is found in many different species, Kim, Sandford et al. then went on to study the effect of the E122D mutation in yeast and fruit flies. Mutating the corresponding glutamic acid within the yeast protein caused a 30–50% reduction in autophagy, which was triggered by starving the yeast cells. Flies that were engineered to make the human ATG5 protein with the E122D mutation instead of their own version of ATG5 had problems with movement. This was not seen in flies that made the non-mutated form of the human protein; however, flies that did not make ATG5 at all showed even worse symptoms. These experiments support the idea that the E122D mutation within ATG5 causes a reduction, but not a complete loss, of its function as a core autophagy protein.
Kim, Sandford et al. conclude that the childhood ataxia observed in the Turkish brothers may well have been caused by a reduction in ATG5's role in autophagy. Their work is the first to link a human disease to mutation in a gene for a core autophagy protein, and demonstrates the fundamental importance of autophagy in brain health.
Article and author information
Author details
© 2016, Steffan
This article is distributed under the terms of the Creative Commons Attribution License, which permits unrestricted use and redistribution provided that the original author and source are credited.
843

Page views

92

Downloads

1

Citations
Article citation count generated by polling the highest count across the following sources: Crossref, PubMed Central, Scopus.
A two-part list of links to download the article, or parts of the article, in various formats.
Downloads
(link to download the article as PDF)
Open citations
(links to open the citations from this article in various online reference manager services)
Cite this article
(links to download the citations from this article in formats compatible with various reference manager tools)
Joan S Steffan
Autophagy: A cause for childhood ataxia
eLife 5:e14523.
https://doi.org/10.7554/eLife.14523
Further reading
Genetics and Genomics
Neuroscience

Autophagy is required for the homeostasis of cellular material and is proposed to be involved in many aspects of health. Defects in the autophagy pathway have been observed in neurodegenerative disorders; however, no genetically-inherited pathogenic mutations in any of the core autophagy-related (ATG) genes have been reported in human patients to date. We identified a homozygous missense mutation, changing a conserved amino acid, in ATG5 in two siblings with congenital ataxia, mental retardation, and developmental delay. The subjects' cells display a decrease in autophagy flux and defects in conjugation of ATG12 to ATG5. The homologous mutation in yeast demonstrates a 30-50% reduction of induced autophagy. Flies in which Atg5 is substituted with the mutant human ATG5 exhibit severe movement disorder, in contrast to flies expressing the wild-type human protein. Our results demonstrate the critical role of autophagy in preventing neurological diseases and maintaining neuronal health.

Chromosomes and Gene Expression
Genetics and Genomics

Alternative polyadenylation yields many mRNA isoforms whose 3' termini occur disproportionately in clusters within 3' untranslated regions. Previously, we showed that profiles of poly(A) site usage are regulated by the rate of transcriptional elongation by RNA polymerase (Pol) II (Geisberg et al., 2020). Pol II derivatives with slow elongation rates confer an upstream-shifted poly(A) profile, whereas fast Pol II strains confer a downstream-shifted poly(A) profile. Within yeast isoform clusters, these shifts occur steadily from one isoform to the next across nucleotide distances. In contrast, the shift between clusters – from the last isoform of one cluster to the first isoform of the next – is much less pronounced, even over large distances. GC content in a region 13–30 nt downstream from isoform clusters correlates with their sensitivity to Pol II elongation rate. In human cells, the upstream shift caused by a slow Pol II mutant also occurs continuously at single nucleotide resolution within clusters but not between them. Pol II occupancy increases just downstream of poly(A) sites, suggesting a linkage between reduced elongation rate and cluster formation. These observations suggest that (1) Pol II elongation speed affects the nucleotide-level dwell time allowing polyadenylation to occur, (2) poly(A) site clusters are linked to the local elongation rate, and hence do not arise simply by intrinsically imprecise cleavage and polyadenylation of the RNA substrate, (3) DNA sequence elements can affect Pol II elongation and poly(A) profiles, and (4) the cleavage/polyadenylation and Pol II elongation complexes are spatially, and perhaps physically, coupled so that polyadenylation occurs rapidly upon emergence of the nascent RNA from the Pol II elongation complex.

Pulmonary neuroendocrine cells (PNECs) are sensory epithelial cells that transmit airway status to the brain via sensory neurons and locally via calcitonin gene-related peptide (CGRP) and γ- aminobutyric acid (GABA). Several other neuropeptides and neurotransmitters have been detected in various species, but the number, targets, functions, and conservation of PNEC signals are largely unknown. We used scRNAseq to profile hundreds of the rare mouse and human PNECs. This revealed over 40 PNEC neuropeptide and peptide hormone genes, most cells expressing unique combinations of 5–18 genes. Peptides are packaged in separate vesicles, their release presumably regulated by the distinct, multimodal combinations of sensors we show are expressed by each PNEC. Expression of the peptide receptors predicts an array of local cell targets, and we show the new PNEC signal angiotensin directly activates one subtype of innervating sensory neuron. Many signals lack lung targets so may have endocrine activity like those of PNEC-derived carcinoid tumors. PNECs are an extraordinarily rich and diverse signaling hub rivaling the enteroendocrine system.