Ion Channels: Keeping a lid on calcium uptake
Mitochondria are often referred to as the "powerhouses" of eukaryotic cells because they supply most of the energy that the cells need. In the 1960s it was discovered that active mitochondria, when isolated from the cell and studied "in a test-tube", accumulate large quantities of calcium ions (Ca2+). However, the importance of this phenomenon was not immediately clear. Later, in the 1990s, it was revealed that mitochondria inside eukaryotic cells also take up Ca2+ ions (Rizzuto et al., 1998).
The uptake of Ca2+ by mitochondria stimulates certain enzymes to regulate energy production in order to match the cell's activity. However, if too much Ca2+ enters, the mitochondria can malfunction which often kills the cell. The uptake of Ca2+ by mitochondria must therefore be tightly controlled. Now, in eLife, Christopher Miller and colleagues at Brandeis University – including Ming-Feng Tsai and Charles Phillips as joint first authors – report how this control might be achieved (Tsai et al., 2016).
Each mitochondrion has an inner membrane and an outer membrane. Small molecules and ions (including Ca2+ ions) can pass freely through the outer membrane, but not the inner one. The transport of Ca2+ through the inner membrane depends on an ion channel called the "mitochondrial Ca2+ uniporter" (or MCU channel for short). This channel is the most selective Ca2+ channel currently known (Kirichok et al., 2004).
The MCU channel is actually a protein complex made from multiple subunits. The Ca2+ ions pass through a pore-forming subunit (Baughman et al., 2011; De Stefani et al., 2011) that spans the inner membrane and is surrounded by five other subunits. These other subunits regulate the pore-forming subunit, but how they do this and how they are all assembled into the channel complex are still topics of active debate.
The pore-forming subunit plus two of the five regulatory subunits (proteins named EMRE and MICU1) form what can be referred to as the "core functional unit of the MCU" (Perocchi et al., 2010; Sancak et al., 2013). This stripped-down version of the complex acts much like the full channel and can be used to explain how mitochondria take up Ca2+. Tsai, Phillips and colleagues used biochemical assays to determine how these three subunits fit together within the core functional unit. They demonstrated that EMRE interacts with the pore-forming subunit via domains that span the inner membrane. They also found that the subunits could not form a working channel without this interaction. Furthermore, they showed that MICU1 binds to EMRE at the outer surface of the inner mitochondrial membrane (Figure 1).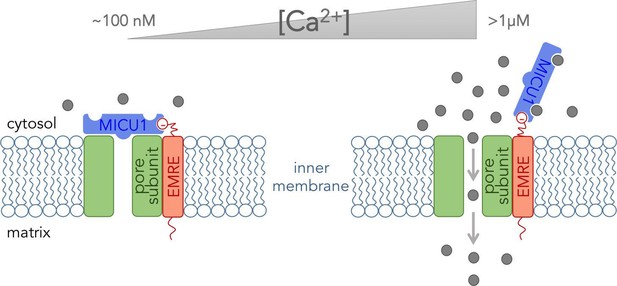 Combined with relevant data from other groups (Mallilankaraman et al., 2012; Csordás et al., 2013; Patron et al., 2014), the results of Tsai, Phillips and colleagues provide a glimpse of how the MCU channel complex might work at the molecular level. EMRE anchors MICU1 near the pore-forming subunit, and MICU1 then blocks the pore when the Ca2+concentration in the cytosol is at its resting level. This stops Ca2+ ions from flowing into the mitochondria. However, when the Ca2+ concentration in the cytosol increases, Ca2+ ions bind to MICU1and cause it to dissociate from the pore to allow other Ca2+ ions to pass through (Figure 1). Thus MICU1 serves as a Ca2+-sensitive "lid" on the MCU channel complex, which closes and opens the channel in response to changes in the Ca2+ concentration in the cytosol. Notably, the pore-forming subunit cannot work without EMRE (Sancak et al., 2013). Thus it might be EMRE, and not the pore forming subunit, that controls how many of the MCU channels are active in various tissues.
Now that we know how the MCU core functional unit is assembled, the stage is set to explore how the structure of the MCU channel relates to its function. This will bring us closer to understanding the phenomenon of Ca2+ uptake by mitochondria and how it could be affected via drugs to control energy production in cells and cell death.
Article and author information
Author details
© 2016, Garg et al.
This article is distributed under the terms of the Creative Commons Attribution License, which permits unrestricted use and redistribution provided that the original author and source are credited.
1,514

Page views

272

Downloads

2

Citations
Article citation count generated by polling the highest count across the following sources: Crossref, PubMed Central, Scopus.
A two-part list of links to download the article, or parts of the article, in various formats.
Downloads
(link to download the article as PDF)
Open citations
(links to open the citations from this article in various online reference manager services)
Cite this article
(links to download the citations from this article in formats compatible with various reference manager tools)
Vivek Garg
Yuriy Kirichok
Ion Channels: Keeping a lid on calcium uptake
eLife 5:e17293.
https://doi.org/10.7554/eLife.17293
Further reading
Biochemistry and Chemical Biology

Mitochondrial Ca2+ uptake, a process crucial for bioenergetics and Ca2+ signaling, is catalyzed by the mitochondrial calcium uniporter. The uniporter is a multi-subunit Ca2+-activated Ca2+ channel, with the Ca2+ pore formed by the MCU protein and Ca2+-dependent activation mediated by MICU subunits. Recently, a mitochondrial inner membrane protein EMRE was identified as a uniporter subunit absolutely required for Ca2+ permeation. However, the molecular mechanism and regulatory purpose of EMRE remain largely unexplored. Here, we determine the transmembrane orientation of EMRE, and show that its known MCU-activating function is mediated by the interaction of transmembrane helices from both proteins. We also reveal a second function of EMRE: to maintain tight MICU regulation of the MCU pore, a role that requires EMRE to bind MICU1 using its conserved C-terminal polyaspartate tail. This dual functionality of EMRE ensures that all transport-competent uniporters are tightly regulated, responding appropriately to a dynamic intracellular Ca2+ landscape.

Biochemistry and Chemical Biology

Chromosomes and Gene Expression

The p97/Cdc48 ATPase and its ubiquitin receptors Ufd1-Npl4 are essential to unfold ubiquitylated proteins in many areas of eukaryotic cell biology. In yeast, Cdc48-Ufd1-Npl4 is controlled by a quality control mechanism, whereby substrates must be conjugated to at least five ubiquitins. Here, we show that mammalian p97-UFD1-NPL4 is governed by a complex interplay between additional p97 cofactors and the number of conjugated ubiquitins. Using reconstituted assays for the disassembly of ubiquitylated CMG (Cdc45-MCM-GINS) helicase by human p97-UFD1-NPL4, we show that the unfoldase has a high ubiquitin threshold for substrate unfolding, which can be reduced by the UBX proteins UBXN7, FAF1, or FAF2. Our data indicate that the UBX proteins function by binding to p97-UFD1-NPL4 and stabilising productive interactions between UFD1-NPL4 and K48-linked chains of at least five ubiquitins. Stimulation by UBXN7 is dependent upon known ubiquitin-binding motifs, whereas FAF1 and FAF2 use a previously uncharacterised coiled-coil domain to reduce the ubiquitin threshold of p97-UFD1-NPL4. We show that deleting the Ubnx7 and Faf1 genes impairs CMG disassembly during S-phase and mitosis and sensitises cells to reduced ubiquitin ligase activity. These findings indicate that multiple UBX proteins are important for the efficient unfolding of ubiquitylated proteins by p97-UFD1-NPL4 in mammalian cells.

Biochemistry and Chemical Biology

Structural Biology and Molecular Biophysics

Akt is a Ser/Thr protein kinase that plays a central role in metabolism and cancer. Regulation of Akt's activity involves an autoinhibitory intramolecular interaction between its pleckstrin homology (PH) domain and its kinase domain that can be relieved by C-tail phosphorylation. PH domain mutant E17K Akt is a well-established oncogene. Previously, we reported that the conformation of autoinhibited Akt may be shifted by small molecule allosteric inhibitors limiting the mechanistic insights from existing X-ray structures that have relied on such compounds (Chu, Viennet, et al, 2020). Here we discover unexpectedly that a single mutation R86A Akt exhibits intensified autoinhibitory features with enhanced PH domain-kinase domain affinity. Structural and biochemical analysis uncovers the importance of a key interaction network involving Arg86, Glu17, and Tyr18 that controls Akt conformation and activity. Our studies also shed light on the molecular basis for E17K Akt activation as an oncogenic driver.