Bioinformatics: Selecting against accidental RNA interactions
Translation is the process by which the genetic information in a molecule of messenger RNA (mRNA) produces a protein, and the rate at which protein is produced from a given mRNA molecule is called the translation efficiency. This number is different for different mRNA molecules (Maier et al., 2009; Guo et al., 2008), which is why researchers are trying to determine which features of these molecules affect their translation efficiency (Tuller et al., 2010; Ferreira et al., 2013; Kozak, 2005; Gingold and Pilpel, 2011).
Now, in eLife, Paul Gardner of the University of Canterbury and colleagues – including Sinan Umu (as first author), Anthony Poole and Renwick Dobson – report that the translation efficiency in bacteria and archaea is influenced by a phenomenon called "avoidance" (Umu et al., 2016). Avoidance is the degree to which an mRNA molecule avoids random interactions with noncoding RNA molecules in the cell. Noncoding RNAs, as their name suggests, do not code for proteins, but they still make up a majority of the RNA in any given cell. Indeed, the researchers show that the levels of noncoding RNAs in bacterial cells are two orders of magnitude greater than the levels of mRNAs.
To estimate the probability of random base-pairing interactions taking place between mRNAs and noncoding RNAs, consider a five-base region in a single mRNA. This region can have any one of a possible 4∧5=1024 sequences. If the total number of bases from all the noncoding RNAs in the cell is S, then the number of noncoding RNAs in the cell that have a perfectly complementary five-base region is approximately S/1024. Umu et al. studied 325 noncoding RNAs so, assuming an average length of 200 bases for these, we have S ≈ 325*200 ≈ 65000. Therefore, on average, the number of these noncoding RNAs that have a five-base region that is perfectly complementary to the five-base region in the mRNA will be 65000/1024 ≈ 63. Given the number of mRNAs and noncoding RNAs that are found in cells, random interactions between the two are inevitable. However, if we find that a given mRNA has base-pairing interactions with fewer noncoding RNAs than expected, then this is avoidance (Figure 1A).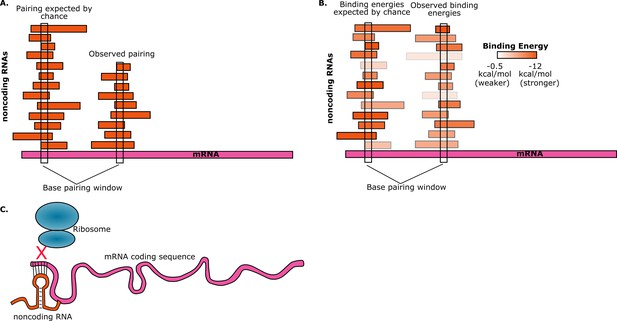 Realistically, RNA binding interactions are governed by thermodynamics and do not always follow strict pairing rules. Furthermore, RNA molecules can pair with themselves in intra-molecular interactions and must "unfold" a given region in order to pair with another molecule. Thus it is important to quantify mRNA-noncoding RNA interactions with net "binding energy" calculations. The binding energy quantifies the thermodynamics of RNA base-pairing, with low binding energies indicating very stable interactions. To explore the phenomenon of avoidance, Umu et al. used a computational RNA interaction model to estimate the binding energies for interactions between mRNAs and noncoding RNAs. The RNAs include a core set of 114 mRNAs that are well conserved across bacteria (including 40 that are also conserved across archaea) and 325 noncoding RNAs from six families of RNA that are also well conserved across bacterial and archaeal species.
They found that, on average, the interactions between the core noncoding RNAs and mRNAs were weaker than the interactions between the noncoding RNAs and a control set. In other words, they found that the average mRNA "avoids" interactions due to less stable pairing with noncoding RNAs (Figure 1B). This trend holds true for over 70% of the bacteria and archaea that they tested. There are, of course, noncoding RNAs whose primary function is to bind to mRNAs, but these were excluded from the study. Instead, the goal was to observe selection against accidental interactions between mRNAs and the large and diverse set of noncoding RNAs that are resident in the cell.
Umu et al. hypothesize that avoidance is due to the negative effect that the interactions between mRNAs and noncoding RNA could have on translation efficiency: for example, if a noncoding RNA pairs with a start codon in an mRNA, it will prevent translation from taking place because the ribosome will not be able to bind to that mRNA (Figure 1C). To test this hypothesis, the researchers designed and synthesized a set of mRNAs with sequences that have high levels of avoidance, and a set of mRNAs with low levels of avoidance. When they measured the translation efficiency for both sets of mRNAs, they found that it was much higher for the highly-avoidant set.
Umu et al. also synthesized different sets of mRNAs to explore two other factors that are thought to influence translation efficiency: codon bias and the intra-mRNA folding energy (Kudla et al., 2009; Tuller et al., 2010). Both factors did cause some variation in the production of protein, but avoidance was responsible for the most variation. They also found the same correlation with avoidance when they studied previously published measurements of bacterial translation efficiency. This suggests that the ability of an mRNA to avoid interactions with noncoding RNAs is a hitherto unknown, yet important factor affecting translation efficiency.
One notable aspect of this study is that it relied almost entirely on publicly available data sets. This underscores the importance of open data for exploring basic biological questions that apply to many different organisms. Using this data, which no single lab could have collected alone, Umu et al. have shown that mRNA sequences are optimized to minimize interactions with noncoding RNAs and have demonstrated why such avoidance is so desirable. And the need to avoid spurious interactions is not unique to RNA: the emergence of complex life depends on optimizing molecular interactions that lead to reproduction in the midst of molecular chaos. Although networks of highly specific molecular interactions are a hallmark of evolution, in many cases it is just as important to avoid accidental interactions.
Article and author information
Author details
© 2016, Corley et al.
This article is distributed under the terms of the Creative Commons Attribution License, which permits unrestricted use and redistribution provided that the original author and source are credited.
1,470

Page views

218

Downloads

1

Citations
Article citation count generated by polling the highest count across the following sources: Crossref, PubMed Central, Scopus.
A two-part list of links to download the article, or parts of the article, in various formats.
Downloads
(link to download the article as PDF)
Open citations
(links to open the citations from this article in various online reference manager services)
Cite this article
(links to download the citations from this article in formats compatible with various reference manager tools)
Meredith Corley
Alain Laederach
Bioinformatics: Selecting against accidental RNA interactions
eLife 5:e20686.
https://doi.org/10.7554/eLife.20686
Further reading
Computational and Systems Biology

Chromosomes and Gene Expression

A critical assumption of gene expression analysis is that mRNA abundances broadly correlate with protein abundance, but these two are often imperfectly correlated. Some of the discrepancy can be accounted for by two important mRNA features: codon usage and mRNA secondary structure. We present a new global factor, called mRNA:ncRNA avoidance, and provide evidence that avoidance increases translational efficiency. We also demonstrate a strong selection for the avoidance of stochastic mRNA:ncRNA interactions across prokaryotes, and that these have a greater impact on protein abundance than mRNA structure or codon usage. By generating synonymously variant green fluorescent protein (GFP) mRNAs with different potential for mRNA:ncRNA interactions, we demonstrate that GFP levels correlate well with interaction avoidance. Therefore, taking stochastic mRNA:ncRNA interactions into account enables precise modulation of protein abundance.

Computational and Systems Biology

Neuroscience

Modeling in neuroscience occurs at the intersection of different points of view and approaches. Typically, hypothesis-driven modeling brings a question into focus so that a model is constructed to investigate a specific hypothesis about how the system works or why certain phenomena are observed. Data-driven modeling, on the other hand, follows a more unbiased approach, with model construction informed by the computationally intensive use of data. At the same time, researchers employ models at different biological scales and at different levels of abstraction. Combining these models while validating them against experimental data increases understanding of the multiscale brain. However, a lack of interoperability, transparency, and reusability of both models and the workflows used to construct them creates barriers for the integration of models representing different biological scales and built using different modeling philosophies. We argue that the same imperatives that drive resources and policy for data – such as the FAIR (Findable, Accessible, Interoperable, Reusable) principles – also support the integration of different modeling approaches. The FAIR principles require that data be shared in formats that are Findable, Accessible, Interoperable, and Reusable. Applying these principles to models and modeling workflows, as well as the data used to constrain and validate them, would allow researchers to find, reuse, question, validate, and extend published models, regardless of whether they are implemented phenomenologically or mechanistically, as a few equations or as a multiscale, hierarchical system. To illustrate these ideas, we use a classical synaptic plasticity model, the Bienenstock–Cooper–Munro rule, as an example due to its long history, different levels of abstraction, and implementation at many scales.

Computational and Systems Biology

Neuroscience

Alcohol misuse during adolescence (AAM) has been associated with disruptive development of adolescent brains. In this longitudinal machine learning (ML) study, we could predict AAM significantly from brain structure (T1-weighted imaging and DTI) with accuracies of 73 -78% in the IMAGEN dataset (n∼1182). Our results not only show that structural differences in brain can predict AAM, but also suggests that such differences might precede AAM behavior in the data. We predicted 10 phenotypes of AAM at age 22 using brain MRI features at ages 14, 19, and 22. Binge drinking was found to be the most predictable phenotype. The most informative brain features were located in the ventricular CSF, and in white matter tracts of the corpus callosum, internal capsule, and brain stem. In the cortex, they were spread across the occipital, frontal, and temporal lobes and in the cingulate cortex. We also experimented with four different ML models and several confound control techniques. Support Vector Machine (SVM) with rbf kernel and Gradient Boosting consistently performed better than the linear models, linear SVM and Logistic Regression. Our study also demonstrates how the choice of the predicted phenotype, ML model, and confound correction technique are all crucial decisions in an explorative ML study analyzing psychiatric disorders with small effect sizes such as AAM.